Dropshipping business model might be something you've probably come across if you've been looking to start an online store. For the ambitious e-commerce entrepreneur, dropshipping can be a highly profitable online business model. You can get started in dropshipping with little initial capital and hard work. It's possible to expand operations once initial gains are realized by investing more in marketing and advertising. 
To learn more about what dropshipping is, how it operates, and how to launch your own dropshipping business in 2023, you've come to the right place if you're new to the world of e-commerce. This helpful article discusses the dropshipping business model's pros and cons. 
What is Dropshipping Business Model? 
To avoid the costs and hassles of stocking and managing inventory themselves, some online retailers turn to dropshipping, a method in which products are ordered directly from manufacturers and distributors as demand arises. After that, the items are sent straight to the buyer. The seller avoids direct contact with the product in this scenario. You can source products from suppliers on Aliexpress and other websites.
Shipment and order fulfillment requires minimal participation from the retail store manager. There is zero overhead for the retailer in terms of keeping inventory on hand, making bulk purchases, or shipping out orders. Products will not be shipped directly from the retailer but from a third-party supplier.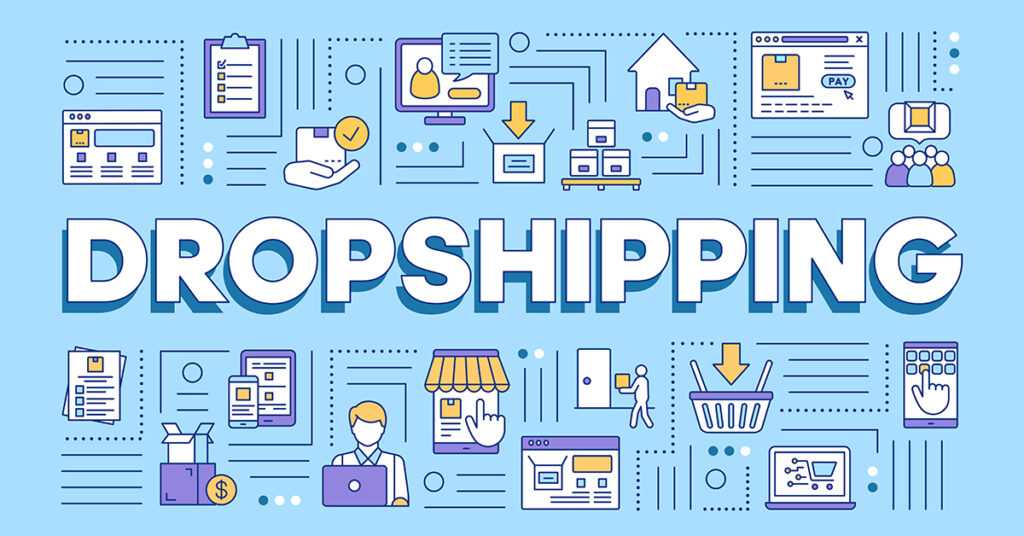 How does Dropshipping Business Model work? 
The dropshipping business model has two segments: 
User Interface – The user interface is visible to the end user, also known as the front end. Like any other specialized online retailer, they can browse your inventory, find the items they're looking for, and buy them from you at whatever price you decide. The order is shipped within a few hours to a few days, and they receive a shipping confirmation email. The order tracking information is included in the email so the customer can monitor its progress like on any other e-commerce site. 
Backend/Behind-The-Scenes – Once an order comes in from a customer, you immediately place an order with the manufacturer and have the goods shipped directly to the buyer. The customer has the same experience as he would with a conventional online retailer, without any insight into the back-end workings of the store's fulfillment system. 
Read more: Understanding eCommerce Business Model: A Beginner's Guide
The Pros and Cons of Dropshipping Business Model 
Dropshipping has its pros and cons that should be considered when deciding to start an e-commerce store with the dropshipping business model. 
Pros of Dropshipping 
Easy to manage – There isn't a lot of overhead because you don't have to invest in things like a large workforce or a dedicated storage facility. If you've already found your suppliers and have everything set up, your responsibilities will largely be limited to running your online store. 
No office or headquarters needed – All you need is a laptop and some ideas to start a successful business. There is no need for a dedicated office space for a dropshipping business model. You can run it from your home as well. The biggest drain on your cash flow will come from marketing, but you can increase your spending in that area as sales increase. Expenses are expected to remain low even as your company expands, particularly compared to more conventional business costs. 
Better flexibility – The freedom to act as your own boss and determine your own policies is a major perk of self-employment. It is one of the most adaptable professions out there. This is a great option for business owners who want a company that can adapt to their needs. Rather, you go at your own pace. In addition to being adaptable, dropshipping gives you great freedom to make choices that best suit your needs. New products can be added anytime, and strategies can be adjusted on the fly. 
Easily scalable – No major adjustments to the business model are required as growth occurs. You'll need to devote more time to marketing and sales to keep up with demand, but your typical day will look the same. One advantage of dropshipping business model is that infrastructure costs don't increase proportionately with growth. This means you'll have more resources to advertise your company. 
Cons of Dropshipping 
Customer support – This is another issue that can arise when orders go wrong or when suppliers let you down. Order processing and customer service can be challenging when you're just the store owner and have little say in the matter. When customers have issues with a dropshipped product, you'll have to shoulder the responsibility for fixing the problem. Even if you follow every procedure to the memo, problems may arise if your suppliers are having trouble with shipping. 
Lower revenue – Dropshipping's initial low margins are one of the business model's drawbacks. But if you pick the right market segment to focus on, you can significantly increase your chances of making substantial profits. Although you can expect higher margins and initial growth in markets with less competition, you may eventually hit a sales ceiling. Many successful dropshipping businesses rely on massive amounts of traffic brought in by well-targeted ads. 
Complicated order fulfillment – Products sourced from multiple vendors may cause issues. If your suppliers use different shipping methods, it could cause complications for you and your customers. Shipping costs, especially when shipping many items, can be extremely high and depend on your shipping setup. In addition, the processing and billing structures of various suppliers will vary. This can be a considerable challenge because you oversee communication with your suppliers. 
Read more: What Is A Marketplace Business Model?
How to Make Money using Dropshipping Business Model 
Finding a Niche Category of Products in Demand 
This is one of the most challenging aspects of launching a dropshipping business, but it has the potential to generate incredible profits with careful planning. The first step is to see what's currently trendy. This could be: 
In markets with high demand for accessories, such as laptops, smartphones, drones, etc., you can break into the market by focusing on that demand. 

Sports and activities that require a lot of gear, such as golf, cycling, etc., in which you can address a specific interest or issue.

Unique goods that are difficult to locate in conventional retail outlets. 
Create a shopping website or app 
Customers will communicate with you via your website or mobile app. Yes, social media profiles indeed aid in this regard. Customers will feel more comfortable purchasing after interacting with an app or website. Using a flexible, eCommerce-ready framework to build your app is recommended, as it will provide drop shipping-specific tools and reduce the amount of work on your end. 
Choosing a trustworthy vendor 
The next step is choosing a supplier that sells the products for cheaper rates or in bulk amounts. Finding trusted vendors is a huge challenge, especially due to many scammers. When you've settled on a product and a supplier, it's time to put that product up for sale on your website at a profit margin of about 30 percent. Don't copy and paste the seller's description; come up with your own. Ensure its tone and content align with the rest of your marketing materials. 
Advertising your store 
Aggressive advertising strategies are essential for a successful dropshipping business. To increase your sales, you must create a personalized ad and carefully target your audience on Google, Facebook, and other social media platforms. Social validation approaches like comments, reviews, ratings, and testimonials can help you win over the trust of potential customers.