Datum – The Best Tinder Clone Software Solution for Your Dating App Startup
Datum, our Tinder clone script for iOS and Android is a quick, wonderful and imaginative route to engage with dates and get to know them better. This is the first Tinder Clone Script in the market built entirely on the MEAN stack leveraging Node.JS as its server side scripting technology, MongoDB as the server database, Socket.IO as the realtime chat engine.
Datum is an all round dating app script if you are an entrepreneur looking to start a dating app solution for any target group or any target market. Datum is a prebuilt solution, you just have to get the app customized based or your requirements or just buy the solution as it is (We will obviously brand it for you ;-p)!
What is a Tinder Clone?
Tinder clone is a dating app software solution that is based on the popular dating business model, Tinder. The term Tinder Clone is used to give a reference to the kind of app, app development companies are offering to the entrepreneurs.
What is a Tinder Clone Script ?
A Tinder clone script is a source code that creates a perfect dating app solution based on the popular dating business model Tinder. You can modify the Tinder clone script by adding more and new features to the source code.
What are the Features of Tinder Clone App ?
Tinder clone app has features like 'Swipe & Match', 'Scheduling Date', 'Adding Preferences', 'Profile Video/Picture', 'Newsfeed', 'Chats', 'Audio/Video Call Feature', 'Advanced Subscription Plans', 'Coins Wallet' and many more!
Why Choose Tinder Clone?
The dating industry has over the years done extremely well with the new generation. Following statistics is the proof of that:
$3 Billion industry, alone in USA (Imagine in the whole world ).
600 million singles have access to the Internet.
Online dating is the most popular way for heterosexual couples to meet.
Our Tinder app clone is absolutely customizable with dynamic preference settings on the admin panel. Build your own dating app script with our Tinder Clone.
WHY CHOOSE DATUM AS THE DATING SOFTWARE WITH EARNINGS MODEL FOR APP USERS?
Datum has been designed keeping the best UI features from top dating apps like Tinder, Grindr, OkCupid, Happn & more. This feature can help your dating app stand out from the rest of the dating apps. The module has 2 wallets as against one in all of the other apps.
Coins Wallet
The coins you purchase or earn by watching advertisement videos gets credited to your coins wallet.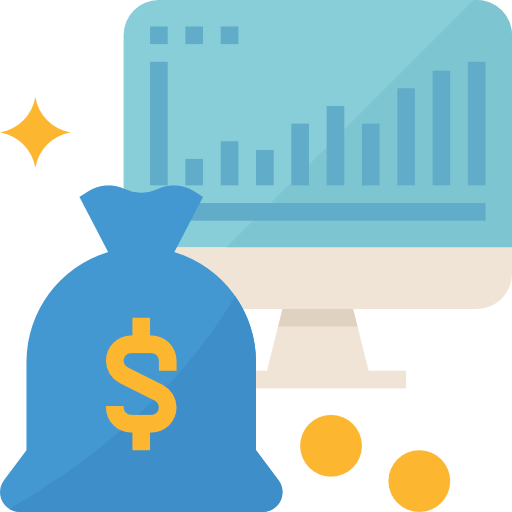 Earnings Wallet
The gifts people send to connect with you goes to your earnings wallet. Some percentage of this gift goes to the app owner as commission.
Withdraw Money
The amount in the user's earnings wallet can now be withdrawn by them. Either via PayPal or whichever means they choose.
Datum has been inspired by Tinder & other Tinder-like apps. The entire browsing to matching process is made simple with the 'Swipe & Match' functionality, and our own unique features to improve user experience on the online dating software platform.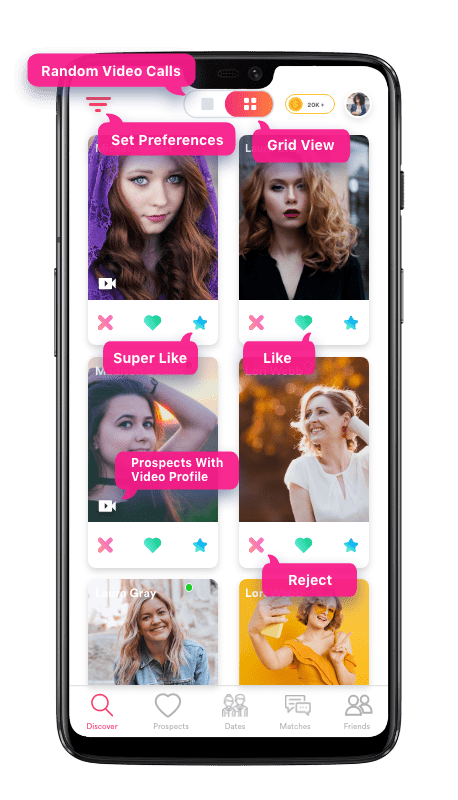 FIND OTHER POTENTIAL MATCHES
Tinder like logic here to find potential matches. Grid view of prospects, set preferences, switch to random calls, prospects with video profile, visit your coins wallet, like, superlike or reject.
CHAT BEFORE GETTING MATCHED
Users can spend coins to send a chat message before they get matched. The app and the other user i.e. message receiver earn a % commission every time these coins are spent.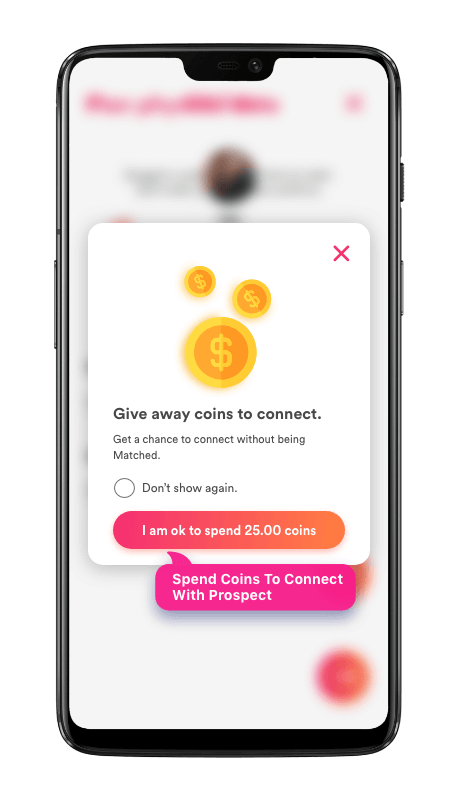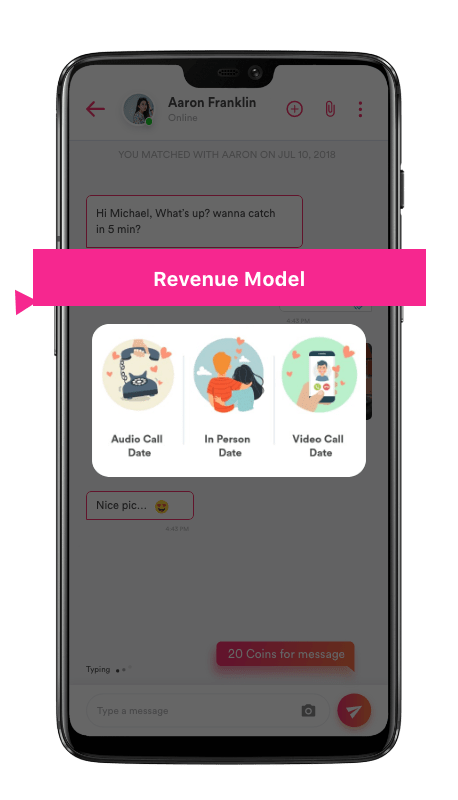 SETUP DATES OVER AUDIO / VIDEO CALL
Users need to spend coins to set up a date with other users on the app. App makes a % commission whenever coins are spent to set up a date.
Chat with other users in real-time. Send Images, gifs, videos, location, and contacts in chats like on Whatsapp.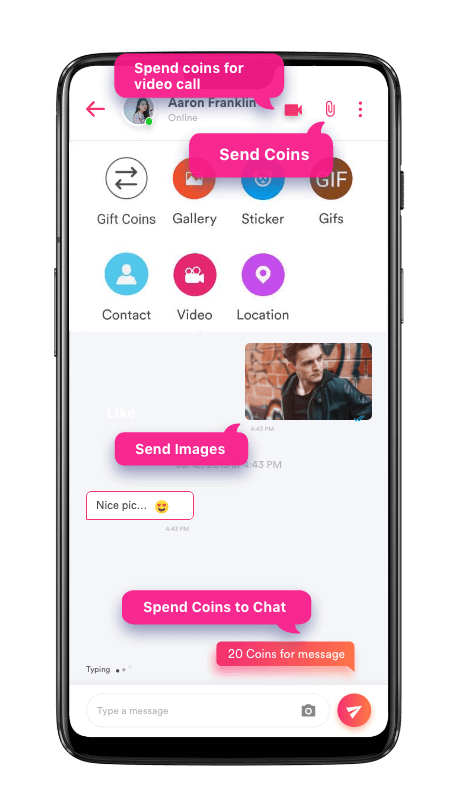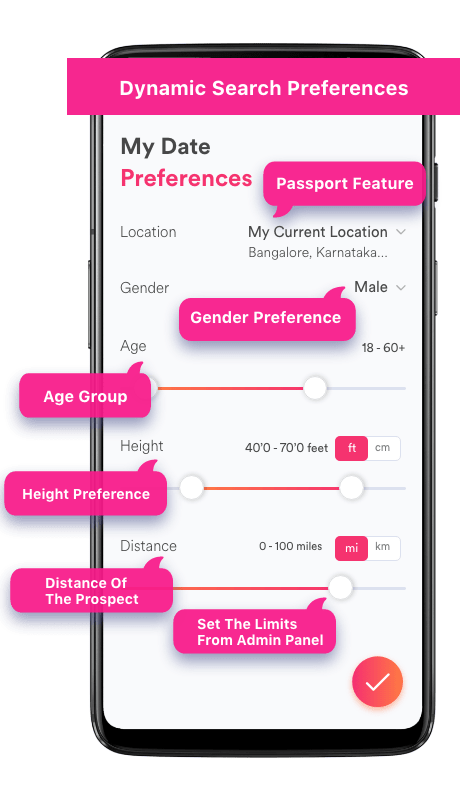 Set your preferences for your perfect match. Gender, age, height, distance and more.
This feature will label potential matches as top prospects categorized in sections such as online prospects, Likes Me, Superliked Me etc.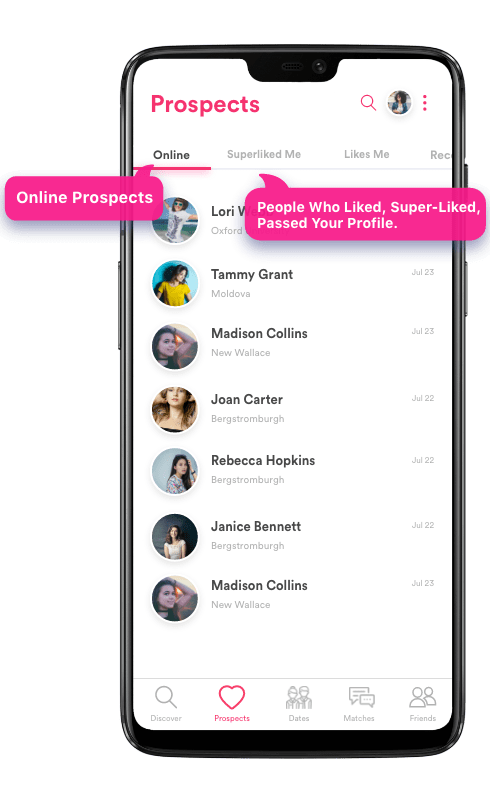 Datum would not be best dating software for your online dating business if not for the UI features & in-app monetization features. We are constantly innovating with new monetization strategies to enable our dating script owners to efficiently utilize in-app microtransactions.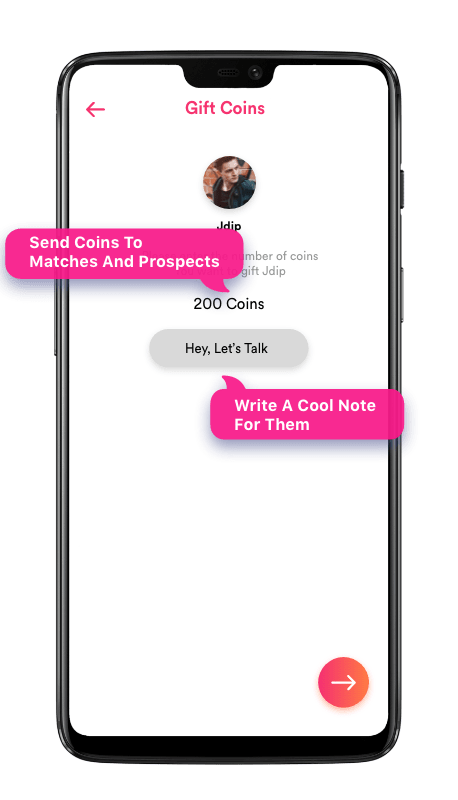 Send coins to matches and prospects. Write a cool note for them..
Users can spend coins to connect with prospects they are not matched with. A % of the amount goes to the person they are spending the amount on, and the rest of it comes to the admin. A platform for mutual benefits.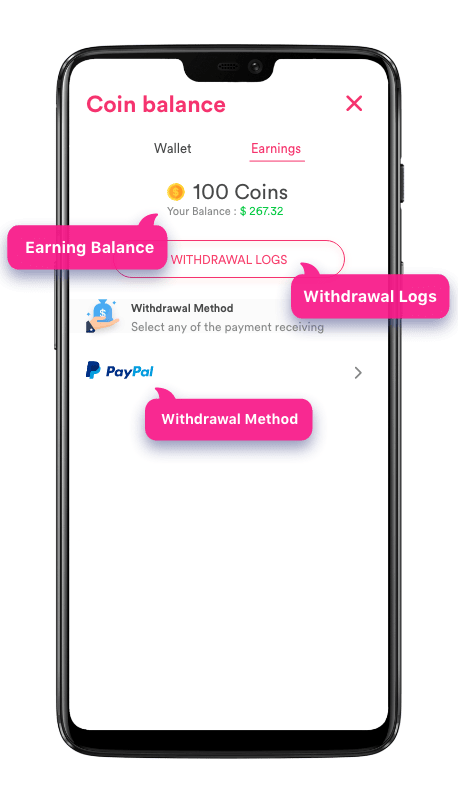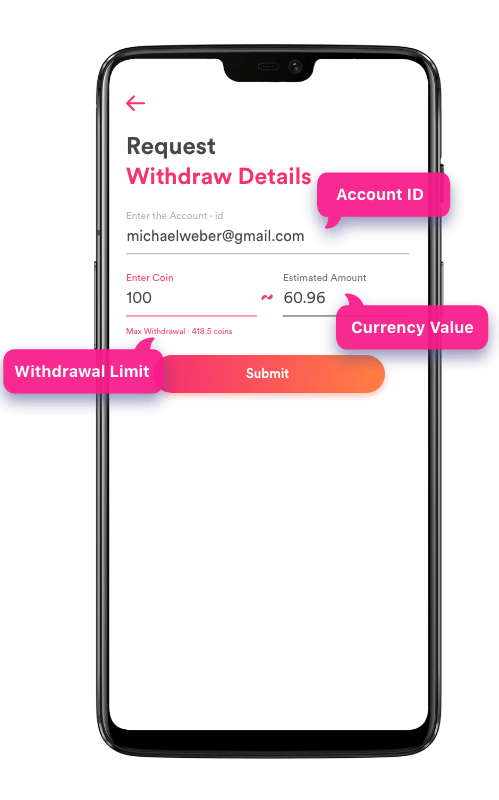 Withdraw earnings and the wallet money directly to your bank account.
Fill up your wallet with in-app coin purchases, spend the coins to access all the cool features.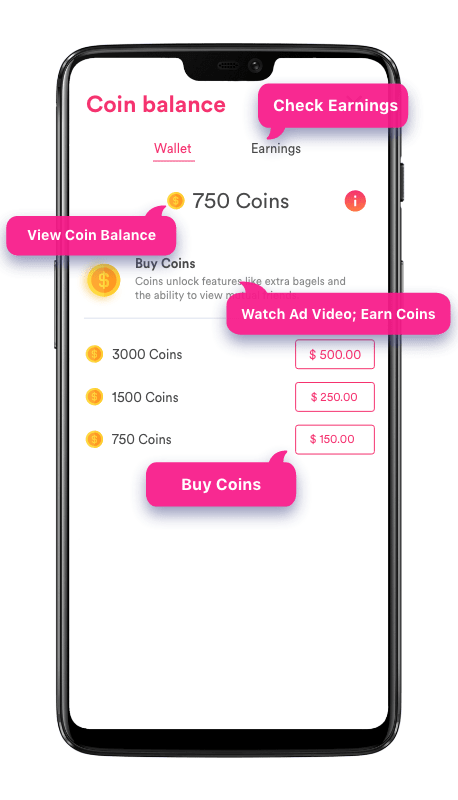 We have kept a simple registration process so that the users can sign-up their profiles using their social media accounts or phone number quickly and enjoy the video chat dating app. They can also set up their profiles by uploading their preferences, photos and videos on the periscope clone.
Either log in with your facebook id, email id or via your phone number.
HINGE LIKE USER ON-BOARDING
Simple, easy, and impressive. Guides users through setting up a profile.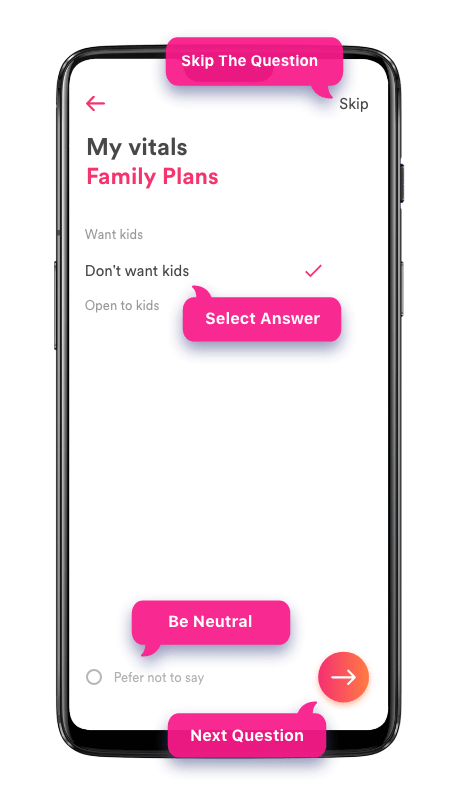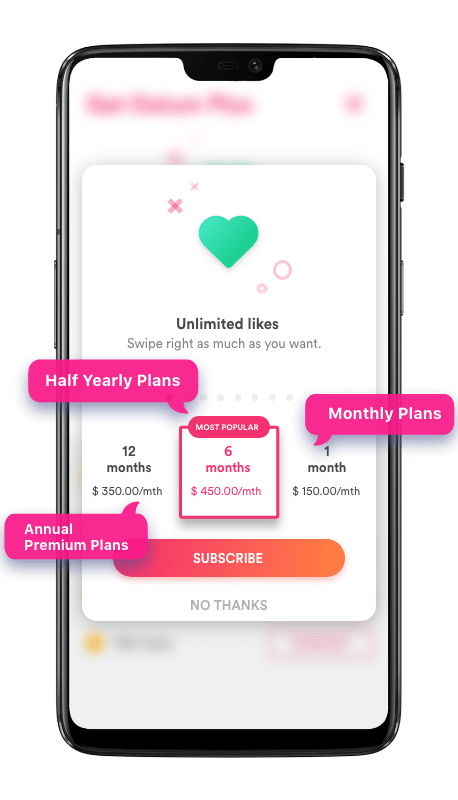 Buy premium membership to enjoy the perks and to get everything
Allows you to view the details such as name, age, distance, religious beliefs, vitals of other users. You can also like the profile.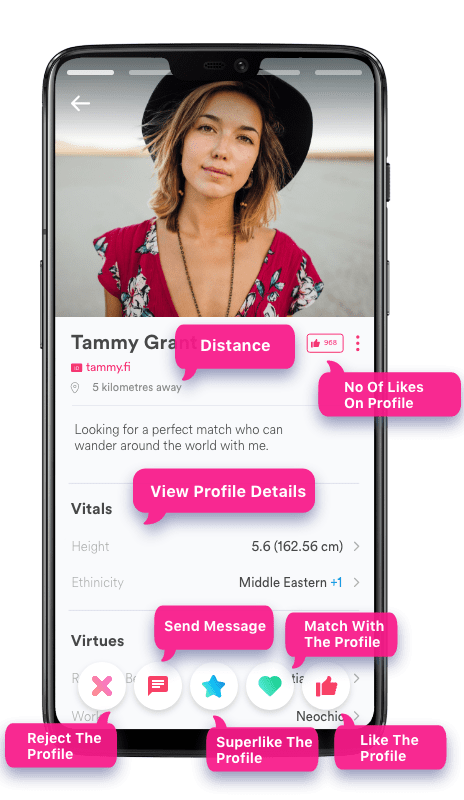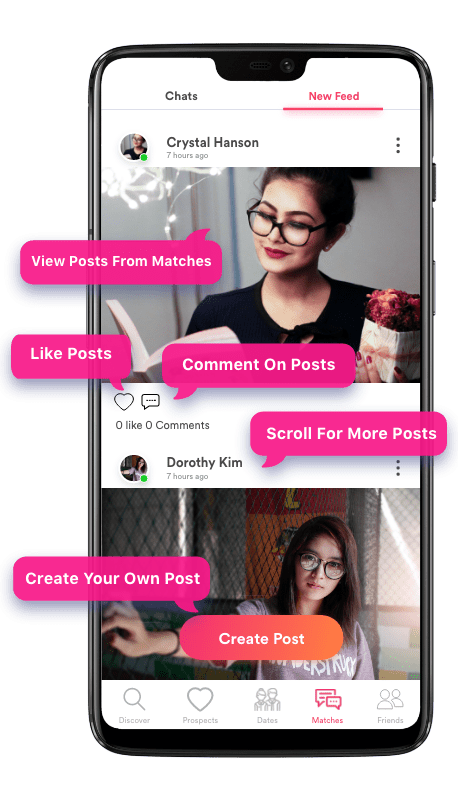 Learn more about people you are most interested in. Get real-time updates about what they are doing across their social media networks.
Lets you upload a video in your profile. Videos can provide a better glimpse of your personality.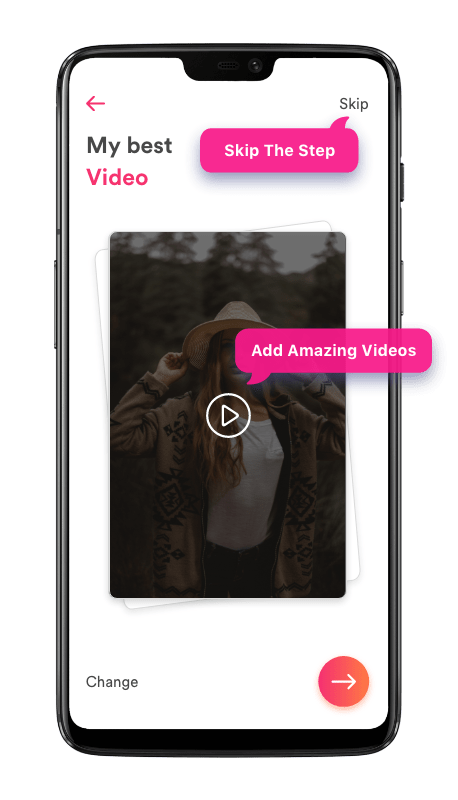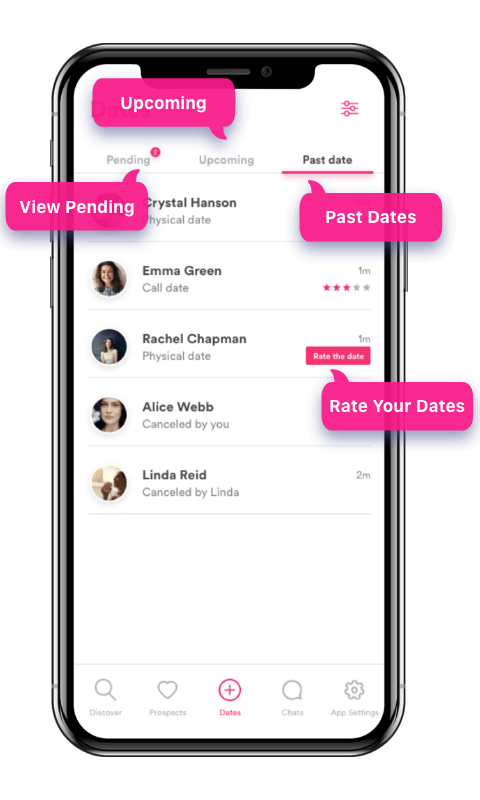 Our dating script lets users rate their dates.
Tinder like swipeable card view
HOW TINDER MONETIZES THE APP
Check out the in-app purchases feature on our Tinder Clone App
Extra Swipes, Likes, & Rewinds
Users can purchase extra Swipes, Likes, Rewinds, Passport etc.
Chatting With Unmatched Profiles
By paying a certain amount, users can now chat with unmatched profiles listed on the app.
Setup Physical Dates
Users can use Datum coins to set up a physical date on the app itself. Users can set up the date, venue & time for the meetup with in-app reminder notifications sent out to both the matched users.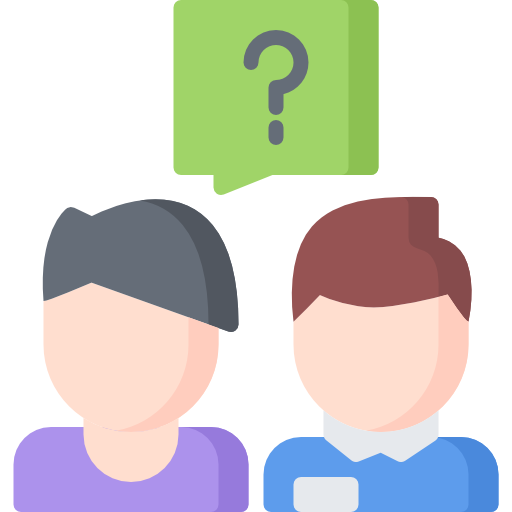 Random Matches
Instead of hoping for a match, users can pay a certain amount to get randomly matched with other users and can begin chatting.
Watch Promotional Videos
Users can watch promotional videos provided by third-party vendors to earn extra coins, your custom Tinder clone app earns commission based on number of videos watched or products purchased via referrals.
In-app Advertisements
In-app advertisements provided by third-party vendors. Your custom Tinder clone app earns a commision based on the number of advertisement clicks or products purchased via referrals.
TINDER APP CLONE MONETIZATION FEATURES ENABLED BY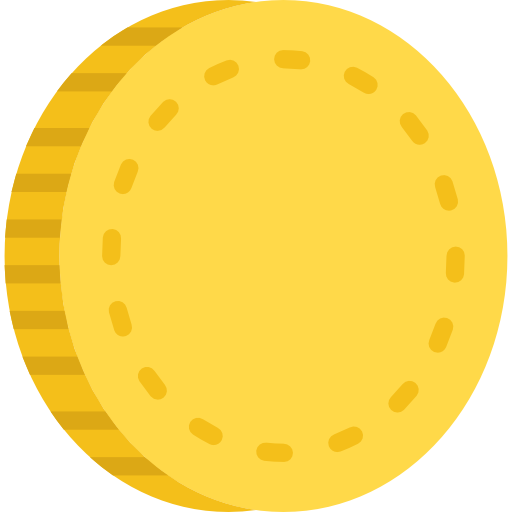 DATUM COINS
In-app currency that can be purchased via credit or debit cards. This currency is used to gain access to premium features on the Tinder clone app.
DATUM SUBSCRIPTIONS
Monthly/Yearly subscriptions to certain in-app monetized features such as extra Likes, Swipes, Rewinds etc.
AFFILIATE MARKETING
Affiliate Marketing powered by third-party ad services such as AdMob. You earn revenue through commissions from third-party vendors on your custom Tinder clone app.

DASHBOARD
You can view the total registrations done for the day, month, year and lifetime, user-activity, in-app purchases etc.

PREFERENCE SETTINGS
Preference settings can be configured from the admin dashboard itself. Our video dating software dynamically updates these settings on the mobile app.

USERS MANAGEMENT
The easy way to browse all registered users on the video dating app.

PROFILE VIEWS
Easy way to access to see which profile is being viewed by whom.

PROFILE LIKES
Analytics tool in our video dating script to track profile likes to see popular profiles on the dating software.

MATCHES
All the matches on the platform can be identified via the admin panel on our video dating software.

REPORTED LIST
Analyze all the reported users and see who has reported them and why. This feature is required for the app to be displayed on the Apple App Store.

PURCHASES
See the list of users who have purchased datum add-ons via in-app purchases.
Comparison Between Tinder and Datum
To know more about business use cases & examples with our dating software & online dating script CLICK HERE