ENHANCING THE ON DEMAND SERVICE INDUSTRY WITH THE AIRTASKER CLONE APP SOLUTION
GoTaskey our AirTasker Clone software solution has been designed to provide solutions in the on-demand service providers domain. Entrepreneurs or Businesses looking to launch their services in the on-demand service industry, now have the perfect white label script the AirTasker Clone script.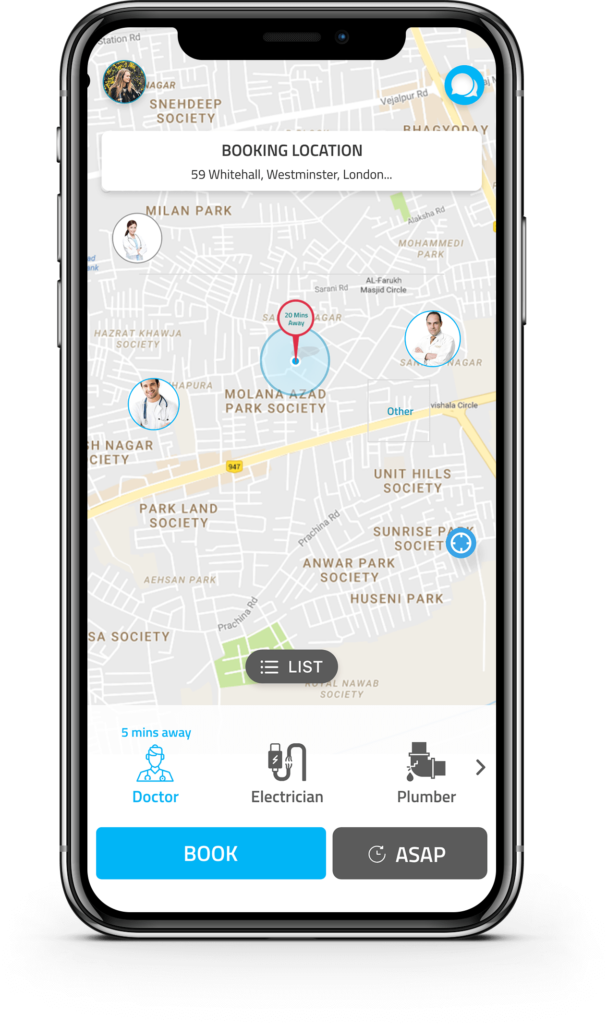 GOTASKEY: CUSTOMIZABLE AIRTASKER CLONE SCRIPT SOLUTION FOR BUSINESSES UTILIZING THE ON DEMAND SERVICES MODEL
Inspired by the success of on-demand service provider apps like TaskRabbit, Thumbtack, AirTasker & more – GoTaskey has been built to be robust & scalable software solution for entrepreneurs.
Our AirTasker Clone App solution is customizable to build a software solution for different kinds of on-demand service businesses. On the lines of on-demand service providers such as TalkLocal, Taskrabbit, UrbanClap, Handy etc.
We assure PCI compliance so you will have not legal issues accepting online payments on our AirTasker Clone App software.
Using our proprietary Pre-Built IP solution, we move the AirTasker Clone script software from development to deployment faster than any other software solutions provider.
Using state of the art app container technology, clean coding practices, Rx programming and microservice architecture – the AirTasker clone App is designed to be future-ready for all kinds of On-Demand Services.
Multi-Language & Multi-Currency Support
You can have an Uber for Handyman app or Uber for Doctors or Uber for Seniors in German, Arabic, Chinese or any other language. We ensure GoTaskey, the AirTasker clone App can be deployed in any language & for any currency.
Increase your AirTasker Clone app user base & overall retention via referrals, promotions & loyalty campaigns.
Explore Uber for X Services
Being the best AirTasker Clone software in the market, our platform lets users view various on demand service providers near them. Advanced filtering options per service type, is available. Whether an Uber for Tutors is needed for a particular subject, or an Uber for Doctors practicing in a particular field – GoTaskey provides the best UI experience than most On-Demand Service platforms in the market.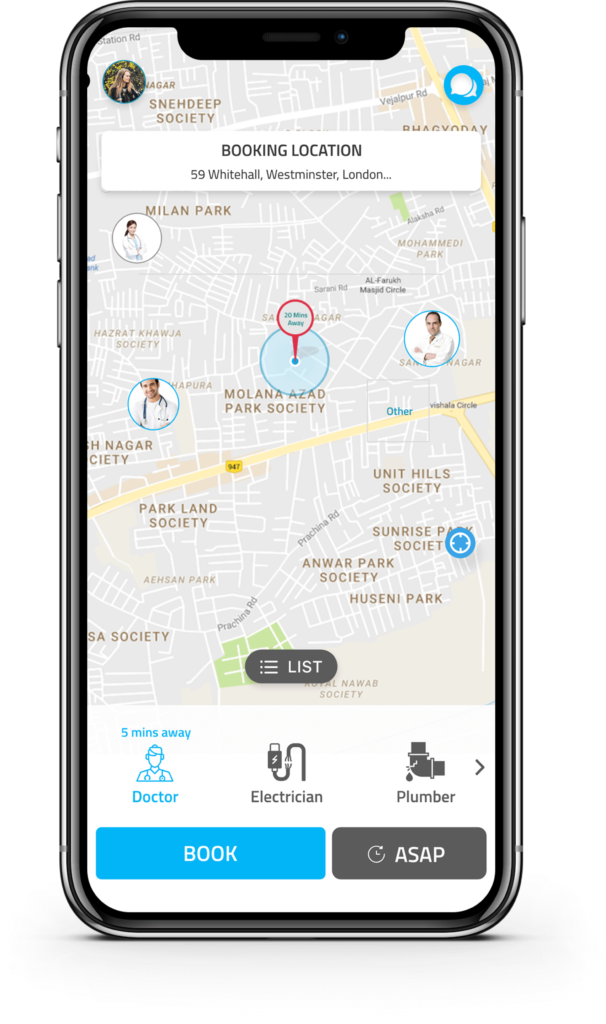 Our AirTasker Clone script lets users view a live list of on demand service providers near them for a particular service type
Our AirTasker Clone software provides advanced filters based on distance, service provided and budgets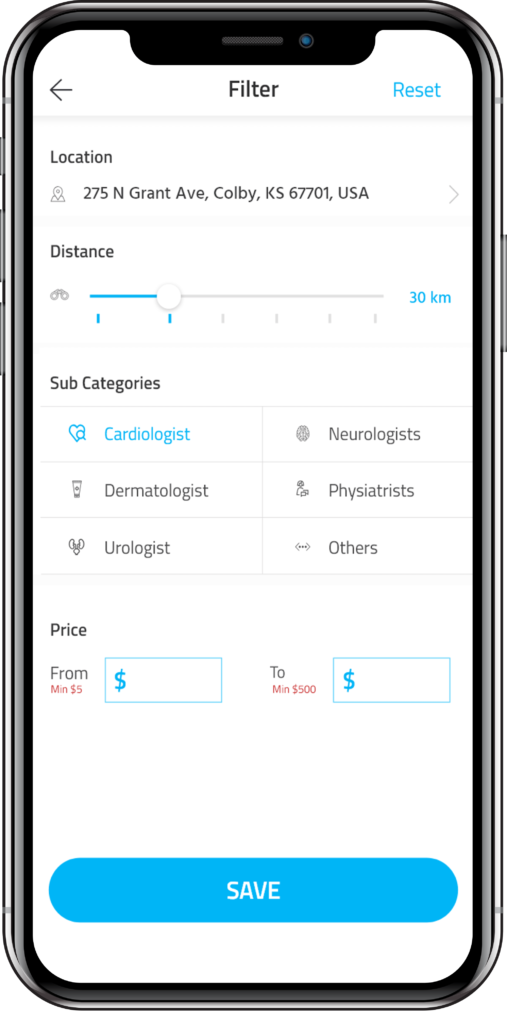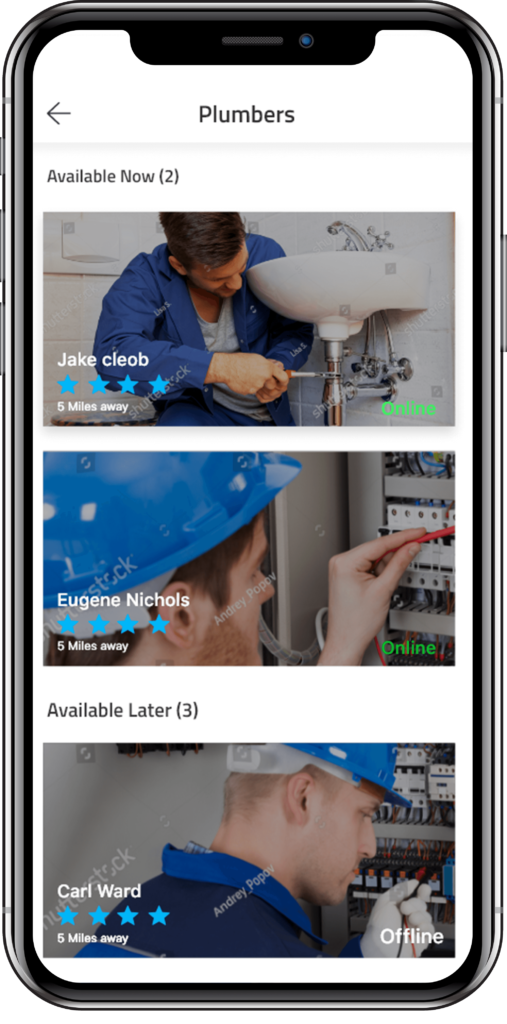 View a list of providers under a particular service based on filter settings & availability
View the details of each on-demand service providers. Each profile is equipped with photos, brief bio, past ratings, area of expertise etc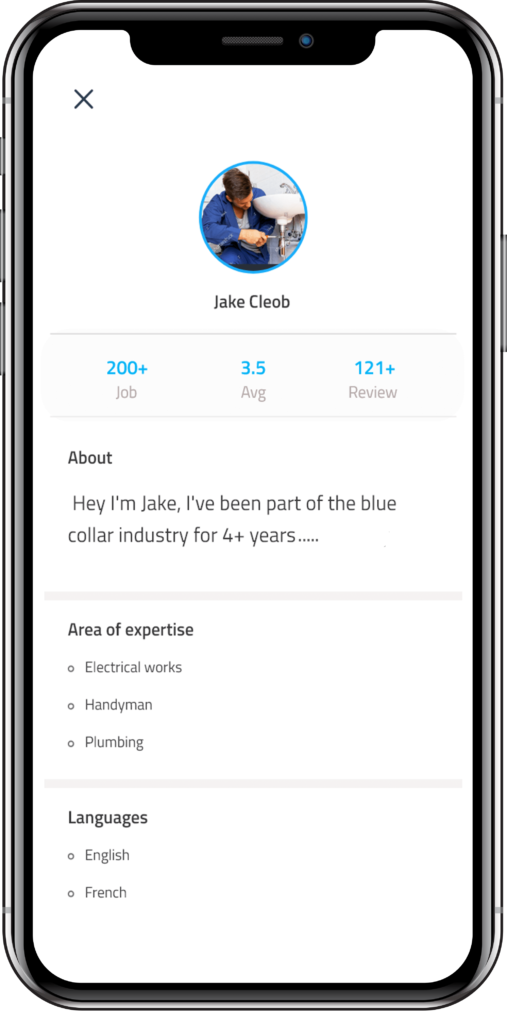 Service Details, Scheduling & Payment
Our AirTasker Clone Software platform allows clients to book for a service right away or to schedule an appointment for a later date & time. Once scheduled, clients can opt from a variety of payment options & add promo codes, if any, before the booking.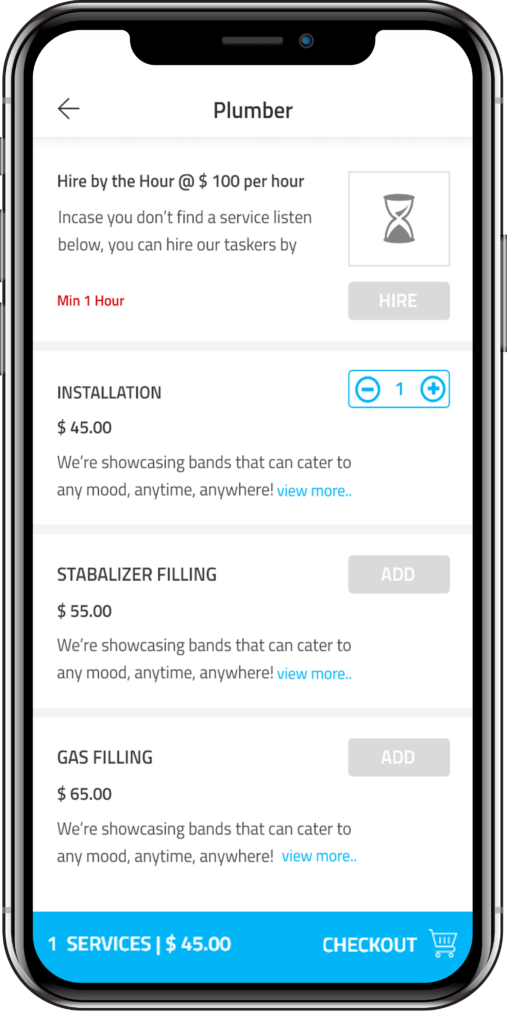 Service Provided & Additions
Multiple service options are available when booking for a particular service and their hourly rates. Multiple additions of hours or service type can be added too.
Choose between any type of on-demand service or schedule one. Repeat bookings and weekly scheduling in the case of an Uber for Maids, Uber for Tutors, Uber for Seniors, etc can be setup in-app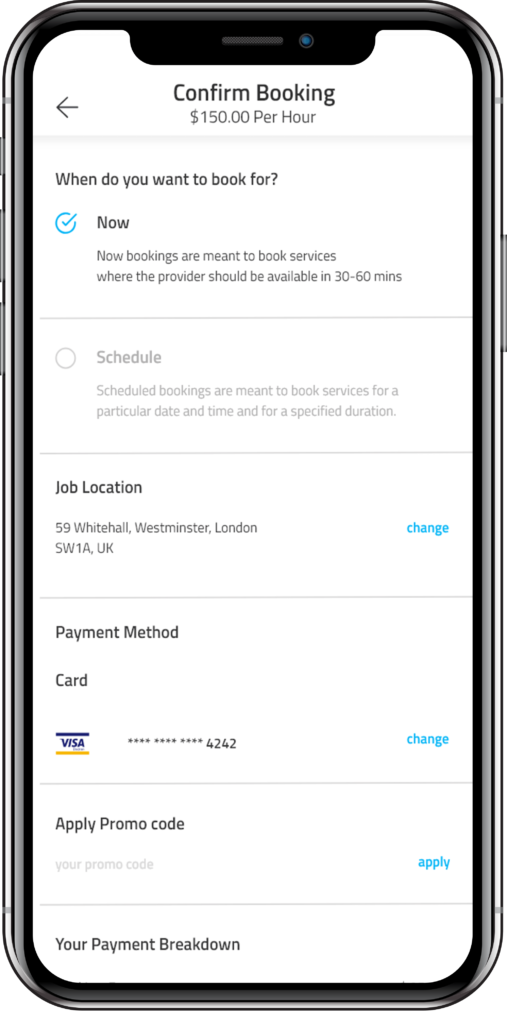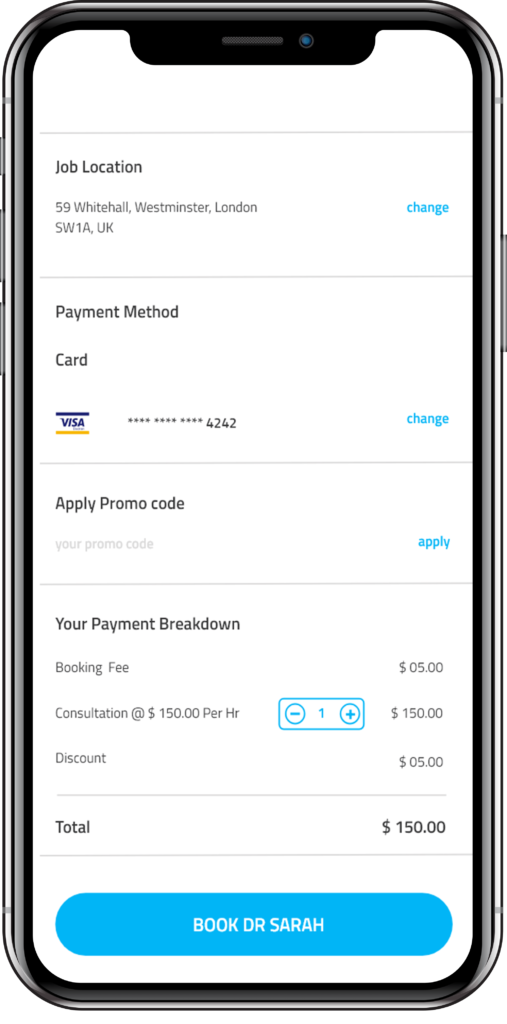 Before confirming the booking, users can choose an ideal payment mode and key in promo codes if any for additional discounts. Additional hours of time taken can be added.
On-Demand Vs Marketplace Bookings
If a service is required right away, then a client is assigned the nearest service provider. After acceptance of the booking, profile details will be displayed. Customers can also opt to choose a service provider before booking a service. The booking details are present under the 'My Bookings' section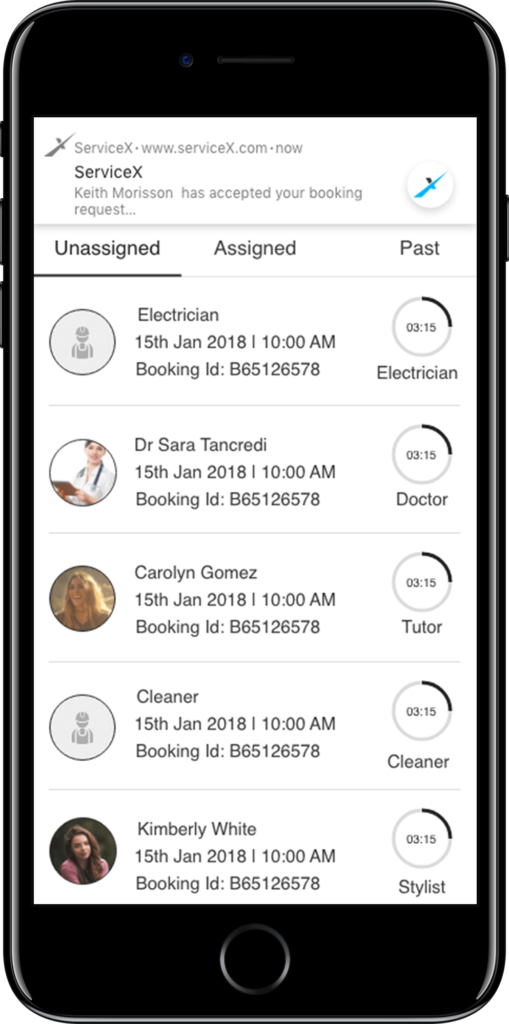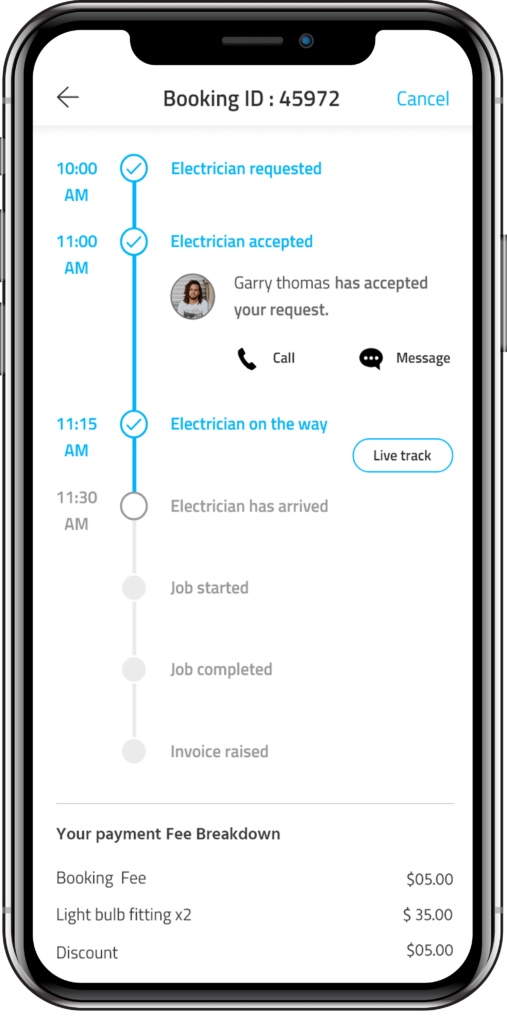 View the status of the requested job. In-app notifications are provided for real-time status updates
Our AirTasker Clone software solution lets users track their bookings in real-time via the app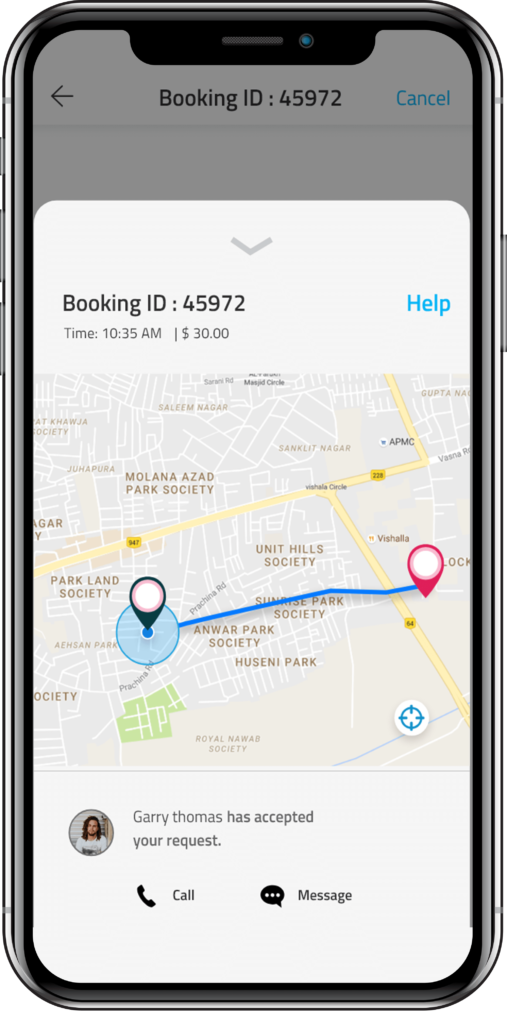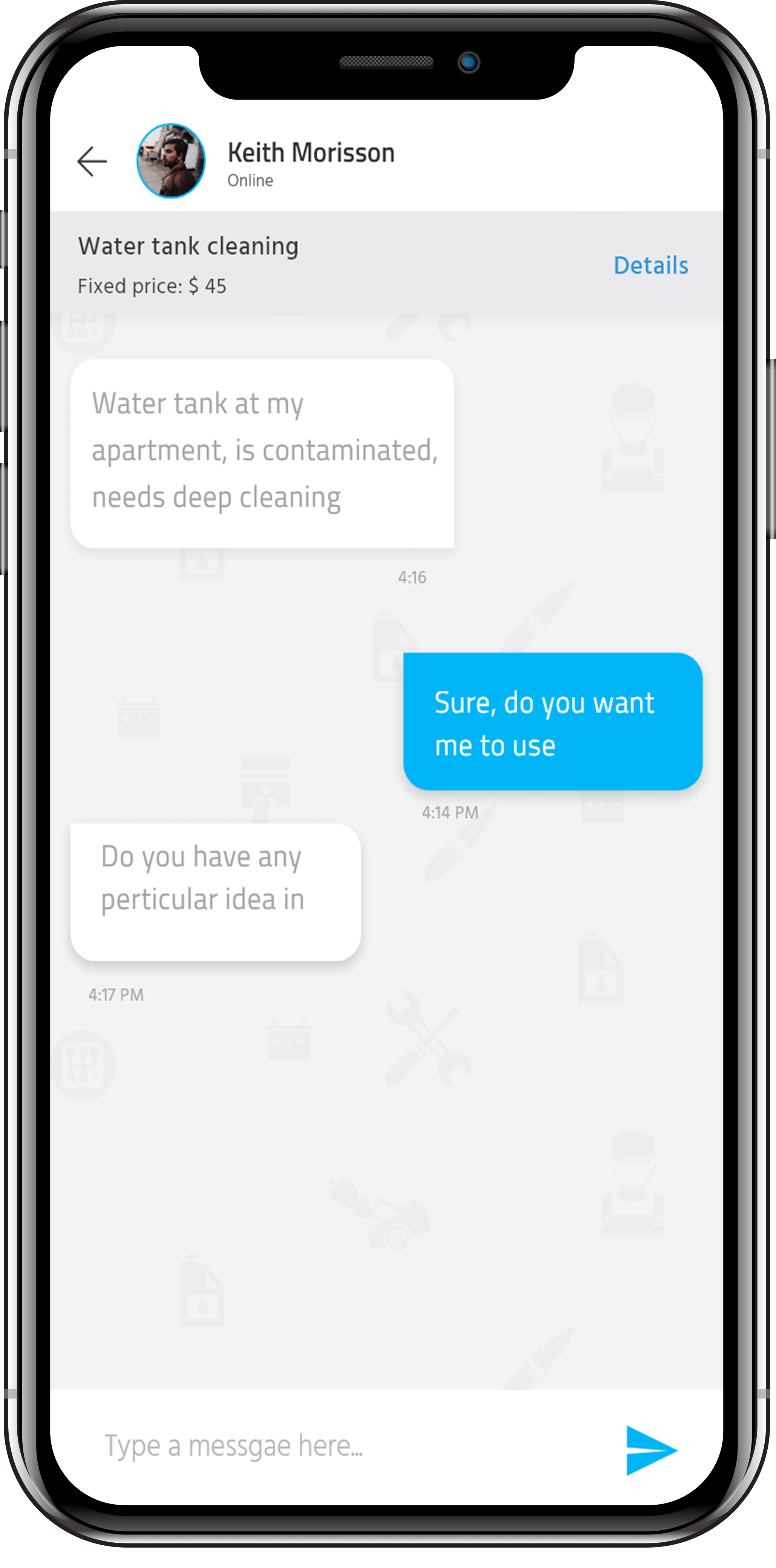 We've integrated an in-app chat platform in our AirTasker Clone script. Customers can now chat with their service provider and communicate details of the job to be done.
Users can update their addresses, payment types, refer friends from their profile sidebar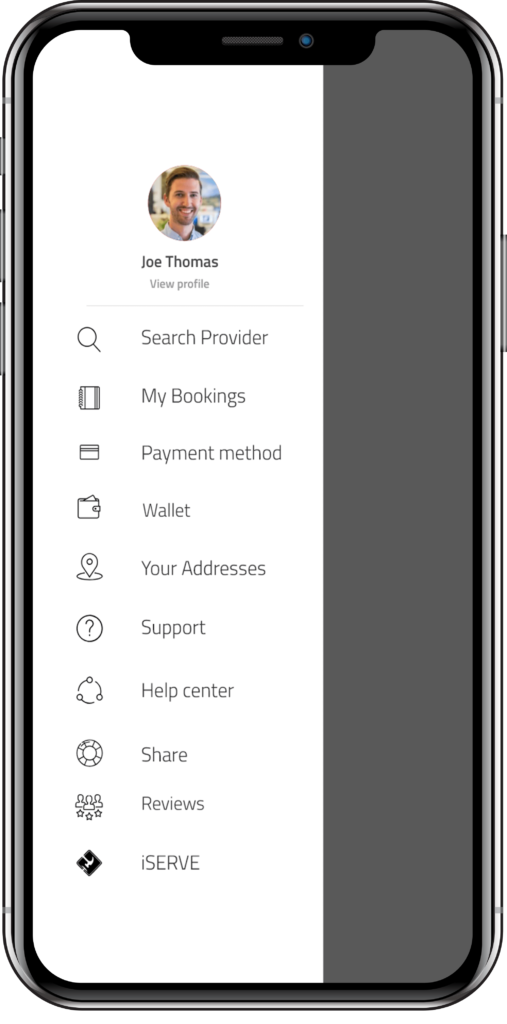 Post job completion, clients can view a detailed bill regarding the work done and rate the service provider.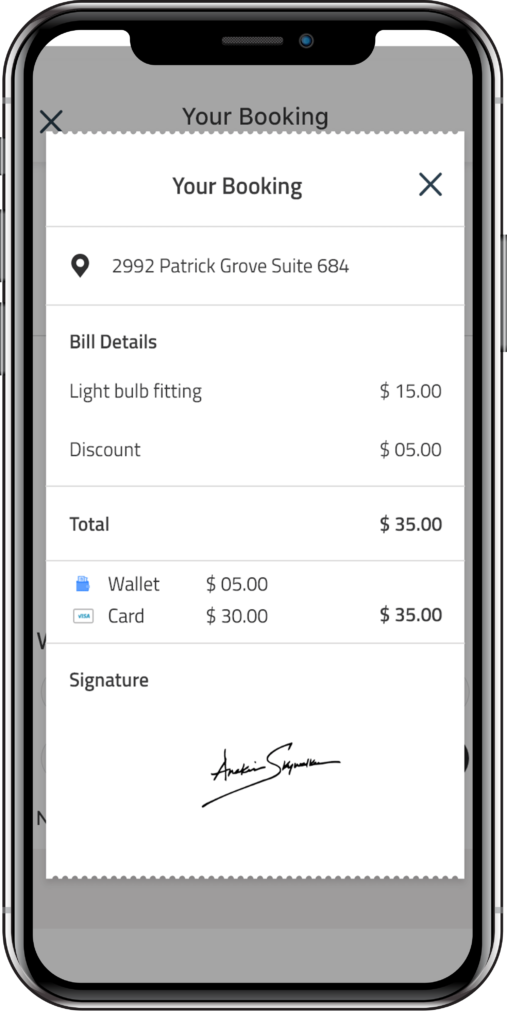 View details of work done and details of the amount collected
Provide ratings for your service provider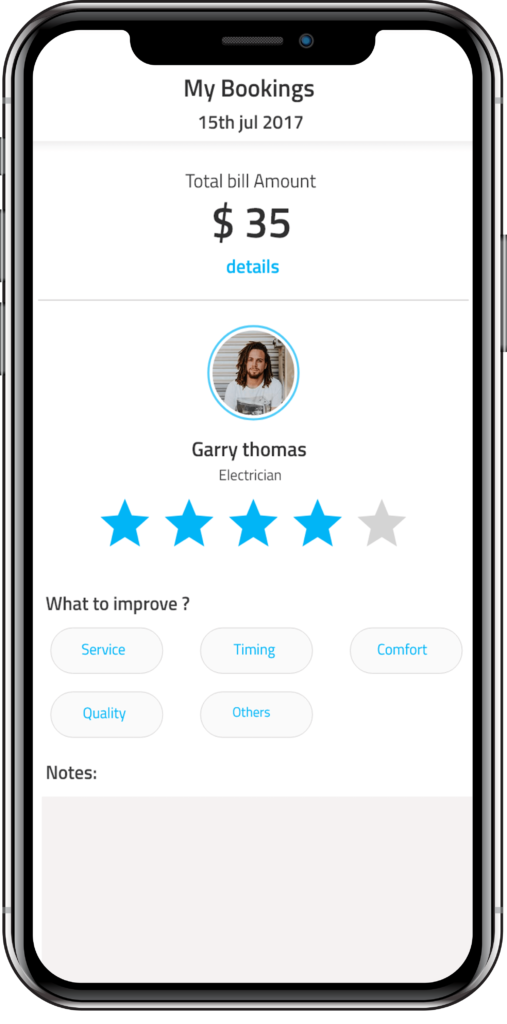 Explore Services


Search & view various on-demand services & offers available

Schedule

Choose your booking type from on-demand, scheduled or weekly schedules

Add Individual Services

Choose from additional services under each service category

View Jobs & Status

View the various service bookings opted & their individual Job status
GOTASKEY DISPATCHER SOFTWARE
Our GoTasker Clone Script platform includes a detailed web dispatcher for the admin or a representative to manage. Manual bookings, job status, holistic view, etc can all be accessed via the dispatcher.
Bird's Eye View


View an overall look of all the ongoing jobs, available & unavailable service providers, battery percentage etc

Manual Bookings

Manually assign bookings to providers. Enter details such as service type, on demand or scheduled service, payment methods etc

Individual Job View

View the status of each individual booking & their respective job status.

Manage various on-demand service providers. Accept or reject various professionals registering on your GoTaskey app.
Setup and manage fares for on-demand services based on cities or service type.
Setup and manage promotion codes and referral campaigns on your GoTaskey platform.
View all service bookings in real time as they are being placed.
A financial accounting system to keep track of earnings for various professionals registered on the app.
Payroll management system integrated into the GoTaskey platform, to manage cash & card earnings for service providers with direct payment to their bank accounts.
Manage various GoTaskey service categories present on your customised application.
View all bookings & trips in real time on a map across cities or zones.
Create zones for your AirTasker Clone App service by drawing polylines on a map and set rates accordingly.
Push messages to service providers and customers directly from the admin.
Keep a tab on the service providers and maintain high quality standards using ratings and reviews given by customers.
Setup various app commision rates based on zone, service type, fares etc on your GoTaskey app.

GOTASKEY PLATFORM USE CASES

Uber for Handyman

Uber for Boats

Uber for House Cleaning

Uber for Laundry

Uber for Kids

Uber for Doctors

Uber for Private Jets

Uber for Dog Walking

Uber for Seniors

Uber for Moving

Uber for Lawn Care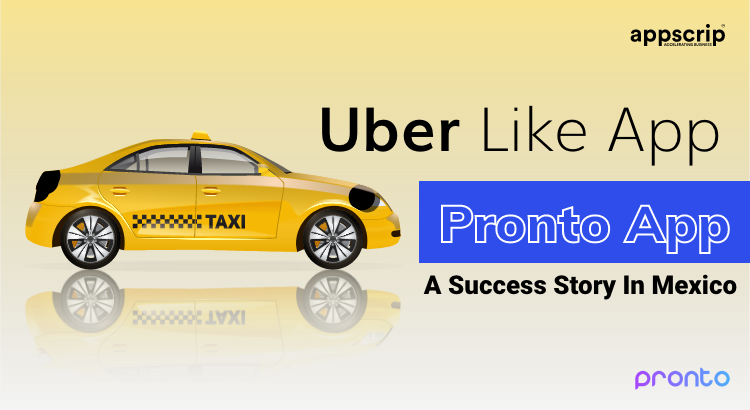 Uber Like App | Pronto App | A Success Story In Mexico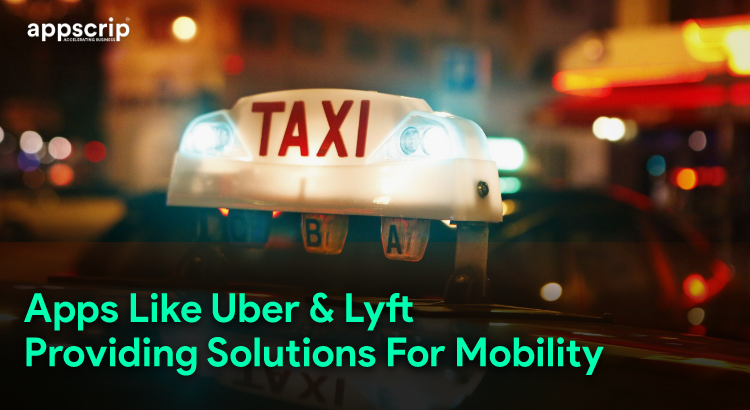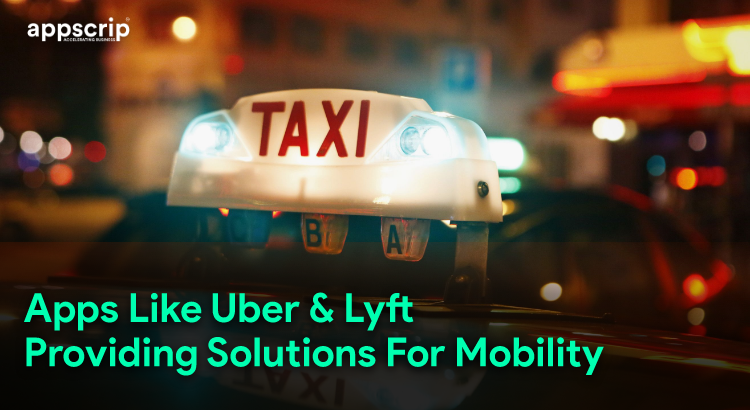 Apps Like Uber & Lyft – Providing Solutions for Mobility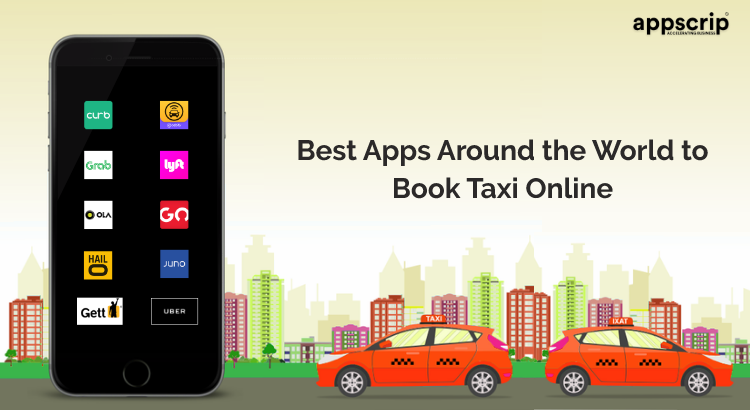 Best Apps Around the World to Book Taxi Online Software