It's On Etsy If It's Handcrafted, Vintage, Custom or Unique!
Etsy is an e-commerce marketplace that connects artists to sell handmade unique products to interested buyers around the world – "If it's handcrafted, vintage, custom or unique, it's on Etsy." Etsy desktop website started as a simple website in year 2005 and is now listed as a public company with over $360 Million of total funding.
Etsy featured seller says –
Etsy has been a great way to get exposure to customers all over the world. 2/3 of the Etsy customers are in the U.S. and the remaining 1/3 have been overseas buyers. Source: Forbes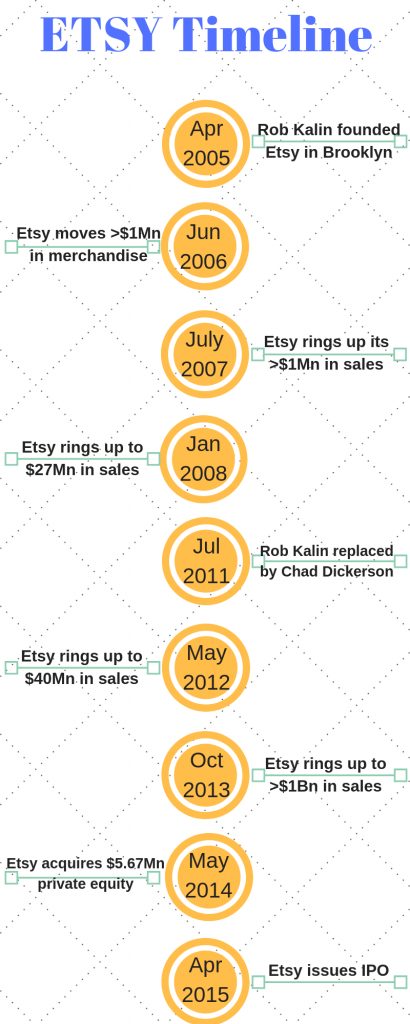 WHY IS ETSY A GOOD MARKETPLACE WEBSITE?
As per, Etsy seller statistics & Etsy online reviews, sellers like Etsy because of –
1. Lower fees and easier than eBay to receive payments.
2. Discounts on USPS shipping and ease of printing postage right on Etsy.
3. Etsy marketplace uses Google Product Listing Ads at no additional cost.
4. Etsy seller statistics list metrics like Etsy shop views, web traffic leads, viewer country locations, etc.
5. Social linking of the listed item of Etsy featured seller on Twitter, Pinterest & Facebook.
6. Etsy featured seller is able to offer coupons/discounts to all possible customers.
7. Etsy featured seller can send a follow-up email to customers who have ordered products to attract repeat sales.
The Etsy business model is somewhat similar to Amazon or eBay, but with the difference that Etsy provides an amazing value to both buyers and sellers.
Unlike Amazon and eBay which are based on the horizontal model selling almost everything on their platform, Etsy has chosen a vertical platform model by confining itself to selling only craft items in various categories.
ETSY REVENUE & BUSINESS MODEL
Here is a detailed chart on the Etsy business model :
WHAT MADE ETSY SUCCESS RATE SO HIGH?
The success of Etsy goes to its unique business model. Here is what made Etsy successful.

Word of Mouth Advertising
The major part of Etsy revenue growth came from word of mouth in women circles(67% of its total users are women).

Extended API's
Etsy has its own API which lets developers tap into the Etsy community and build their own Etsy-powered applications for the web, desktop & mobile devices.

Offline Help and Support
Etsy ran workshops for local crafters and stood there to provide support services including business advice & small loans to artists & Etsy featured sellers.
Want to run an online buying & selling marketplace like Etsy?