Revolutionize Fuel Delivery Services with the dynamic Fuel Delivery Software – Fuel.Up
Our fuel delivery dispatch software is changing the retail fuel sector by providing on demand fuel delivery. Solve the gas station problems by bringing fuel directly to the consumers so they avoid the petrol pump.
Fuel.Up is the perfect white label platform to use for entrepreneurs and businesses wanting to kick-start their own fuel delivery dispatch business.
How To Start On Demand Fuel Delivery Service?
What Are Business Opportunities in Gas Industry?
Fuel delivery is a niche buisiness. Oil & gas sector hasnt changed much over the past several decades. Fuel delivery startups like Filld, Booster, MyPetrolPump, Yoshi, Gaston, fuelster are transforming people's life by leveraging technology and innovation. They hvae raised exceptional capital from its backers. You as an entrepreneur can start your own business in this exclusive delivery sector.
What do you need to start an on demand fuel delivery business?
#License
Since you are delivering hazardous material like oil, gasoline, and diesel, safety becomes prime concern. Laws and regulations of the state and also federal laws have to be complied with. Start by researching the required licenses before starting your delivery service.
#Fleet
Having a fleet of vehicles is the backbone of any delivery related business. Your trucks must be installed with the mobile fuel dispensing unit. For tracking deliveries in real time GPS must be installed on each vehicle to help you track your fleet and its activities precisely.
#Hire HAZMAT Drivers
Hazardous Material Drivers are rigorously trained professional truck drivers who successfully transfer inflammable fuel to your doorstep.
#Fuel Providers
Whether it is an Unleaded regular and Unleaded premium fuel or diesel, you can get fuel from the same provider where the retail fuel stations source from.
Must Have Features For Gas Delivery App
Location Finder – People can get stuck anywhere. Providing pin vehicle location option allows the user to direct the delivery expert to reach to your vehicle easily.
Provision to select type of fuel, quantity and scheduling time for the delivery.
In-App Text or driver call feature
Promotions
Monthly Membership – This encourages your regular customers to put prescheduled fueling order for the whole month.
Real Time Tracking
Status Updates
FUEL.UP: A PERFECT FUEL DELIVERY SOFTWARE SYSTEM WITH A ROBUST CUSTOMISABLE FUEL DELIVERY SOLUTION
Inspired by the success of on-demand service provider apps like MyPetrolPump, FuelFox, our Fuel.Up has a scalable, proprietary Pre-built IP fuel delivery software solution for entrepreneurs.
100% Customizable
Our fuel delivery dispatch software is customizable to build a software solution for any kind of on-demand service business or an overall on-demand services provider like TalkLocal, Taskrabbit, UrbanClap, Handy etc.
PCI Compliant
We assure PCI compliance so you will have not legal issues accepting in-app purchases with our fuel oil delivery software.
Prebuilt Scripts
Using our proprietary Pre-Built IP solution, we move your unique on-demand services app from development to deployment faster than any fuel tracking software or developers out there.
Scalable & Clean Design
Using state of the art app container technology, clean coding practices, Rx programming and microservice architecture – Fuel.Up is designed to be future-ready for all kinds of Uber for Services.
Multi-Language & Multi-Currency
Irrespective of your location or language preference, Fuel.up can be tailored for any ride-sharing or transportation booking need, around the world.
Referrals, Promotions & Loyalty Programs
To improve growth of the userbase & overall user retention, Our fuel dispatch software is equipped with promo & referral features.
Explore Fuel Dispatch Software
Being the best fuel delivery software in the market, our platform lets users get fuel delivered to the location of their choice. Different fuel types, quantity can be delivered either one time or can be repeat subscription based fuel deliveries. Fuel.Up provides a smooth, hassle free UI experience than other Fuel tracking software in the market.
Select Location & Fuel Type
The fuel software allows you to select your location where you want the fuel to be delivered to. In addition, the type of fuel (Diesel, Petrol and Engine Oil) can be selected at the bottom.
Based on user's requirement select quantity and sub fuel types if any (Premium unleaded petrol, Super unleaded petrol, Xtra Premium, Premium Diesel Fuels)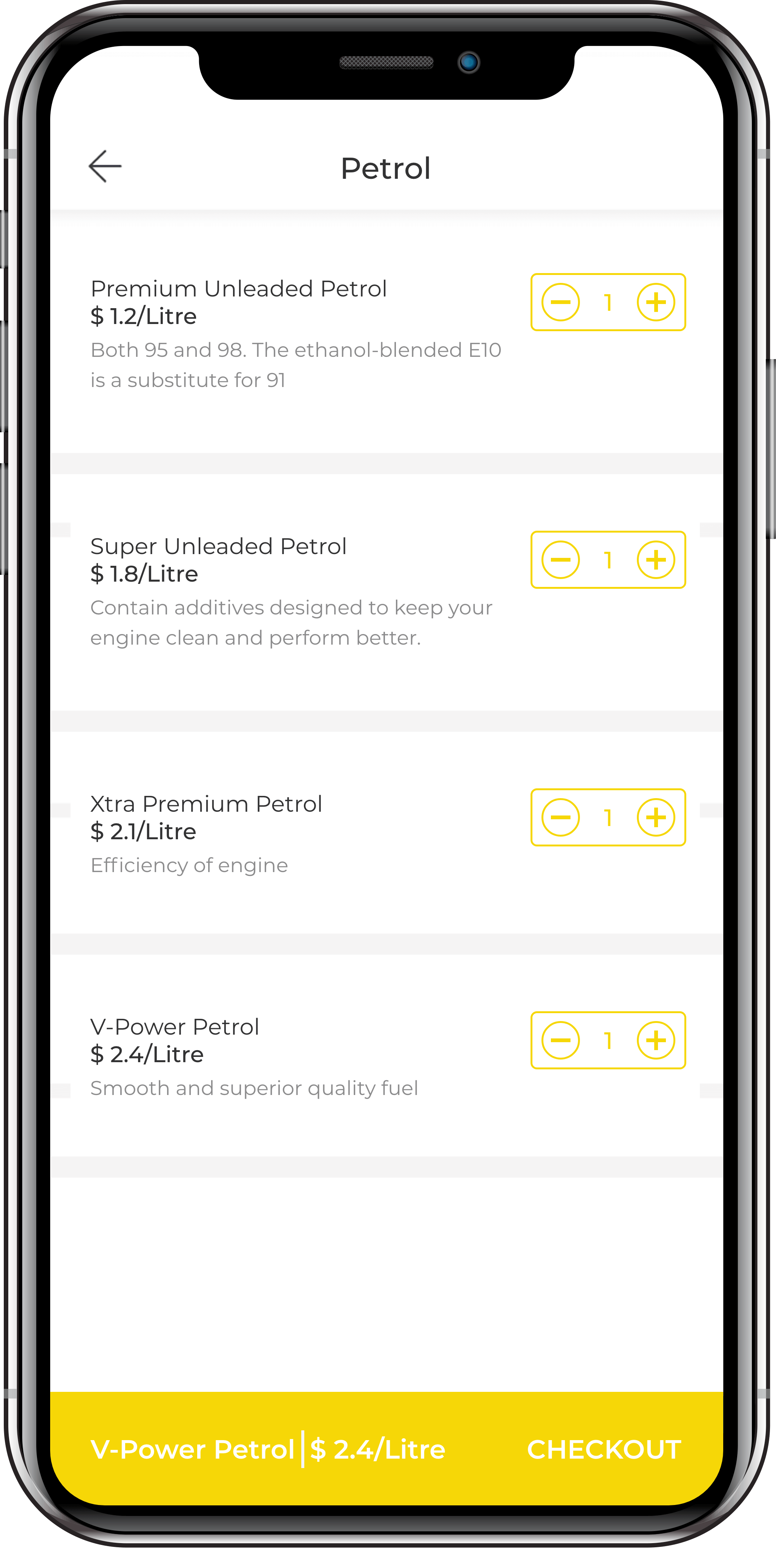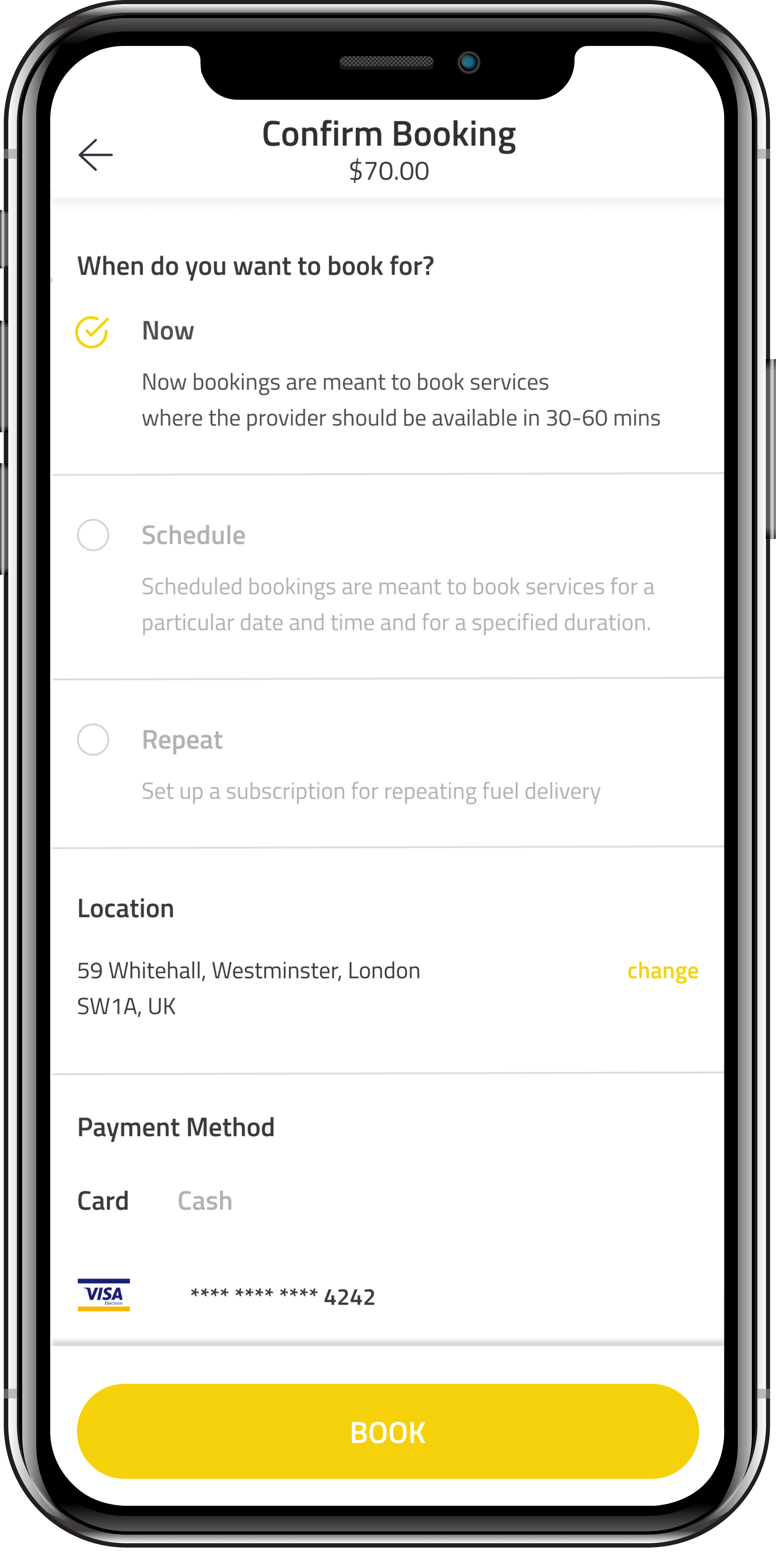 Schedule Fuel Delivery & Repeat Deliveries
You may select immediate delivery(Now) or schedule it at a date and time of your need. Repeat option is also provided to provide a subscription type of regular fuel delivery
Schedule Fuel Delivery Time
Select the time of the fuel delivery
View the status of your fuel delivery service. In-app notifications are provided for real-time status updates
Our fuel delivery software lets users track their any of their booking in real-time via the app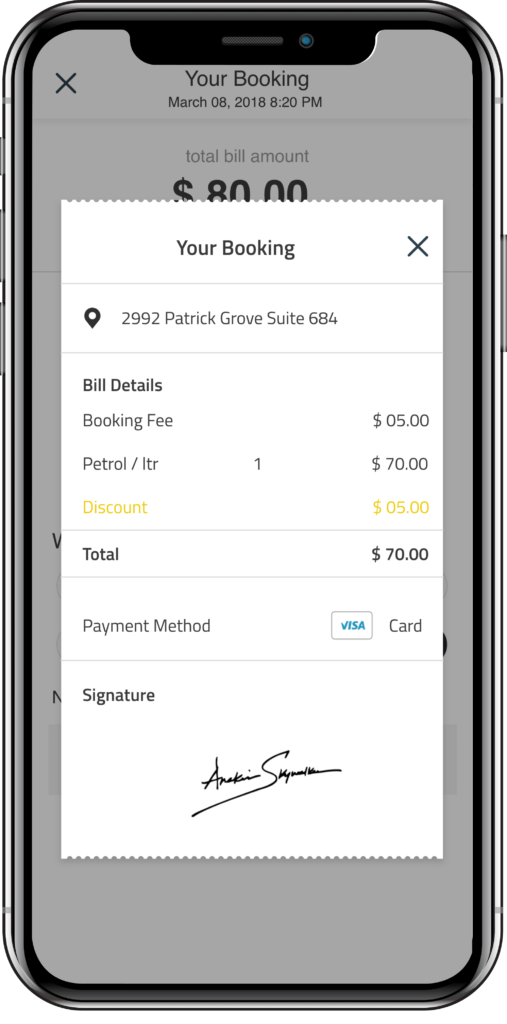 Post job completion, users can view a detailed bill regarding the service undertaken and rate their service providers accordingly.
Provide ratings for the quality of the fuel delivery service