MULTISTORE GROCERY DELIVERY SOFTWARE & ONLINE GROCERY SHOPPING SOFTWARE
Grocer is a one-stop software solution for entrepreneurs aiming to leave a prominent mark on the grocery marketplace business. Inspired by the big players in the category- BigBasket , Amazon Pantry, Grofers & Nature's Basket, our grocery ecommerce solution has been crafted to provide an all-around solution to the grocery supermarket business.
INTUITIVE & INTERACTIVE UI | HIGHLY SCALABLE | 100% CUSTOMIZABLE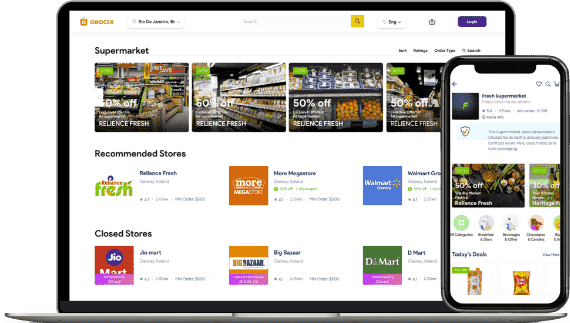 Unique Selling Points Of Grocer:
PICKER APP: Instacart like picking experience.
DRIVER SHIFT MANAGEMENT: For better utilization of driver capacity, and maximizing the number of deliveries.
STORE DISPATCHER: To allow stores to track the status of their deliveries, and to create new deliveries for orders received via other sales channels.
PROGRESSIVE WEB APPLICATION: For enhanced UX on desktop, tablet, and mobile devices that are fully integrated with the mobile app.
ROUTE OPTIMIZATION: That enables drivers to do multiple deliveries.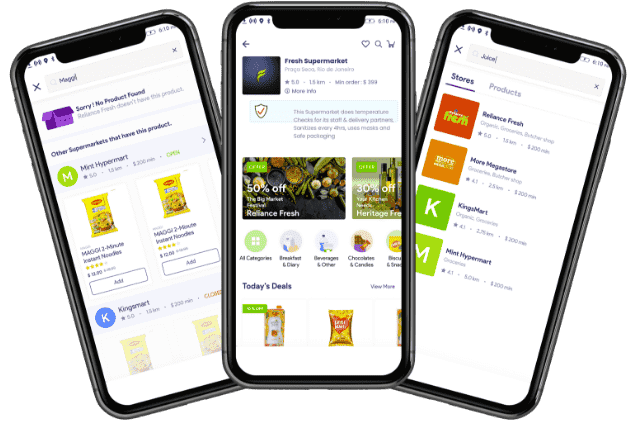 GROCERY DELIVERY SOFTWARE | CUSTOMER UI FLOW
In order to enhance user experience  on the grocery ordering & delivery experience, Grocer comes with several striking features that are at par with the best grocery delivery software apps and well suited to every grocery business models. The add-on features make our BigBasket & HappyFresh clone app stand out. Check out the customer flow chart here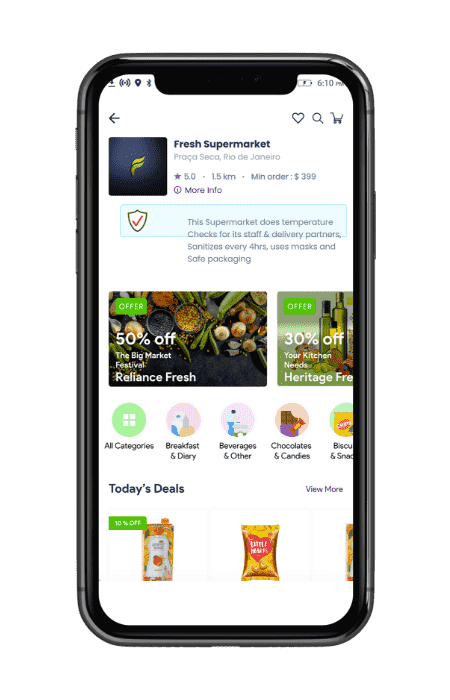 Users will be provided with a list of stores based on their location, and products' searches. They can see 'recommended' & 'open' stores, and can also create a list of their 'favorite stores'. Special badges will reflect against stores that follow the highest safety standards on the grocery home delivery software.
Users can search for a variety of products and/or for a particular store they want to shop from. The system search algorithm will return matching products along with the stores' availability. They will also get options for a substitute product, in case the selected product runs out of stock.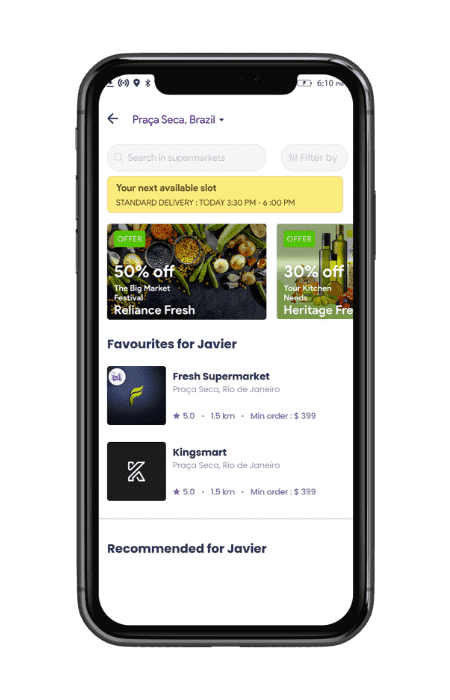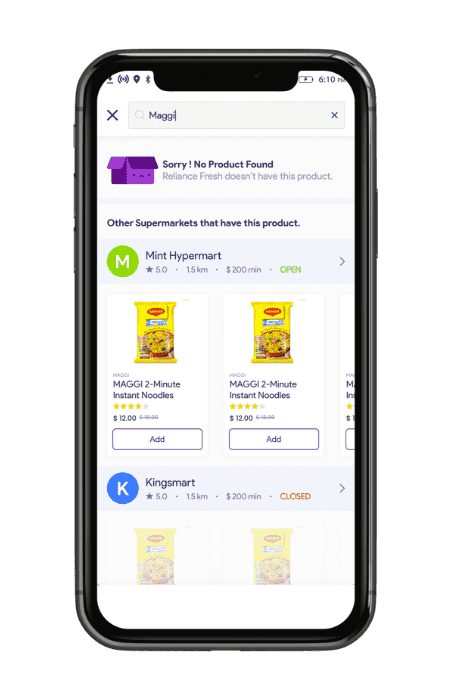 Our multi-store grocery shopping software leverages ElasticSearch to enable super-fast search and filtering from a huge catalog. This provides a seamless user experience, besides shortening the sales cycle on the grocery delivery software.
Users will get multiple filtering options. They can apply the same based on their preferences. All products search will be sorted out based on ratings & reviews, availability, price, etc.
DETAILED PRODUCT DESCRIPTION
Users will get a descriptive view of products in our online grocery delivery app solution. This will help them better understand the product attributes – price, color, manufacturer, etc. The product description page (PDP) allows users to check which store is offering the lowest price on a product.
PRODUCT AVAILABILITY NOTIFICATIONS
As products will have specific inventories added on the CMS panel, users will be notified about the availability of a product, during checkout. Similar products can be generated using a machine learning algorithm, based on buying patterns of users.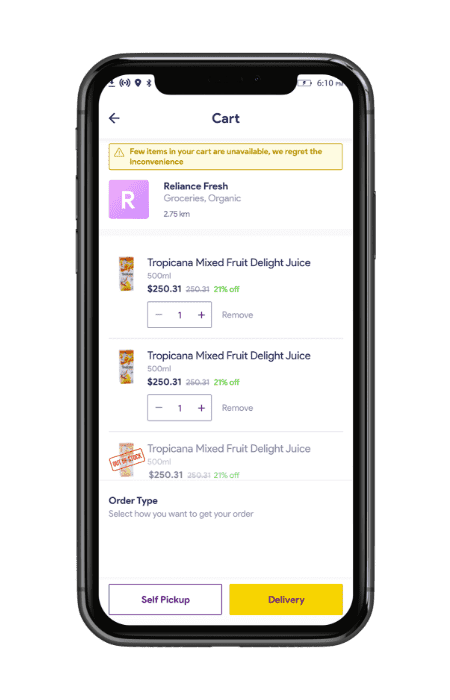 To enhance the user experience, our multi-store grocery shopping software allows customers to shop & order from a variety of stores, at the same time! They can add or delete items, and can also view total savings on every purchase. Users can also schedule a preferred time for the delivery.
After confirming the order & delivery address, users can choose from multiple payment options (credit/debit cards, COD, app wallet) in our online grocery delivery app software. If a store does not deliver in a particular area/zone, users can either cancel the order or change the address.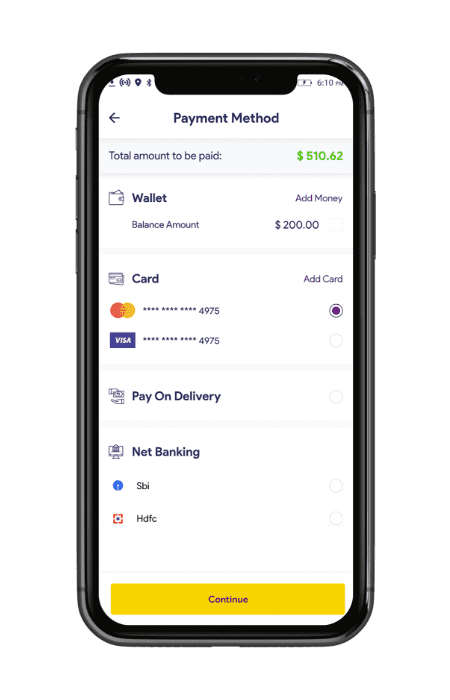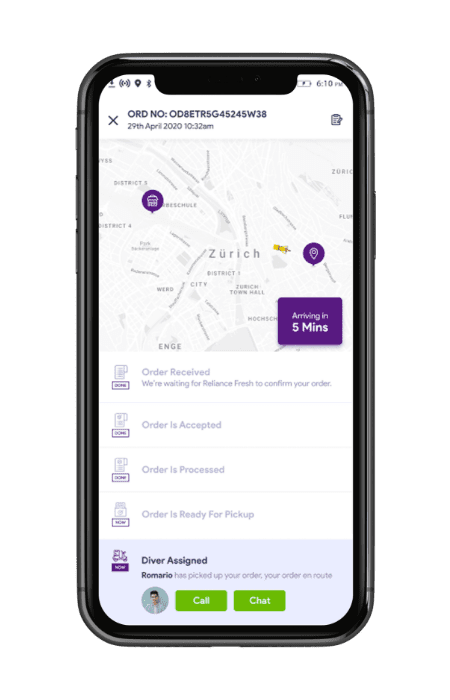 The real-time tracking will help users to know each detail- from the time the order gets picked, to the completion of the delivery. In case a product is unavailable, the picker/delivery agent will inform the users, and the latter can immediately opt for a substitute, or cancel the item.
The whole list of past and present orders will be visible to users, in the grocery shopping software. Orders can be filtered based on several parameters (months, years). Orders that are purchased from multiple stores, will be tracked separately.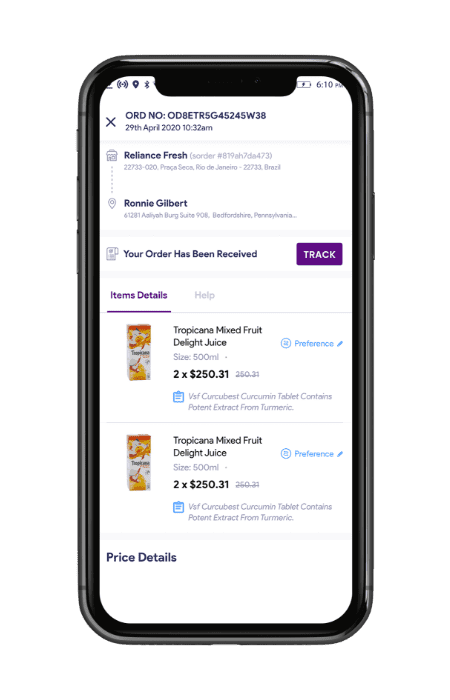 GRAPHICAL FLOW OF THE picker APP
The functioning of the store app is highly flexible and can be configured accordingly, based on several parameters of the grocery delivery solution. Check out the picker app flow chart here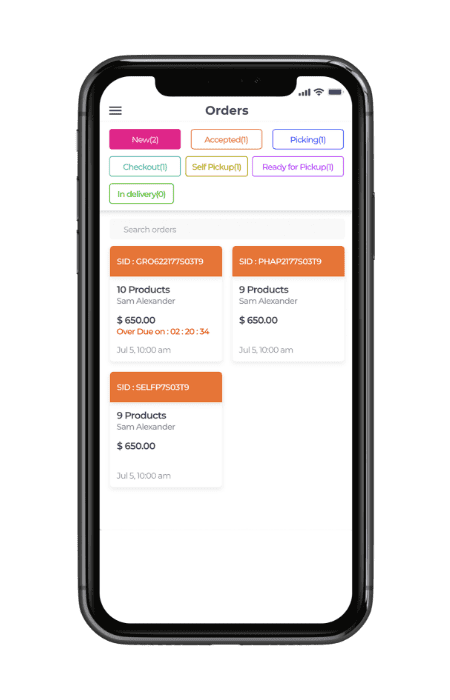 The supermarket software is an excellent tool for store owners/product sellers to manage & dispatch orders to customers. The home page shows a list of tabs where a new order; orders that are ready for pickup, checkout & delivery- all are displayed in an organized way.
As and when a new order arrives, the owner gets notified in the grocery delivery software. They can see all necessary details like the customer details, the contents of the order, the selected mode of payment, etc.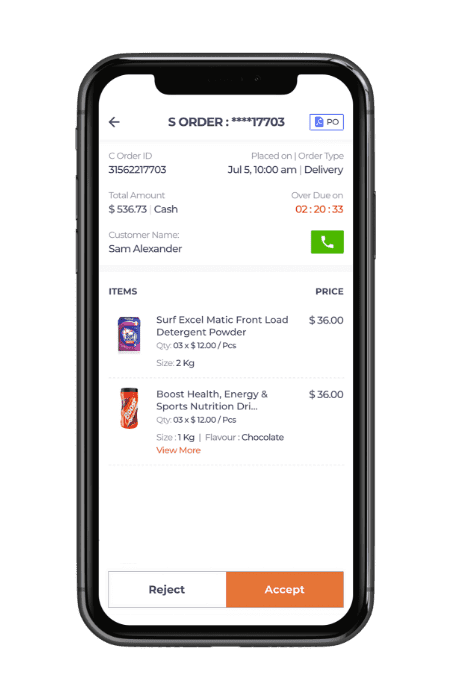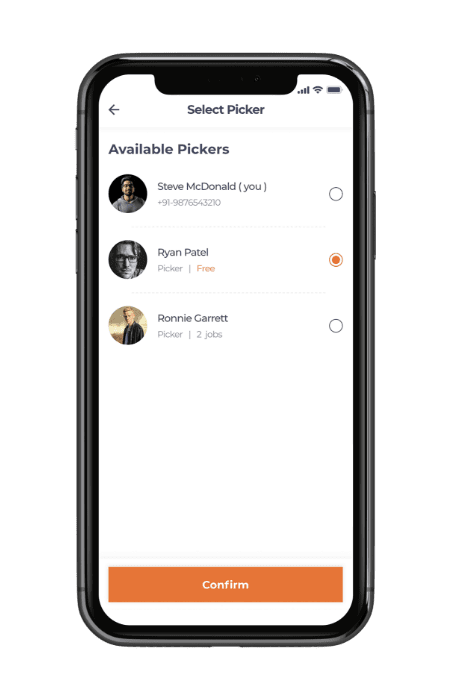 After accepting the order, the store owner can either pick-up the items himself or assign a picker. Detailed order picking stages will be displayed in various tabs for real-time, quick updates on the grocery ordering & delivery app.
A detailed update: 'Not Picked'; 'Picked' for products that are scanned to auto pick or force picked manually. 'In Review' for products that require confirmation. 'Removed' for products that are deleted from the cart.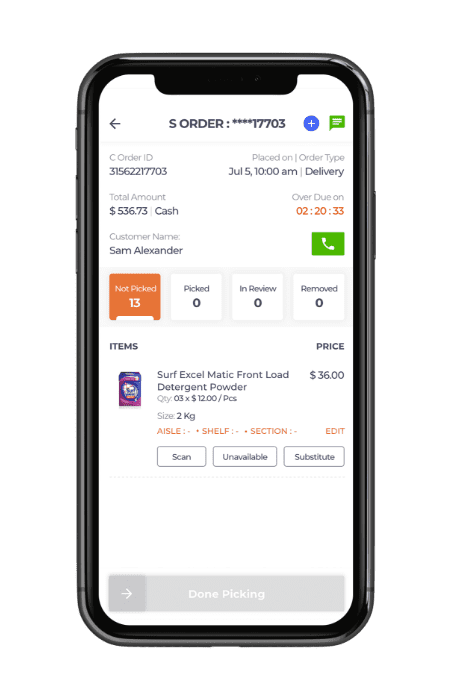 SUGGEST SUBSTITUTE PRODUCTS
The store owner has the option to update the customer about products that are unavailable or are out of stock. A substitute product will be suggested, and on approval by the customer, they can continue with the further processes.
When an order is ready for pickup, the customer is informed immediately. The store owner can auto dispatch the orders or manually assign a driver (in the case of store drivers) for deliveries.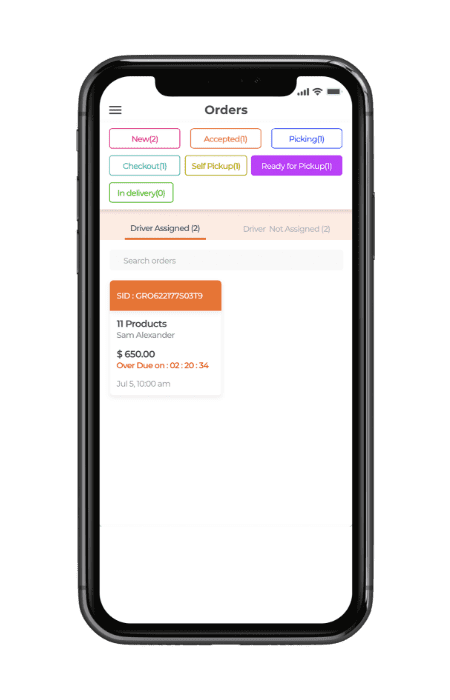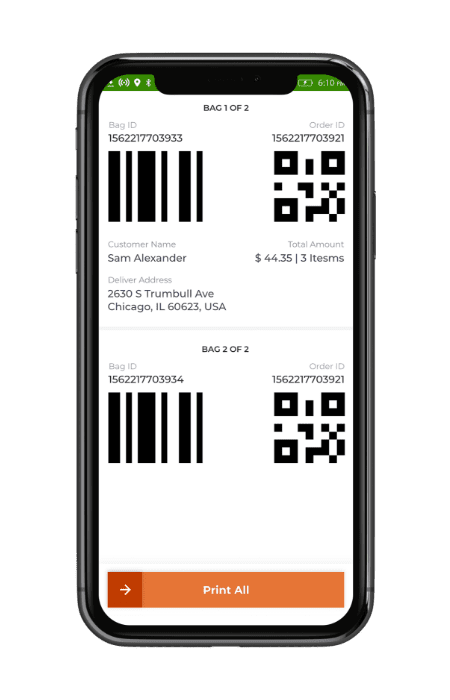 During checkout, the cashier will generate a receipt after scanning all the items. The receipt must be uploaded to the app. The picker will then confirm the no. of bags & print labels for each bag. These will be tied to the order & scanned by the driver at the time of delivery.
Once the shopping process ends, the store/freelance driver will update the customer about his estimated time of delivery thus enhancing the grocery ordering and delivery experience.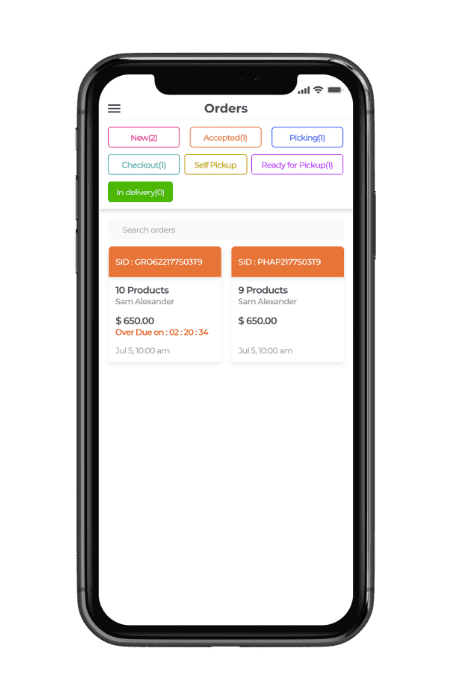 GROCERY DELIVERY | DRIVER APP FLOW
Our multi-vendor grocery delivery software facilitates order delivery either via freelance drivers (the ones who can pick-up items & deliver from multiple stores), or specific store drivers. This is an esssential feature of the grocery ordering & delivery app. Check out the driver app flow chart here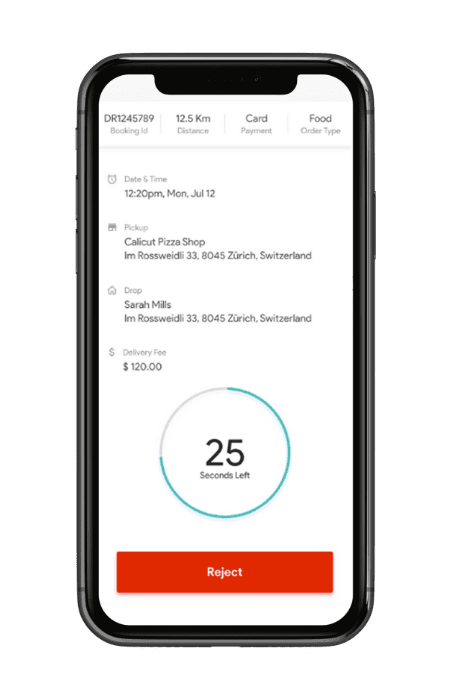 A store driver will be assigned the job directly, but freelance drivers will receive notifications on the app which they can accept or reject. The drivers will have the option to mark themselves available or unavailable as per their preference.
Since drivers can deliver grocery orders at multiple addresses, they can provide updates both to the store owners/managers and the customers, all the same time! The real-time updates ensure seamless communication between drivers, store owners, and customers.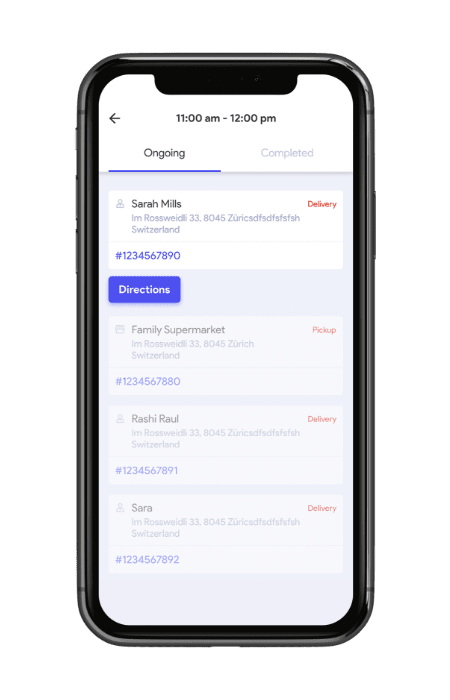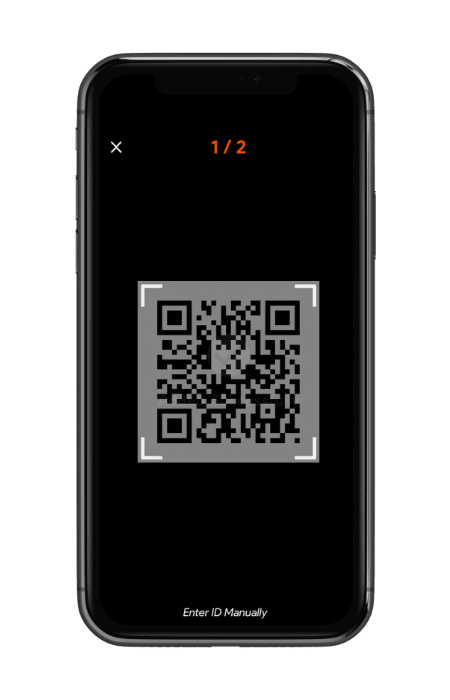 The driver will have to scan the unique bar code on each bag to confirm its pickup. This process will also help to understand if the driver has picked up the right order thus making it the best grocery delivery software.
Once the driver is assigned a job, he can visit the stores and starts picking up the items. He can undergo multiple pickups from various stores(and for different customers). During the delivery, he can directly send real-time updates to the customers.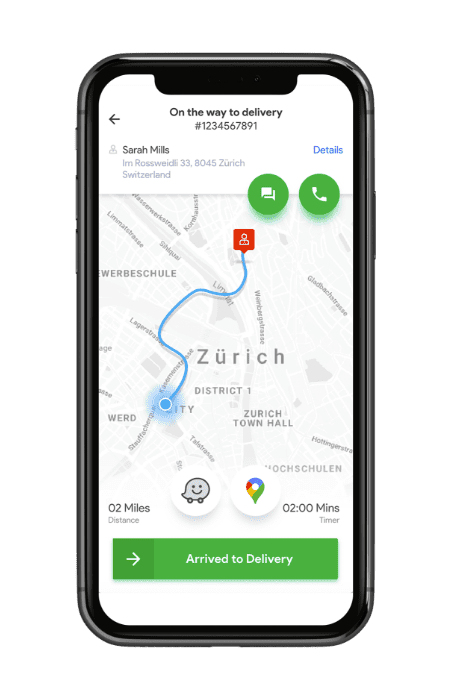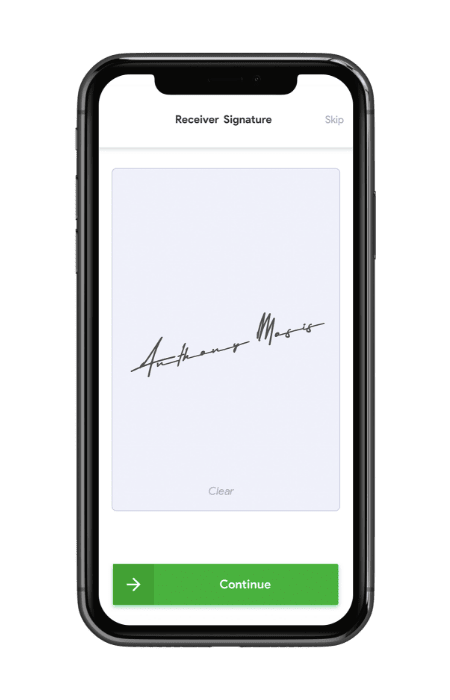 The grocery delivery software will be considered complete only after he has taken the signature of the customer. In case of contactless delivery, the drivers can take snaps of the bag left at the doorstep, as a sign of proof. 
The driver can reattempt for a delivery, in case the customer is unavailable. He is allowed to do the same for other reasons as well and has to provide valid reasons, in order to inform the system admin about the reattempt.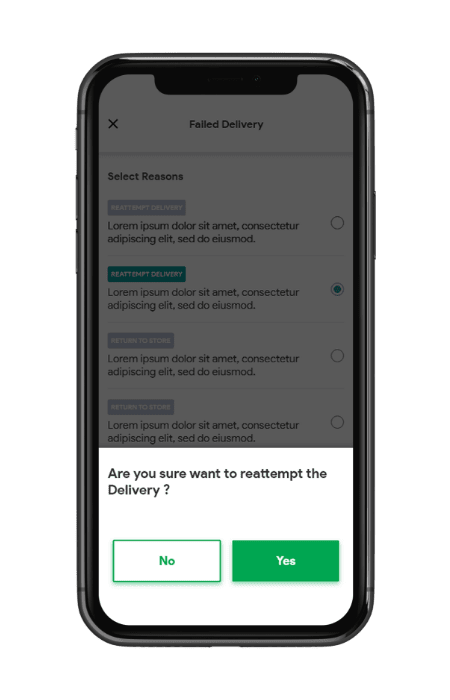 ONLINE GROCERY SHOPPING WEBSITE | grocery eCommerce platform software
Explore Products & Offers

Explore grocery products & ongoing offers from various stores on the grocery marketplace website.
Apply Filters & Multi-Store Cart Updates

Apply filters for products and add items from various stores into a single checkout cart on the grocery ecommerce solution.
Scheduling, Payment & Live Tracking

Grocery delivery website software comes with multiple scheduling & payment options. Users can live track their orders once placed on the grocery shopping website.
GROCERY STORE DISPATCHER SOFTWARE- ONLINE GROCERY SHOPPING SOFTWARE
Bird's View

View an overall look of all the ongoing grocery pickup or delivery jobs, available & unavailable grocery delivery drivers, phone battery percentage etc..
Manual Bookings

Manually assign grocery bookings to grocery deliverers on demand on the grocery & kirana shop software.
Individual Job View

View the status of each individual grocery trip in real-time on the grocery delivery solution.
MULTI-STORE GROCERY HOME DELIVERY SOFTWARE ADMIN PANEL

SUPER ADMIN PANEL
Central admin to manage the entire grocery delivery software. From overall store management to each individual user.

STORE INVENTORY MANAGEMENT
Store-specific inventory & SKU management for admin & store owners to manage the grocery inventory.
TRACK ORDERS-BIGBASKET CLONE
Track all grocery shopping & delivery orders across the website & app.
FLEET MANAGEMENT
Manage various grocery delivery operators and associated drivers.
FARE SETUP – BIGBASKET CLONE APP
Option to go for mileage-based pricing or fixed pricing based on zones or distance for delivery fares.
PROMOTIONS & REFERRALS
Setup and manage promotion codes and referral campaigns on both the grocery website & app.
BIRD'S EYE VIEW
Track grocery drivers in real time on a map across cities in real time.
ACCOUNTING
Complete financial accounting system to keep track of grocery store earnings and driver earnings.
PAYROLL
Manage cash & card earnings for drivers with direct payments to driver bank accounts.
MESSAGING
Push messages to grocery store owners, drivers and customers directly from the admin.

DISPATCHERS
Manage dispatchers for different cities or zones.

STORE MANAGEMENT
Individual store setup & management.

SEO MANAGEMENT
Mobile responsive and SEO friendly with sitemap & slug generation.
COMMISSION SETUP
Setup the app commission for different merchants.
MANAGE MENU
Create custom menus for various grocery franchises and stores or import an xls file.

ORDER ANALYTICS
Detailed analytics reports for individual items, stores or overall grocery delivery business performance.
REPORTS & REVIEWS
Rate & Review the delivery service or grocery store to maintain high service.
WHY CHOOSE GROCER AS YOUR ONLINE GROCERY DELIVERY SOFTWARE APP SOLUTION?
Grocer is inspired by top apps like Amazon Pantry, Grofers & Nature's Basket, grocery ecommerce solution. It has been designed to be a feature-rich Grocery Delivery Management Software with its clone script backed by a robust & scalable tech-architecture. The grocery store app solution software has the below-mentioned advantages.
100% Customizable
Our multi-store grocery delivery software can be customized for a variety of delivery app ideas. Whether it's multi-store groceries, flowers, fashion, etc. Grocer has been developed to provide a unique white-label multi-store delivery software solution for each business idea.
PCI Compliant
We assure PCI compliance so you will have not legal issues accepting in-app purchases on your customised grocery delivery app & software.
Prebuilt Scripts
With our proprietary pre-built multi-store grocery shopping, delivery, store management solution, we move grocery apps from development to deployment faster than any other multi-store delivery app developers out there.
Scalable & Clean Design
Using state of the art app container technology, clean coding practices, use of microservice architecture while simultaneously integrating safety & security features on the app – Grocer is one of the most robust online grocery shopping software solutions in the market today.
Multi-Language & Multi-Currency Support
Irrespective of your location or currency preference, Grocer can be tailored for any grocery delivery business or grocery store around the world.
Referral & Promotions
To improve growth of the userbase & overall user retention, Our grocery delivery business software solution is equipped with promo & referral features for both customers & drivers. Our underlying scalable tech architecture ensures our grocery delivery app can handle the growth of your userbase.

SEO Friendly Design
All grocery shopping & delivery apps built using the Grocer software solution are designed keeping the best SEO practices for apps in mind. This aids in the apps overall ranking in search engines & online app stores.

App Monitoring & Chatbots
Our online grocery shopping app & software is the only customizable grocery delivery solutions that provides chatbot-integrated app monitoring services. This ensures you have on-demand app performance updates for your tailored grocery app.

Security
Our multi-store grocery delivery business software solution is not only robust & scalable but extremely secure as well. SSL-powered API's, Keychain, JWT, reverse proxy setup etc ensures that security extends all the way from the app to each individual API.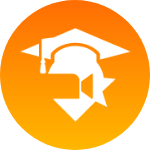 Online School Software