LIKEE CLONE - CUSTOMIZABLE VIDEO DUBBING AND VIDEO-SHARING PLATFORM
Launch a trending, customizable, intuitive video sharing service with Likee clone. Create a Likee like software with world-class features like destructive messaging, video filters, social media sharing, in-app chatting, and more.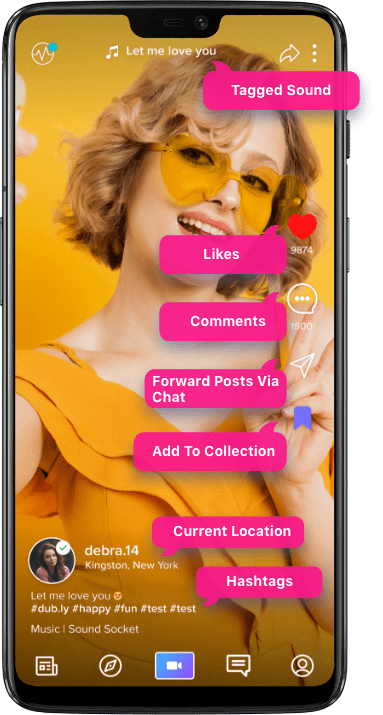 The Best Likee Clone Solution
The newer younger generation needs an up-to-date selfie video sharing solution. The Likee clone script is not only loaded with features of Likee but has additional ones that enhance your video sharing experience.
What is a Likee Clone?
Likee clone is a video sharing solution inspired by the popular short-video creation and sharing platform, Likee. The solution script encompasses versatile functionalities and features with improved designs.
What is a Likee Clone Script?
A Likee clone script is a ready-made script used to create a replica of an existing version of the Likee app. The script contains the existing features of Likee and add-on features as per the client's requirement.
ALL-IN-ONE VIDEO-SHARING AND DUBBING SCRIPT
Likee clone is integrated with features from the best video sharing apps for users to record their videos and performances seamlessly. Dive into the long list of interesting enhanced features of Likee clone.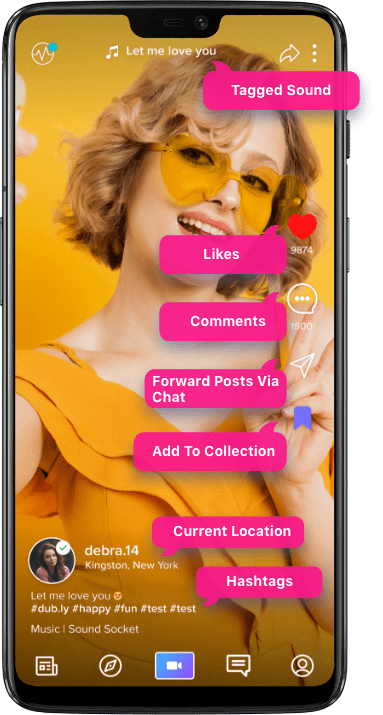 Users can view videos on full screen and get a full-fledged immersive experience. They can double-tap to like, comment, watch other videos, and find a long list of tagged videos.
RECORD VIDEOS ON FULLSCREEN
Choose videos from the gallery or record videos, with original soundtracks, on full screen, zoom in and out, add timelapse filters, and apply visual effects.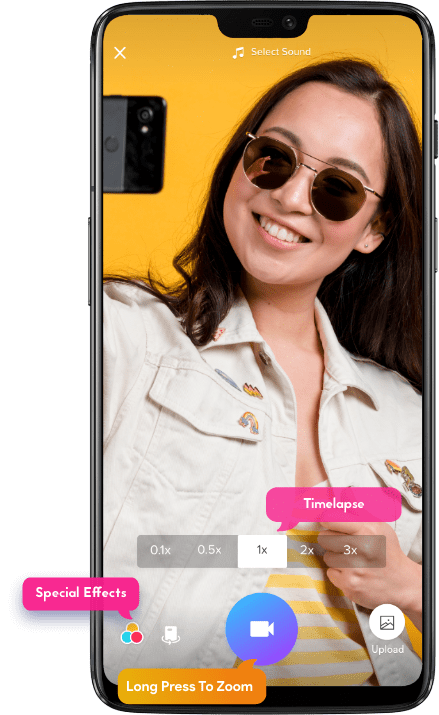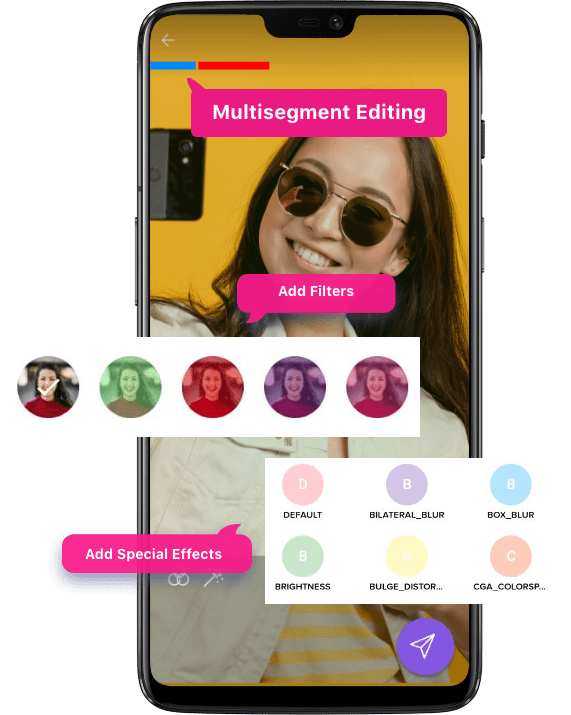 Each segment of the video can be edited and users can add special effects post-recording.
Post videos hassle-free. Connect to a large base of users through hashtags, location tags, and add to category options. Business users can add links to products and services like a button text.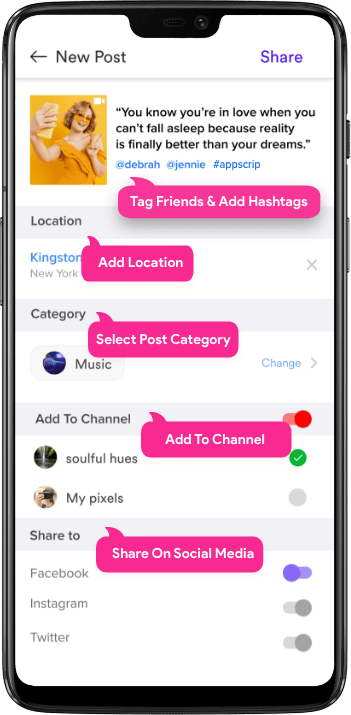 LIKEE CLONE WITH RICH EMBEDDED FEATURES
Our experience in building various clone scripts has helped us integrate some of the best UI features for video selfies, video chatting, and video sharing. The solution is 100% customizable to your requirements. We assure you that the Likee clone provides rich features and a seamless UI interface.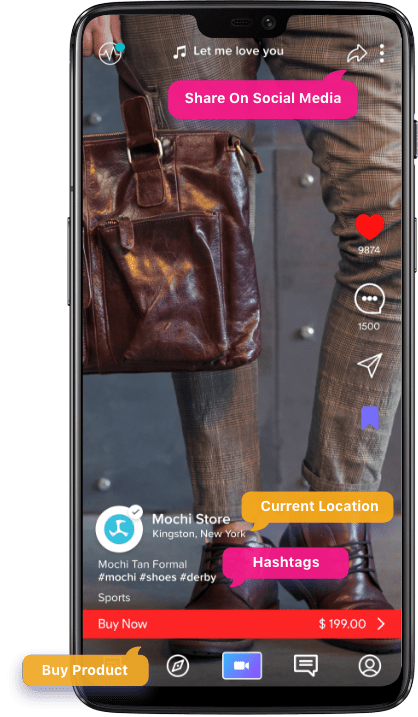 Verified business profiles can add links to their products, services, booking pages, etc. These links open on web pages within the app as a web view.
Users can get quality content from certified profiles. They even have an option to directly chat with the stars on our script.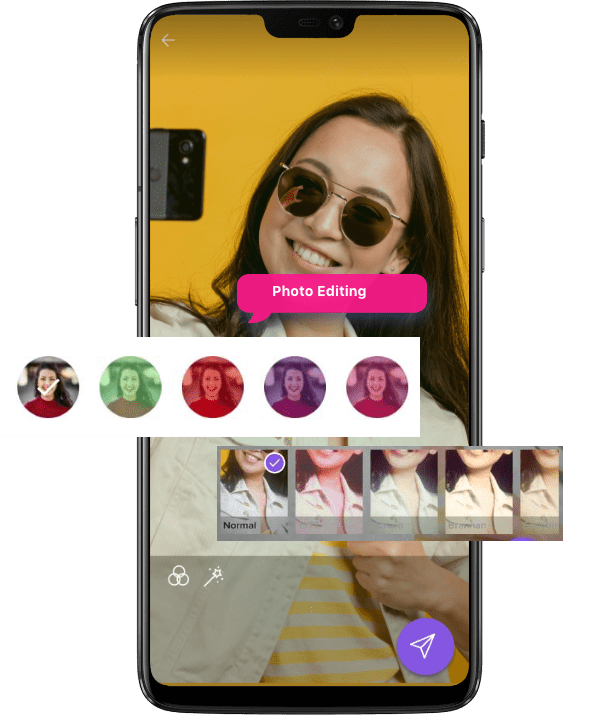 Users can also post photos on their profiles. The software is embedded with image filters. They can apply stickers and text captions to their images.
Create youtube like channels. Add videos and photos to your channel. Channels can be private or public and other users can follow these channels.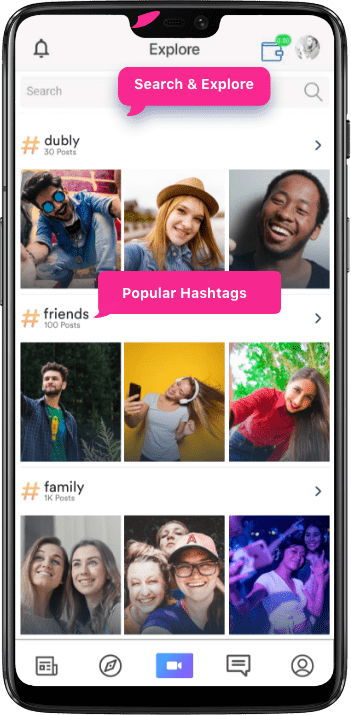 Users can find trending hashtags on the top. They can search for other hashtags, locations, and businesses.
Users can create interactive stories like on other social media platforms. They are visible on chat pages.
PERSONALIZED CHAT MODULE FEATURES
The clone has a unique in-app chat module integrated. Users can chat, share multimedia files, and create groups. Additionally, it is embedded with self-destructive chats, where users can chat in privacy.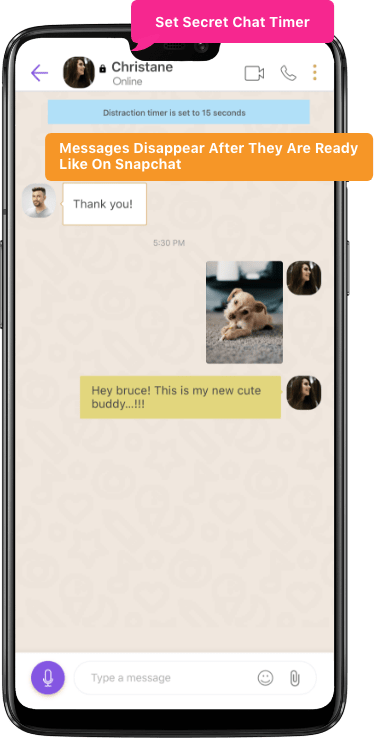 SECRET CHATS LIKE TELEGRAM
Using our secret chat feature users can send ephemeral messages.
Initiate audio or video calls with other users. All calls are powered by WebRTC, a custom WebRTC gateway, and not any 3rd party paid service like Quickblocks, Agora, etc.
TRANSACTIONS WITHIN THE APP
With all the above features that keep users engaged, the script also includes an in-app transaction feature. Users can send money via the assigned payment gateway within the software itself. This feature makes the Likee clone a unique social media clone in today's market.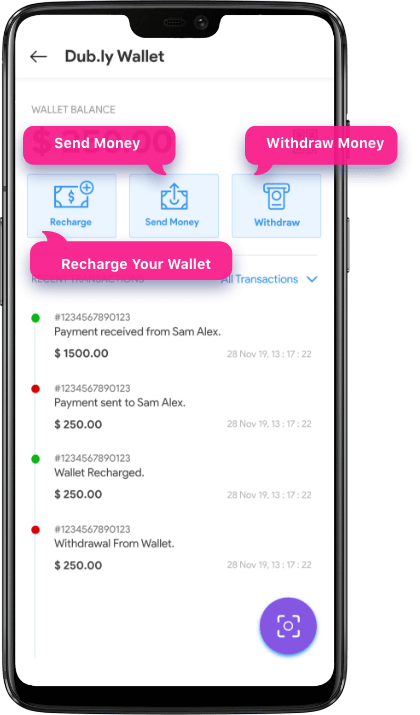 Users can use our in-built money wallet to perform any banking transactions. They just have to fill their KYC details and recharge their wallets via credit or debit cards.
Users can send and receive money using QR Codes within the chat.
Users can withdraw money directly to their bank account.
Chat with other users in real-time. Send images, gifs, videos, location, and contacts in chats.
VIDEO STREAMING FEATURES FOR YOUR LIKEE CLONE SCRIPT
Our video streaming solution enables users to create live videos easily. They can even broadcast their live videos to reach large audiences with real-time commenting and virtual gift features.
Followers get informed of live streaming via push notifications on the application.
Broadcasters can earn money by earning gifts. All virtual gifts have a coin value and each coin has a value in $.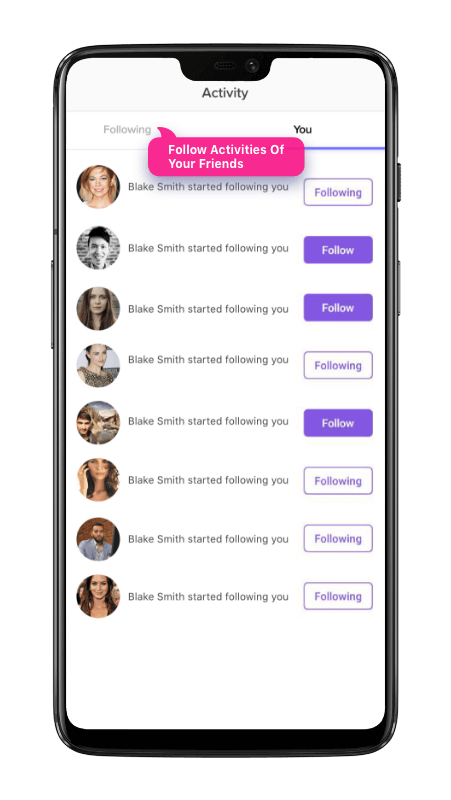 Users and followers receive push notifications for all activity on profiles. Track all activities of your friends on the software.
Users can upload their favorite songs and add their tracks to create custom dubbed videos.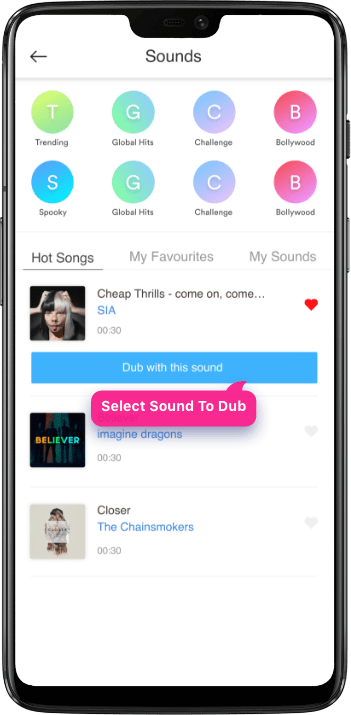 With a complete app-level to user-level overview, Like Clone's CMS and admin panel gives owners efficient management of all users, posts, categories, wallets, live-stream & channels.
Centralized Dashboard for Overall Management


The customizable Likee clone's dashboard provides an overall view and display of analytics.

Manage posts

Our admin panel provides complete management of business posts, normal posts of various users. They can also delete and suspend posts if necessary.

Live Stream Activity

Manage all live stream activities such as gift logs, duration, earnings, more.

Wallet Activity

Manage all transactional operations of the users' wallet like Payment gateway, KYC verification, recharge, withdraw, and transfer revenue.

Chats and Calls

Chat information, call type, duration, user detail can be assessed through our admin panel.
LIKEE CLONE ADMIN FEATURES
A detailed dashboard is integrated into our social video selfie script that showcases app-level analytics.
Add / remove user, report user, block user, suspend user all using the detailed user management module. A reported User can be suspended or deleted.
There are various categories such as sound, star, post, add & manage on this customizable white label app to create a unique content theme-based video selfie & dubbing sharing platform.
Manage various in-app channels created by users & brands on your custom video selfie app. These channels can also be deleted.
Add a detailed description of the app, its version, company, etc in the 'About Us' section.
Upload various sounds that can be included in various videos while dubbing.
A verified profile is a star profile. Admin can approve or decline the user.
Manage business post buttons as in Buy now, View more, Read more, etc.
A business profile has the capability to add business posts for monetary benefits.

Various reasons can be provided for the user to choose with regards to reporting another for misdemeanor.
Set rewards that can be doled out to users for likes / comments / new sign up, etc.
Manage hashtags by adding, editing, deleting, or modifying them.