SUBSCRIPTION-BASED MEMBERSHIP APP FOR CREATORS
Build a subscription-powered membership platform for creators of all kinds including writers, podcasters, artists, fitness models, videographers, musicians, and more with Patreon clone.
Our pre-built solution ensures seamless performance for both creators and subscribers. Launch your exclusive community content platform using our Patreon clone script.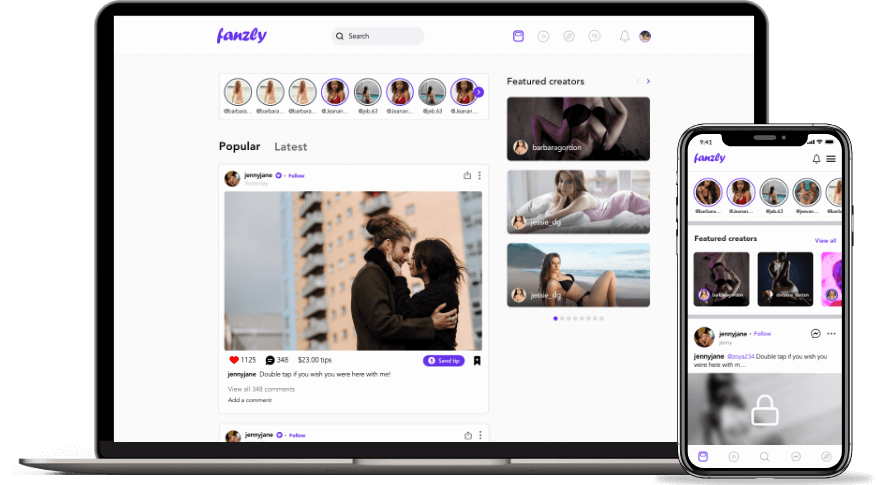 Revenue Model Of Patreon Clone
Fanzly, our Patreon clone is embedded with unique creator-friendly revenue streams like individual subscriptions, exclusive posts, tips, and VIP chatting. App owners can earn a % of the commission and set the commission on our admin panel.
Subscription Settings
Creators have complete freedom on setting monthly subscription prices on our Patreon clone. They can adjust prices depending on how their account performs.
In-depth Analytics
Patreon Clone script is equipped with an intuitive and detailed dashboard for creators to analyze their posts, earnings and sales.
Exclusive Post
Creators can post photos or videos as exclusive posts. They can set a price of their choice and lock their posts. They can be further promoted by messaging to their subscribers.
Unique Fans.ly Wallet
Creators can track their earnings and transfer money to their respective banks seamlessly.
Latest Industry Updates: Why You Should Consider Exploring This Niche?
The pandemic has accelerated the creator economy by many folds resulting in high demand for easy-to-use, feature-rich creator platforms. Patreon can be considered as a perfect example to look at when it comes to brand building by introducing a platform for the creators and their audience/subscribers to come together and engage with each other. If you are an entrepreneur who believes in the future of creator economy and is willing to step into this market with your own business idea, now is the time. Leverage our business-ready Patreon clone script and customize it to launch your own creator platform.
Total Monthly Earning Of All Patreon Creators
Total Video Creators On Patreon As Of Jan 2022
Total Monthly Payouts For Video Creators
Total Monthly Earning Of All Patreon Creators
Total Monthly Payouts For Video Creators
Total Monthly Payouts For Podcasters
Total Monthly Payouts For Podcasters
Average Monthly Website Visits In 2021
Annual Revenue In 2021 As Estimated By Backlinko
Total Monthly Earning Of All Patreon Creators
Average Monthly Website Visits In 2021
Annual Revenue In 2021 As Estimated By Backlinko
Basic Features For Creators On Patreon Clone App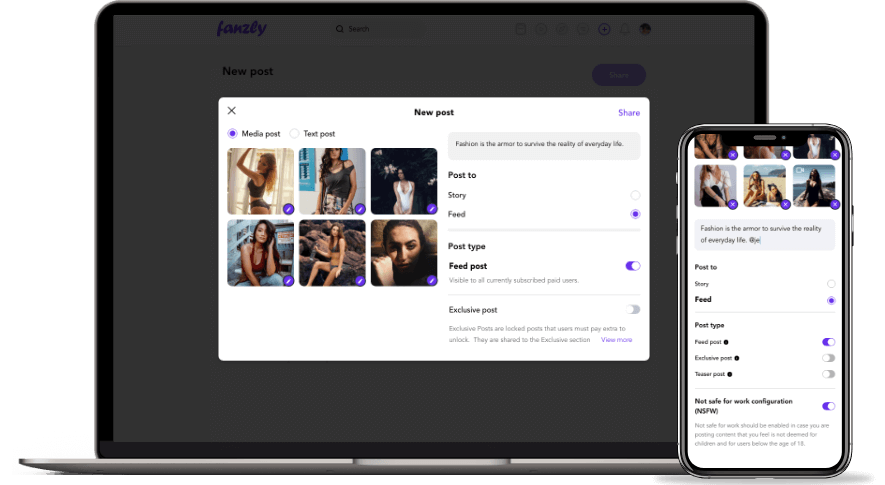 Create Posts & Stories
Creators can create feed posts, exclusive posts and stories for their subscribers. The posts can include images, videos or GIFs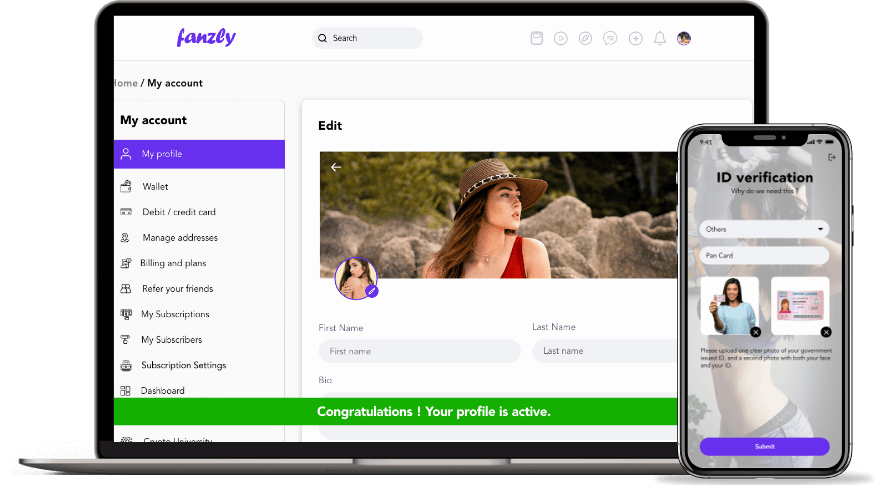 Creators' Verification
Creators need to upload a valid ID proof when creating their account for verification of their profile, failing which the account will be rejected
Track New Subscribers & Followers
Creators have the option to view and keep a track of their subscribers and followers count where the list of users will who have subscribed/followed them will be displayed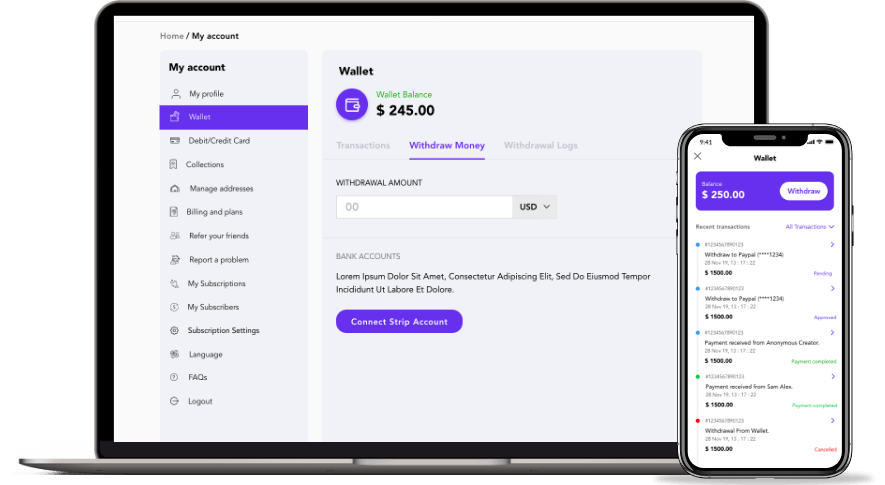 In-App Wallet For Seamless Transactions
Easen the process of each transaction on both creators' as well as users' end with an in-built wallet and issue a statement for every credit/debit that occurs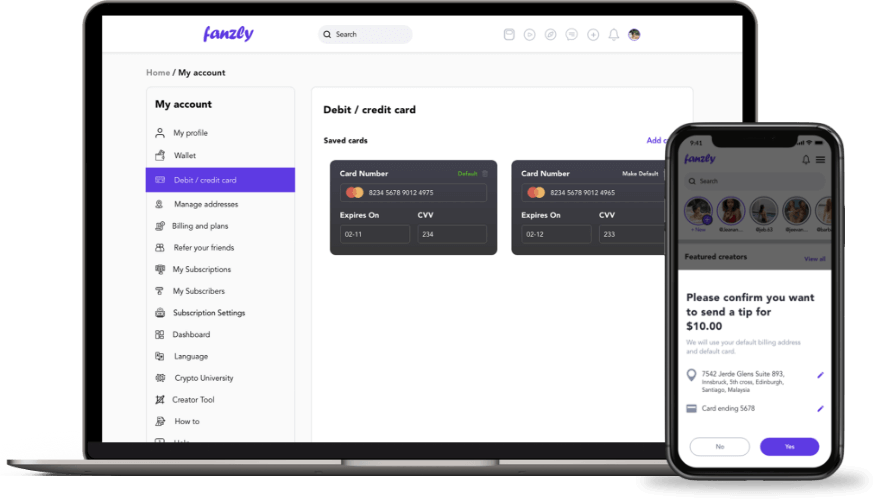 Secure PCI Compliance For Payments
The secured payment gateway ensures that every purchase made on the platform and the tips sent to the creators are seamless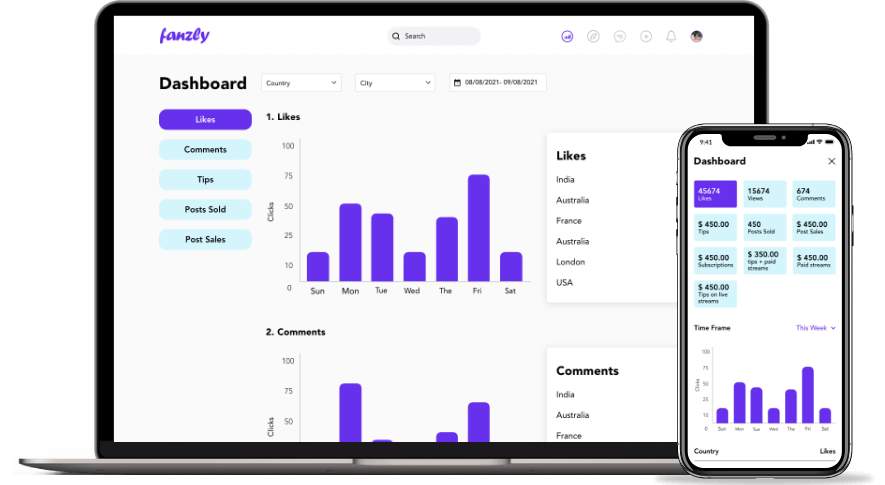 Dashboard For Detailed Analytics
The dashboard enables the creators to keep a track of their analytics for all the posts and stories on their profile
Features For Creators That Help Mint An Unlimited Supply Of Money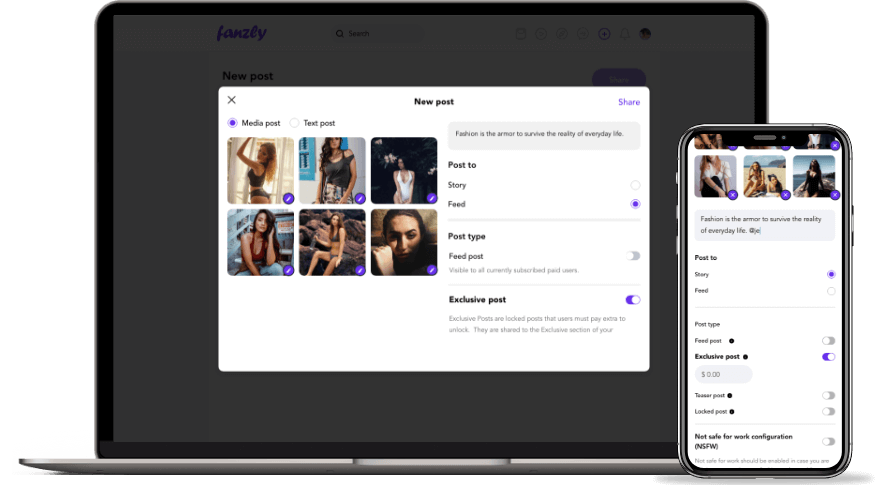 Exclusive Posts
The exclusive or price-locked posts by the creators can be purchased by the users, paying an amount set by the former. A great way of generating revenue from the followers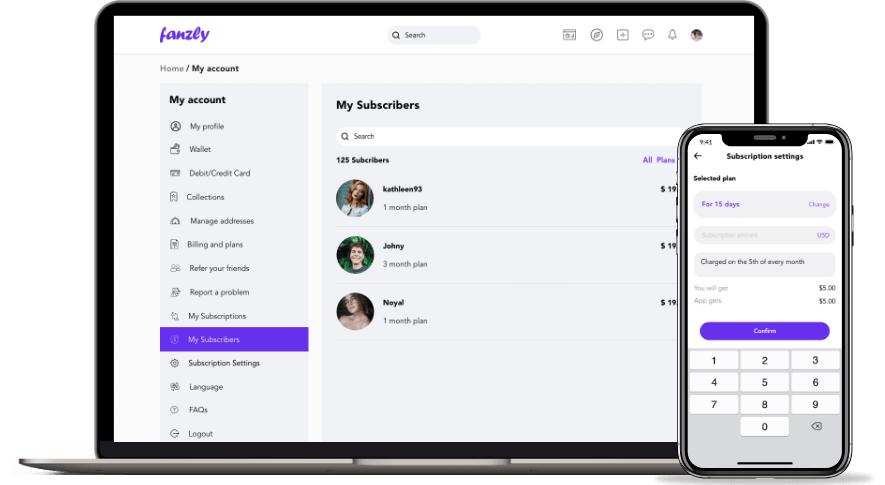 Creator-Subscriptions
The creators can set a subscription price to their profile. Once a user subscribes, they can view all the posts & stories of that creator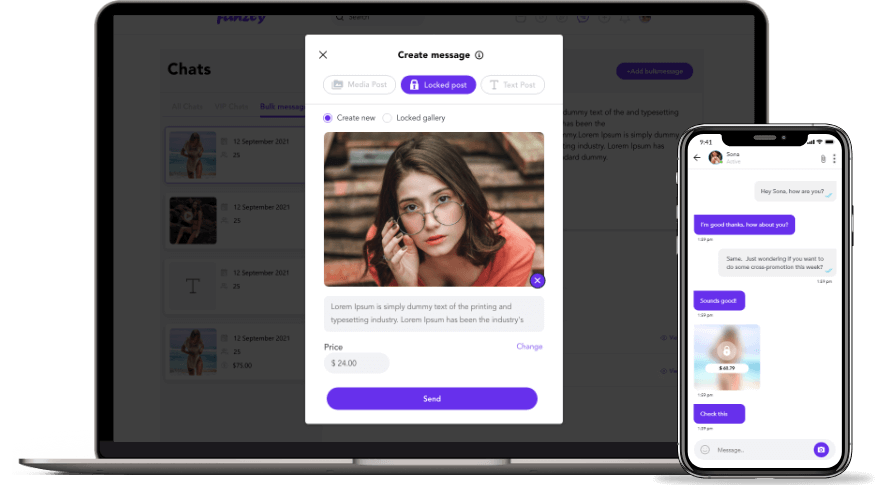 Locked Messages
Creators can send images and videos to a user as a locked message which the user can access only after paying the amount set by the creator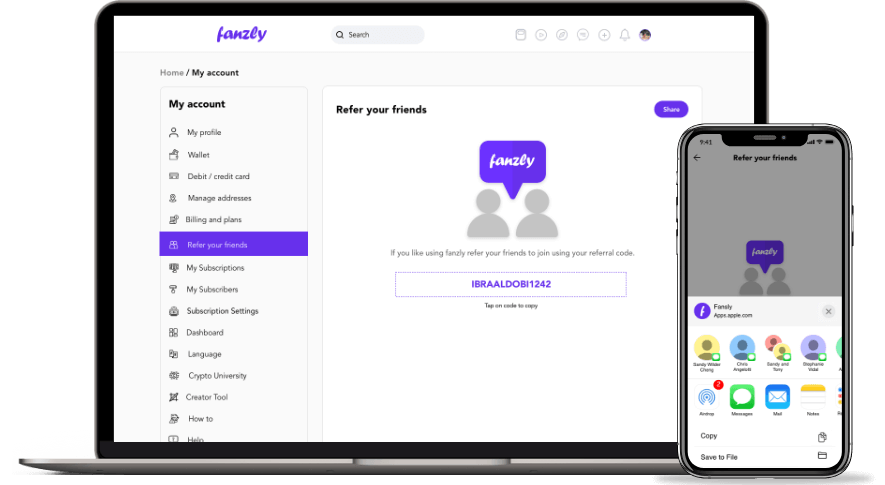 Referrals
A powerful feature to make the app viral. Both creators and users can refer people, and can earn a commission on the same. The app makes money each time a creator or user comes on-board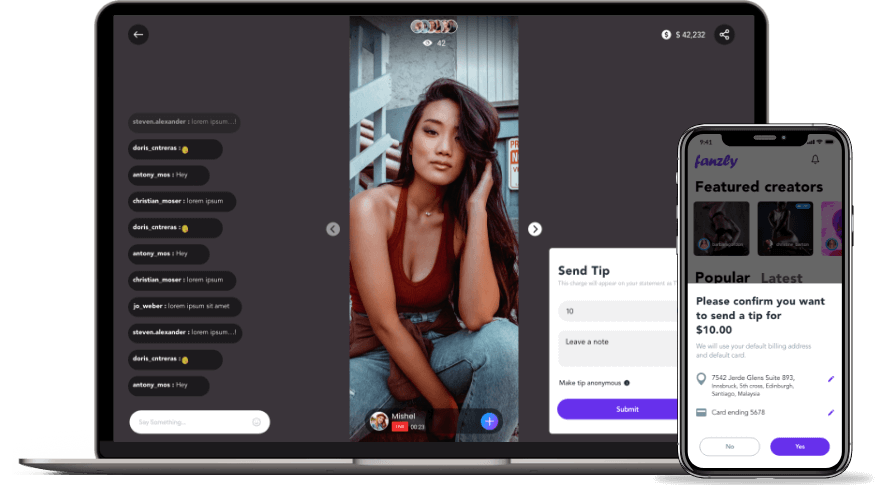 Paid Livestreams/Earn Tips From Livestreams
Creators can host paid-livestreams on the Patreon clone app. The users can send off tips while they're live-streaming. These tips can be converted & withdrawn from the in-app wallet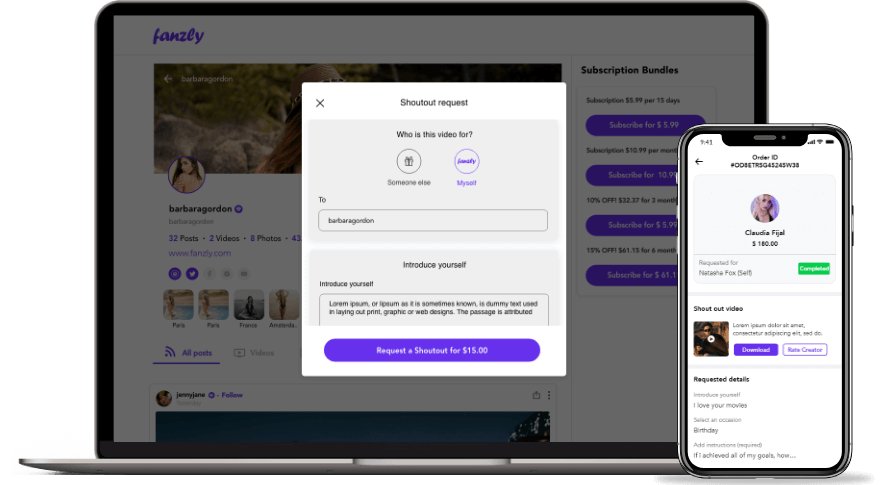 Video Shoutouts From Creators
This is a unique feature where the users can request a personalized video from the creator. The shoutout video can be either for themsleves, or for their loved ones
Advanced Features For Both Creators & Users On Patreon Clone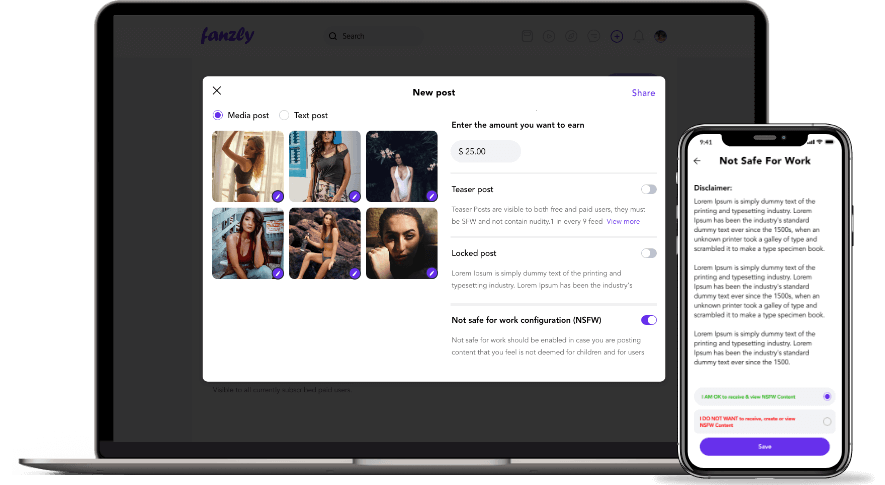 NSFW FEATURE
An important feature for compliance. This feature allows users to opt out of any content that is adult in nature. While login, they can simply turn off the NSFW button, which will automatically flag the content. This is done by the CONTENT MODERATION AI integrated into this product.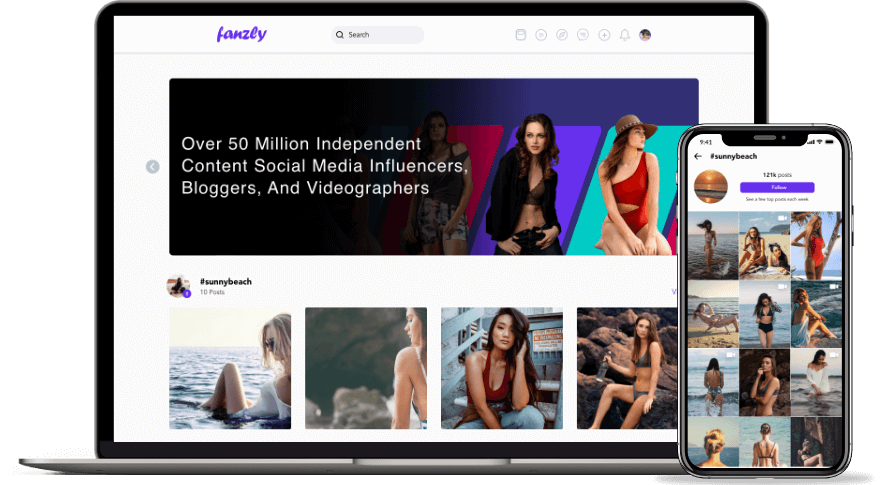 EXPLORE POSTS vIA HASHTAGS
Creators can create posts and stories using hashtags. Users can explore those posts and content easily, simply by searching through the trending hashtags. A whole list of posts from various creators will be displayed in a detailed page to the users when they search for a hashtag.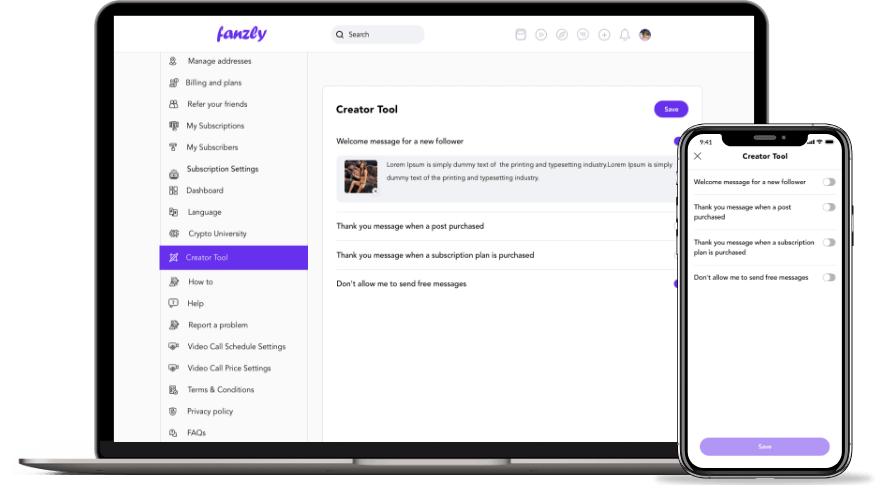 CRM aUTOMATION
This allows creators to send off default messages to the users who are: new, have recently followed or subscribed to them, or have purchased their posts. This automation helps to drive engagement between the creator and the users, thus enabling the former to earn money.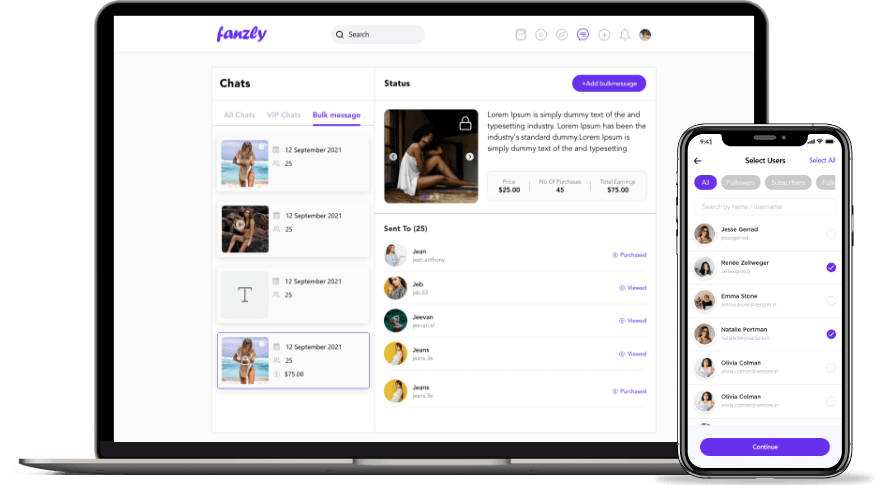 SEND BULK MESSAGES
A powerful CRM-like feature that enables creators to engage with their users better. The former can select users from their 'followers' or 'subscribers' list, and can send of texts, images or videos. The system then sends off messages to the users via the integrated chat engine.

Our entire product can be rebranded with your logo and company name making it all yours
Our Patreon clone can be modified to integrate your brand colors, keep it consistent throughout
We host the solution software on the client's server making it a hassle-free process of transition
We help you publicize, sell, and distribute the release version of your application to users
We ensure hassle-free transactions in the app through Stripe, Razorpay & Kushki
The Best Subscription-Based Platform For Models And Artists
Technologies Used
To Build A Patreon Clone App