TRILLER CLONE – ENTREPRENEURS, THE CUSTOMIZABLE VIDEO SHARING APP & VIDEO DUBBING PLATFORM IS HERE
Dub.ly is a secure & efficient social video application that helps you build a video sharing platform. Now go ahead and create a video sharing app with features similar to Triller App, such as Video dubbing, Audio dubbing, Ephemeral chats, Social media integration, Business posts, In-app chat transaction & More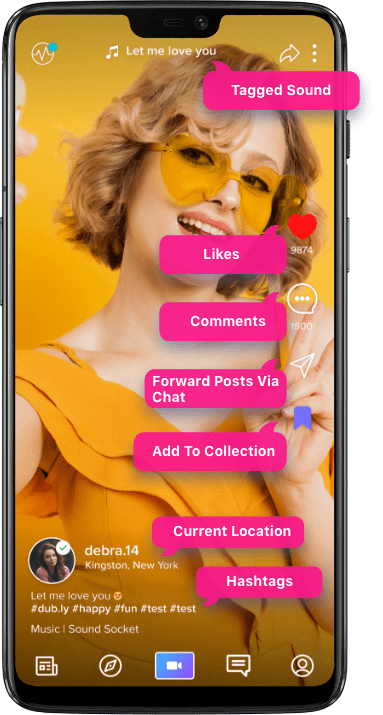 Dub.ly – The Best Triller Clone Software Solution
Our Triller clone app software helps you build an innovative selfie video upload platform customised for the millennial generation. This software is pretty much similar to the Triller Ap, in fact we have gone ahead and included more features to the application.
What does Triller Clone mean ?
Triller clone is an amazing video dubbing and video sharing app software solution that is based on its namesake the popular video dubbing app. It is a prebuilt social video sharing solution and a powerful social media software.
What is Triller Clone Script ?
A Triller clone script is a source code that creates an equally perfect Triller clone application. The Triller clone script can be modified to the requirements of clients to add more features as per their unique business model. 
What are the Features of Triller Clone App ?
Our Triller clone has interesting features such as select sounds to dub with videos, include special effects to videos, take pictures, go live, earn coins, get cash by converting earned coins into your local currency, chat with other users, transfer money to your account, video and audio calling, create a business profile and sell products, create a verified profile.
Why Choose Triller Clone?
Triller, the video-sharing app is popular among hip-hop crowd and has accumulated 120 million downloads as on date. But it is rated for users above the age of 12 and needs parental supervision for teens to use. Triller automatically edits user videos using AI-powered software which users hate, hence the need of a Triller clone.
AMAZING SOCIAL VIDEO SELFIE SHARING & DUBBING SCRIPT
BE THE NEXT BIG INTERNET SENSATION WITH DUB.LY
Dub.ly the video selfie dubbing & sharing clone script is integrated with multiple features for users to record dubbed music videos or performances via the application music video recording & dubbing features.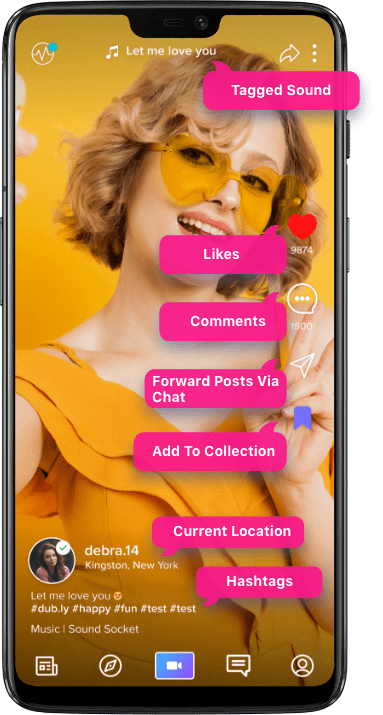 Videos can be enjoyed on full screen, double-tap to like, add your comments, watch other videos with similar sound, and click to see tagged location videos.
RECORD VIDEOS ON FULL SCREEN
Capture videos on full screen, select any video from the gallery, apply time-lapse filters, introduce special effects, zoom in / out, record with or without original sound.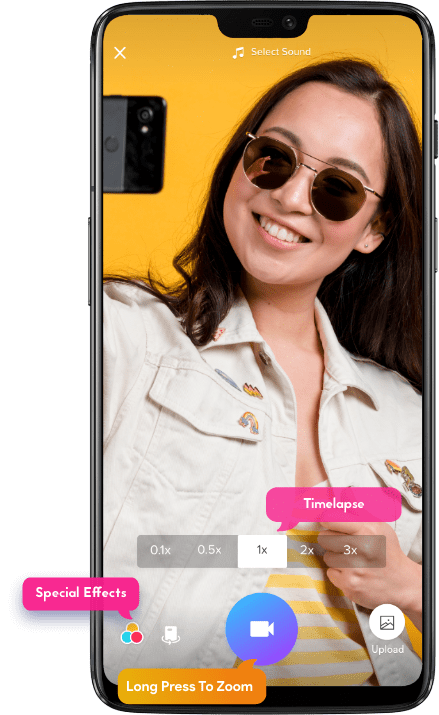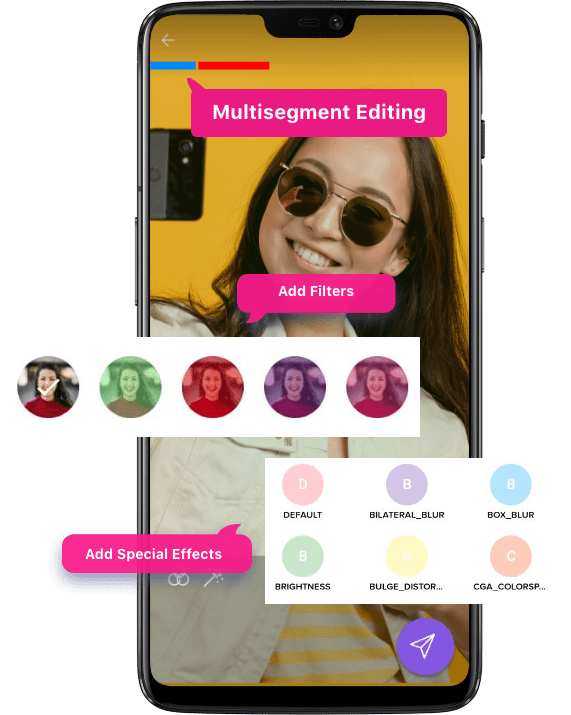 EDIT VIDEOS POST RECORDING
Videos can be recorded in parts and special effects applied to each segment after completion of recording.
Add an interesting description, hashtags, tag friends/users, tag a location, add to a specific category, and add to a particular channel. Businesses can tag products or service links and have access to the button text.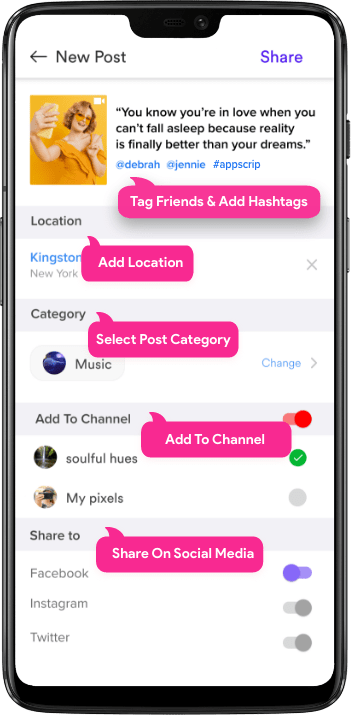 FEATURE-RICH TRILLER CLONE KEEPS USERS ENGAGED
Appscrip has the experience and expertise to build apps with amazing UI features specific to selfie-videos, video chatting & video sharing scripts. The designs are inspired by best in class Apps by engaging the pre-built & customisable options.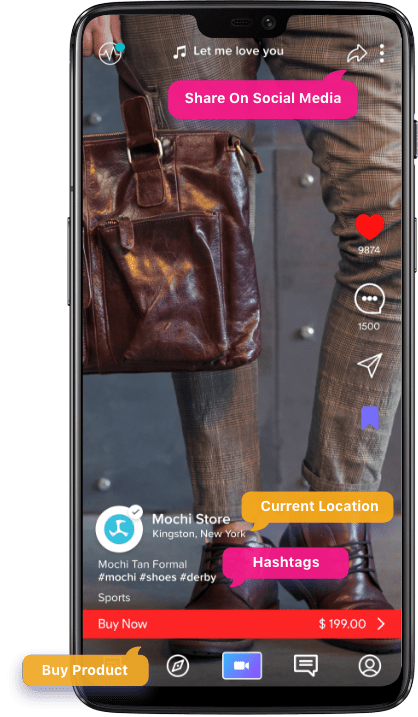 Businesses are provided options to add links to their products, services, about-us or booking pages. These links when clicked will lead to web pages inside a webview.
Apply and get a certified profile. You can also follow certified profiles of famous-personalities and can chat directly with them.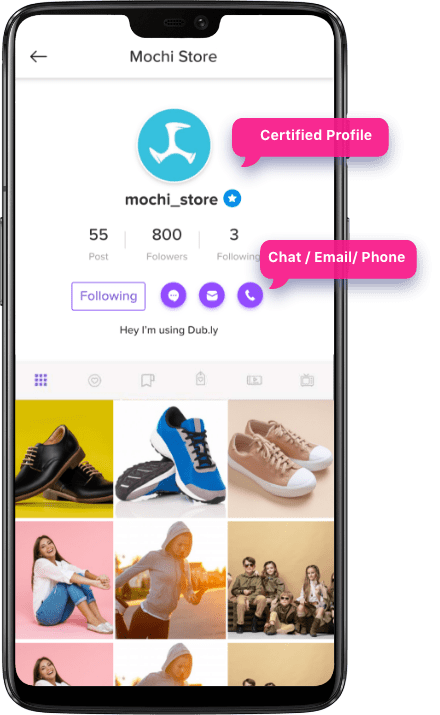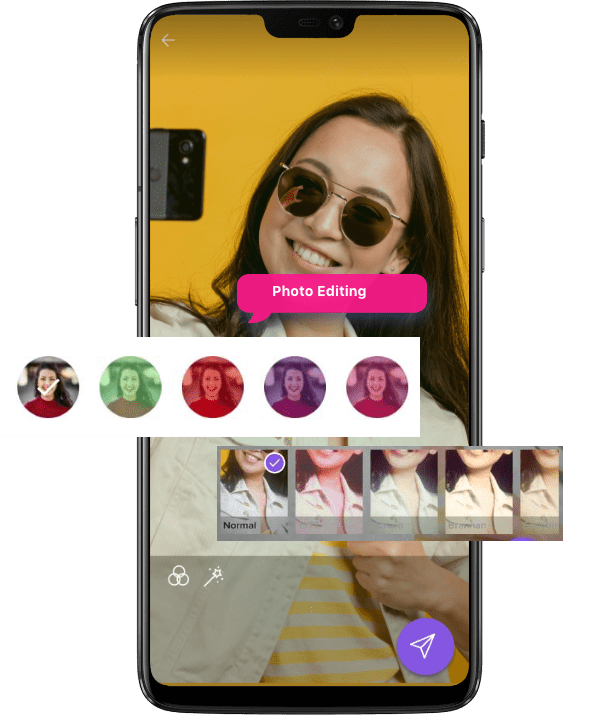 This software also enables users to post pictures. Photos can be edited using Instagram like filters. Stickers can be utilized and text captions can be fixed on top of an image.
Create a YouTube like channel, add videos and images to your channel. Channels can be either held in private or for public viewing. Users can follow channels in a manner similar to following other users.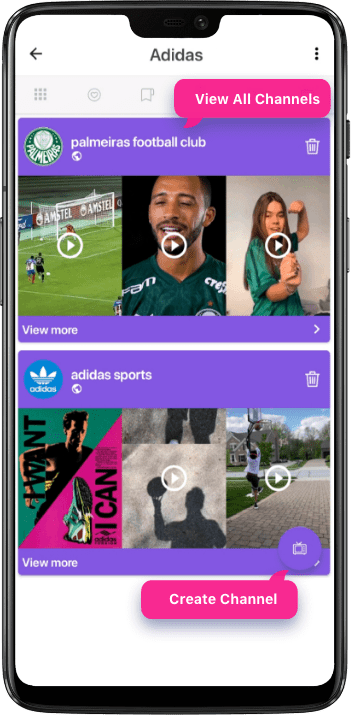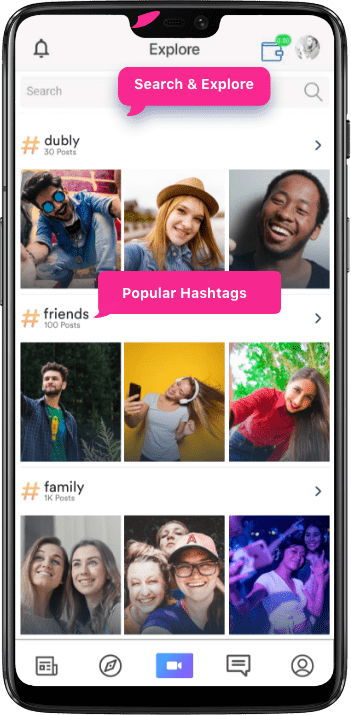 All trending hashtags will be carried to the top of the list. You can search for friends/users, hashtags, locations, and any businesses.
Users can go ahead and create stories like on Instagram. Stories posted by your followers will be visible on the chat page.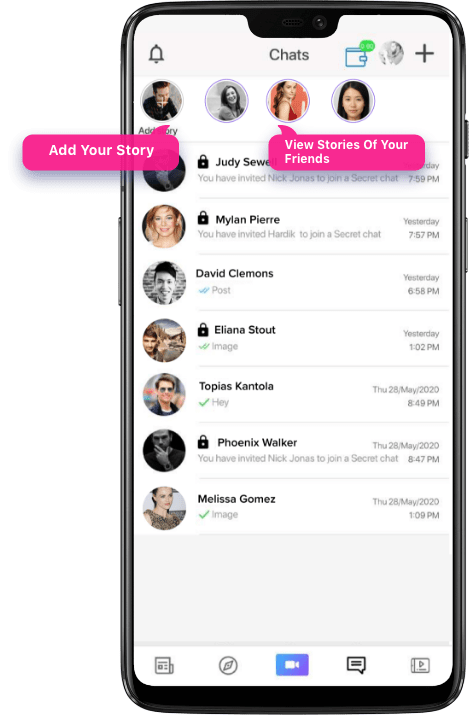 Dub.ly the Triller clone script comes with a unique in-app integrated chat module. Apart from starting chats or forming groups with other users, sharing of multimedia files during chat sessions, users can also initiate self-destructive 'Secret Chats'.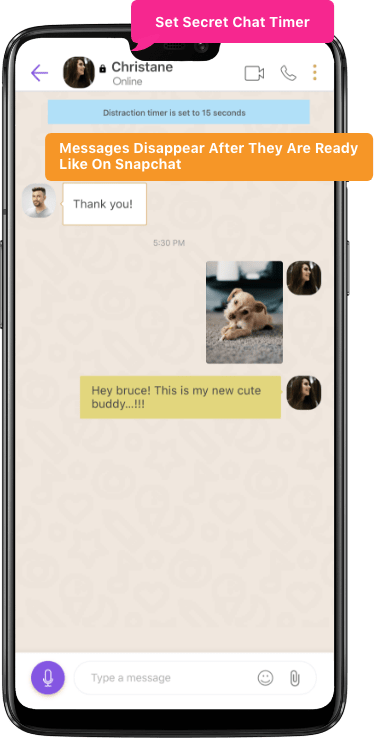 SECRET CHAT AS IN TELEGRAM
Share ephemeral messages with other users through the secret chat feature which disappears after certain time.
AUDIO AND HD VIDEO CALLING
Initiate audio or video calls with other users as on WhatsApp. These calls are powered by WebRTC, which is usually a custom WebRTC gateway and not some 3rd party paid service like Quickblocks, Agora, etc.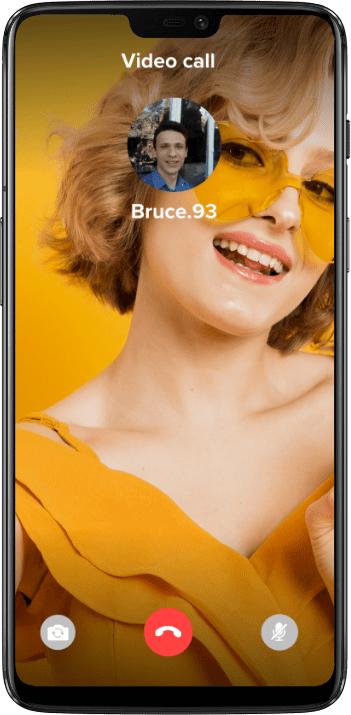 In App chat transactions can be initiated so as to send money via an assigned payment gateway. This transactional capability makes Dub.ly an amazing customizable social media clone scripts available on date.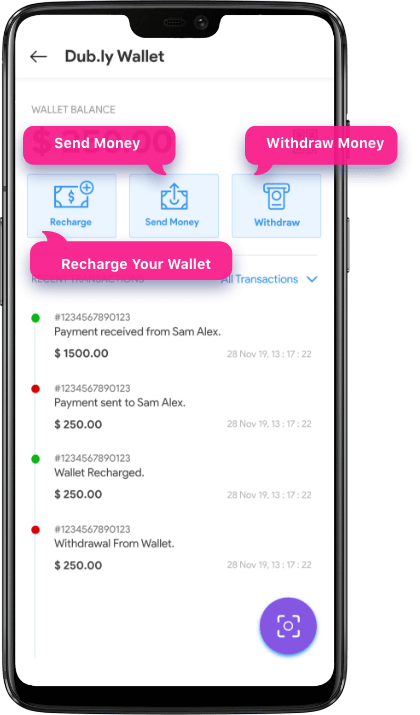 Users can complete their KYC (Know Your Client) form and create money wallets, which can be recharged via credit cards/bank accounts.
Send money to other users via chat or scan QR codes to pay other users as on Wechat.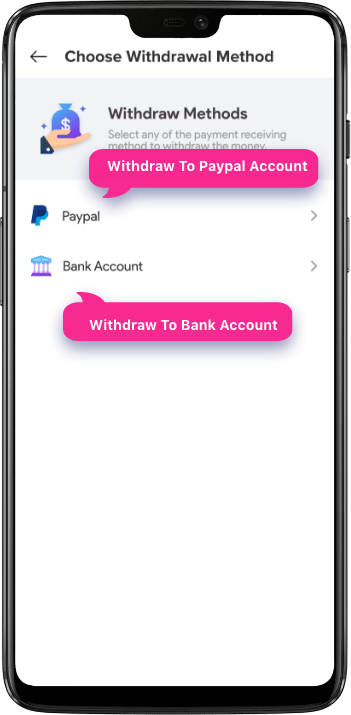 Withdraw money from your wallet to your bank account.
Chat in real-time, send images, GIF's, videos, location, and contacts in chats as on Whatsapp. Group chats are also supported.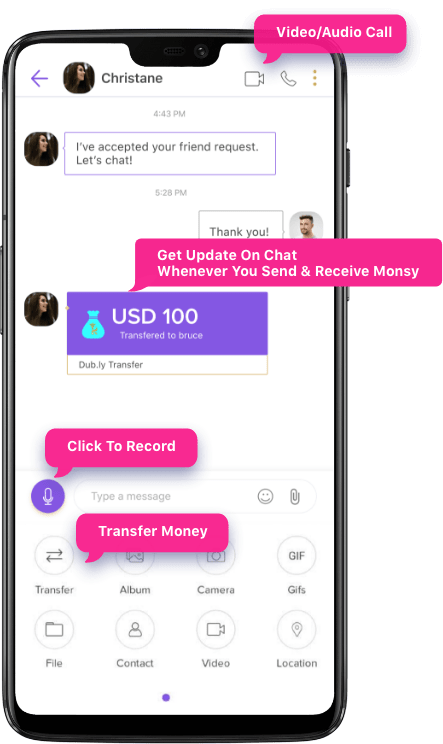 Add Live Video Streaming Feature To The Triller Clone
Our live video streaming solution enables you transmit live videos. This feature helps you broadcast to your audiences in real-time. You can comment as well as receive virtual gifts.
Users can live-stream right from the app and your followers will get a push notification informing them about it. You can save the stream for future viewing.
Broadcasters can earn money by the number of gifts they receive. All virtual gifts are assigned a value. Therefore the amount that is earned can be converted to money and withdrawn.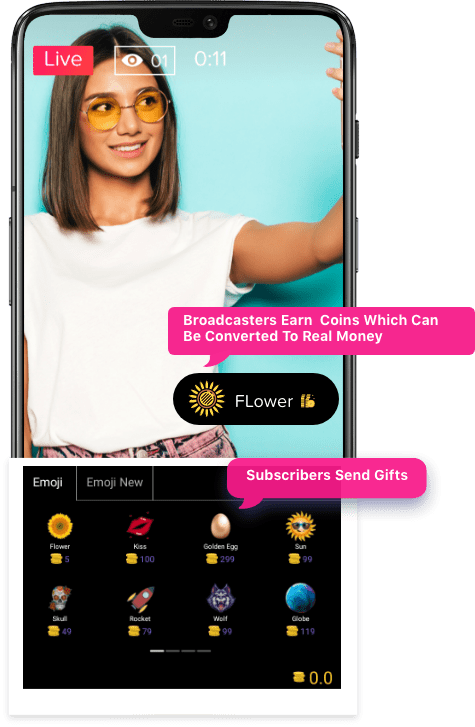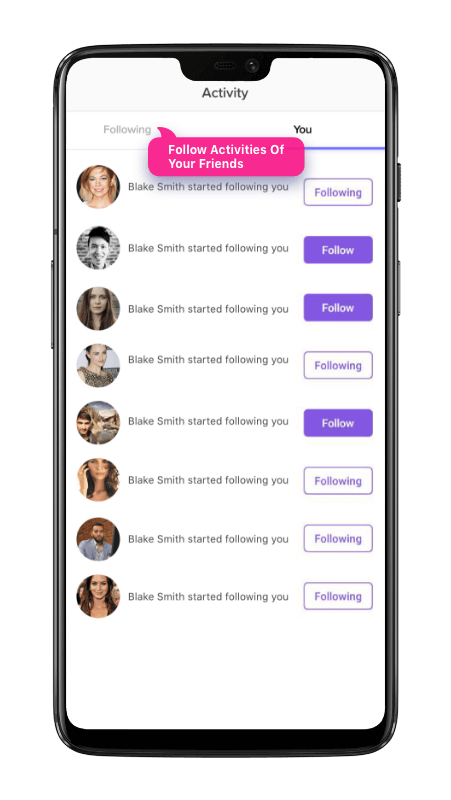 Get push notifications for any activity that takes place on your profile. Track all activities of your friends. If a profile is set on private, then all follow requests needs approval.
Select your tracks or upload your favourite tunes for your custom video dubbed post.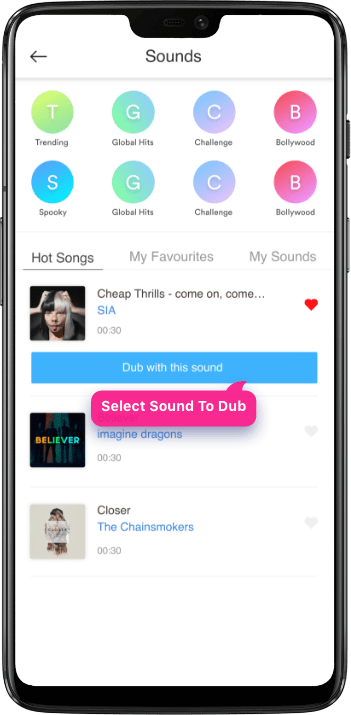 BEST CMS FOR TRILLER CLONE
Providing a complete app-level to user-level overview, the Dub.ly CMS & admin panel gives app owners complete management of all users, posts, categories, wallet, live-stream & channels, on their customizable music video dubbing platform.
◇ Centralized Dashboard for Overall Management

Dashboard provides overall view and display of analytics of our customizable Triller clone.
◇ Diverse Posts

View & manage various posts by users. View analytics on each post. Manage business posts or normal posts by deleting / suspending them. .
◇ Live Stream

Manage all live stream activity such as gift logs, duration, earnings, more. Add gifts and manage them on the Triller clone.
◇ Wallet

Add, manage and configure payment gateway. Manage user wallet, App wallet, and Payment gateway wallet in-app. KYC verification is available. Recharge, withdraw and transfer money.
◇ Chat & Call

Chat & Call details are available for viewing, as in call type, user detail, chat information, duration of call, etc.
OVERALL DUB.LY ADMIN FEATURES
DASHBOARD
A detailed dashboard is integrated into Dub.ly social video selfie script that shows app-level analytics.
USER MANAGEMENT
Admin can add / remove users, report users, block users, suspend users by using the detailed user management module. A reported User can be suspended or deleted.
CATEGORIES
There are various categories such as sound, star, post, add & manage on the customisable Triller clone software so as to create a unique content based video selfie & dubbing sharing platform.
CHANNELS
Manage all in-app channels created by users or brands on your custom video selfie App. These channels can also be deleted by the admin.
APP DESCRIPTION
A detailed description of the app, its version, company, etc and other details can be included in the 'About Us' section.
JINGLES
Upload various sounds/music to be included in various videos while dubbing to make them interesting.
STAR USER
A verified profile is also termed as a star profile. Admin can approve or decline the user.
BUSINESS BUTTON
Manage business post buttons as in Buy now, View more, Read more, etc on the Triller clone.
BUSINESS PROFILE
A business profile has the rights to add business posts so as to monetize their dealings.

REASONS FOR REPORTING
A business profile has the rights to add business posts so as to monetize their dealings.
REWARDS
Set rewards that can be given to users for likes / comments / new sign up, etc.
HASHTAG
Manage any number of hashtags by adding, editing, deleting, or modifying them.