WhatsApp Clone Script - Voice & Video Calling - Best Chat App
The best Whatsapp Clone solution you will find in the market today! If you are an entrepreneur looking to get into the industry with an app that can stand strong in front of your competitors
HOLA Is Your One-Stop Solution To Build The Best Whatsapp Clone!
The Whatsapp Source Code uses state of the art technologies like NodeJS , Socket.IO , REDIS , WebRTC , MongoDB to delivery a real time messaging experience. Hola is the first Whatsapp clone in the market built completely on the MEAN stack.
What is a Whatsapp Clone?
Whatsapp clone is a solution that is used to build an application similar to Whatsapp. If you are a business enthusiast who want to launch an application similar to Whatsapp, Whatsapp clone is the best way to do that.
What is a Whatsapp Clone Script?
A Whatsapp clone script is a set of code that lets the app development companies create an chat app similar to Whatsapp. This Whatsapp clone script can be utilized by the app development companies for developing Whatsapp clone app for both Android and iOS.
What are the Features of Whatsapp Clone?
Our Whatsapp clone is designed to be the top chat solution with variety of features like instant notifications, invite contacts, Foward/Reply/Delete messages, share multimedia, audio call, video call, share contacts, share location, secret chat, revoke messages, etc.
Chat With Delivery Status
Our Whatsapp clone chat software is built with the best development practices for building top chat platforms. It offers quick message delivery with delivery status
Now spice up your Whatsapp clone by uploading variety of media formats including doodles, locations, documents, etc.
You can now delete messages that have been recently sent in our Whatsapp clone script, Hola chat app. Messages can be revoked either just for you or for the entire group.
Our Whatsapp clone app, Hola lets users reply to a particular message in the same chat or select and forward multiple messages to multiple groups.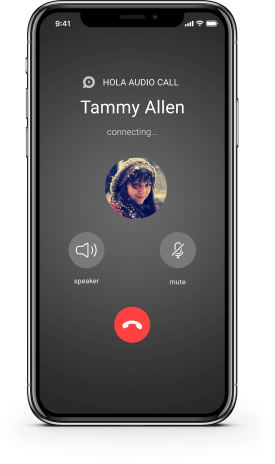 Make audio calls with friends using Wifi or mobile data on this Whatsapp clone app solution.
Now make video calls with friends via our Whatsapp clone chat software.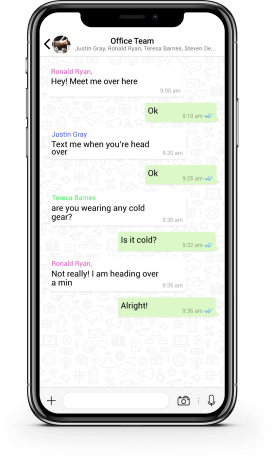 Casual Chat/Official Conversation
Chat with multiple users casually or as a company chat software.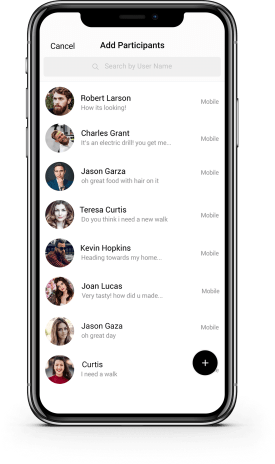 As an admin, you can add group participants to interact within your group
Group participants can view the details of the group they have been added to.
Existing admins can view participant details,remove group participants or make them admin on our Whatsapp clone script.
Access the secret chat option under 'Contacts' & select a contact for the secret chat session.
Set a chat destruction timer in-app. Once the set time has elapsed, the conversation between both parties will be deleted.