ZOCDOC CLONE | Customizable Software For Healthcare Professionals
Zocdoc clone is designed to fulfil the requirements of healthcare professionals and those wanting to launch services in the medical industry. Inspired by top healthcare apps such as Zocdoc, Teladoc, Doctor On Demand, Practo, Generis, AMWell, MDLive, Babylon Health. Zocdoc Clone provides various options to fix appointment with healthcare professionals.
TELE MEDICINE - VIDEO CALL APPOINTMENTS
option to book for remote consultations with a healthcare professional utilizing video call facility is provided on the App either for themselves or a dependent. All such interactions between a doctor & patient are encrypted and stored. Doctor – Patient confidentiality is maintained in such a manner that the data can be viewed only by the doctor or patient.
CLINIC VISITS - SCHEDULE CLINIC VISITS
View all professionals available on the App and schedule clinical appointments based on diverse filters. Information provided includes location, fees, specializations, reviews, rating and more. Appointment may be taken as per availability of time slot and payment done through several options such as insurance.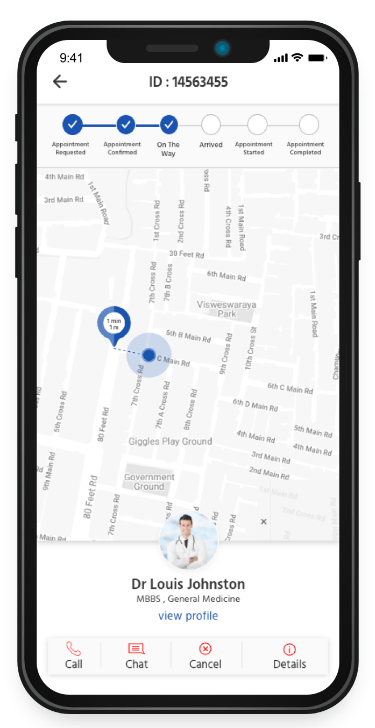 HOME VISITS - REQUEST HEALTHCARE PROFESSIONALS FOR HOME VISIT
Clients can schedule a preferred healthcare service from their mobiles. The user can login all the details and fix an appointment with a Doctor for healthcare services from the comfort of their homes. The patients can then track the doctor on the App while he is on the way.
Zocdoc Clone Script Graphical Flow
CHOOSE YOUR MODE OF SERVICE
VaidG our customizable Zocdoc clone assists you to schedule an appointment with a healthcare professional or have them visit you or conduct a tele-appointment.
Favoured Mode Of Treatment
Book your preferred mode of treatment that includes: Doctor To Home or Clinical Visit or Telemedicine. You can additionally narrow down your search for a specialist.
Schedule your appointment as per your present ailment and with further options select a specialist based on several options. Go ahead and add a note regarding your ailment.
Fix the appointment for yourself or for your dependent.
Add any number of dependents and provide necessary details.
ADVANCED FILTERING FEATURES
Advanced filtering features have been inculcated based on several factors so that the user has an intuitive experience on the Zocdoc clone.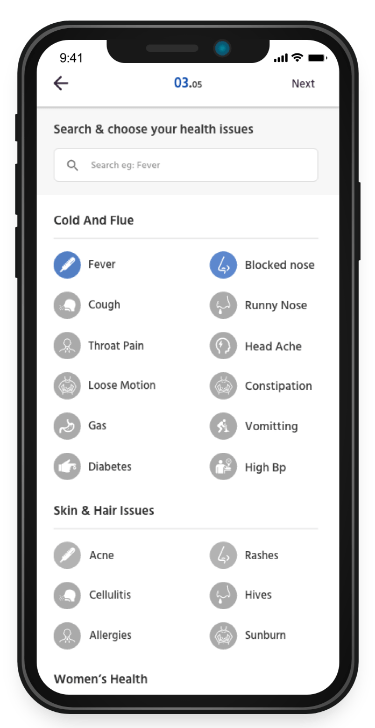 Provide all the details of your illnesses from the selection and add notes as well.
Provide Further Information
Provide crucial information on symptoms and add images.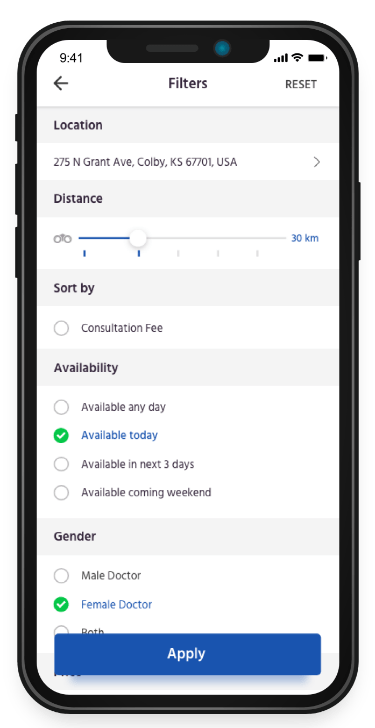 Diverse Filters To Choose A Doctor
Make your choice from various criteria available to opt for a doctor on the Zocdoc clone as per your requirements.
As per your filtering options a list of doctors are provided to select one as per your choice to book a consultation.
Profiles of healthcare professionals are in detail with info such as: reviews, ratings, certifications, specialization, fees, etc.
Users can book a consultation as per their desired time slot with their preferred doctor.
Prescription raised by the doctor can be viewed post consultation and generation of invoice.
Favorite doctor's profile can be saved by the user so as to have easy access during the appointment process.
The Zocdoc clone is built with necessary features to provide efficient healthcare services. The clone script provides amazing communication features & diverse modes of payment.
Various modes of payment has been provided, such as cash, from the wallet or through insurance.
Telemedicine With Media Attachment & Chat
Chat with your Doctor or share necessary information via media attachments as in pictures, scans, prescriptions.
Opt for a Telemedicine consultation utilizing the live video facility in the Zocdoc clone. The consultation is recorded, encrypted and stored as per law. The data is encrypted such that only the doctor or patient has access to it.
Track your Doctor while he is on the way for the appointment. Each stage in the entire process is displayed so that it may benefit both the doctor and patient.
History of all visits can be checked. Past, present and upcoming consultations with your doctor is provided and the invoice generated.
The receipt for the total amount paid for the consultation is provided. You can rate your experience on various factors.

SERVICE–PROVIDER MANAGEMENT
Manage various on-demand healthcare providers while they register on your Zocdoc clone script – Accept or reject them.
VIDEO CALLS-ZOCDOC CLONE
Telemedicine consultation recordings are stored securely after encryption which is an important security feature.
PROMOTIONS & REFERRALS
Setup and manage promotion codes and referral campaigns to enhance business on the Zocdoc clone script platform.
TRACK APPOINTMENTS
View healthcare appointments being placed by clients in real-time.
ACCOUNTING
A complete financial accounting system is included to track earnings for all healthcare professionals registered on the Zocdoc clone.
PAYROLL
Payroll management system is integrated on the zocdoc clone to manage cash & card earning of healthcare providers with direct payment to their accounts enabled.
MANAGE SPECIALIST
Manage various professionals as per healthcare categories on your zocdoc clone.
BIRD'S EYE VIEW
View appointments & consultations set in real-time on a map across cities or zones.
PRE APPOINTMENT QUESTIONS
Go ahead and create pre-appointment diagnostic questions for various symptoms
REAL-TIME PUSH NOTIFICATION
Generate push notifications to healthcare professionals and customers off the app concerning necessary updates.
RATINGS & REVIEWS
Keep a check on ratings and reviews received by various healthcare providers to maintain high quality standards.
COMMISSION SETUP
App commission can be setup judiciously for various healthcare professionals.