 ENTREPRENEURS INTO KIDS TRANSPORTATION | UBER FOR KIDS APP IS FOR YOU
KidzUp is specially designed & developed keeping in mind entrepreneurs who are into transportation of kids. The software solution aims to provide safe, reliable and comfortable rides for children. The Uber for kids App will ensure credibility and will profit all..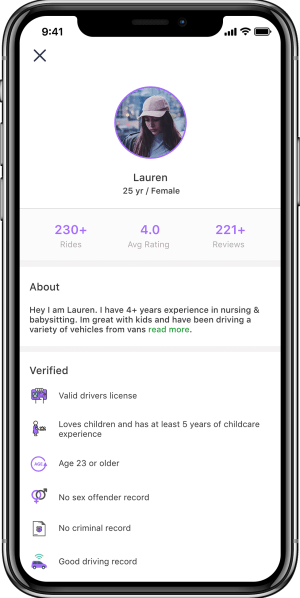 WHY KIDZUP IS THE IDEAL TRANSPORT SOLUTION FOR ENTREPRENEURS & KIDS?
KidzUp has imbibed the best UI features of successful Uber for Kids Apps such as Kango, HopSkipDrive clone, Zum & others. The software is ideally optimized through a robust & scalable architecture that ensures personalized kids taxi service. Creating a win-win solution for all.
Our Uber for kids travel solution can be customized into a reliable transportation business model for children. Carpooling, school tie-ups, or repeat trips can be keyed into KidZup. Diverse needs of kids travel requirements can be enabled.
We assure PCI compliance so you will have not legal issues accepting in-app purchases on our Uber for Kids script.
Using our proprietary Pre-Built IP solution, the time to market our Uber for Kids App from development to deployment is quicker than any other transportation of kids software in the market.
Using state of the art app container technology, clean coding practices, microservice architecture, certifying safety & security on the app – KidzUp is the most reliable kids ride service app & transportation software present in the market.
Multi-Language & Multi-Currency
You can now establish the Uber for Kids app in German, Arabic, Chinese or any language of your choice. The KidzUp software solution can be deployed in various language & currency.
Referrals, Promotions & Loyalty Programs
Enhance unique user base and augment retention of your clientele through referrals, promotions & loyalty campaigns – all via the innovatively built and ingenious Uber for kids App.
UBER FOR KIDS GRAPHICAL FLOW
Our Uber for Kids platform allows parents/guardians to register easily on the application and start the search for kid ride providers near them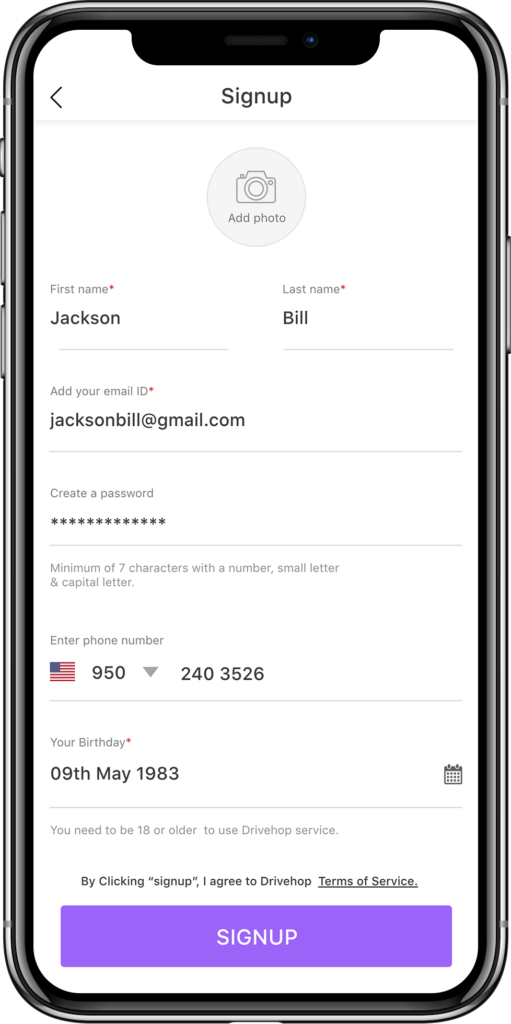 Enter basic profile details to assist kids-cab service providers to locate you without difficulty
Login via email ID or social media account.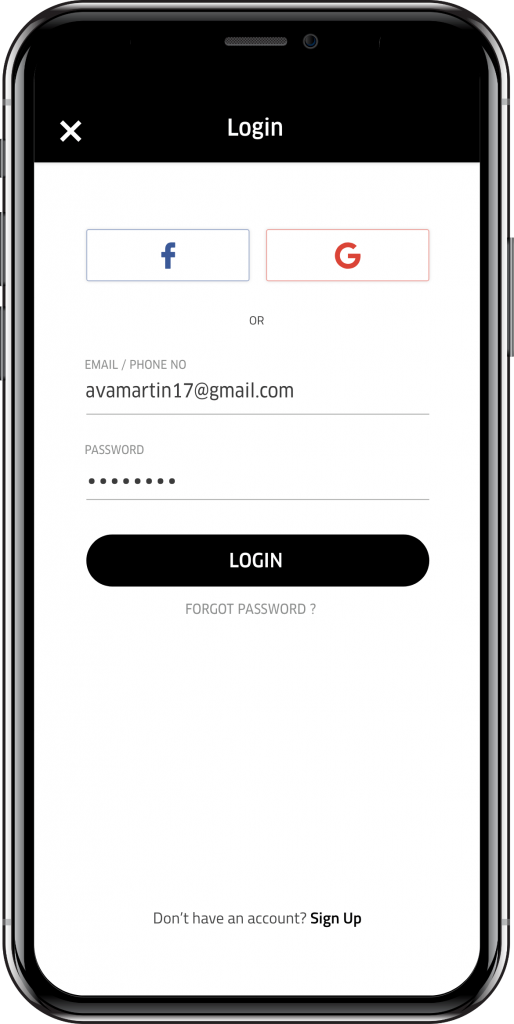 View 'Uber for Kids' Drivers Near You
Apply various vehicle filters to view detailed driver's profile. KidzUp, the Uber for Kids software is designed to assist parents finding the apt kids-driver that matches their requirements as quickly as possible.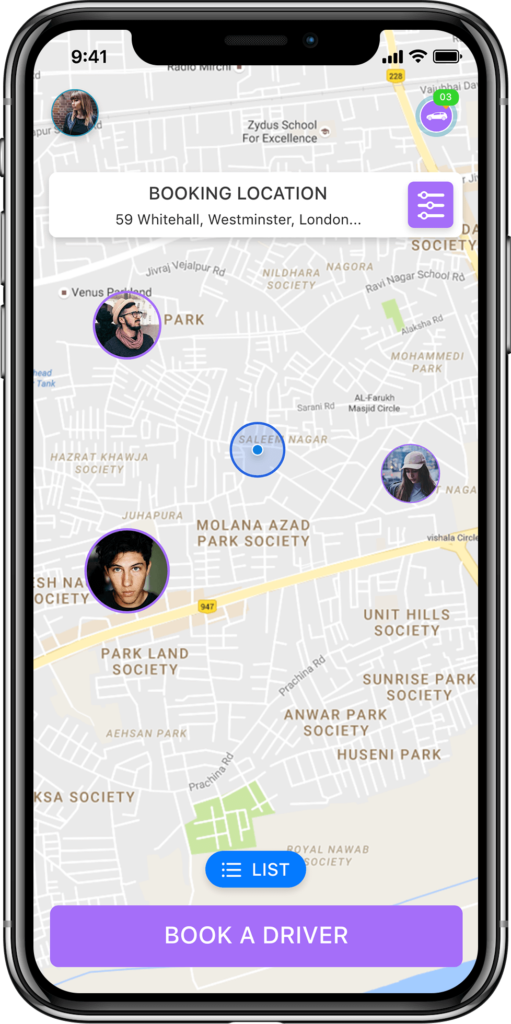 View a live map view of all available kids drivers near you based on your location. An alternate 'List View' depicting online & offline drivers with their ratings, is also optionally provided.
Our Uber for Kids app allows users to apply filters based on the vehicle requirements they prefer, before availing the kid taxi service. A filtered list of available and offline drivers is also provided.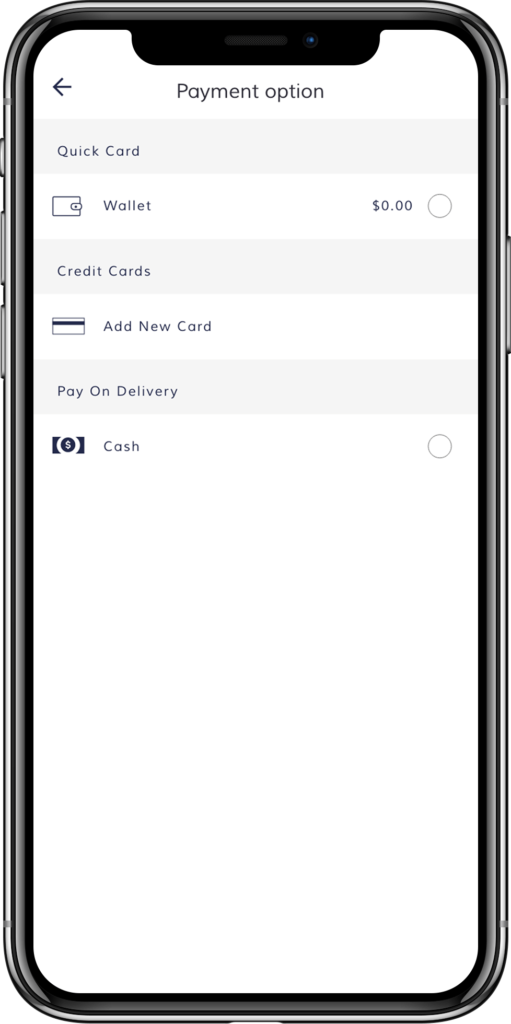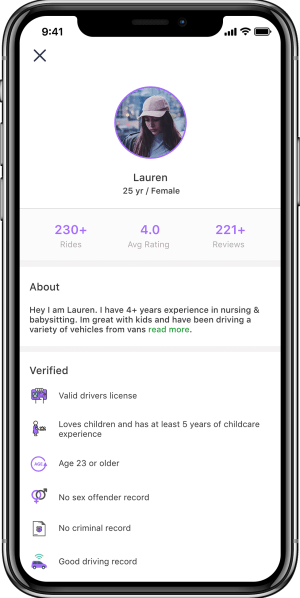 Basic Details & Verification
View the profile information of your kid's taxi driver and associated licenses & certifications.
Vehicle Features & Reviews
View details regarding of the vehicle of your kid's driver & past reviews.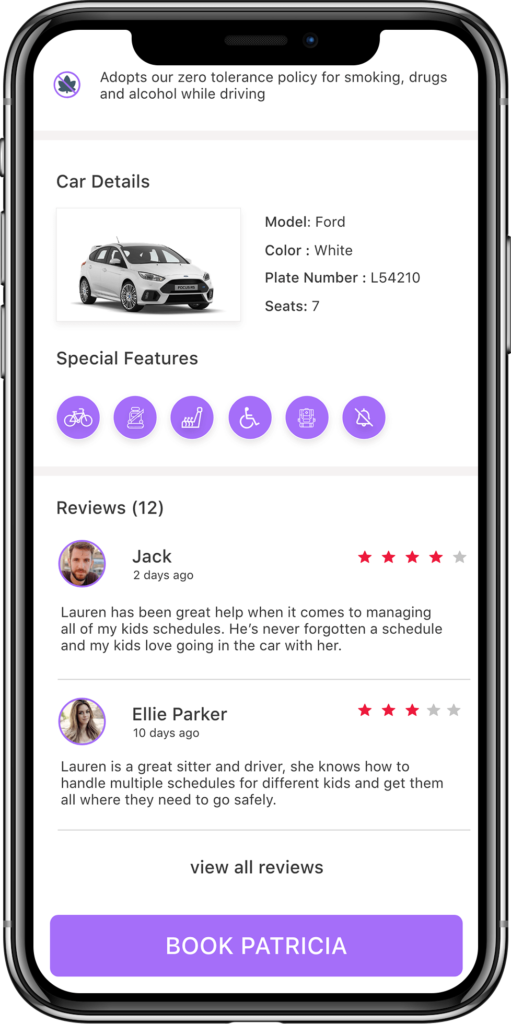 Booking Scheduling & Payment Options
Users have diverse scheduling options, select requirements and enter any special instructions for their kid's driver, during booking. Users can also select preferred payment choice & apply promo codes, if any.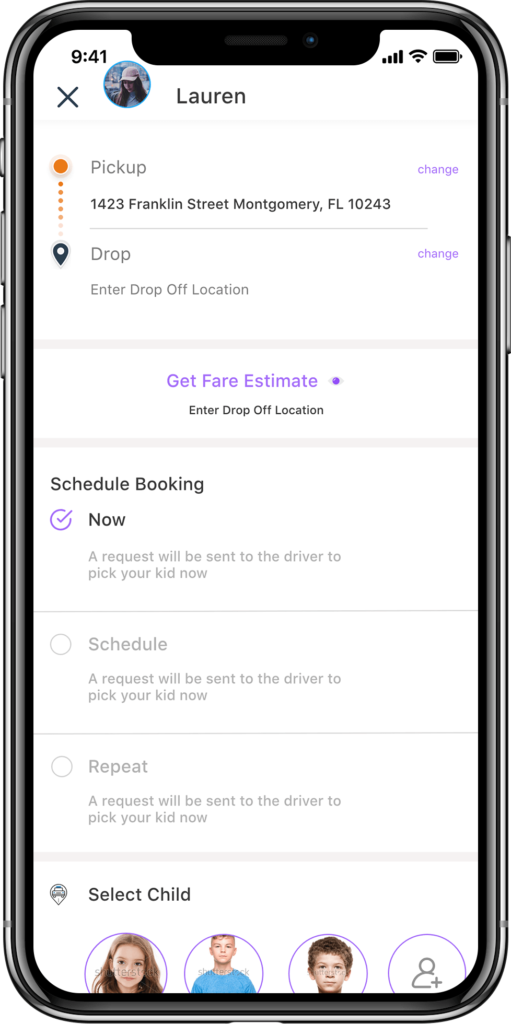 Scheduling & Kids Selection
Parents can select the type of 'Uber for Kids' service they require such as on-demand, scheduled or repeat schedule while setting up the kids transportation service for an entire week. Parents can also select which kid should avail the shuttle service.
Special Requirements & Payment Options
Parents can enter special requirements & instructions required for their kids and update their preferred payment method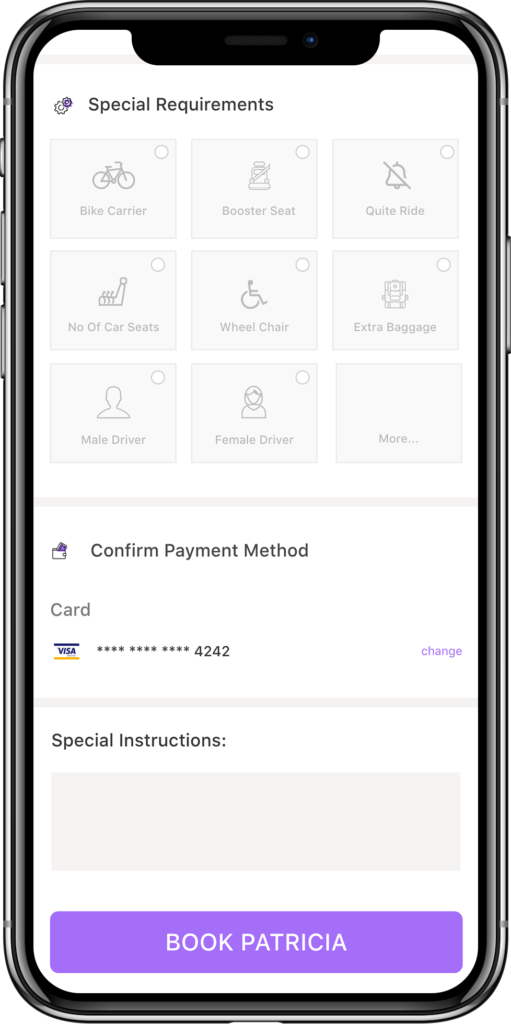 Live-Track Your Kids Ride
Security & Safety are imperative factors taken into consideration while building the Uber for Kids app. Hence we have created ride tracking in a transparent manner for both parents & dispatcher to monitor.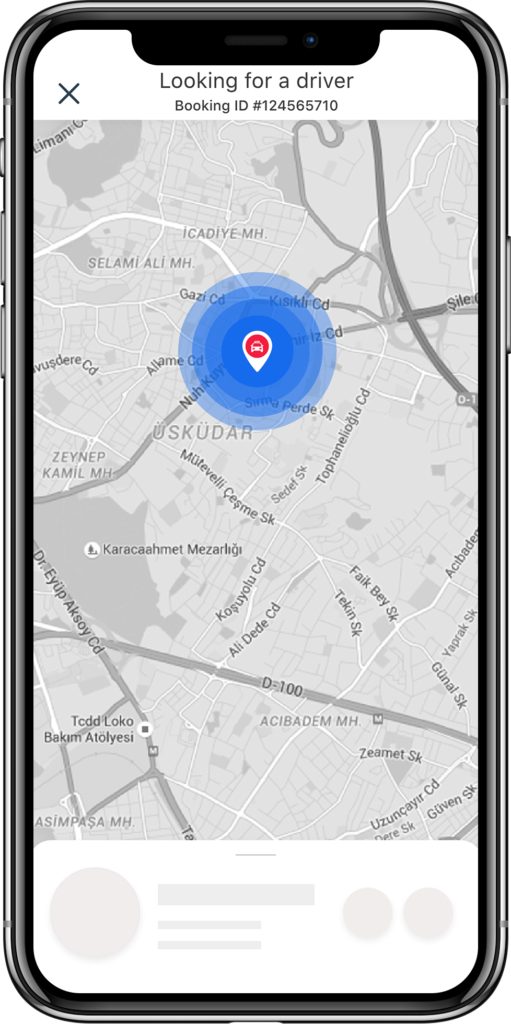 When the selected driver accepts the ride, the live tracking begins. In case he does not, parents would have to search for another Uber for Kids driver based on their preferences
The Uber for kids software ensures that parents have total visibility on their child's trip at all times. Parents have the option of sharing the live-tracking with a relative via a link. The dispatcher will be monitoring all Uber for Kids trips in-realtime to further ensure the child's safety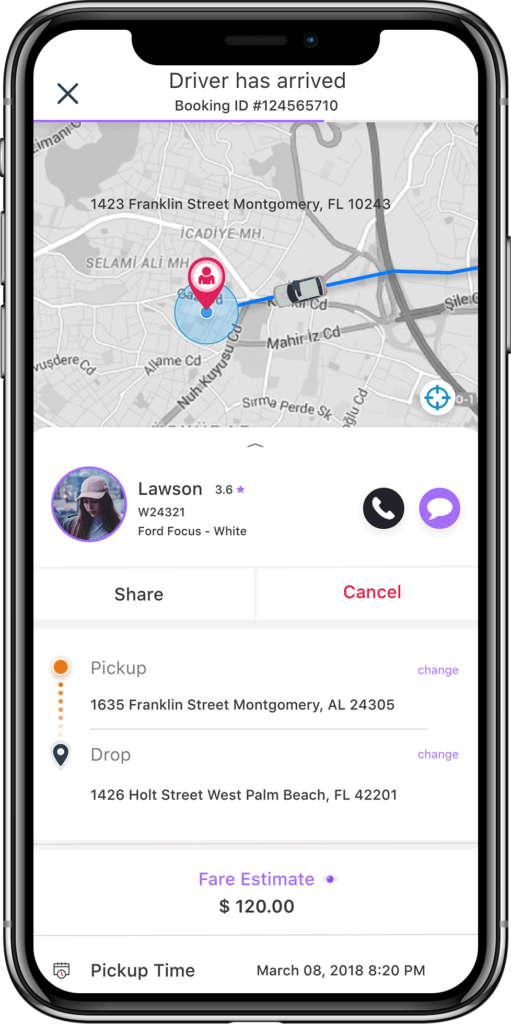 After a kids shuttle service is completed, parents can review their invoice details and rate the cab driver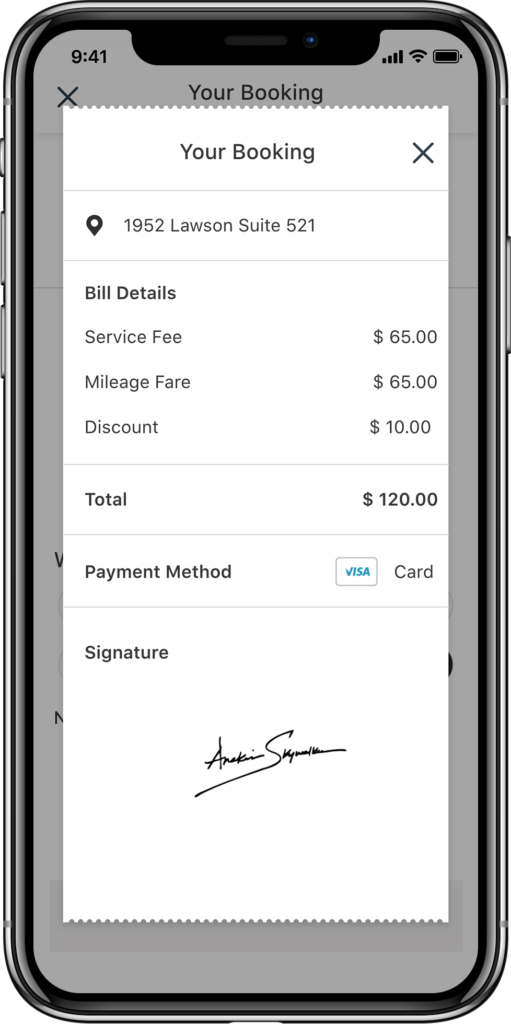 View the detailed invoice of your kid's transportation specifics.
Provide feedback & rate your kids driver on a variety of fields. This ensures quality standards are maintained on your customised Uber for Kids application.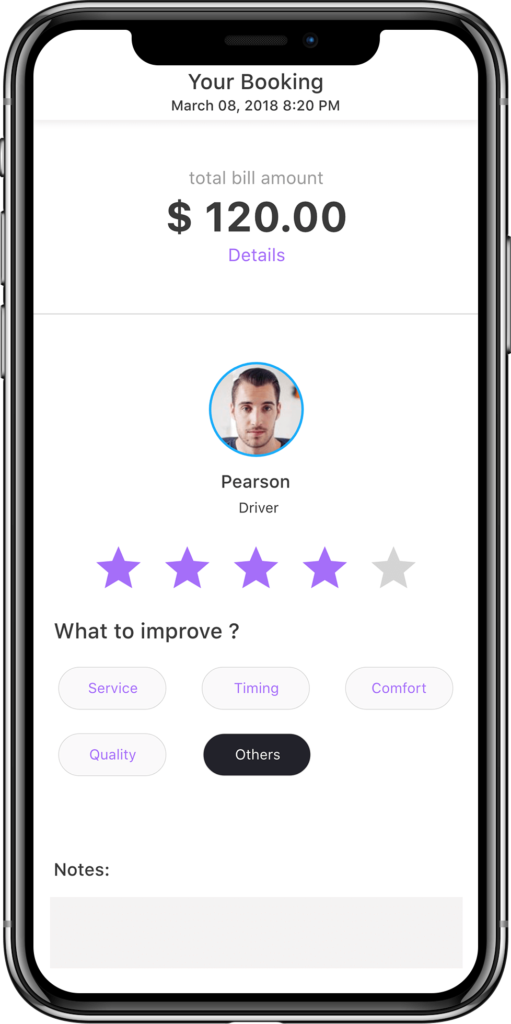 The application menu provides a variety of options for parents to update the app to their preferred choices.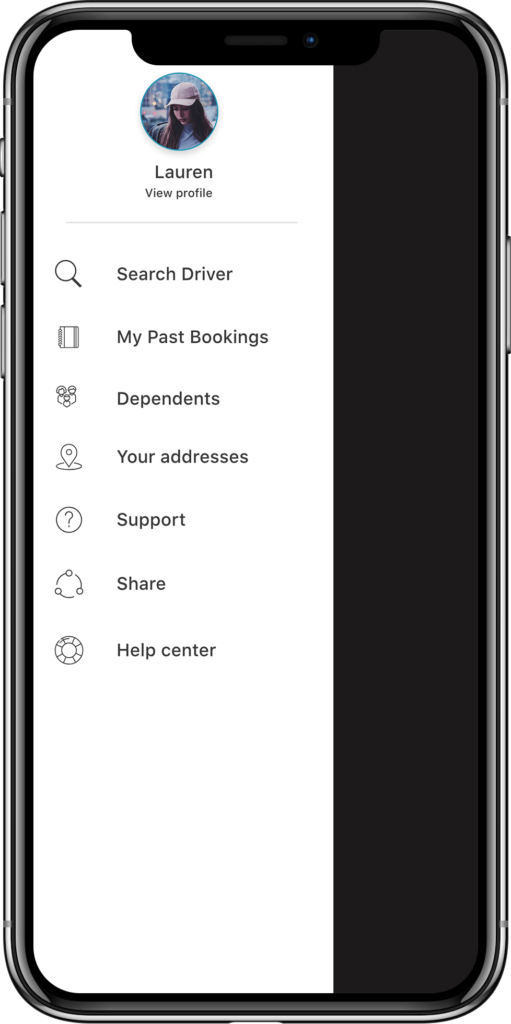 Parents can update their address, view past bookings, add children details, refer other parents & much more.
Parents can enter details of their kids who need to avail the kid-ride service. While booking for a ride/driver the parents need to select the kid's profile. On selecting a child, their particulars would be updated dynamically during booking.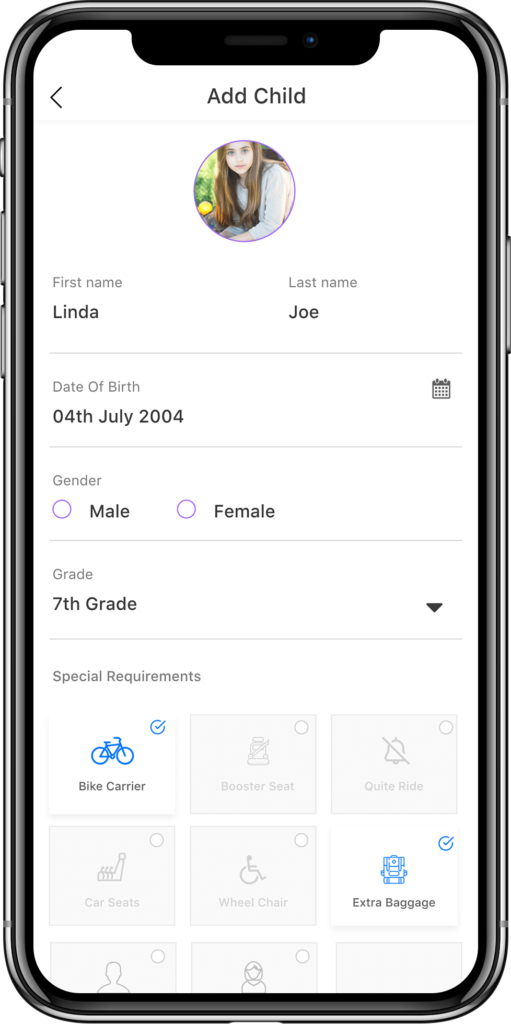 UBER FOR KIDS DISPATCHER SOFTWARE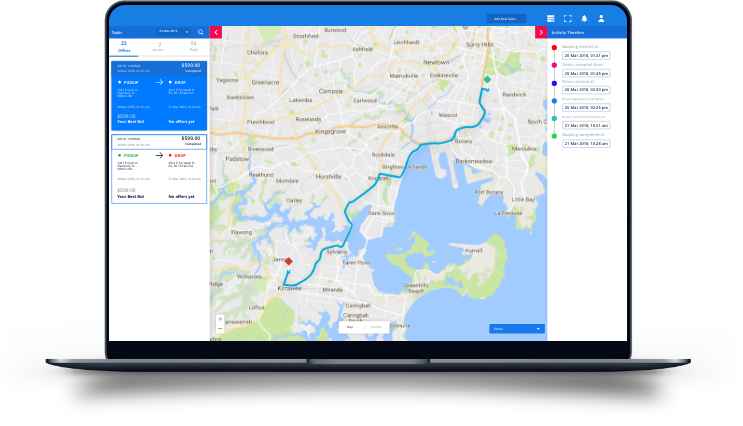 Centralised Control Center
Monitor all trips, manage manual cab bookings, monitor various routes, provide live assistance, etc from our kids taxi dispatcher software
Get notified on each stage & view the status of each kid taxi driver, at any time
Apply filters & view analytics for bookings done on your Uber for Kids app
UBER FOR KIDS ADMIN PANEL

Manage kids-taxi drivers. Approve / reject kids drivers based on qualifications & licenses, view their details, etc.
FEE SETUP FOR KIDS-TAXI DRIVERS
Setup and manage the on-demand kids transportation service charges for different cities & vehicle types.
Setup and manage promotion codes and referral campaigns for a customised Uber for Kids app.
View all the bookings done by parents / guardians and schools in real time, even as they are being placed.
Total financial accounting system to keep track of app commissions and kids-taxi drivers earnings via the accounting panel.
Our Uber for Kids software comes with a payroll management system to manage cash & card earnings of kids-taxi drivers, with direct payment to the driver's bank account.
Manage drivers as individual Uber for Kids service provides or as other kids shuttle services.
Track all Uber for Kids drivers & their jobs in realtime on the KidzUp App.
Create zones for the kids ride by drawing polylines on a map and set the rates accordingly.
Push notification/messages to drivers and parents directly from the admin.
Keep a tab on kids-taxi drivers and maintain highest safety & quality standards. Use ratings and reviews left by customers to improvise the service.
Send out in-app notifications to parents or schools registered on your customised Uber for kids taxi app.

WHY WOULD PARENTS LOVE AN UBER FOR KIDS APP?
They need someone responsible to –

Pickup and drop their kids when they are not in a position to do it

Take their sick child to a doctor or a relatives home

Be there when it's a day off during a weekday

Pickup & drop multiple children to multiple locations
You can read more about the 'Uber for Kids' idea
CLICK HERE