 INNOVATIVE OFFERUP CLONE /BUY AND SELL MARKETPLACE SCRIPT
LeOffer – Our OfferUp Clone is the best online classifieds app with total Customer To Customer (C2C) E-Commerce capabilities that is inspired by apps like OLX, LetGo, OfferUp, Wish Local, Shpock, Carousell. The only software having Progressive Web App(PWA), Android app built in Kotlin and iOS app built in SWIFT5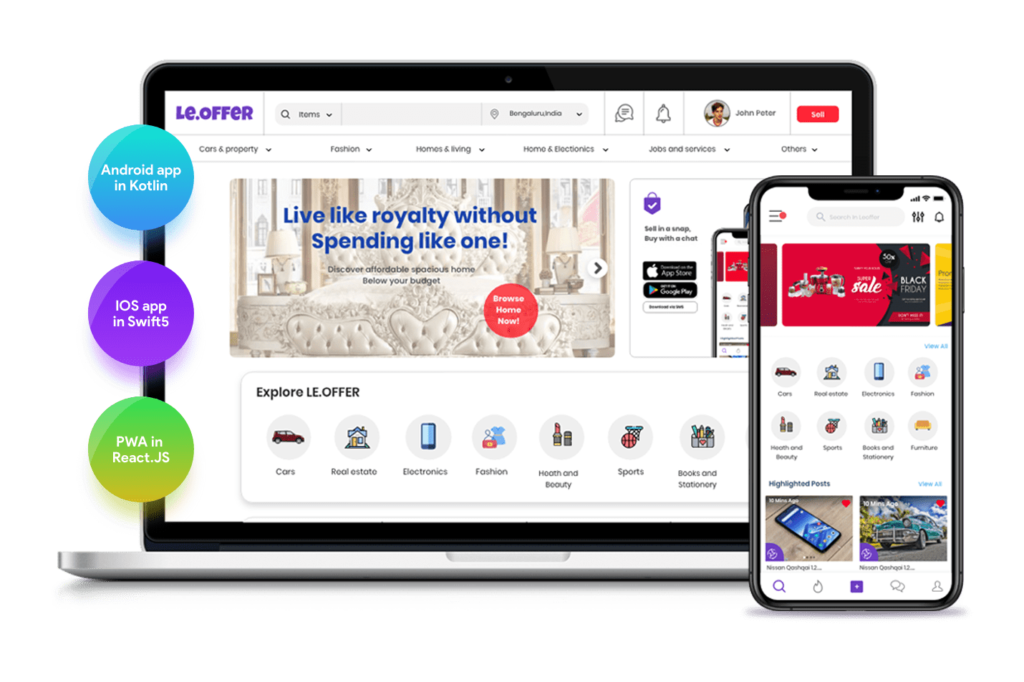 How to earn money from Classifieds Apps? | Offerup App Clone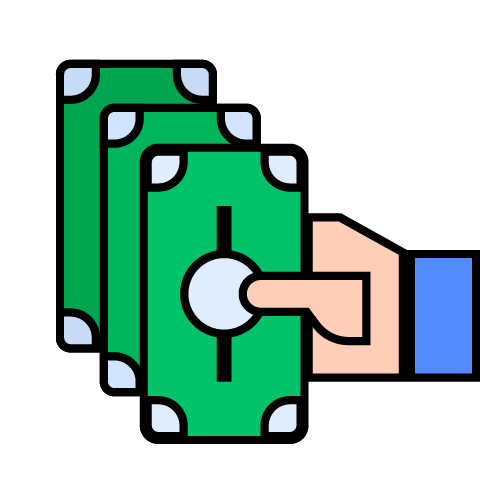 Make money through sales
Whenever any product or item is sold on the app, the app makes a commission on the transaction. The more the number of products sold, the higher the commission.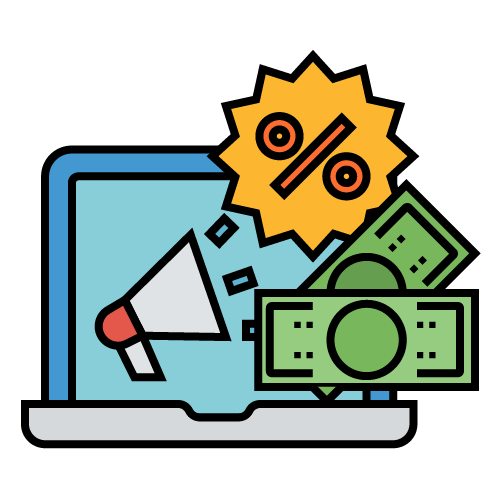 Earn Through Promoted ads
The revenue model can allow purchase of paid plans for highlighting certain ads. They can also be marked as urgent.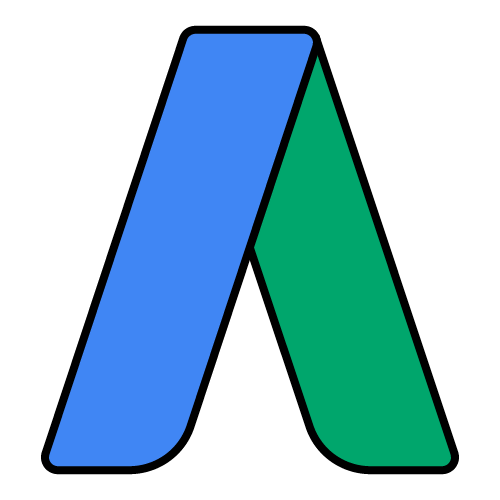 Earn Via Google ads
The app can earn money through Google Ads that can be placed at various points on the website as well as the app. This is possible because the app comes integrated with the Ad SDK.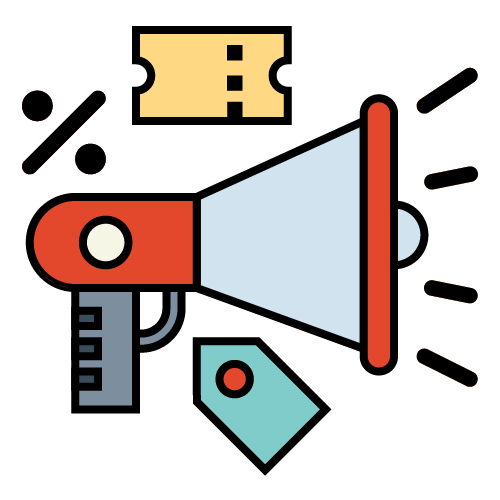 Earn From targeted ad campaigns
Offline retailers can be a good source of income. They can run geo-targeted ad campaigns to capture the user base market.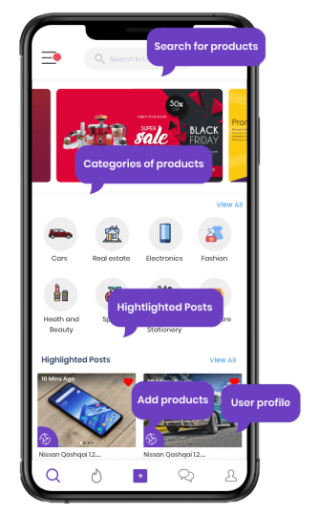 All products are displayed in grid fashion available in your current location. If access to geolocation is provided, then relevant ads are featured that are in the vicinity of the user on the Carousell App Clone.
You have the liberty to follow sellers of your choice on the App. When a user whom you follow posts a new advertisement for sale, then all followers receive a push notification regarding it.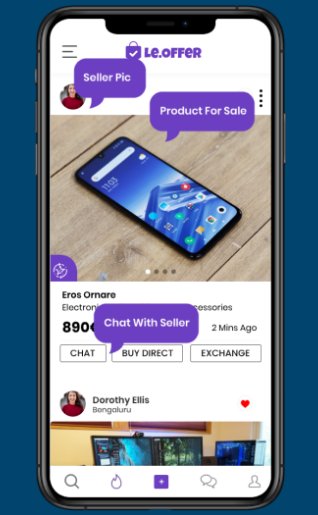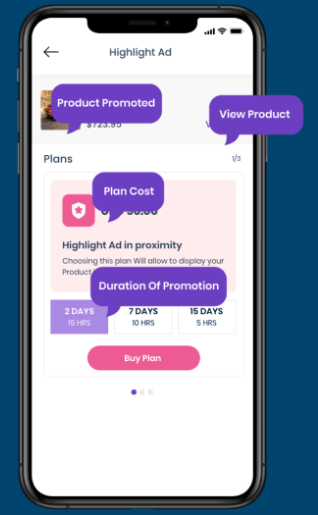 There is a paid plan option by which a user can promote his/her product in various ways such as highlight ad, urgent to sell, etc and can opt for a given time frame.
ADS WITH DYNAMIC ATTRIBUTES
There are several steps involved to upload ads that is similar to OLX. Select the category and based on it various fields show up. Admin can introduce filters for fields as per the product.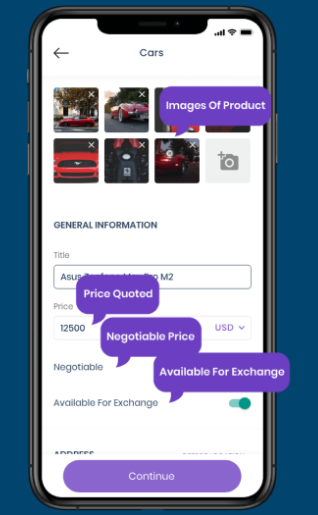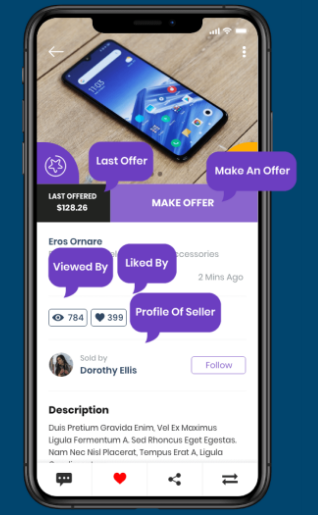 View necessary details of each product such as category, location, price, Sorting order, new and Post time. If cars/bikes: Brand, Mileage, Colour, etc. For properties: Room, Bedrooms, Bathrooms, etc
Posts that are highlighted reflect on this screen. There are paid plans of various options in the Offerup clone script, by which you can have your Ad posted here.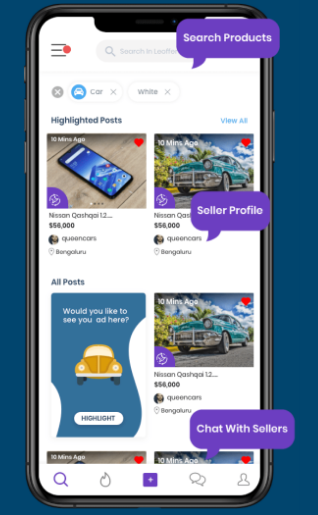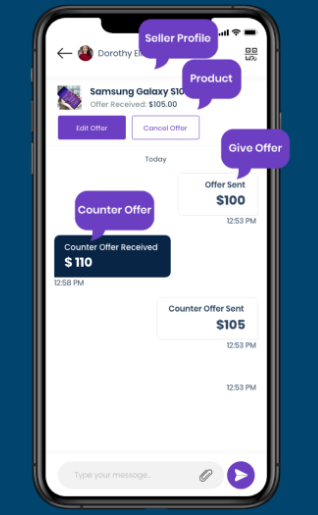 SUBMIT OFFERS AND NEGOTIATE

Submit the price you would like to offer for a particular product you want to purchase. Sellers can counter-offer too.
BUY DIRECT ON THE OFFERUP CLONE
Users can post Ads with a buy direct option wherein there is no option to either negotiate the price or an exchange. This is called as direct buy.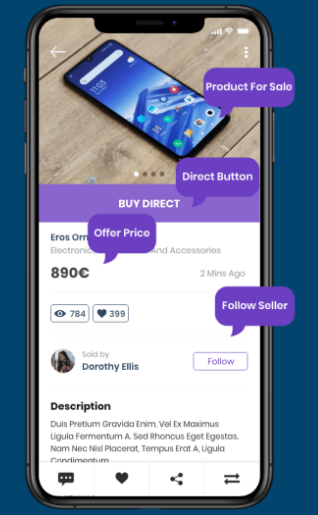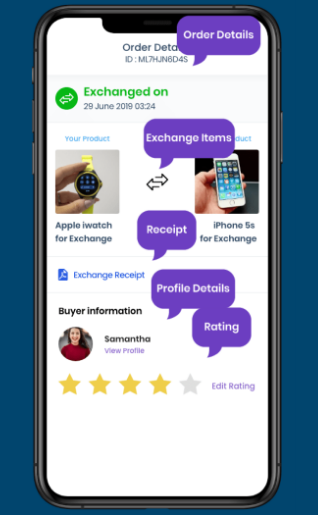 When a transaction occurs wherein the buyer pays the seller directly, the payment is escrowed and reflected in the pending balance. The payment is released to the seller after the App commission is accounted for.
Users can recharge the balance in their App wallet using a payment gateway. Most payment gateways are supported.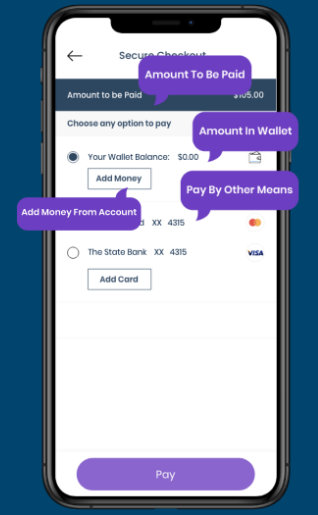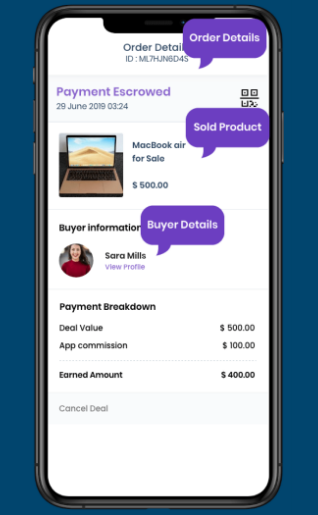 When a transaction occurs wherein the buyer pays the seller directly, the payment is escrowed and reflected in the pending balance. The payment is released to the seller after the App commission is accounted for.

Users can recharge the balance in their App wallet using a payment gateway. Most payment gateways are supported in our Offerup clone app.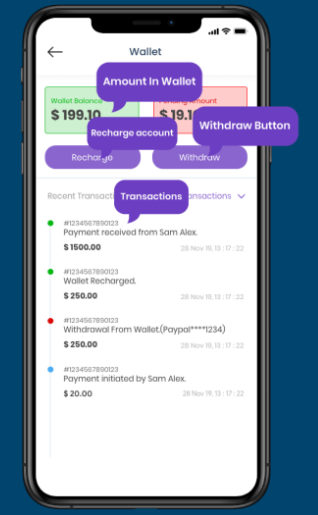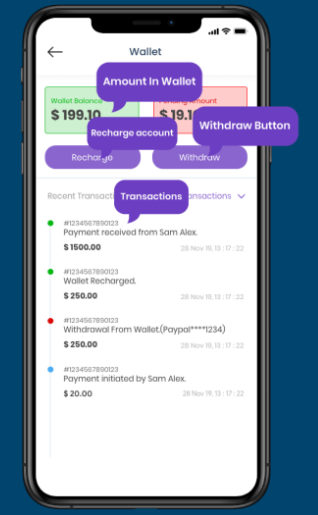 SCAN QR CODE ON THE OFFERUP CLONE
A unique QR code is generated for every order. The QR code can be scanned by the buyer to confirm a sale, thereby ensuring privacy and a secure transaction.
After a transaction is completed buyers/sellers can review and rate using star rating to enhance social trust scores. This is made visible to all in the ratings tab.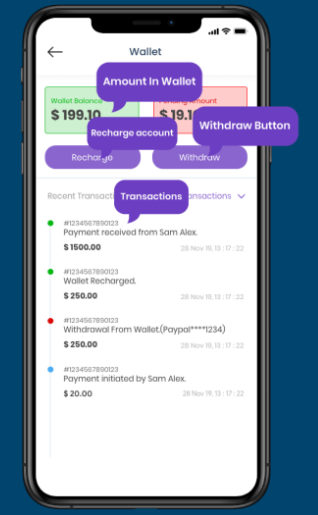 MARKETPLACE WEBSITE ON THE Offerup APP CLONE
You can view all the products around your current location by providing access to geolocation. In the Offerup clone script, you can mark or highlight posts as 'Urgent', or run free ads too.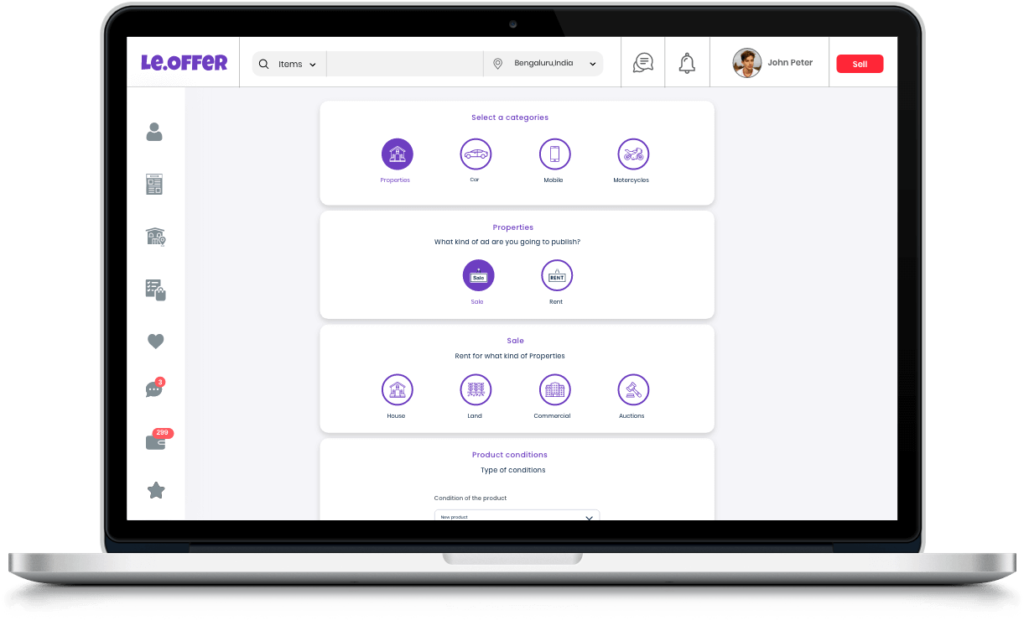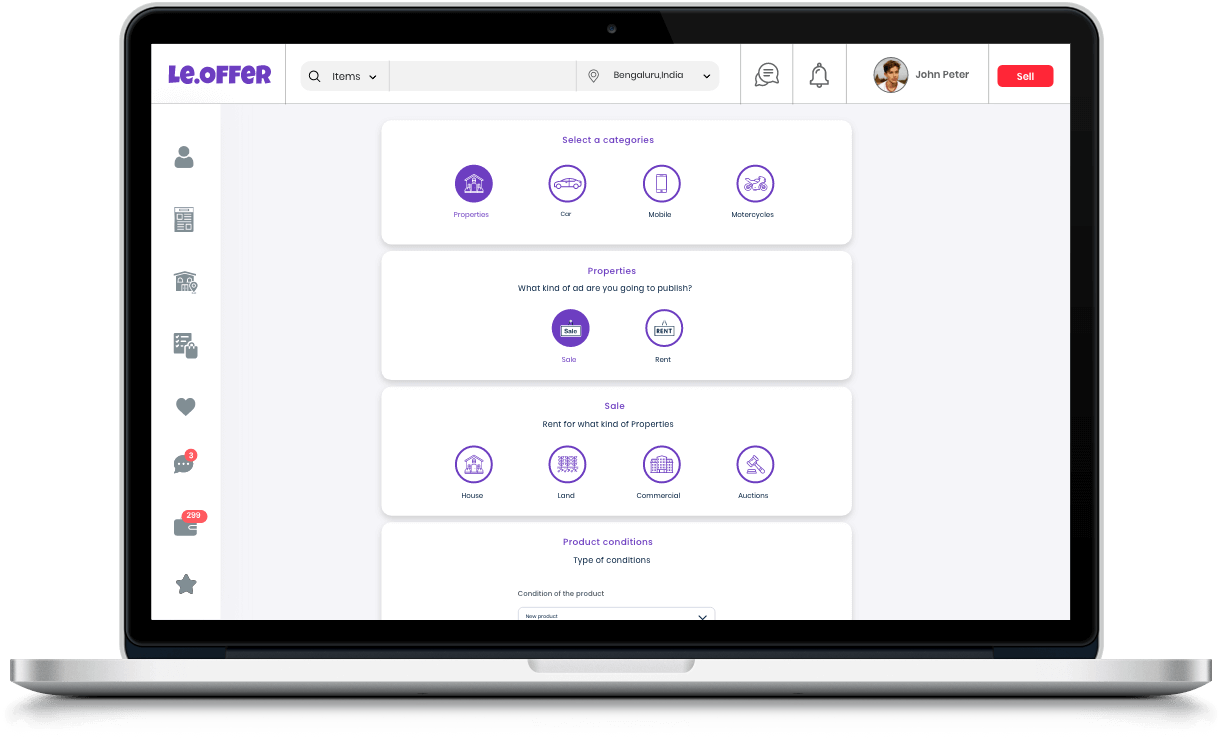 Post Ads With Dynamic Attributes
Post ads with all necessary details that a buyer maybe seeking to make a purchase. Fields are dynamically created based on the category of the advertisement.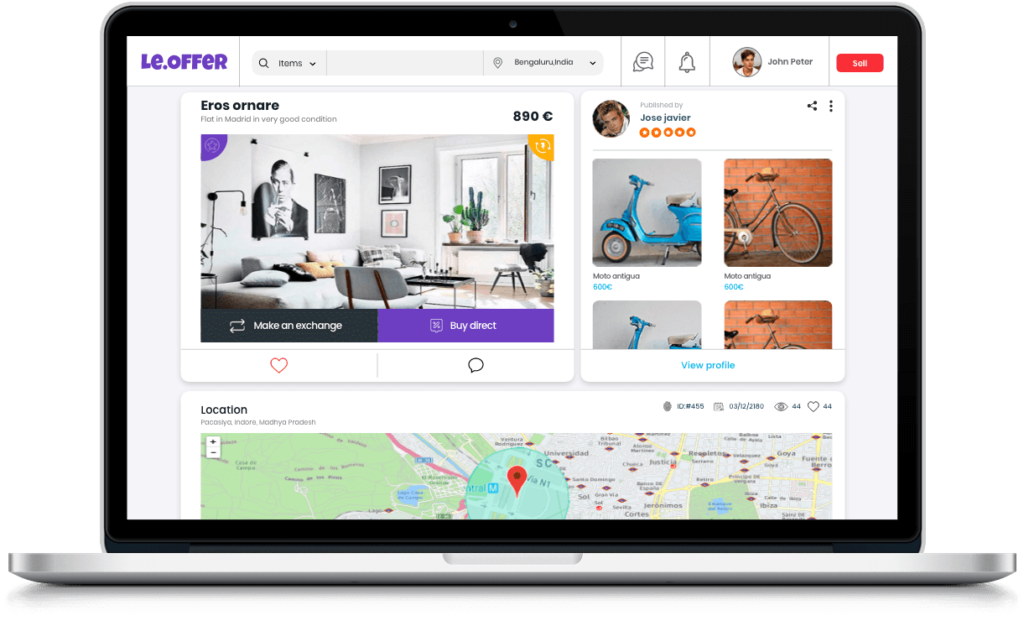 View Product Details On The Offerup Clone
Product details page varies for different types of categories. Fixed fields are title, price, location & category. Other metadata depends on the product category and varies as per product.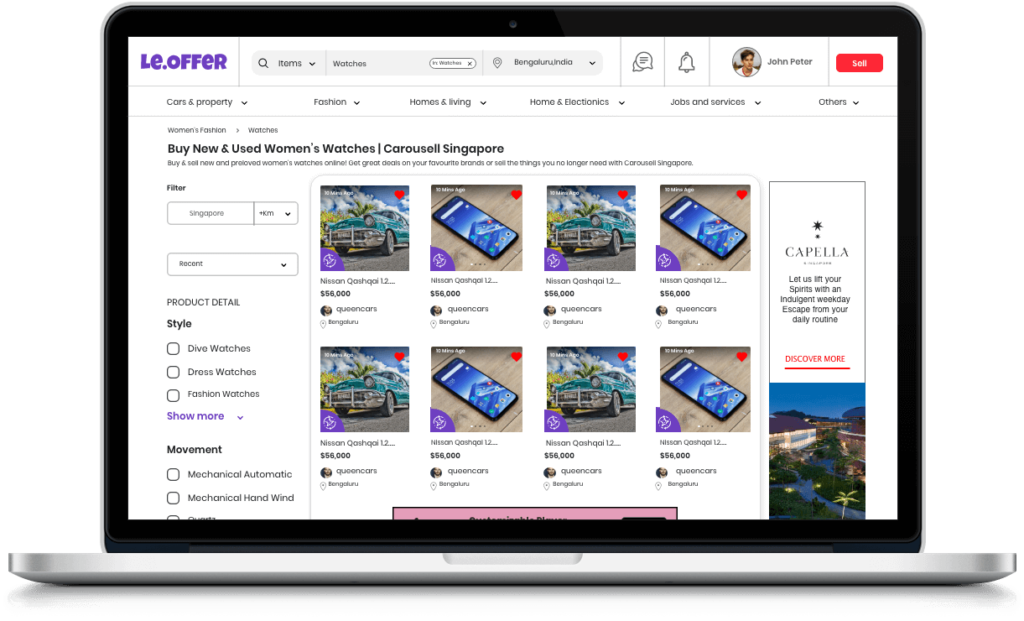 Search Advertisements / Users
Search for ads are powered by elasticsearch that factors the category and keywords used in the description of the ads. Users can find friends by sharing their contact list.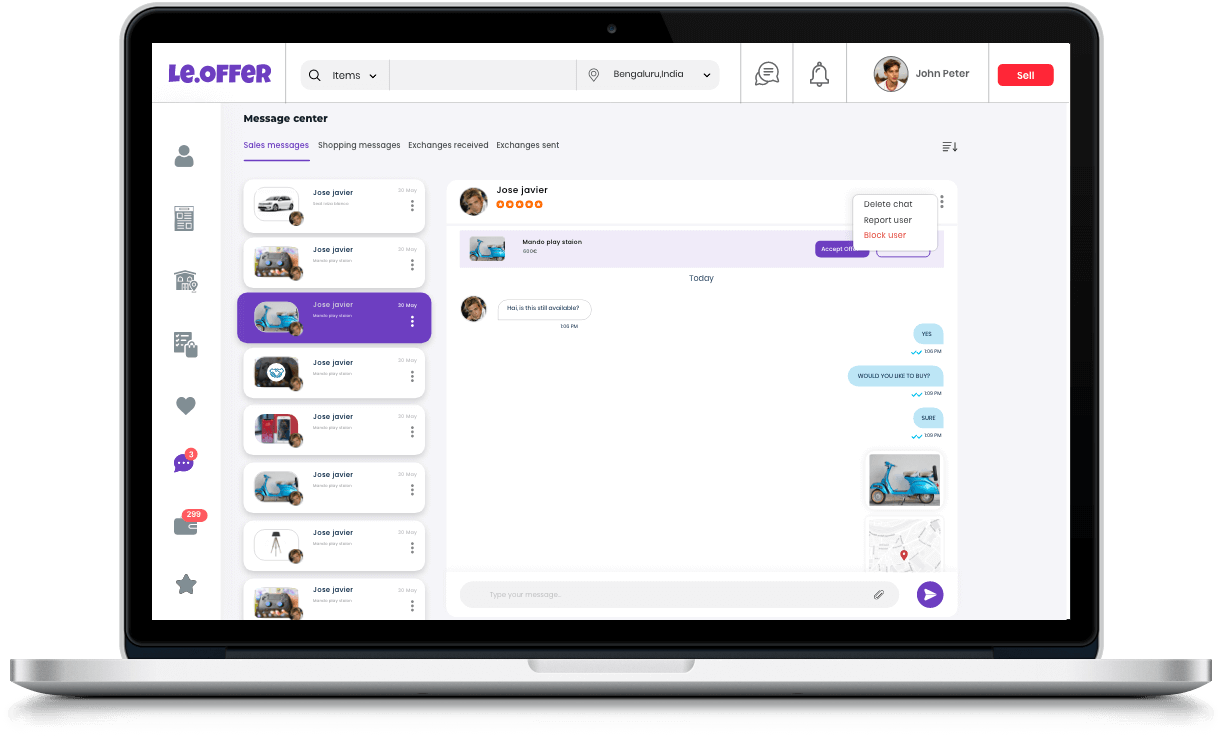 Chat Directly With Sellers
Buyers can initiate chat with sellers. Chats are instant and real-time. Buyers and sellers can exchange messages, images, videos & location. Unique chats are created for each advert.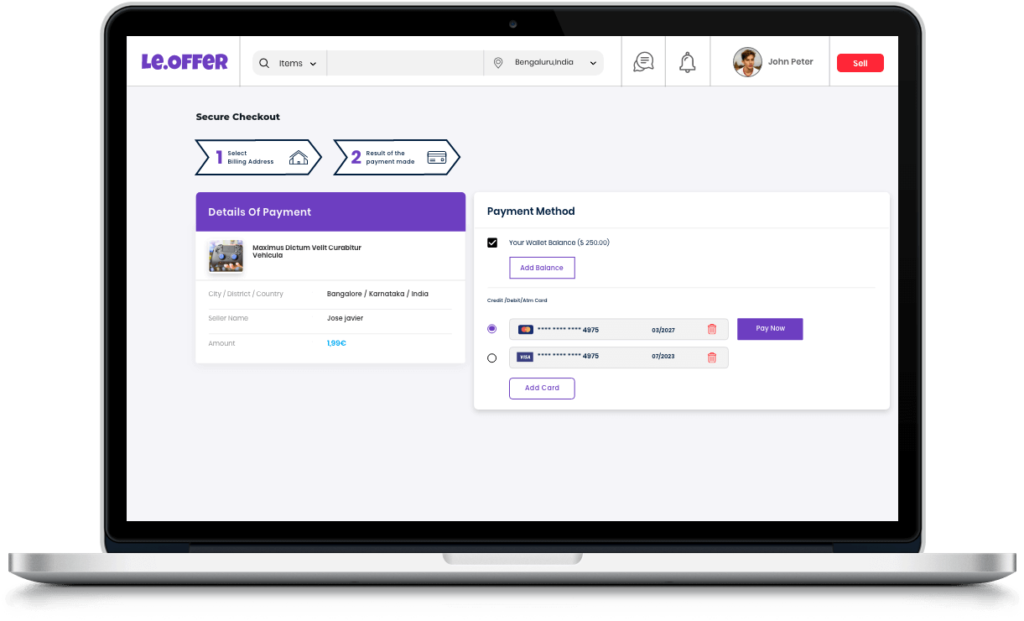 Stripe.com comes integrated by default. Other payment gateways are also supported depending on the country. Users can add multiple cards to their profile to make payments.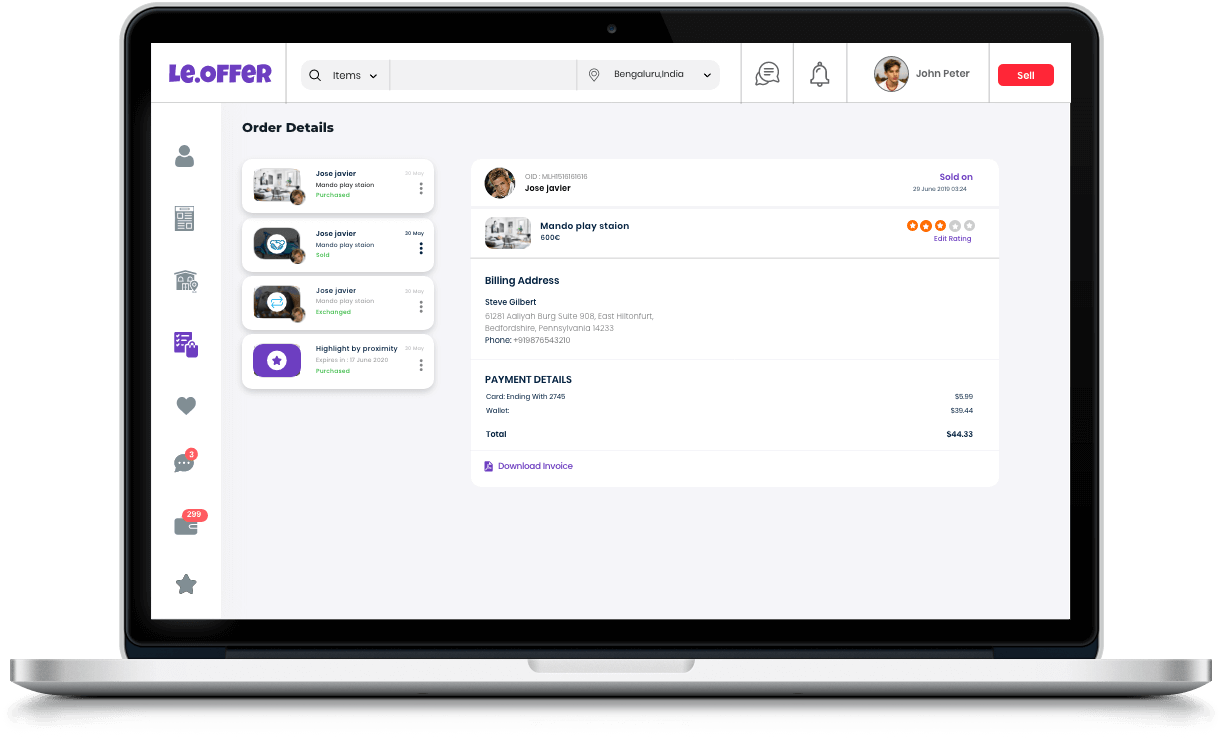 After the buyer scans the seller's QR Code the transaction is complete. Buyer receives the invoice from the app and downloads the invoice from the orders page. The seller can download the sales order on the Offerup Clone.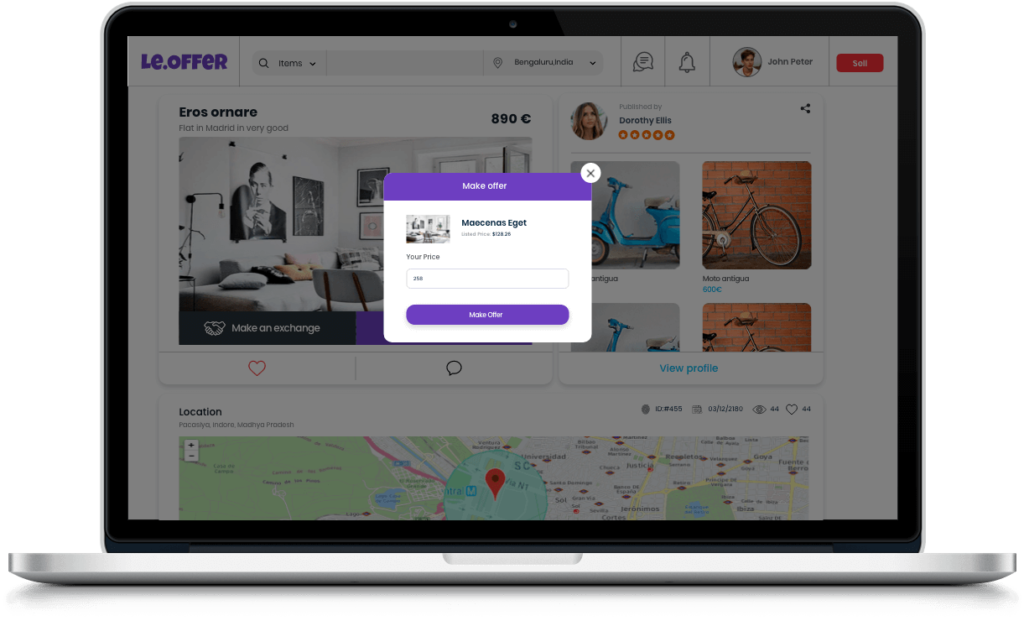 Submit Offers, Buy Direct Or Exchange
A buyer can submit an offer when an ad is up for negotiation. When the seller does not initiate exchange or negotiation then it's a direct buy. Exchange is as in barter system where the buyer/seller can exchange goods.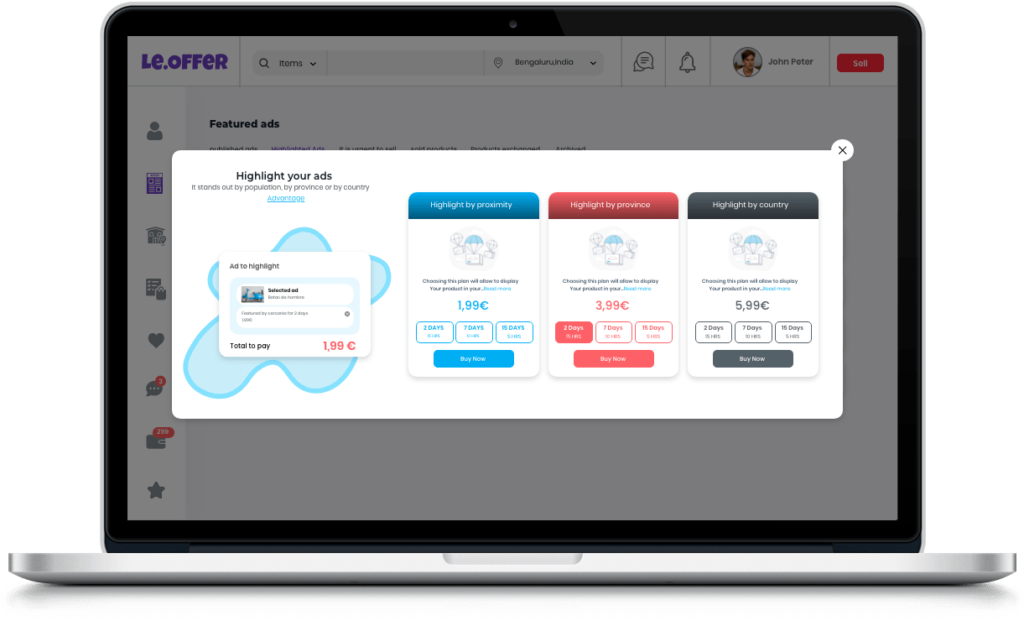 User can promote their advertisement through 2 options: Highlight the ad for a few days in a particular region or mark as urgent to sell for certain number of days.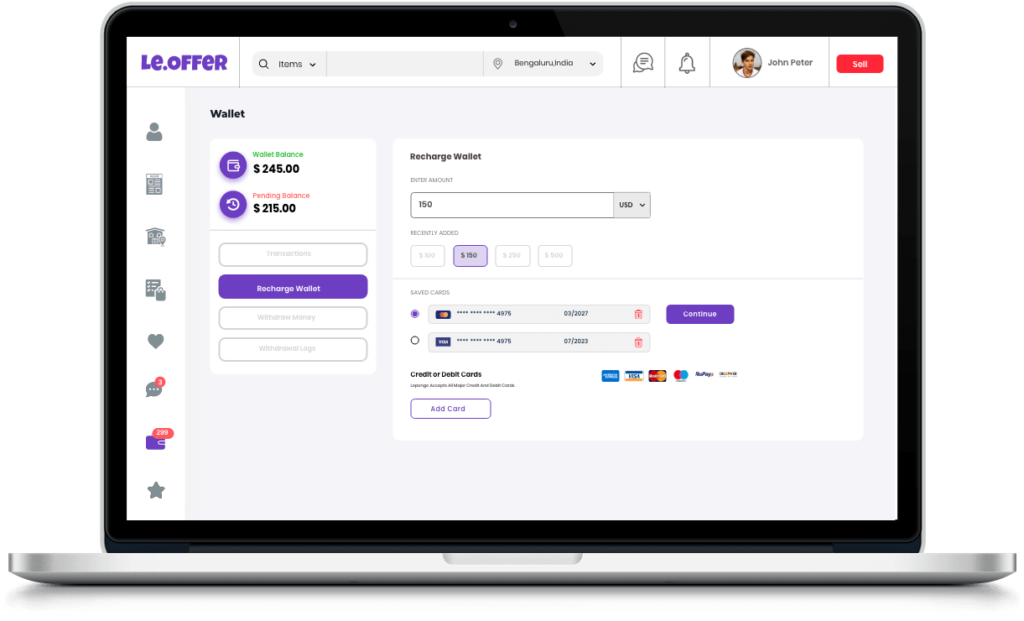 Withdraw Money From Wallet To Bank
Users can withdraw money from wallet to bank account. Requests are submitted to the administrator and after approval the payment is made to the seller.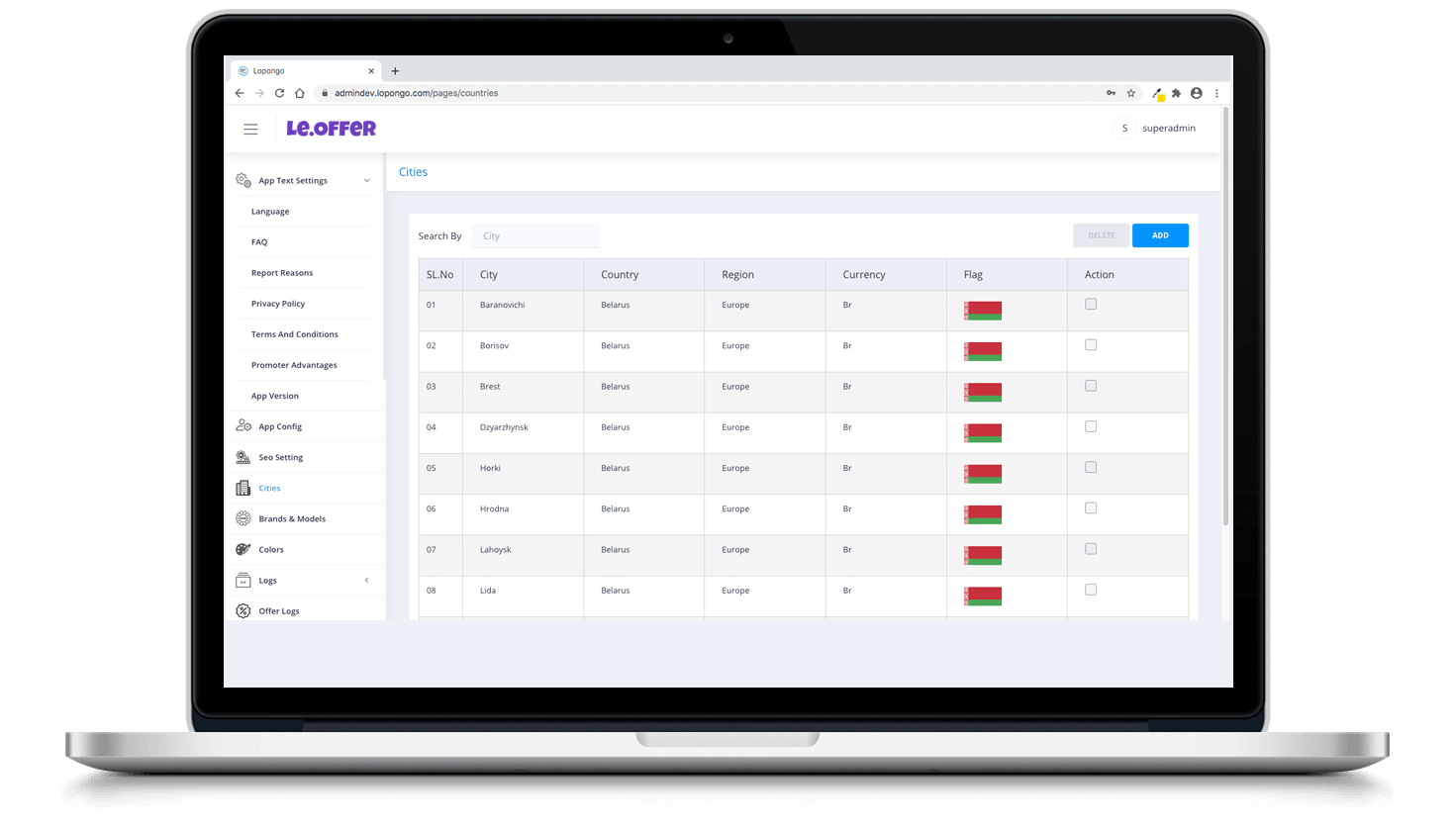 Multiple languages

Manage multiple languages and text content on the app
SEO

SEO of the website is managed
Multiple currencies

Manage multiple currencies and locations.
Brands

Manage Brands and/or Models
Logs

Provision of SMS and Email Delivery Logs
Track offers

Track all offers on the application.
Access permissions

Manage access permissions via the admin panel
Manage users

Manage all users on the app
Manage Meta Data

Manage product meta-data and other fields
Manage Listings

Manage all the listings on the app
Manage Units

Manage all units
Manage Promotion Plans

Manage all promotion plans in one place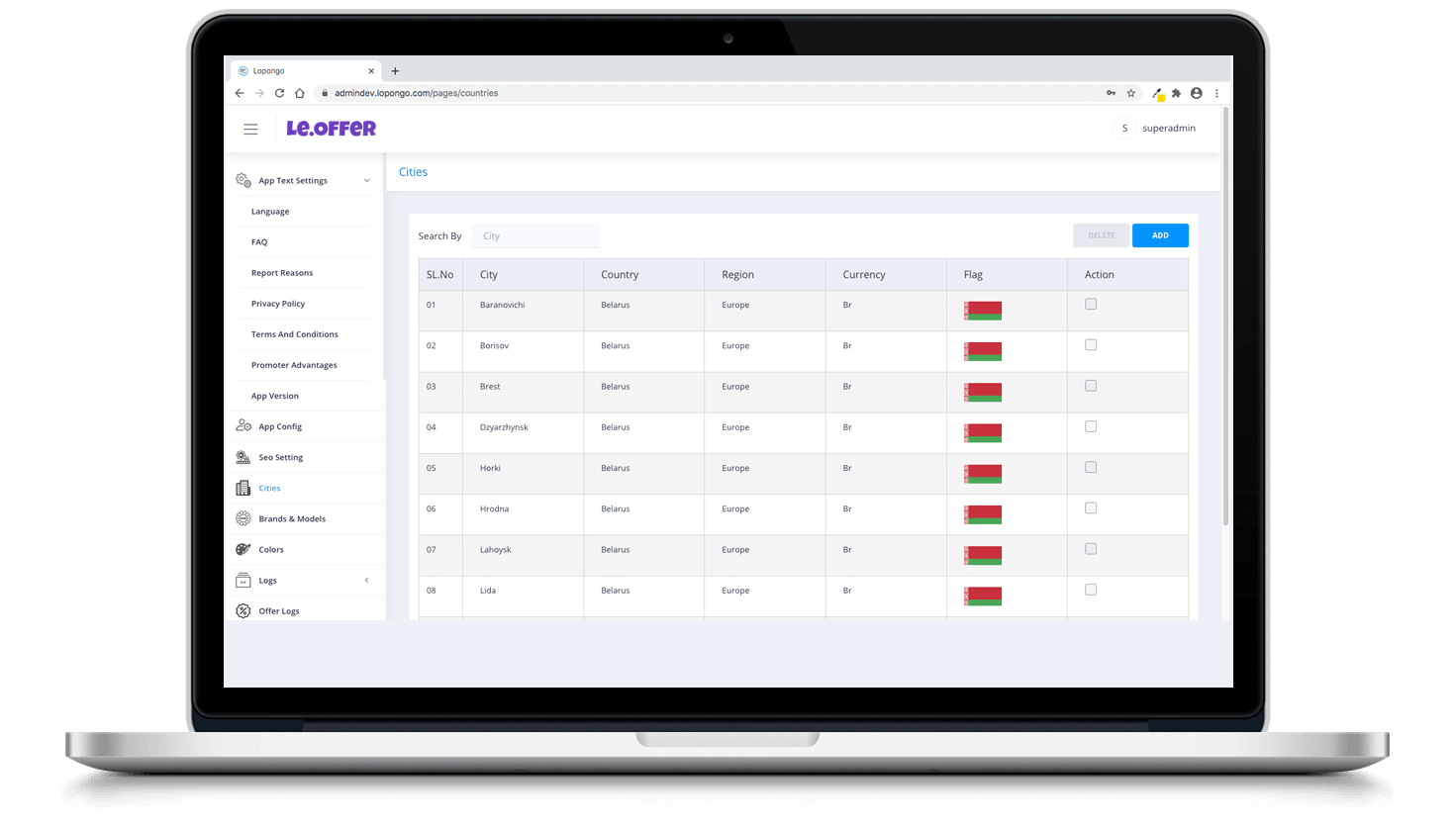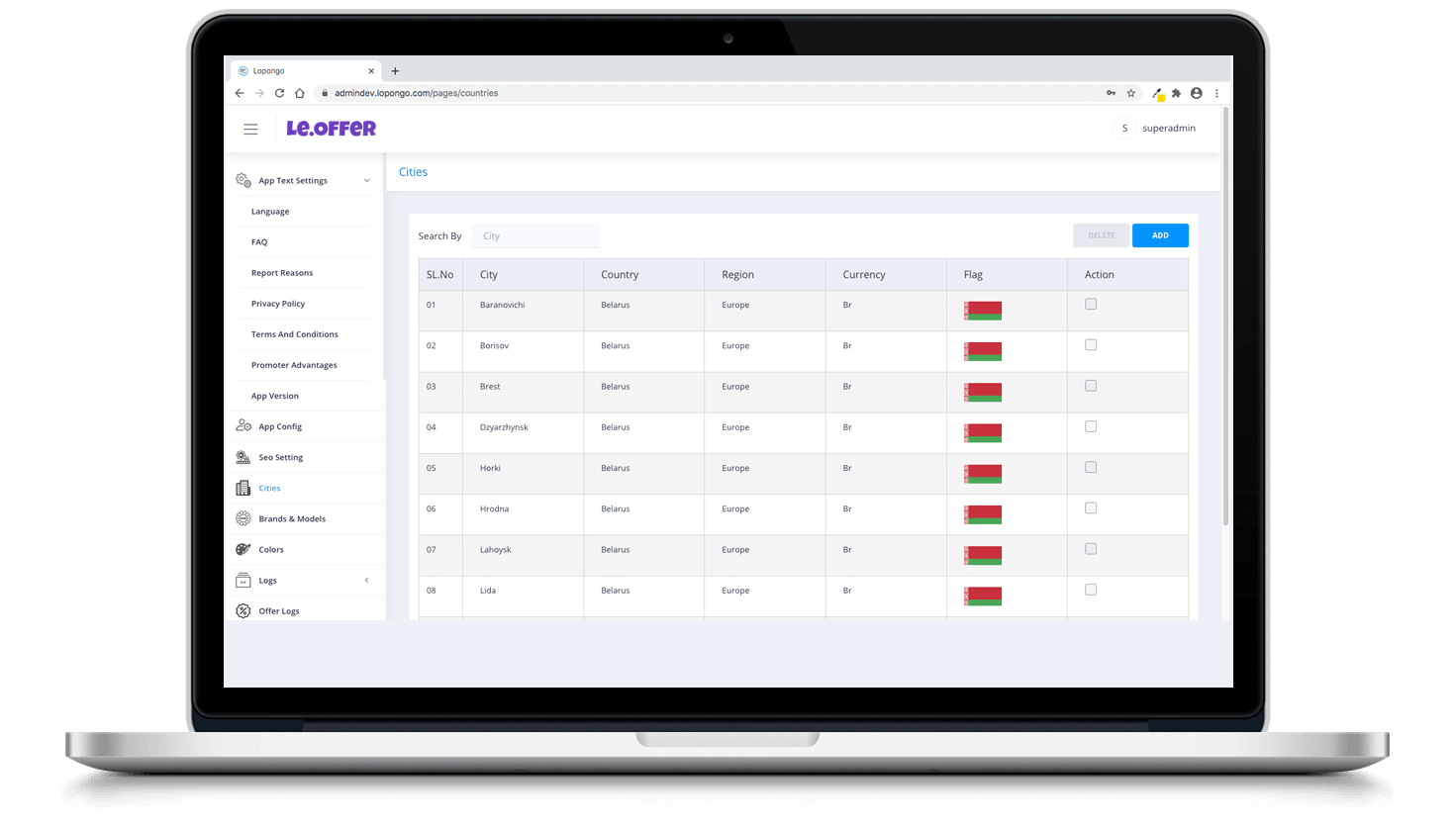 Manage Website Banners

Manage website banners
Financial Ledgers

Manage financial ledgers
View ratings and reviews

View all ratings and review on one screen
Track all Orders

Track all orders that are placed
Create Targeted Marketing Campaigns

Create targeted marketing campaigns
Manage withdrawal requests

Manage withdrawal requests to Admin
A Customizable Classifieds Script Can Be Used To Develop The Best Online Classified Businesses
A versatile classified script can be used to build different business websites by entrepreneurs. An adaptable classified script will help you pick the features required for your business website.


Auto Classified Script
Form an everlasting place in the online automobile classifieds industry! Choose a scalable auto classified script with robust performance, eye-catching features, state-of-the-art technologies, and innovative concepts, to create an efficient and influential car marketplace.

Real Estate Classified Script
Whether your business is a Commercial Real Estate, Industrial Real Estate, Land, or Residential Real Estate, build your own portal by using a reliable real estate classified script that connects property owners and buyers efficiently with extraordinary features.

Job Classified Script
A remarkable job classified script can help you build a great app/ website. The platform will be highly beneficial to jobseekers for searching jobs online from the comfort of their homes, and to employers for streamlining their online recruitment processes easily.


Pet Classified Script
Looking to build an online pet store to serve as the most convenient platform for the pet sellers and buyers? An ideal pet classified script will help you create one! Be assured to achieve substantial growth in your business with this remarkable solution.


Auction Script
Starting an online auction business will no longer be a tough or tedious job with a ready-to-use and extensible auction script. Build your own auction website with visually stunning features, modern functionality and high scalability.