WHY CHOOSE LEOFFER For YOUR dubizzle clone app
LeOffer is a buy and sell marketplace script inspired by apps like Wish Local, Shpock, Carousell with many additional features of its own. Given below are reasons why you must opt for LeOffer as your online buy and sell marketplace script.
100% Customizable
Our clone script can be customised for various buy and sell activity.
PCI Compliant
We assure PCI compliance that will ensure no legal issues while accepting in-app purchases on your online marketplace script.
Prebuilt Scripts
Features such as proprietary pre-built delivery solution, store management solution, ensures that the store app moves from development to deployment faster than any buy & sell app.
Scalable & Clean Design
Using state of the art app container technology, clean coding practices, use of microservice architecture and simultaneously integrating safety & security features has made Leoffer as the robust Dubizzle clone solution available in the market today.
Multi-Language & Multi-Currency Support
Irrespective of your location or currency preference, our software solution can be customized for your online marketplace business.
Referral & Promotions
Our buy & sell app software is equipped with promo & referral features to enhance user base & overall user retention. Our underlying scalable tech architecture ensures our buy and sell app can handle the growth of your user-base.

SEO Friendly Design
All purchase and delivery solutions are built using the Leoffer software. These are designed keeping the best SEO practices for apps. This aids in the app's overall ranking in search engines & online app stores.

App Monitoring & Chatbots
Our Dubizzle clone script is the only customizable buy and sell software that provides chatbot-integrated app monitoring services. This ensures on-demand app performance updates for your personalized Dubizzle like app.

Security
Our software solution is robust, scalable and secure. SSL-powered API's, Keychain, JWT, reverse proxy setup ensures that security extends all the way from the app to each individual API.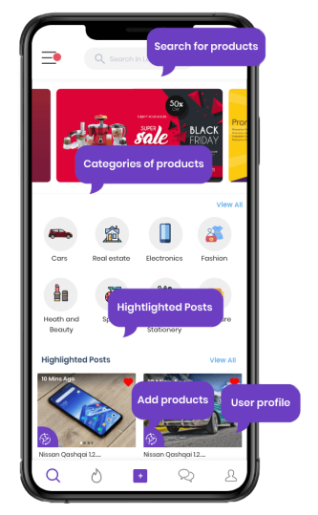 A grid view shows all products in your current location. Access to geolocation is requested to show relevant ads that are in the vicinity of the user on the Offerup Clone.
You can follow certain sellers on the App.The followers and following count is visible on the user's profile page. Whenever a user posts a new advertisement their followers are sent a push notification.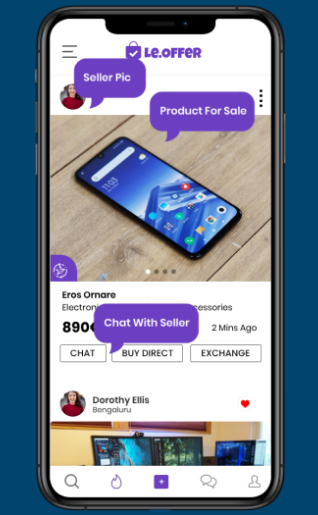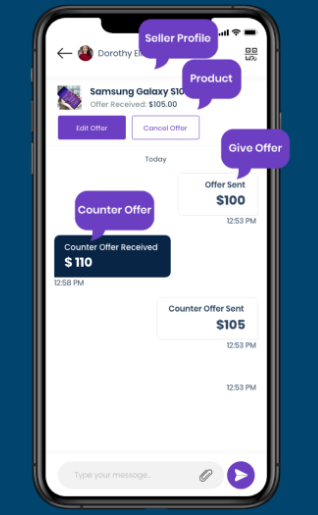 SUBMIT OFFERS AND NEGOTIATE
Buyers can go ahead and submit offers for products that they would want to purchase.
BUY DIRECT ON THE DUBIZZLE CLONE
A user can post an ad with no option to either negotiate the price or an exchange. This is termed as a direct buy.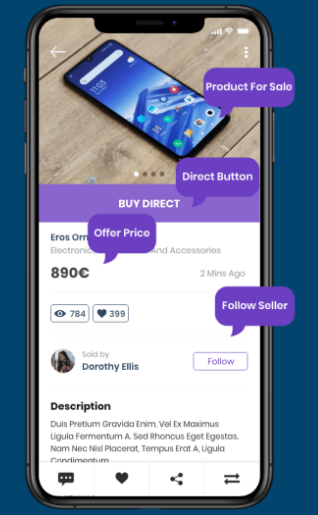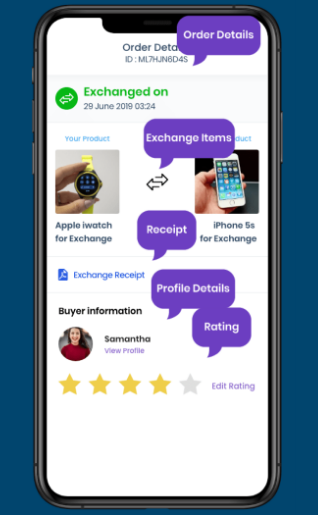 A user can post an ad where he is willing to exchange for another item. Other users can make a counter-offer with one of their product as in barter system.
Users can add multiple cards to their profiles. An in-app wallet is integrated into the Dubizzle clone app to make payments for purchases. Other payment gateways can also be supported based on the country.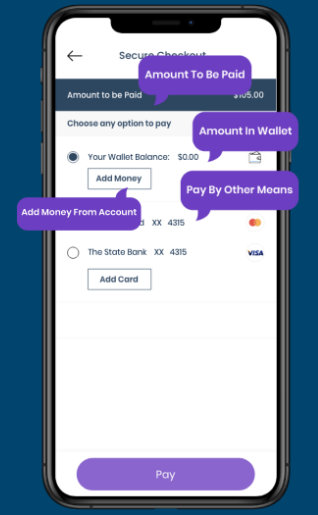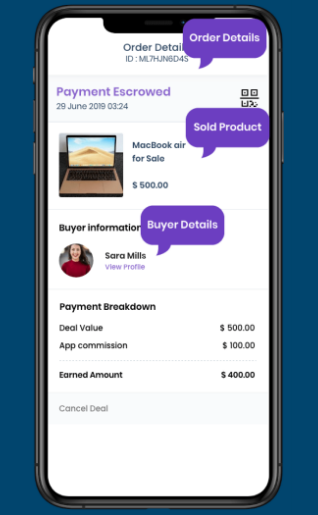 When a transaction occurs where a buyer pays the seller,the payment is escrowed and reflected in the pending balance. The payment is released to the seller once the buyer scans the sellers QR code.
A user can recharge their money and wallet using a payment gateway. All payment gateways can be supported depending on the country.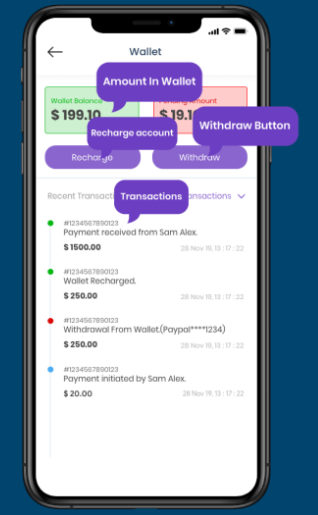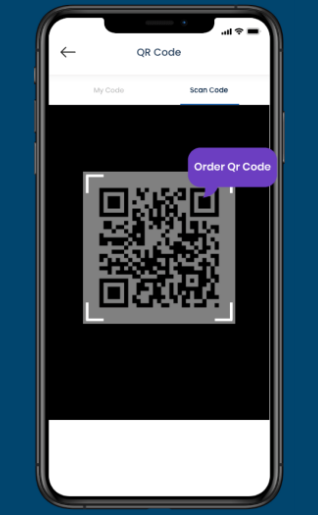 SCAN QR CODE ON THE DUBIZZLE CLONE
A unique QR code is generated for each order. This QR code can be scanned by the buyer to confirm the sale of an item.
After a transaction review and rate buyers/sellers using star rating between 1 and 5 to enhance social trust score. This would be visible to all in the ratings tab.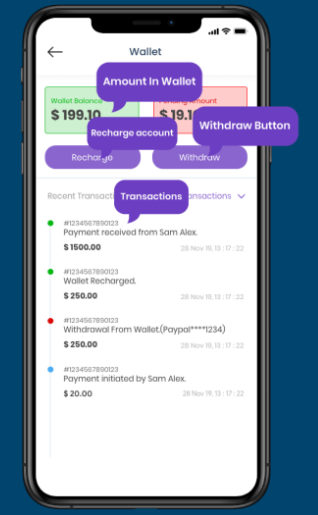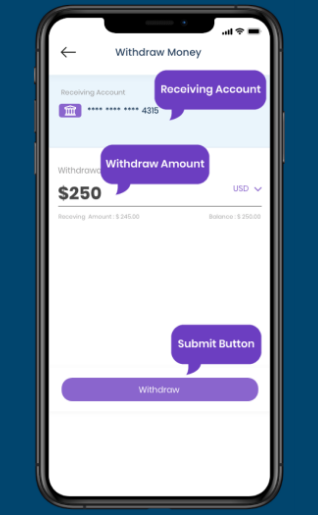 WITHDRAW FROM WALLET TO BANK
Users can withdraw money from their wallet to their bank account by requesting the administrator, who has to approve the requests and after approval the payment processed.
Sellers can view detailed insights of their ads: Click count, Comment count, Chat count, Saved count and Shared count. Reviews and offers for various demographics in real-time.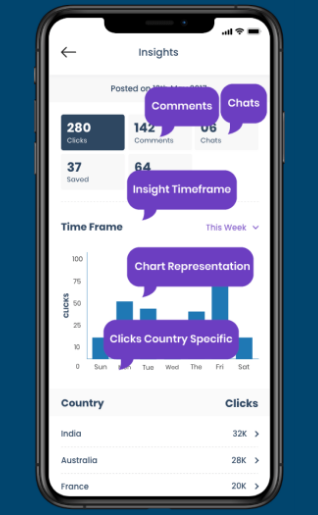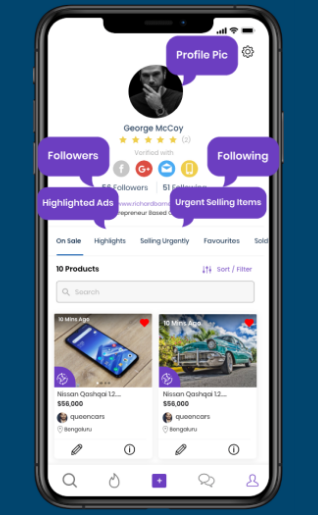 USER PROFILE ON THE OFFERUP CLONE
Multiple sections are provided here with fields: sale items, highlighted ads, urgent sale, sold items, archived items, deleted items, reviews, exchanges, etc.,
Create rating for buyers, example as in "Payment promptness". When a transaction completes the buyer/seller can both review and rate the seller/buyer. These are visible under the ratings visible to all.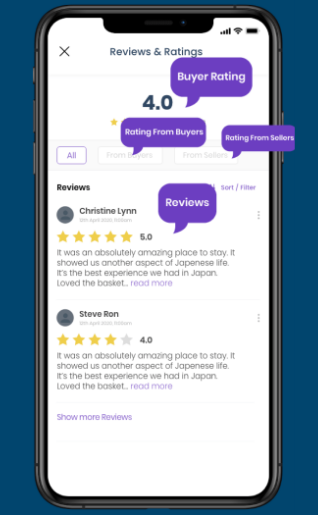 Multiple currencies

Manage multiple currencies and locations.
Multiple languages

Manage multiple languages and text content on the app
SEO

SEO of the website is managed
Brands

Manage Brands and/or Models
Logs

Provision of SMS and Email Delivery Logs
Track offers

Track all offers on the application.
Access permissions

Manage access permissions via the admin panel
Manage users

Manage all users on the app
Manage Meta Data

Manage product meta-data and other fields
Manage Listings

Manage all the listings on the app
Manage Units

Manage all units
Manage Promotion Plans

Manage all promotion plans in one place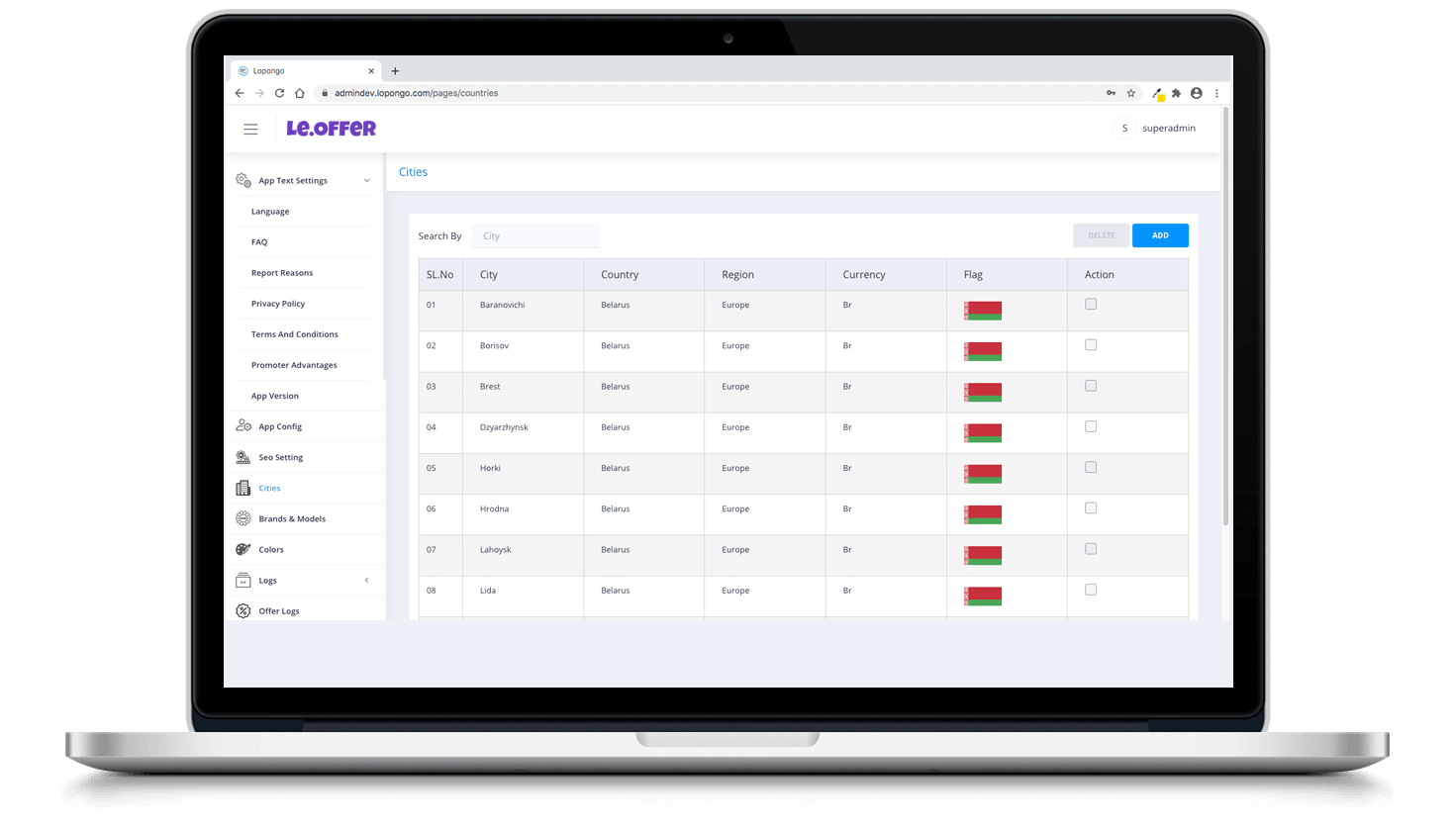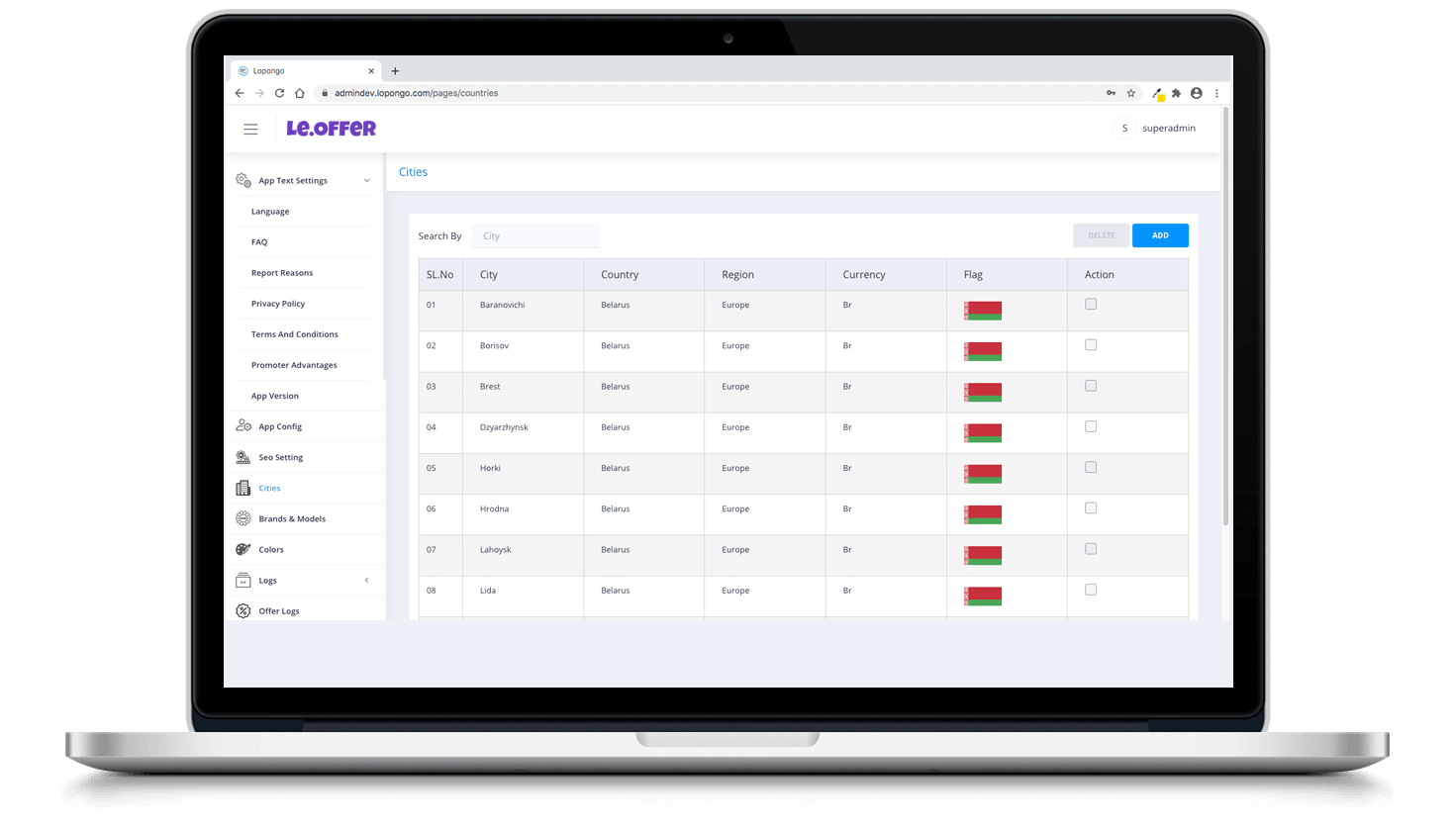 Manage Website Banners

Manage website banners
Financial Ledgers

Manage financial ledgers
View ratings and reviews

View all ratings and review on one screen
Track all Orders

Track all orders that are placed
Create Targeted Marketing Campaigns

Create targeted marketing campaigns
Manage withdrawal requests

Manage withdrawal requests to Admin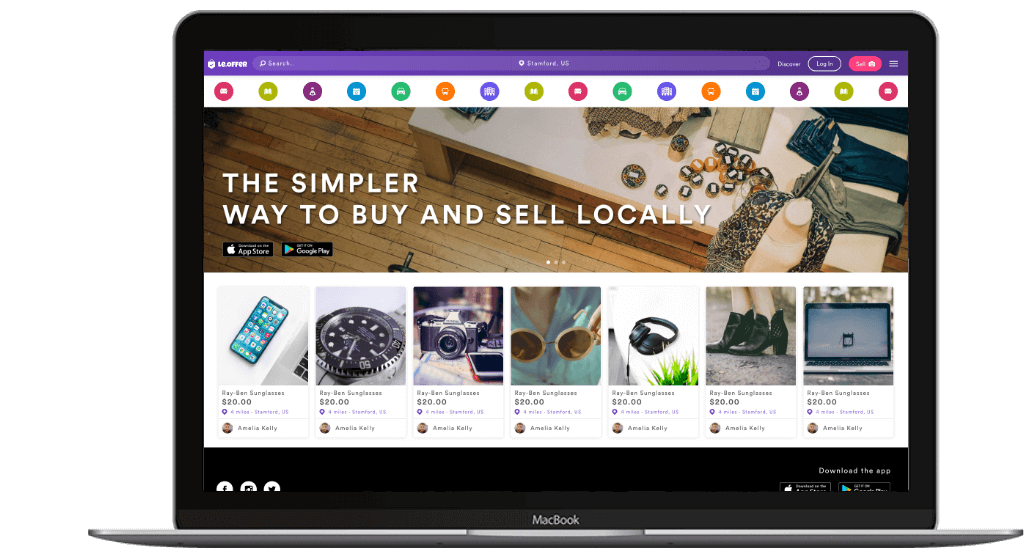 Our Dubizzle clone script also provides a fully responsive website solution, users can buy and sell products via our website.

USER MANAGEMENT
Manage user profiles on the OfferUp clone script.

CATEGORY MANAGEMENT
Setup and manage categories and subcategories for the advertisements that are used while posting on the OfferUp clone script.
MANAGE POSTS
View and manage posts, keep track of all offers made for each product and who the final buyer was on our buy and sell marketplace script.

SUPER ADMIN PANEL
Panel with all settings, everything on the app can be managed from this section of our buy and sell marketplace script.

REPORTED USERS
View and manage reported users on LeOffer, our OfferUp clone script.

ANALYTICS
Keep track of the number of clicks on different posts and user metrics on our OfferUp clone script.

MANAGE REPORTED POSTS
View and manage reported posts.

PUSH NOTIFICATIONS
Message customers directly using push notifications.

MARKETING CAMPAIGN
Run targeted marketing campaigns directly from the CMS. View the analytics for each campaign to measure their success.

MANAGE WEBSITE PAGES
Manage the content directly from the CMS of different static pages. Manage the SEO for different static pages from here.

MANAGE PLANS
Setup different plans for buying promotion packages.

PAYPAL INTEGRATION
Manage the payments received on the app with paypal.

Please note that the use of the terms "Offerup Clone", "Letgo Clone" & "Olx Clone" is for marketing purpose only. This is how the web & app development industry refers to building a(n) marketplace app/website similar to OfferUp, Letgo, Olx or another site. Appscrip ensures that the entire design and code is built by our own team of designers and developers. No code, design or graphics has been or will be used from the official OfferUp/Letgo/Olx app/website. Appscrip custom-made solution enables owners to run an app/website similar to OfferUp/Letgo/Olx based on our standard structure and technology blueprint, however we are not an exact copy of OfferUp/Letgo/Olx as we provide our unique features & modifications to our solutions. 
Learn more on what is app/website cloning.