HEALTHCARE MOBILE APP DEVELOPMENT FOR ENTREPRENEURS & PROFESSIONALS
VaidG is designed to connect customers with healthcare professionals on the digital healthcare ecosystem. Our customizable healthcare mobile app development ensures multi-language and multi-currency support. Inspired by top healthcare apps like Teladoc, Babylon Health, Amwell, MDLive, Doctor on Demand and is designed by experts in the healthcare domain.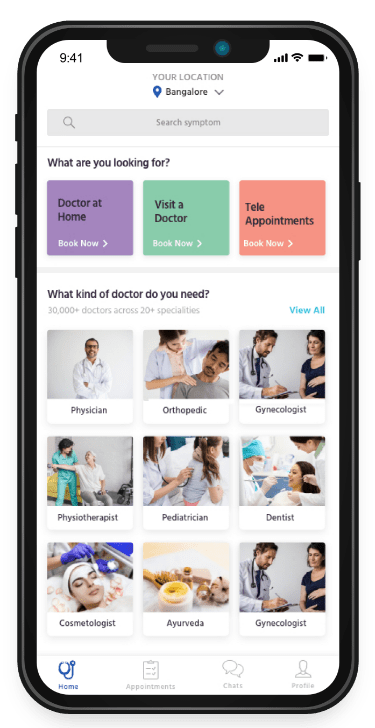 What Is Healthcare Mobile App Development?
Healthcare apps are important as it helps patients take control of monitoring their own health and the healthcare industry can now attend to more number of patients efficiently during this COVID period. Healthcare mobile app development ensures efficiency in the entire system. 
What are Healthcare Apps?
The primary use of mobile applications in healthcare is to inform patients and healthcare professionals about preventive healthcare measures, treatment support, tracking the progress being made and assisting in clinical trials.
How to develop a Healthcare App?
Decide the function required in the Healthcare App. Check out privacy and compliance research. Decide the platforms and devices you are looking to support. Finalize the UI/ UX design. Check out the best way to get the app coded.
What A Healthcare App Contains:
Patients first create a profile after entering all details. Then they can select a doctor utilizing several filters and fix an appointment as per their convenience in the mode of contact he prefers.
Doctors can create elaborate profiles with all details. The healthcare provider can attend to patients as per their schedule. Video call can be the go-to medium in case of a telemedicine appointment.
The Admin can login to manage both the Patient & Healthcare providers who are on the App. All records are stored in encrypted format as laid down by HIPAA.
Seamlessly Connecting Customers & Healthcare Services
VaidG the customizable on-demand healthcare development software is equipped with the most sought after healthcare mobile app development needs in the industry.
doctor on demand Graphical Flow
Our healthcare mobile app development includes integration of various Healthcare-based features inspired by top on-demand healthcare apps. Our customizable mobile healthcare software development helps users to select their preferred mode of treatment.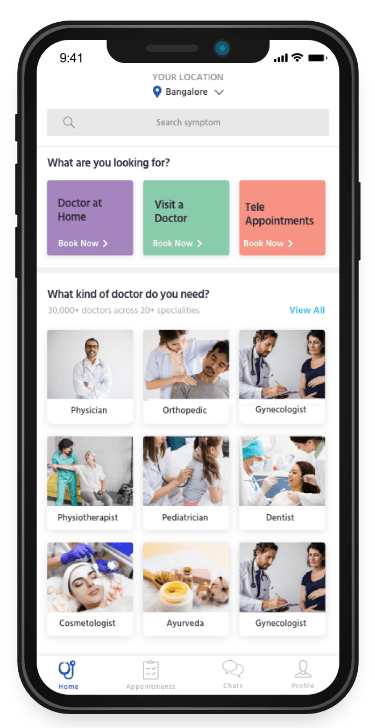 Preferred Mode Of Healthcare
Users can book a preferred mode of treatment as in Doctor At Home / Visit A Doctor / Tele-Appointments for Telemedicine and then narrow down to a healthcare professional of their choice.
Schedule an appointment with a healthcare professional based on your present ailment. Several options are available and include notes as well.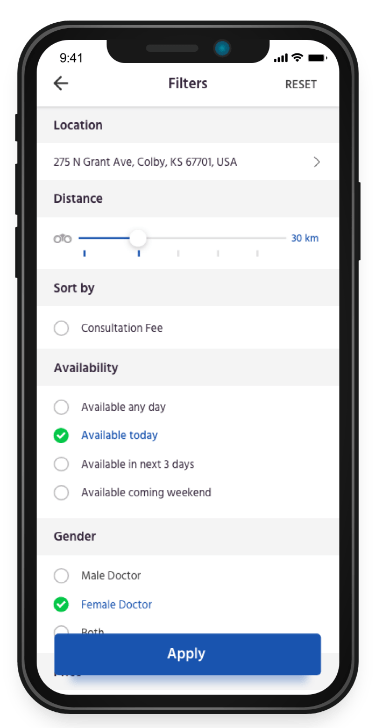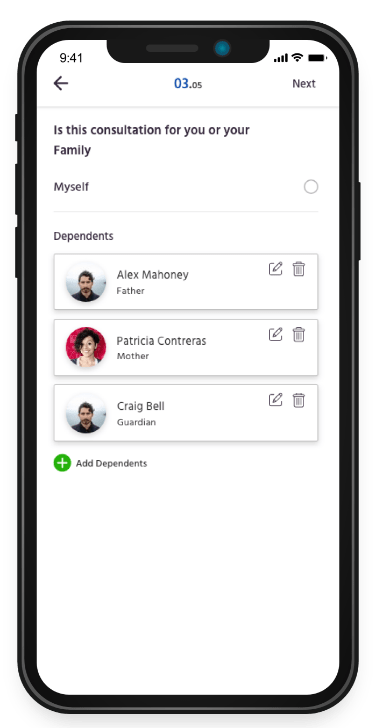 Our healthcare software solution lets users schedule appointments for themselves or a dependent.
Include dependents to your healthcare account and provide all necessary details.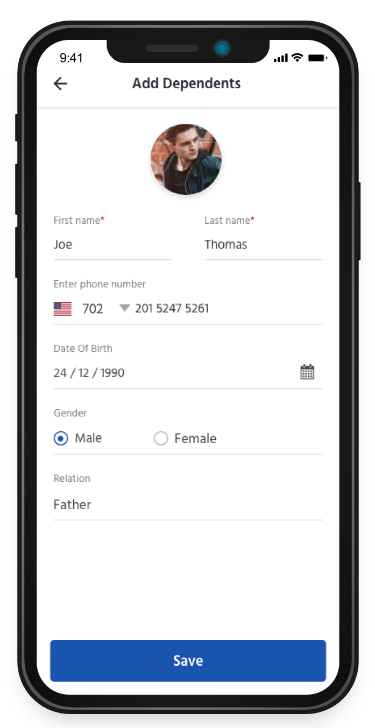 HEALTHCARE MOBILE APP DEVELOPMENT BY SPECIALIZATION
Healthcare app market provides advanced filtering options during healthcare app development to allow users to select a suitable facility based on all factors.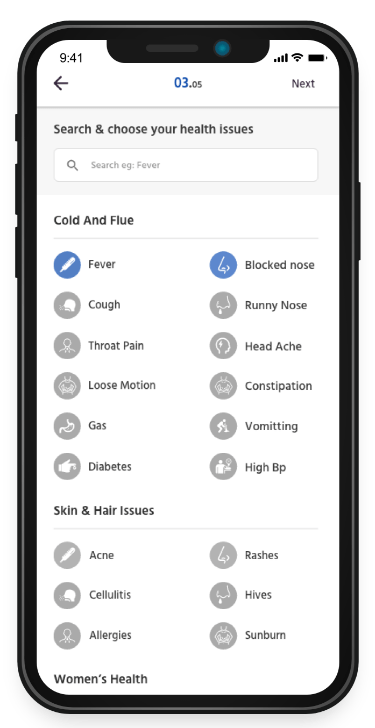 From the provided list of symptoms select apt choices and add notes as well.
Provide necessary information on the symptoms and add images as well.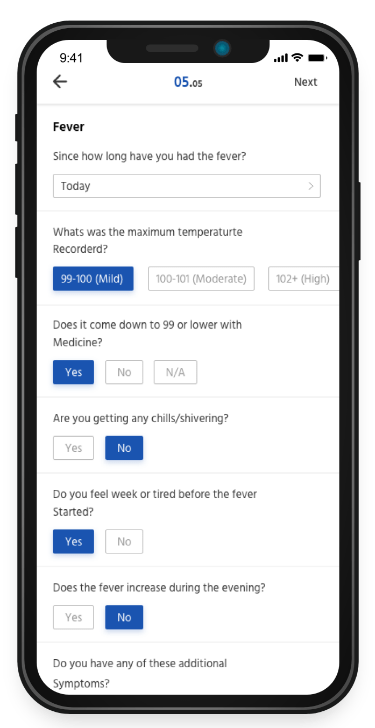 Our on-demand healthcare mobile app development company offers advanced filtering option to select healthcare professionals based on your requirements.
A panel of doctors is displayed with reference to your requirement, opt as per your choice.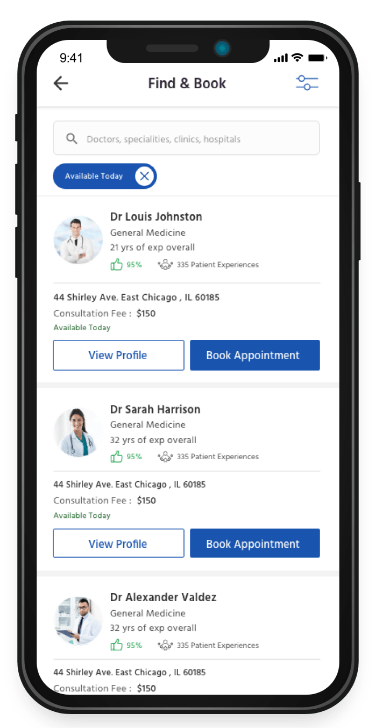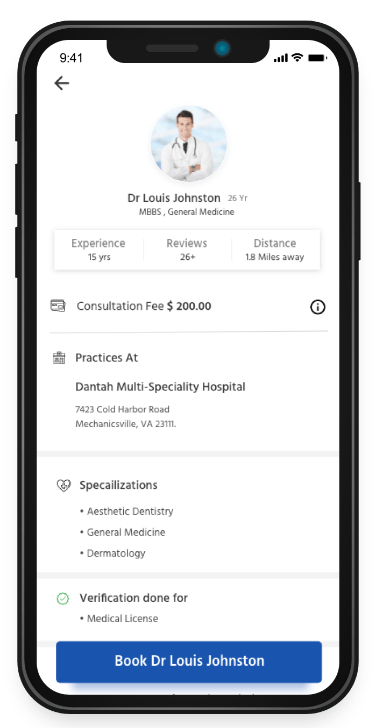 To assist you to decide on a healthcare professional more details are provided such as reviews, ratings, fees, certifications, specialization, etc.
A grid view of available time slots for consultation is provided to book with their preferred doctor.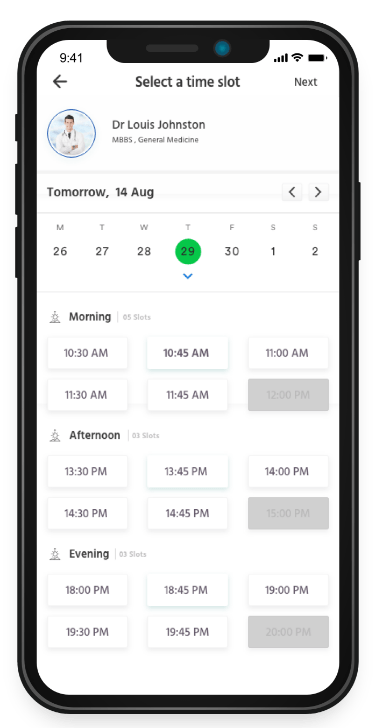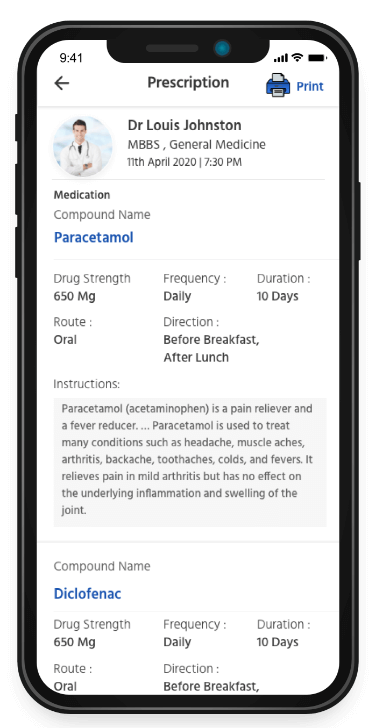 The user has the option to either view or print the prescription after the doctor has raised the invoice.
Users can save their family doctor / favorite healthcare professional profile for easy access during the appointment process.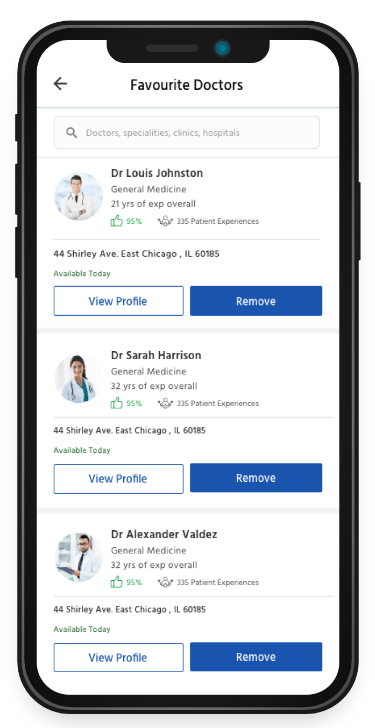 Our customizable healthcare mobile app development is efficient to cater to all healthcare needs. While developing a health app we ensure users can track, communicate and share info.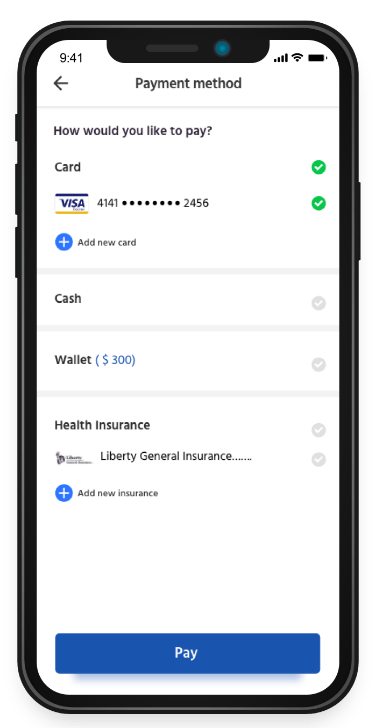 User can choose a favourite mode of payment with options such as cash, from the wallet or from insurance.
Telemedicine Chat & Media Attachment
Doctors can chat with their clients and information can transferred via media attachments such as pictures, scans, prescriptions can be sent.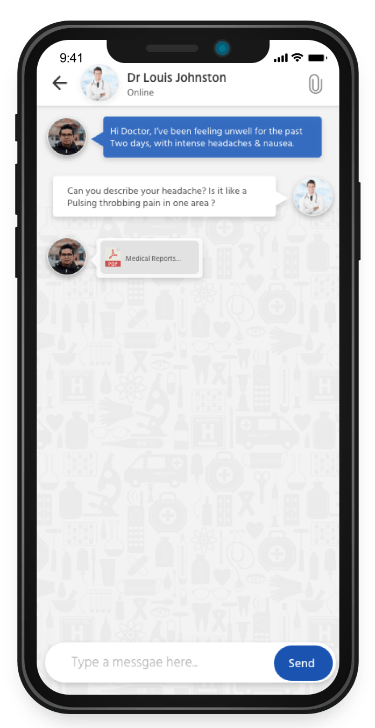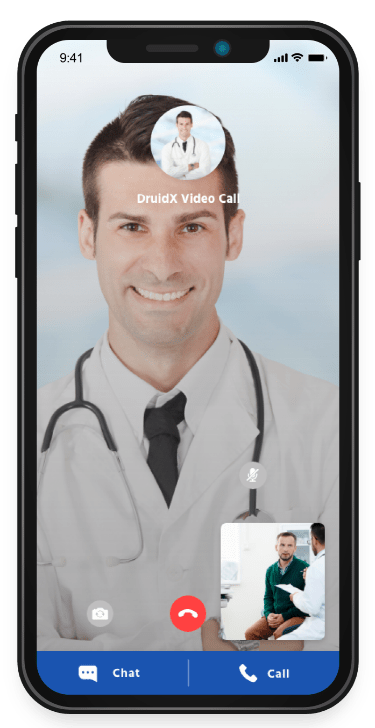 Telemedicine consultation with doctors is available via live video facility within the App. The recording is encrypted and stored as per law such that it can be viewed only by the doctor or patient.
Users can track the entire process of consultation. The client also has the facility to track the doctor on his way so that both are ready for the appointment.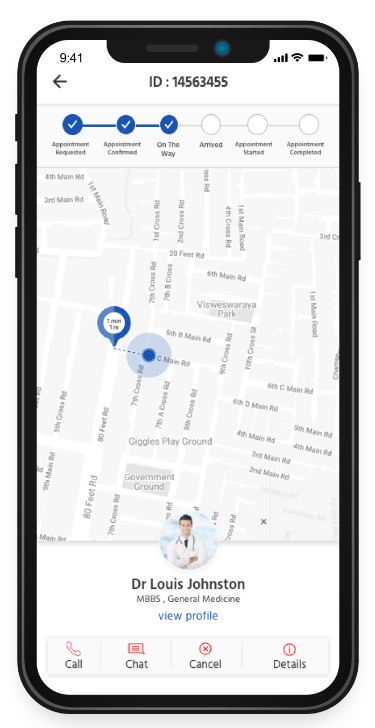 User has the data of past, present and open consultations held along with healthcare professionals and invoices raised.
The healthcare app development company ensures users can rate their experience on various factors. Receipt of invoice amount is provided.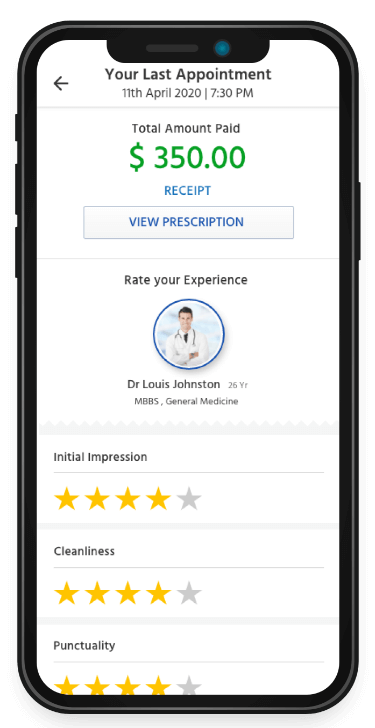 HOSPITAL APP DEVELOPMENT SOFTWARE: ADMIN PANEL

HEALTHCARE PROVIDER MANAGEMENT
Manage various on-demand healthcare providers. Accept or reject various professionals registering on your custom developed mobile healthcare app.
FARE SETUP
Setup and manage fares for on-demand healthcare services based on cities, hours or service type.
PROMOTIONS & REFERRALS
Setup and manage promotion codes and referral campaigns on the digital healthcare app platform.
TRACK BOOKINGS
Complete financial accounting system to keep track of earnings for various healthcare professionals registered on the app.
ACCOUNTING
A complete financial accounting system is included to track earnings for all healthcare professionals registered on the Doctor on Demand clone.
PAYROLL
Payroll management system integrated during our healthcare app development process, to manage cash & card earning for service providers with direct payment to their respective bank accounts.
MANAGE SERVICES
Manage various on-demand mHealth service categories present on your customized mobile medical app development
BIRD'S VIEW
View all bookings & trips in real time on a map across cities or zones.
ZONE MANAGEMENT
Zones are created on our customizable healthcare app. App owners can set up rates on their custom built mHealth app by drawing polylines on a map to segregate regions.
MESSAGING
Push messaging service integrated during our mobile healthcare app development process to allow admins to push messages to service providers and customers directly from the admin panel.
REPORTS & REVIEWS
Keep a tab on the healthcare providers and maintain high quality standards using ratings and reviews left by customers.
COMMISSION SETUP
Setup various app commission rates based on zone, hours, healthcare type, fares on your custom built mobile health app development.
Popular Healthcare Apps In On Demand Doctor Domain
WHY VAIDG FOR CUSTOMIZED HEALTHCARE MOBILE APP DEVELOPMENT?
With features inspired from top on-demand healthcare apps like TelaDoc, Babylon Health, AMWell, MDLive, Practo, Babylon Health, Doctor On Demand & more – We ensure your healthcare mobile app development will provide a wholesome mobile healthcare solution to all users.
100% Customizable
Whether it's for clinic visits, house calls, telemedicine or tailored to a particular institution – Our developed healthcare app 100% customizable to be tailored to a variety of on-demand healthcare services business
PCI Compliant
Assured PCI compliance & tokenization so you will have no legal issues accepting in-app purchases on customisable healthcare app
Prebuilt Scripts
Using our proprietary Pre-Built IP solution, we will move the healthcare mobile app development faster than any other mobile healthcare app developers out there
Scalable & Clean Design
State of art app container technology, clean coding practices, microservice architecture, promoting safety & security makes our on-demand doctor's app / doctors on-demand software solution one of the best product's available.
Multi-Language & Multi-Currency Support
Our medical app development will operate in languages such as German, Arabic, Chinese or any language of your choice. Our solution can be deployed in any language or for any currency.
Referrals, Promotions & Loyalty Programs
Increase your app's user base & overall retention via referrals, promotions & loyalty campaign features that are integrated with the healthcare mobile application development.

SEO Friendly Design
Our healthcare mobile app development service ensures that every tailored healthcare on-demand solution created sticks out in both SERP & app store results.

App Monitoring & Chatbots
Our on-demand healthcare application development solutions are the ones that provide app monitoring services with chatbot integration. This ensures you get instantaneous performance updates on your doctor on demand solution

Security
Our customizable mobile healthcare app development solutions are robust, scalable & extremely secure. Keychain, SSL-powered API's, JWT, reverse proxy setup ensures that security covers the entire healthcare app & individual API's