Ever been in a situation where you found yourself stuck in the middle of nowhere with no repair center, gas station or mechanic in sight?
Getting confined without any help in the vicinity can be both frustrating and anxiety ridden.
Furthermore, calling a friend or family member at an odd hour to help would be far-fetched. A towing software can help in such situations.
Finding an online roadside assistance or getting the services of on-demand towing service app at this juncture is like having a knight in shining armor at your rescue. AAA Roadside assistance or a towing vehicle app can get your vehicle towed to the nearest repair outlet without too much stress.
A towing business generally takes care of towing vehicles, maintaining tow trucks, and keeps track of towed vehicles. Getting these tasks done manually is laborious and could lead to errors.
Towing software are designed to overcome the challenges in tracking and maintaining towing vehicles, helping recover stuck and damaged vehicles, process payment, ensure consumer satisfaction, and other towing related services. Get a towing software and improve your towing business so as to increase ROI.
Towing software solutions (such as apps for towing services) have been available in the market for some time now. However, as the number of vehicles keep growing, the need and demand for towing services rise exponentially.
In this blog we provide you necessary information on vehicle towing apps, their working model, key features and all that you should know about them.
Towing Management Software
Towing software aids the automotive towing and recovery businesses to manage their operations and help customers who are in need of assistance. This could include features such as truck dispatch, customer database, payment processing, GPS for tracking, and accounting.
These software can also be used to locate and communicate with garages. Or towed vehicles can be delivered to the customer after due repairs at manufacturer authorized dealers or auto repair shops.
Towing business personnel and tow truck operators utilize these software to receive emergency calls, attend to clients, manage back office tasks and sometimes integrate with accounting or fleet management software.
To qualify for inclusion in the Towing category, ideally the product must have features such as: GPS tracking, tow/lift vehicles, types of services, history of repairs, and all customer requests.
What Is Towing Software?
Towing software / tow dispatch software keeps track of the towing vehicles, maintains a record of towed vehicles, generates invoices of towed vehicles, communicates collecting of payment, and generates reports.
You can also streamline accounts and back-office processes of towing businesses. Towing software helps to:
Manage fleet of tow trucks
Storing info of towed vehicles
Automates invoicing and payment collection
Manages the database of municipal entities and businesses
Integrates with auction sites to sell unclaimed (towed) vehicles
Generates reports on income, expenses, and claimed/unclaimed (towed) vehicles
On-Demand Towing Software
Apps are being introduced in most domains as having digital presence has become an important facet for every business. New apps are launched in the market every day to make life easy for consumers.
Folks value their time and hence several apps have come up to ensure clients could save time, one such being road assistance services. Road assistance software / Towing software solutions are so much the need of the hour.
Towing software solutions is a consolidation of various road services that companies offer to their users. Towing software or roadside assistance offers either to tow away the vehicle or on-the-spot services/repairs that ascertains a vehicle becomes road-worthy.
Future Of The Towing Industry / Uber For Tow Trucks
Towing services are handy when you are stuck in a place with no immediate help like repair stations or gas stations nearby. Over and above, in some regions due to poor net connectivity searching for road assistance services will not be feasible. And one cannot rely on information provided on the internet in such dire situations.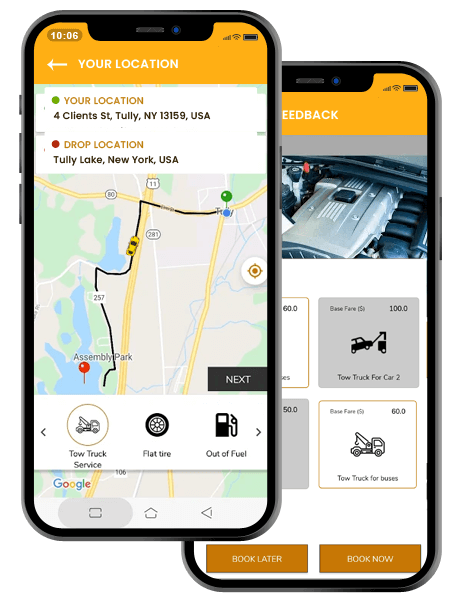 It is here where the services of a towing app or roadside assistance app becomes crucial. It gives you the option to engage the services of a towing firm to either get your vehicle towed or get the vehicle ready to be driven.
Towing software market is expected to grow at a rate of 4% during 2022 to 2027. Additionally the market is anticipated to reach a market value of about $30 billion by 2027. These statistics indicate the rapid growth of the towing vehicle market.
In 2012 the revenue generated by this sector was $4 billion. By 2024 the revenue in this domain is expected double and reach $8 Billion.
Market statistics clearly depicts the value of the automobile towing industry. Therefore investing in towing vehicle solutions is an excellent move for entrepreneurs. Some of the popular towing service apps include- Uber for tow trucks, Urgently and HONK roadside assistance app.
How Do The Best Towing Dispatch Software work?
Let us understand how Uber for tow trucks operates:
·        Registration
After installing the app, the user has to register on the app. Simple registration by the customer is followed by choosing the type of roadside assistance service. Registration process can also be fulfilled using an email address or mobile number or even via social media account.
·        Service Selection
After the user has registered on the app, you have the option of selecting a necessary service. There is a wide variety of choice here depending on the requirement of the user, such as vehicle towing, tire replacement, fuel requirement, etc.
·        Location Sharing
The user has to share the location with the app so that the service provider can come over to help them. This can be done in app or also location sharing can be done manually. Manual location facility is provided in case the customer has already left the location.
·        Vehicle Information
Additionally users would also have to share information about their vehicle. The information that would be required is: type of vehicle, model, registration, fuel type, etc. This information is imperative because the service personnel would have to ensure necessary spares are available with them.
Depending on the type of the service you choose the towing agents or the service agents would come prepared fulfil their services. Providing all necessary information will entail a smooth and quick service during emergency situations.
Tow Truck Management Software
Let's look at important features of a towing service app / towing vehicle solutions software.
A towing app or a roadside assistance app has three modules as listed below:
These are critical features for an on-demand towing vehicle solutions software. It is imperative to incorporate all the features listed below in an app.
Customer Module Features
Quick and trouble free onboarding procedure
Details of service options
In-app / manual location sharing
Real-time notifications
In-App calling and messaging
Multi language support
Service cost info
Discount coupons / codes
Real-time tracking
Reviews and Feedback
Multiple payment facility
Vehicle Information
SOS button or Panic Mode in case of emergency
Service Provider Module Features
Simple & Easy Registration / Login
Trouble free Authorization
Complete Job Profile
Real-time Requests
Built-in Navigation System
Driver Dashboard
In-app Payment Collection
Option to accept / reject a request
In-App Calling and Messaging
Towing Software Admin Panel Features
Dashboard Analytics
Customer Management
Tow truck / Service Provider Management
Reviews and Ratings
Reporting and Analytics
Marketing / Promotions Management
CRM Integration
Fleet Management
Zone wise Pricing Management
Monetizing From Tow And Roadside Assistance App
There are several ways that can be adopted by which we can generate revenue from towing vehicle service apps or roadside assistance apps.
Subscription Plans
Third Party Ads
Featured Listings
Charging Fee
Commissions
Some of the services that can be included in the Uber for Tow Trucks app could be:
Delivery of gas to the client's location
Starting a vehicle when battery is weak
Performing tire change service
Transporting an immobile vehicle
Towing a vehicle that won't start
On-Demand Towing Mobile Application / Tow Truck Management Software
To develop a robust system requires a team of experts and a proven tech stack. The team should ideally consist of:
Project Managers
Front-end & Back-end Developers
UI/UX Designers
Android and iOS Developers
Testers & Quality Assurance Team
PR Team
Business Models for Towing/Road Assistance App
There are basically two main types of business models that one can consider while developing a towing software / on-demand towing solutions. Both of these business models can effectively help you resolve the customer issues and streamline your business operations.
·        Single Service Model
In this model any individual or a firm that is in the business of roadside assistance or Uber for tow trucks operates as a single entity. The individual or the firm is confident that they possess a large customer base and can operate profitably.
·        Aggregator Model
An aggregator collects data pertaining to services offered by several competing individuals or firms and displays it on its own website or application software. In this model an app connects users with tow/roadside assistance providers. Users pay the service providers through the app. Urgent.ly operates in this manner.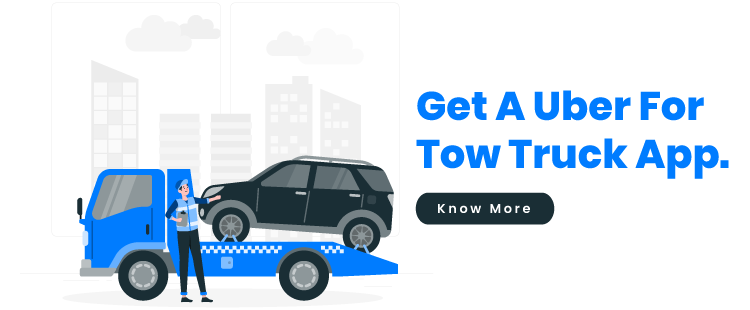 After an Engineering degree and a Diploma in Management I devoted 16+ years working in the automotive industry. My innate skill and extreme passionate in writing, encouraged me to adopt it up as my profession. I have been writing for more than 10+ years in the software industry. The 400+ blogs I published are informative, exhaustive and interesting to a professional and causal reader.