Forgot to get gas the day before? Feel unsafe to visit a gas station at night? Imagine never having to deal with these experiences again. With the innovative Fuel Delivery Service
The key to economic growth and diversification is "innovation". However, the retail fuel sector has not been impacted by the global tech revolution. The way of fueling automobiles hasn't changed in the past hundred years and very little innovation has been done.

Some companies have made it their objective to make people's life more efficient by leveraging technology and innovation. They are working relentlessly to provide the community with smart ways of living.
Their unique solutions are disrupting the industry and forcing other companies to either adapt or get left behind.
Dubai's CAFU | On-Demand Fuel Delivery Service App

Cafu, the Middle East's first fuel delivery app is aiming to bring value to the region's cities and communities by making refuelling cars more convenient, reliable and accessible.
Cafu in English is a hybrid between CAr and FUel while in Arabic, it is a form of saying "You are the best."
Rashid Al Ghurair, the inspiration behind the app is very passionate about the oil and gas sector. His keen interest in technology and innovative solutions drove the idea of creating this service.
Cafu came out of the need to provide an efficient fuel delivery application to reach consumers wherever they to make their lives easier.
Through the on-demand service, you can order fuel for immediate delivery or schedule a time in the future.
The app is very simple and efficient.

 All you need to do is locate your car by dropping a pin or entering an address

 Select the amount of petrol you need.

 CAFU will then dispatch a fuel tanker to your location with a driver who will fill up your car.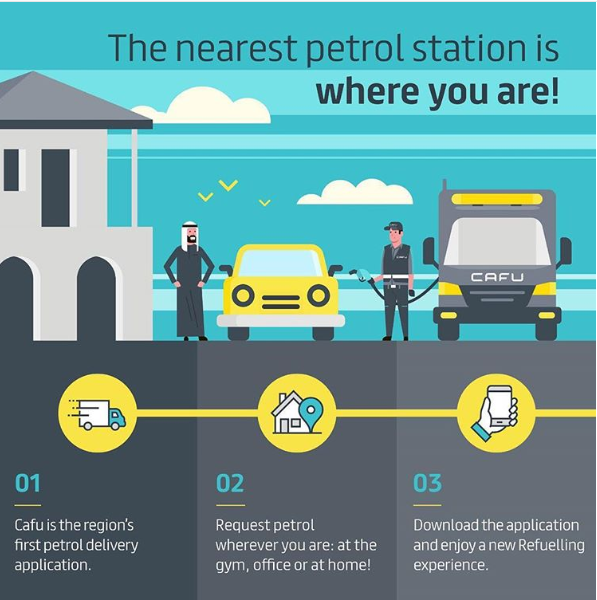 It costs the same as at the pump, and deliveries are available immediately with a minimum order of Dhs40.
The first order, however, is free.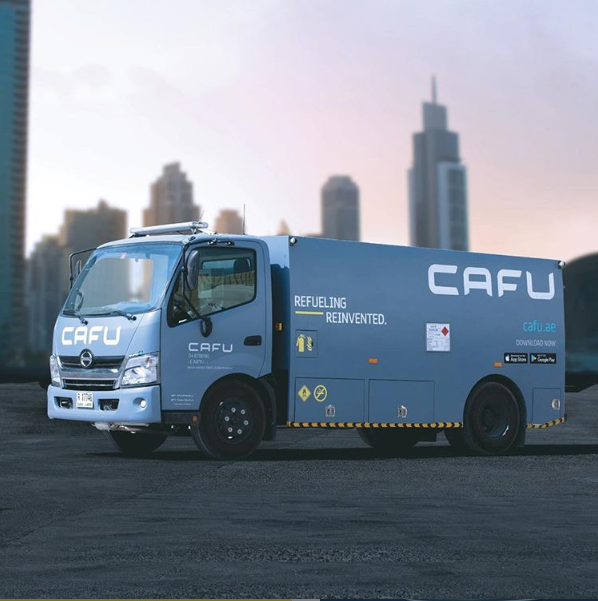 You can also schedule deliveries from 6 am to midnight each day. Users need to pay a single-use delivery fee of Dhs18 or pay Dhs45 which allows for unlimited monthly deliveries.
CAFU has received over 10,000 downloads and delivers Super 98 and Special 95 fuel to residents in Dubai, Sharjah and Ajman. Efforts are made to rigorously expand its reach.
Cafu has also started to provide fuel deliveries to yachts as well as boats. It is also trying to leverage AI and machine learning to create a seamless customer experience and fully optimize its operations.
Birmingham's On-Demand Gas Delivery App | FuelFox
FuelFox, an onsite fuel delivery service for individuals and fleets, launched its new app for Birmingham-area residents.

Dedicated fueling locations called as "Fox Spots" are setup throughout the Birmingham-area. Highly trained firefighters, identified as "Ambassadors," provide services.
Ben Morris, founder and CEO, opened FuelFox last July. Through the app, people can register for the service and then schedule their gas fill-ups at any of the "Fox Spots," where the ambassadors stop to deliver fuel each week.
A full schedule of fueling times is posted on their website.
Members receive a notification on their phone the night before the delivery to remind them that FuelFox will be at their preferred "Fox Spot" the next day. The best part is that members don't need to be present for the fuel delivery.
The customers are thrilled as is evident from the feedback FuelFox receives.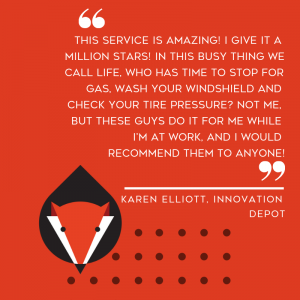 In addition to filling-up the vehicle, 'Ambassadors' will also clean front windshields, check tire treads, gauge tire pressure and notify the member of any potential issues with their vehicle.
Also Read | On Demand Gas Delivery App | How to Build One
Bangalore's MyPetrolPump | Fuel Delivery Service App

Founder Ashish Gupta, who worked for Royal Dutch Shell in several countries, would envision a day when fueling stations could just come home and allow people "to be lazy on a weekend."
Returning to India, he discovered that the country required about 85 billion litres of fuel annually, but there weren't enough gas stations to match the demand.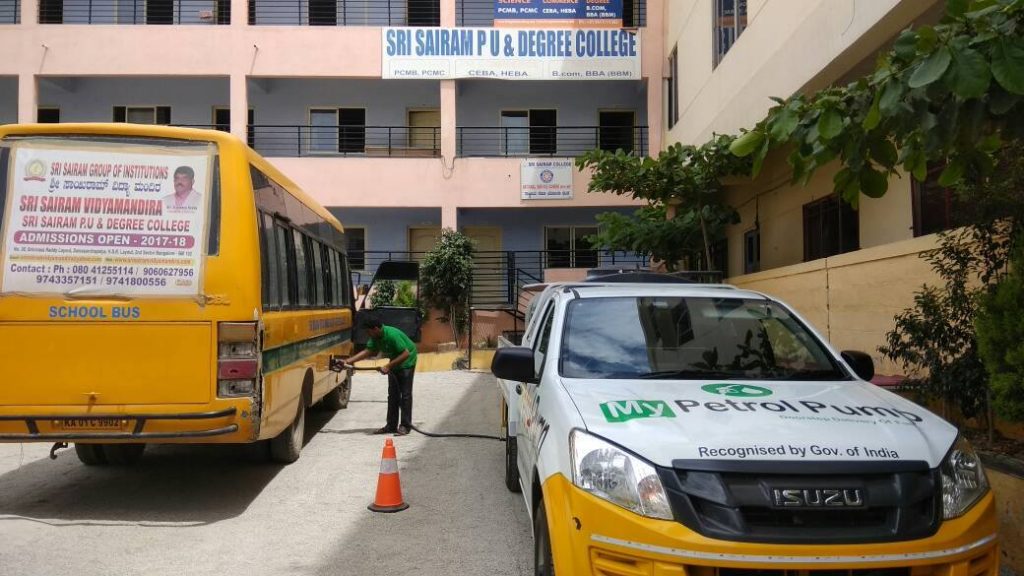 MyPetrolPump was a first of its kind on-demand fuel delivery service in India launched operations in September 2017. It attempted to solve an everyday problem faced by individual vehicle owners as well as corporates, schools, hotel chains, etc.
Since launch, the startup has delivered over 3 million litres of fuel in Bengaluru — the only city it is operational so far — and garnered more than 2,000 B2B customers.
Not only vehicle refueling, MyPetrolPump also fills up diesel generators at large commercial and residential complexes, and at hotels and guesthouses.
Challenges Faced

 Cheating customers at some petrol stations in India by giving them less fuel through both crude and sophisticated methods.

The serious issue of fuel quality at these centres.

 Petrol pumps saw on-demand fuel delivery as a potential threat.
Overcoming Hurdles in Fuel Delivery Service

 Worked with stakeholders like the Petroleum and Explosives Safety Organisation

 Carefully chose the fuel stations they tank up from by using their own verification methods in terms of quality

 Checked historical background via reports of malpractices by the petrol pumps

 Spent a year on the engineering and design of its delivery trucks

 Spent time on designing the delivery trucks

 Installed meters on vehicles, adulteration prevention in the refueller, micron-level particle filtration

 Developed a fuel quality monitoring system within the truck that can check for adulteration and impurities
Rewards

MPP received a cash prize of 20 lakh at Elevate 100, organised by the Government of Karnataka.

Awarded $10,000 for winning the Wharton India Startup Challenge.
Gupta sees his venture expanding into delivery of compressed natural gas or even batteries for electric vehicles in future. He aspires to be the Swiggy of fuel delivery service.
Pic Credits: Cafu Facebook Page, MyPetrolPump Facebook Page, FuelFox Facebook Page
---