Imagine its 1980, a bright Sunday morning, you plan a family outing, but you don't have time to cook! What would you do? Probably, cook or stop midway and wait in queue to get your order and even after all this you don't get warm food.
Now, its 2018, Sunday or any day of the week, an outing or office maybe, hungry but running out of time! What do you do? Go to this on-demand food delivery application, Postmates!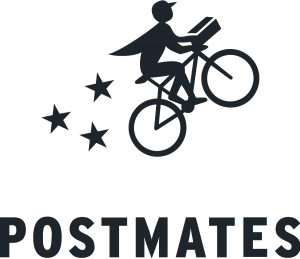 What is Postmates?
Who wants to drive in traffic and then stand in queue, to get that one sandwich you really feel like having right now? Food delivery applications are basically designed to overcome the issue of actually going to the restaurant or store to buy food and stuff!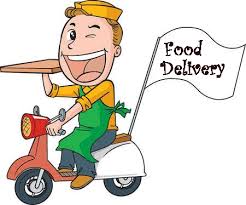 Postmates business model is an on-demand food & liquor delivery platform, allowing people to order from local food joints and stores charging minimum extra sum for the delivery.
Postmates business model is responsibly delivering to over 100 metropolitan areas in the USA. It ensures less than 1-hour delivery.
Postmates Business Model: Think Global, Act Local!
Postmates largely operates in U.S, catering to local on-demand goods and liquor deliveries through local restaurants and stores.
However, the system they follow meets all the global standards. Postmates's business model is often considered as similar to the business model of Uber, but Postmates deliver goods, unlike Uber, of course!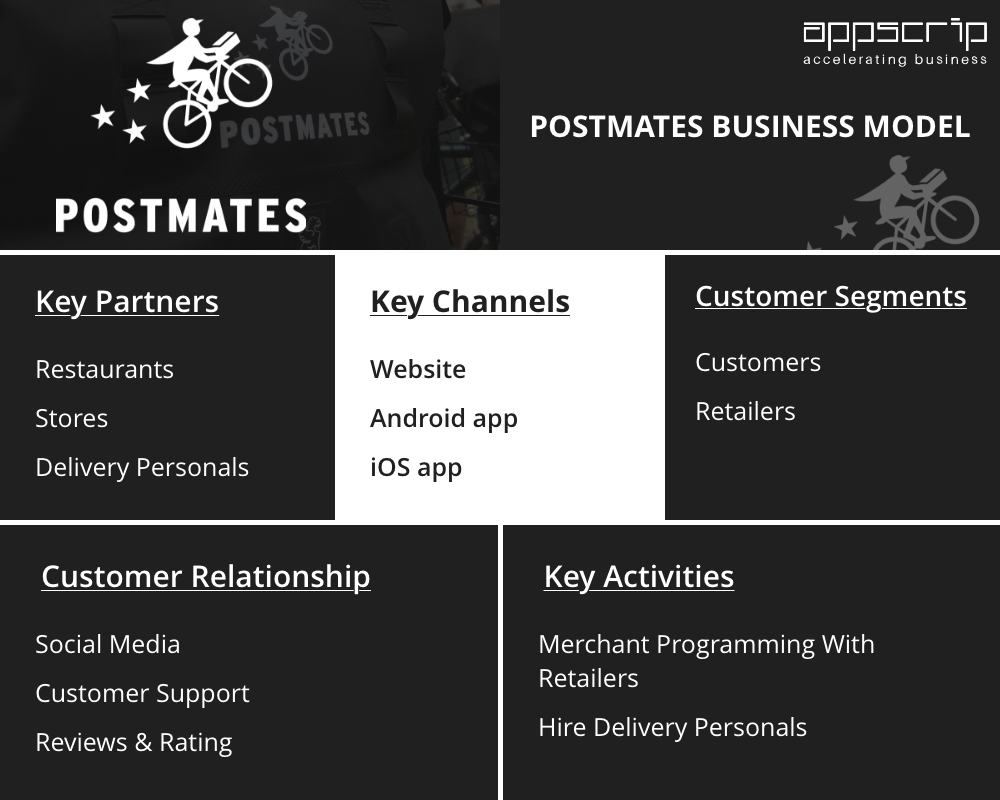 Postmates business model is equipped with following in-app features:
24*7 delivery
Monthly/Yearly subscription plans
Real time tracking
Fastest delivery
Customer service
National & international merchants
Payment gateways
They have manpower, spread across all the metropolitan areas they function in, enabling customers to order anything, anywhere and anytime!
Postmates business creates $6.6 billion in economic activity across the U.S. each year –  Economic Impact Report, 2018
In-app tracking helps them to reach their destination of pickup and delivery faster, also results in taking fuel-efficient routes.
Postmates additionally offers a subscription service for deliveries.
For $9.99 a month, users can enjoy unlimited deliveries!
3 Main components of Postmates user base
Postmates is an on-demand delivery platform, that includes 3 components in their user base. By interconnecting all these components, a unique business model is formed.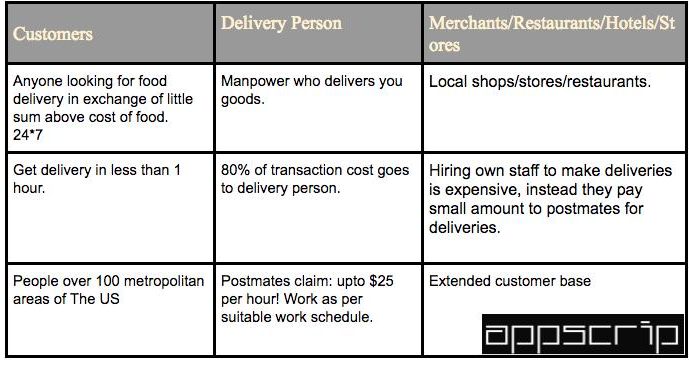 3.7 times faster growth for merchants using postmates –  Economic Impact Report
Simply put,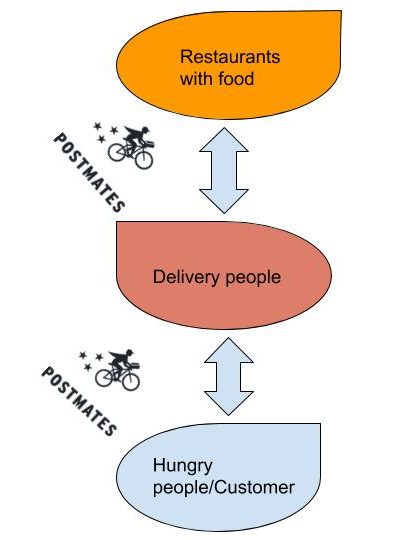 Postmates's business model is often considered as similar to the business model of Uber, but Postmates deliver goods, unlike Uber, of course!
Step by step walkthrough: Working of Postmates
 Step 1: User-Friendly Mobile App
Postmates provide a simple user-friendly application, allowing customers to register easily, add food, drinks and other goods to cart from the huge product base. Ease in using application leads to less abrupt mid-way order terminations.
Get your own customized, Postmates like, online food delivery software solution
Step 2: Ordering Service
You can place an order from your smartphone, via the Postmate application, make a list of things you want to be delivered.
There is also a 'substitution option' available. If something you want unavailable, it will show substitutes for that product/item.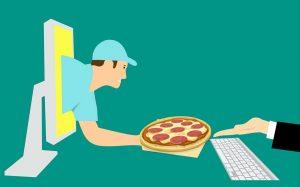 Step 3: Connecting to nearest Postmate/delivery person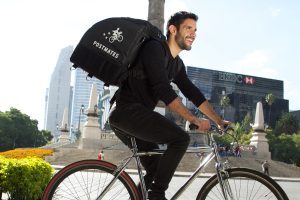 Once you have placed your order, Postmates app will connect you to the available Postmate/delivery guy, to pick up and deliver you your order.
Step 4: Track your order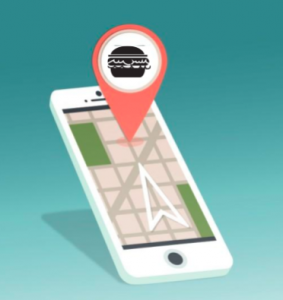 Once your order is placed, you can track your order via live tracking service supported by Google Maps. If there are any delays in regards to your order, you get notified about the same, instantly.
As soon as you receive your order, sign the invoice digitally and the food is all yours!
How does Postmates find customers?
For any business to take off in the market, finding customers is very crucial. Before launching your business, you need to have at least some insights of the customer traffic.
In the beginning, Postmates started using digital marketing, offline advertisements, campaigns like 'We get it' and other marketing methods but gradually they made their customer base strong and now it has reached to a level where word of mouth publicity drives in most of customers.
Postmates made more than 35 million deliveries to customers – Economic Impact Report, 2018
How does Postmates make money?
Earning is one of the main purposes of doing business, whatever steps you take in business, they are aimed at increasing profits and brand awareness.  There are 3 major channels through which Postmates make the profit:

Delivery charges: Of all the delivery charges you pay on your orders, 20% goes to Postmates, delivery guy gets to keep 80%. Lets say you paid $10 as delivery charge, $8 goes to the delivery person and $2 goes to Postmates.
Convenience charges: Postmates charge 9% on order amount under convenience charge per order. Customers are not reluctant to pay this sum, as it saves their time and fuel cost. Suppose, your bill amount is $150, $13.5 is your convenience fee.
Merchant programme: Official tie-ups with local merchants who in return pay fixed sums to postmate per order.

Loyalty & subscriptions plans

: Prime-style loyalty program that gives subscribers free deliveries for $9.99/month, will cover all 250,000+ restaurants and other merchants listed on its app, and it has lowered the minimum order value to $20.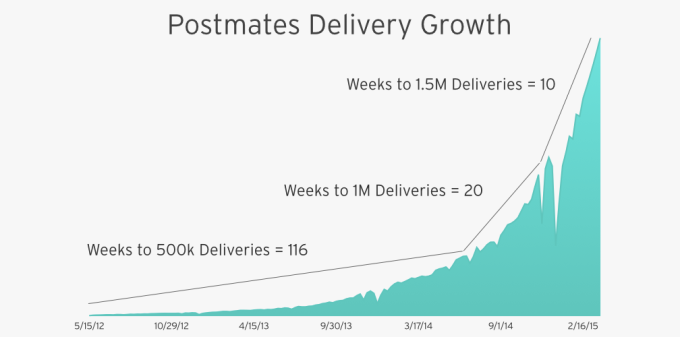 Image Credit: TechCrunch
On average, Postmates earn $18.32 per hour during an active job. That's 153% more than the national minimum wage –  Economic Impact Report, 2018
Now we know how online food delivery e-commerce websites like Postmate works. There are a lot more food delivery applications in the market who follow a similar business model, where you can order food online, like UberEats, DoorDash, GrubHub, Amazon etc.
However, Online food delivery business has lots of unexplored chords and it is open for new entrants to enter into the industry.
Get your own white-labeled, tailored, Postmates-like app
Click Here