Mention South Africa and your memory jogs through swathes of grasslands filled with wild life, safari escapades, and undulating landscapes. Any man with a sense of bewilderment in God's creation would want to set foot on this continent to explore this virgin landscape. It's in the bucket list of most plebeians.
Airbnb South Africa takes the first step to fulfill this dream by offering you residences without owning any, instead using the very own native eco-system to accommodate wannabe explorers.
A low density of population of 41 persons per square km and only 5 cities with inhabitants over a million – Cape Town, Soweto, Durban, Johannesburg, and Pretoria, South Africa is worth a visit to rejuvenate oneself. In fact it is most surprising that regions with sparse populace attract the most number of visitors.
Airbnb in South Africa
A landlord in Cape Town, affiliated to Airbnb is reportedly listed as its third wealthiest earner with an astounding 114 properties registered to him.
He is stated to have earned South African Rand 109 million in between Oct'17 to Sept'18. Data verified by AirDNA, a firm part of U.S. Airbnb.
This residence is located in Cape Town, South Africa and is affiliated to Airbnb for $36 onward.
Airbnb enables people to lease or rent short-term lodgings. It has close to 20,000 active rentals in Cape Town, with an average daily rental of R1,221. Airbnb charges 3% from the host while the guests are charged anything between 6% to 12%.
Considered as a preferred alternative to staying in hotels or guesthouses Airbnb has its set of woes. There have been a few issues regarding their manner of operation and the Tourism Department decided crack the whip and make necessary amends.
Also Read : Airbnb Business Model | Awaken The Traveler In You
The billion-rand business is facing a harsher set of rules to abide by after the recently amended Tourism Amendment Bill was updated to include 'short-term rentals' in it. In fact a similar chorus is being sung in neighboring countries such as Kenya, Tanzania, and Namibia. Airbnb is considered a short term rental and according to the ruling they will now be governed by several thresholds.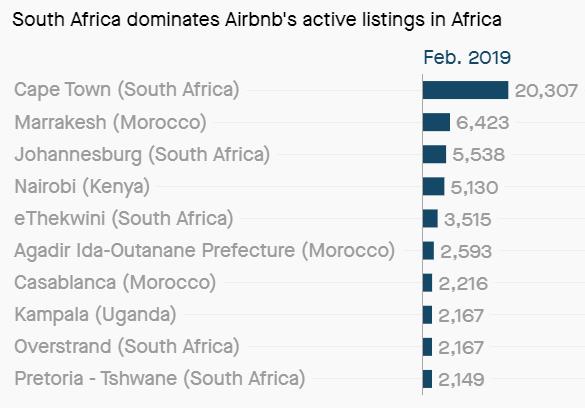 Airbnb's listing in the continent of Africa. Cape Town leads the race with a huge margin.
Short-term rental means to rent or lease a dwelling to a visitor on a temporary basis for a consideration. Hence as per this act, thresholds are to be considered.
Regulations Set
The bill has been edited to include Airbnb like models under these set regulations. Airbnb can expect robust boundaries imposed on how it operates in order to comply with the governing laws.
Duration of stay
The first term to be considered under the threshold would be the length of time tourist can stay in one establishment. A press report indicated that Airbnb rentals were accountable for loss of business to hotels and other bed-and-breakfast establishments. Hence including a threshold on how long a guest could stay would ensure spread of revenue earned.
They agree that the market is cannibalistic in nature but as a governing body they had to put in some semblance of order.
The Tourism Department further summarized that the new regulations could lead to a more even playing field for all Airbnb owners and hotel establishments.
How much can be charged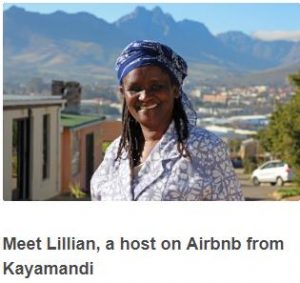 There is also a proposal to put a limit on how much can be charged for a night. Although Airbnb has a reputation for being light on the wallet there have been instances where guests were charged exorbitantly. The businesses try to inflate the invoice by adding cleaning charge, WiFi, etc., so as to collect more than what was mentioned earlier.
How much an Airbnb landlord can make
Therefore in theory the two above factors (duration of stay and charges involved) together could regulate the earning of a single entity so as to distribute revenue among all players. As the government is keen to bring in a stable environment, there is also a chance that limits could be announced on certain accommodations.
Airbnb location laws
Another interesting aspect of the proposed guidelines would be to determine the location of Airbnb model facilities. Zoning laws may also come into consideration, to maintain a healthy distance among Airbnb properties and hotels.
Airbnb South Africa Conclusion
By far, South Africa can be considered as a cash cow to the Airbnb revenue model (looking at the above figures). The tourism industry will not vane for a continent like Africa. But there looms the issue of regulations as the native hotel industry is taking a hit. The big guns – South Africa, Kenya, Tanzania and Namibia, are resolving to bring in protocols to sustain native organizations, until then Airbnb or their affiliate's moto would be carpe diem.
With an Engineering degree and a Diploma in Management under my belt, I worked for 16+ years in the automotive industry with various manufacturers. But my passion for writing was overwhelming, which I turned into a career. I have been writing for more than 10+ years and mostly in the IT domain. I am sure you will find the 300+ published blogs of mine in here informative, exhaustive and interesting.