Online grocery shopping is catching up with consumers rapidly, which means grocery delivery startup ideas are all set to mint some money!
As per Orian Research, the global online grocery market is expected to grow at a CAGR of 23.7 % in the period of 2020- 2025, making the eCommerce business hit the $250 Billion mark. This forecast has gotten several entrepreneurs to foray into this billion-dollar market. 
Recently, Wuplo, an on-demand QCommerce e-Grocer got started in Berlin and is all set to expand! Another grocery delivery service, this time with Russian roots: Wuplo launched its website last week in Berlin. From a warehouse with 5,000 products in Charlottenburg, the usual tight delivery times apply: 10 minutes within Charlottenburg, 30 to 60 minutes for the rest of the delivery area ("all of Berlin"), whereby 10 minutes are also announced here. Alternatively, customers can set a 15-minute time window.
Wuplo is backed by First Mile Delivery Solutions GmbH, according to the legal notice. The founders Ivan Vorontsov and Schetinin Sergey announce variable delivery fees (one to 2.60 euros), zero waste delivery, and expansion into other cities.
Another grocery delivery startup Cajoo raises $40 million for its instant grocery delivery service! The lead investor in today's funding round is Carrefour, the supermarket giant. Carrefour's investment was not just a financial investment. Cajoo is expected to take advantage of Carrefour's purchasing organization. This way, this eGrocery startup will be able to offer more products to its customers.
On the French market, Cajoo directly competes with Getir, Gorillas, Flink, Dija, and a few others, and indirectly, with traditional retailers and their online ordering systems.
"It's a category that is incredibly capital intensive," co-founder and CEO Henri Capoul told TechCrunch.
"We own the entire value chain. If we want to expand, we have to launch hubs, we have to buy products."
With $40 million in its bank account, Cajoo now wants to solidify its strong market position in its home country. The service is currently live in 10 French cities — Paris, Neuilly-sur-Seine, Levallois-Perret, Boulogne-Billancourt, Lille, Lyon, Toulouse, Bordeaux and Montpellier. It is currently the only French company operating at this scale in this category. So it's clear that the company sees itself as a market leader in France first. But the company is already looking at other markets as well — Belgium, Italy, Spain, maybe Portugal or Eastern European
countries.

Indonesia-based Segari, a social commerce firm focused on grocery products, has secured US$16 million in fresh capital. The company will use the fresh funds to strengthen its supply chain by bolstering its operations, technology, and marketing teams.
Segari said that its users, orders, and revenue numbers have increased by more than 20x  in less than a year after it launched its services in 2020.

The startup is founded by former executives of Grab and Traveloka. They aim to grow the business by over 10x in the next 1.5 years.

The new capital comes only five months after the company secured seed funding in a round led by Beenext, which Segari said was one of the largest seed rounds in Indonesia's fresh grocery space.

How Grocery Delivery Startups Work?
Among several things, we need to first have a piece of in-depth knowledge about how the eGrocery marketplace works, what are the various revenue channels, key features, etc.
Major Players: Many aspiring entrepreneurs or business owners study their order to cash process or frameworks before starting their own grocery ordering and delivery business. Take a look at some of the leading grocery brands: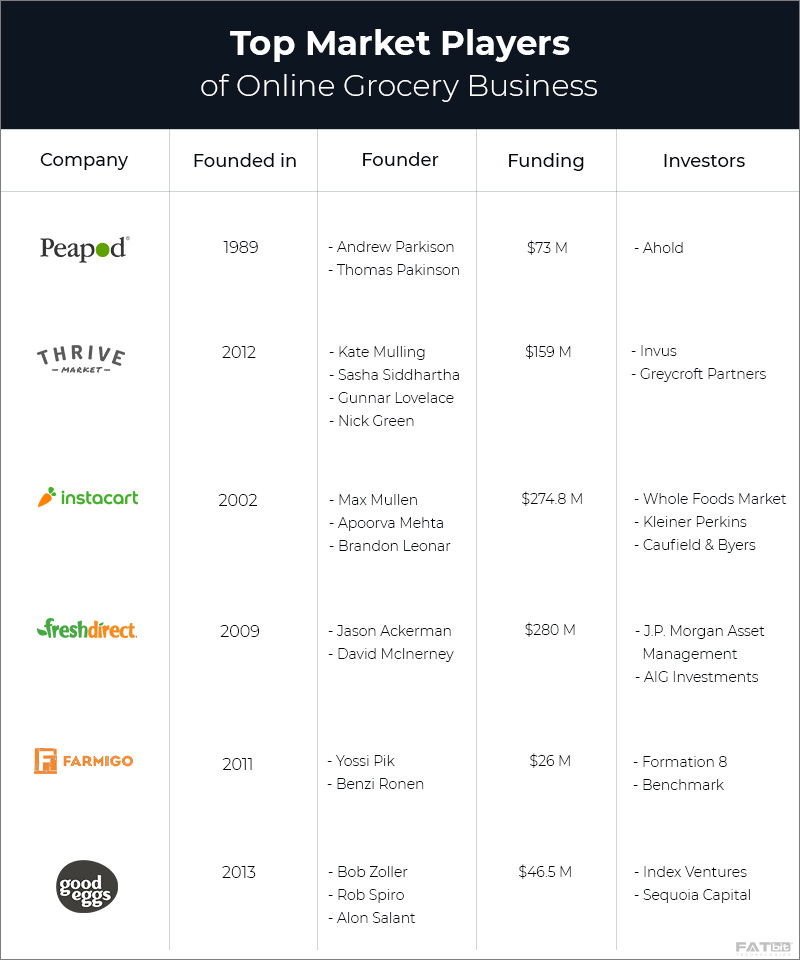 Factors To Focus Before Starting & Operating An Online Grocery Business
Select and modify (if required) the business model 

Create a roadmap to transform the business model into an effective and efficient operating model

Analyze the target market 

Segregate the delivery regions

Determine the SWOT analysis

Build an agile Grocery website and mobile app

Various Business Models That You Can Adopt:
Hyperlocal Grocery Business Model- like Instacart
Inventory Business Model- like Fresh Direct
Multi-Vendor Grocery Business Model – like Peapod
Omnichannel Business Model – like Walmart
Primary Revenue Channels In An eGrocery Marketplace
Commission on the transaction:

Admin can charge a commission on every transaction from the seller

.

Vendor subscription:

A vendor has to pay a fixed amount of money to the admin in order to list, access, and sell on a grocery eCommerce platform. They can choose the required subscription plan from a number of available options and can also upgrade or downgrade the plan according to his/her requirements.

Commission on delivery:

The admin can charge a fixed delivery fee from both buyer and delivery boy, on every transaction.
Secondary revenue streams would include:
On-site promotion for merchants/grocery sellers

Banners ads

A blog with sponsored content on it

Useful merchandise such as jars, reusable carry bags, etc. (also helps in branding)

Extracting seller user data to market research firms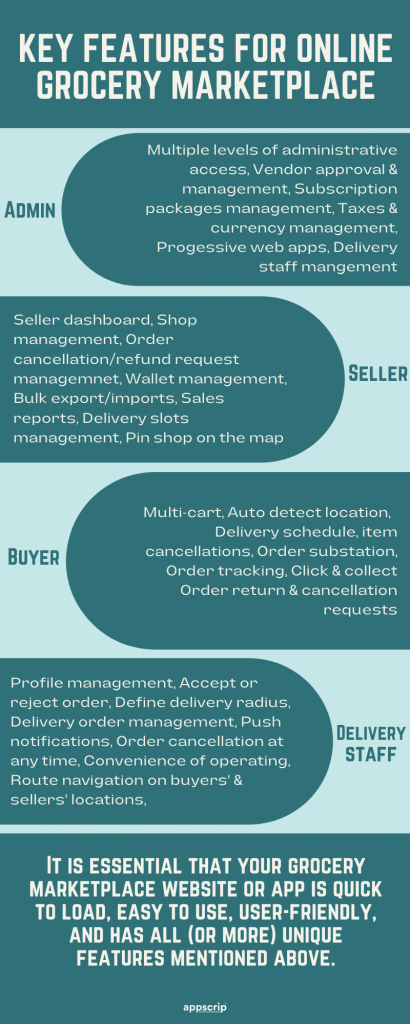 Since every new eGrocery company is ending up getting lucky, raising money at a record-breaking pace, plowing into new markets, and hiring like wildfire. Time to plunge into this billion-dollar market with pre-built grocery delivery software!
Want To Start Your Own Startup In 2021?
Build from Scratch
Build a grocery eCommerce marketplace from scratch with a dedicated development team of your own, or hire a leading website development company. In both cases, it requires hours for research, development, testing, and deployment. The process adds up to the time, making it expensive.
Using Ready-made Grocery eCommerce Platforms
A ready-made grocery eCommerce platform is convenient and less expensive compared to the development from scratch. The business-ready platforms come with pre-integrated features and APIs, there is a one-time payment, and the time required for setups is less.
Also Read: The Top 10 Features To Incorporate In Your Grocery Delivery App
Grocer is our readymade grocery eCommerce platform that can launch your online grocery business in a short time frame. It offers exemplary features and functionalities.