Dropshipping is a product chain management system through which a retailer typically does not stock the goods but transfers a customer's order and shipment details to the manufacturer, a wholesaler, or another retailer, who ships the goods to the customer directly.
Canadians are projected to spend $49.7 billion in 2019 thereby showcasing their affinity towards ecommerce. Canadians have a penchant towards international goods/products. Therefore investing in a dropshipping model along with supply of international goods under your belt is a foray into the global market as well. With competent tools at your disposal you can import goods that have negligible shipping costs and are high on demand.
Dropshipping cuts down on your investment big time by nullifying bulk inventory and shipping costs as the manufacturer will ship what you invoice. And $20.2 billion spent online last year should embolden entrepreneurs to cash in on this trend. This business model is recommendable for Canadians as it enables their businesses to scale rapidly without hassles of unwarranted and burdensome overheads.
How to start Dropshipping and its Positives
Setting up and kick-off is elementary
Setting up this endeavour is a walk in the park. Find a supplier, design a website, and start selling. For a rookie in ecommerce this business model is straightforward to comprehend and implement. Just make sure that the website has a good UI/UX so that consumers remain on it for long and finds it easy to navigate.
The Costing to Set-Up this Business is Peanuts
The only costing here is for the design of your website and costs towards running it without a hitch. Costs like infrastructure, operational costs, and inventory are all eliminated.
A vendor normally pays a manufacturer/wholesaler for a product at a discounted cost and the profit comes from the variance in the initial item cost and at the price it is sold at.
Overhead Costs Are Eliminated
The fixed cost is all about managing the device and a reliable internet connection. Costs like renting warehouse/space, furniture, other inventory, and sundry expenses are all struck off.
A lean month will not personify loss on investment, as the figure we are looking at is not huge. There is no pressure on targets of a minimum sale to breakeven. In fact you can moonlight until you build up a good clientele and then can take this up full time to sustain yourself and your hobbies too.
No office and no employees to think about. No warehouses and no hassles. Having a uber location, fancy interiors and a numbers of employees can be eliminated. All you need could be a coworking space, with all facilities and opportunities to network. Or then a room with a view in your home would suffice too.
Goods can be diverse and innumerable
Rest assured anything produced could be sold through a dropshipper. In fact it is up to you to rely either on a great selling product or sell numerous and diverse products. Otherwise go in for a combination of both. Conduct a market survey and narrow down to a niche you are familiar with, then look for a supplier who will supply the necessary goods for you.
Nil Investment to Scale Your Business
In Dropshipping scaling your business means to get more orders. This does not entail huge expenses as it would in a traditional business. In traditional retail business models, you would have to put in huge efforts and pump in resources to enhance your profits further.
Chances of damage/losses reduced
When you place an order with a supplier, the shipment travels directly from the supplier to the consumer. Hence the risk of loss or damage to goods are drastically reduced.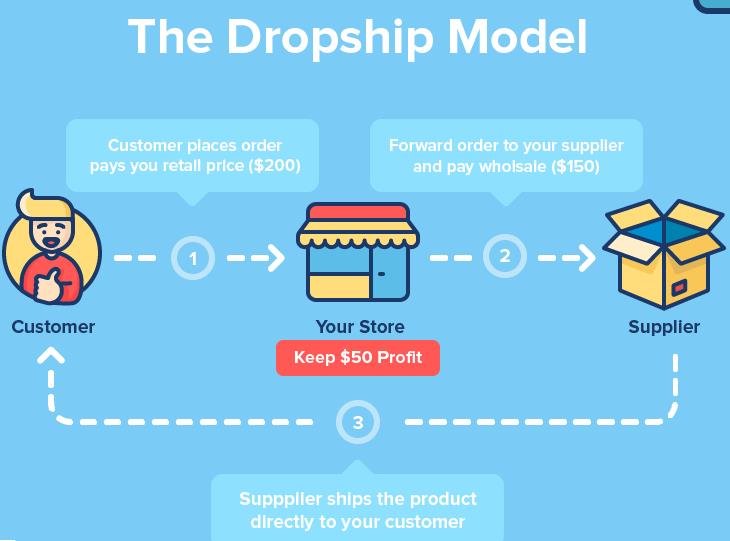 Negatives of Dropshipping
Your profit margin will largely depend on how much you can charge your client and at the rate you can source it from your supplier. Now depending on where your client is located the supplier will determine the shipping costs. The customer will be in the know regarding the costing of a product and he will certainly not pay premium for it.
Dropshipping in Canada is recommended only as a complement to traditional ecommerce model.
The product that goes to a consumer reaches him under your banner. Therefore if there is an issue with delay or product not as ordered or any damages, the liability is on you and not the supplier. Hence you need to take care to partner with a trustworthy and efficient supplier on your side. So that you have a successful and bring future.
To create a brand image for yourself is cumbersome and laborious as the supplier would not consider an appealing, durable or sublime packaging. Building customer satisfaction also is challenging to come by as this feature is linked to attractive packaging, freebies and other offers. As such features add glamour to your offering. You could tie up with suppliers on this aspect, but rest assured it could cost you further.
Issues may arise in shipping
Selling various products from manifold suppliers will affect diverse shipping charges. Because shipping charges are dependent on location, product-type, packaging, etc., If and when a client orders for different products with multiple shipping charges, the client would not be a satisfied customer and his longevity with you could get influenced. Having more than one supplier for a product could be counter-effective due to differing shipping charges when a customer notices it.
As it's a low investment, low inventory business model – the number of players would be more and this will cut into profit margins. Hence it is imperative to choose the right niche after careful study and to build a brand value for yourself.
Bigger brands could make inroads if it's a win-win situation for them.
Products to start with
If you don't know what kind of products to begin your dropshipping business, here's a list of a few interesting products. The products listed are a range that would fit into any industry.
Marketing merchandise
Inspirational coffee mugs.
Motivational books
Catchy T-shirts
Inexpensive jewelry.
Hand-bags, Tote bags.
Dropshipping on Amazon
Dropshipping in Canada is process recognized by Amazon.
Nevertheless, 'Amazon Seller Central' page lists 2 clauses:
On packing slips, invoices, or other documents, you shouldn't have another seller's name or any contact information.
Purchasing of goods from an online retailer and then shipping them to your client directly is not tolerable.
Amazon states that if any vendor needs to be a seller on record they would have to fulfill all essential documentation and other accountabilities, such as returns.
Dropshipping in Canada is legal
Dropshipping is legal. You can run into some legal issues conditional to your supplier list, but dropshipping is categorically legitimate technique on how an order can be satisfied. But take recourse to a Dropshipping Agreement Contract to keep yourself secure.
Conclusion – How to start dropshipping in Canada
Dropshipping is an interesting business model for a first-timer who is  testing waters in the online business domain. It's attractive to those who prefer low investment, as another source of income and schedules like a man on vacation. It's low-risk with flexible working hours and hence doesn't sum up to a risky venture. But don't even for a second consider the earnings as insignificant. There are startups who are raking in millions.
Taking every aspect into account, draw out an efficient strategy to gain success with a business model where losses are trivial and earnings substantial.