Freight brokers' freight fever has forced them to face digital transformation & there's no way back. (Class A) That said, the U-turn is blocked.
Sooner or later, every

freight forwarder/broker or

freight forwarding company

will go digital. Those who fail to adapt to this transformation will sadly face failure and stay in the past.

(Class B)
Dealing with the dilemma (whether to innovate to survive OR stay traditional), freight forwarders stand at the crossroad. 
However, staying traditional ~ facing extinction in the industry. 
Class A i.e., freight forwarding companies that dare to embrace innovation will establish themselves as the epitome of success. 
Class B i.e., freight forwarding companies that are not done dealing with the dilemma will die as Class A companies take over the market.
Do you consider technology as a lifeline or an enemy? Which class do you fall under? 
Would you like to sit and watch while your competitors count on improved technology? Or Would you like to stand out, bundling technology and transportation, and offering better service with bold features? 
Think about it! 
Who would want to waste money when digitalization can save costs up to 40% by automating operations. 
More efficient business operations ~ higher customer satisfaction. 
Now take a look at this! 
It has been predicted that small freight forwarders are more likely to stand under Class B, and the credit for this goes to their lack of digital know-how (50%) and capital (38%). This only means that the multinational freight forwarding companies' market share will increase from 60% to 90%. 
What about you? Is your freight forwarding business still locked in the comfort zone area or you are ready to stand under class A? If your answer is class A, then welcome aboard! 
Starting A Digital Freight Forwarding Startup Is Easier Than It Seems!
This pile of words demands your serious attention in exchange for an idea that can push your freight forwarding business to great heights. 
Okay. So, what do you need to digitize your freight forwarder business?
An app for drivers

 – for them to view load boards, accept jobs, update freight brokers about load completion details, & generate an invoice. 
A Web dispatcher Panel – 

for you

 

to optimize routes/find the most efficient routes, unassign loads from one driver & assign the job to another (in case of need), view available drivers, view history of assigned jobs & transactions, etc.
Fleet Owner App/ Operator Panel

 – for fleet owners (in case you are dealing with transportation companies instead of individual drivers) 
Admin Panel – 

Admin panel gives freight brokers complete control of the entire business operation. Freight Brokers can utilize the admin panel to configure accounts; set up zones; add contractors, agents, fleet owners, drivers; and much more! 
Are you ready to jump on this technology bandwagon yet – a bandwagon that serves as a launchpad for business growth? 
The software solution we explained here serves you two opportunity slots. You can 
either launch a digital freight forwarder firm 

or launch an 

Uber for freight

, an on-demand freight-booking platform
Go Beyond Freight Forwarding
Introducing you to Load'EmUp!
Load'EmUp is a pre-built freight-broker software solution that you can pay once for & own forever. It is white-labeled software, which means you can simply rebrand the software platform (Load'EmUp) to make it appear as if you had made it. 
One Load'EmUp package includes a customer app, a driver app, a fleet owner app, a web customer portal, a web dispatcher panel, and an admin panel. 
Wondering what customer app is for? Load'EmUp is quite a versatile platform. With Load'EmUp, you can also launch an on-demand freight finder/booking startup. Simply put, an Uber for freight to connect freight owners with manufacturing companies. 
Businesses/manufacturing units can utilize customer app to book the truck driver easily as one book a cab on Uber. If this business idea has caught your curiosity, you can also give the following article a read. 
As of now, most digital freight forwarders can only offer a one-size-fits-all model. The stool you need to stand on in order to stand out in the digital freight forwarding market is innovation. 
Most of the digital freight forwarders lack value-added services including purchase order management, real-time data delivery & management, buyer's consolidation, or transload where there is physical plant and know-how required.
Besides, most customers in the logistics space prefer working with freight forwarders who can really help if something goes wrong at a port on the other end & Load'EmUp helps freight forwarders do this from the comfort of their couch. 
Let's now understand how Load'EmUp unloads the burdens of freight brokers!! Ready to find out what would you do differently than most digital freight brokers? 
Load'EmUp

: Latest Technology? Yes! Legacy? Definitely Yes!

 
The screen pops up presents 2 options: Operator Agent (additional module) & Operator Driver
This additional module is for fleet owners/ managers/ operator agents to sign up their vehicles on the app, live track their drivers, & much more.  
After logging in, the driver can select the vehicle and view the remaining capacity of his vehicle (2188 kg here, as shown on the screen). That said the driver can continue to accept the loads until he reaches his vehicle's weight capacity.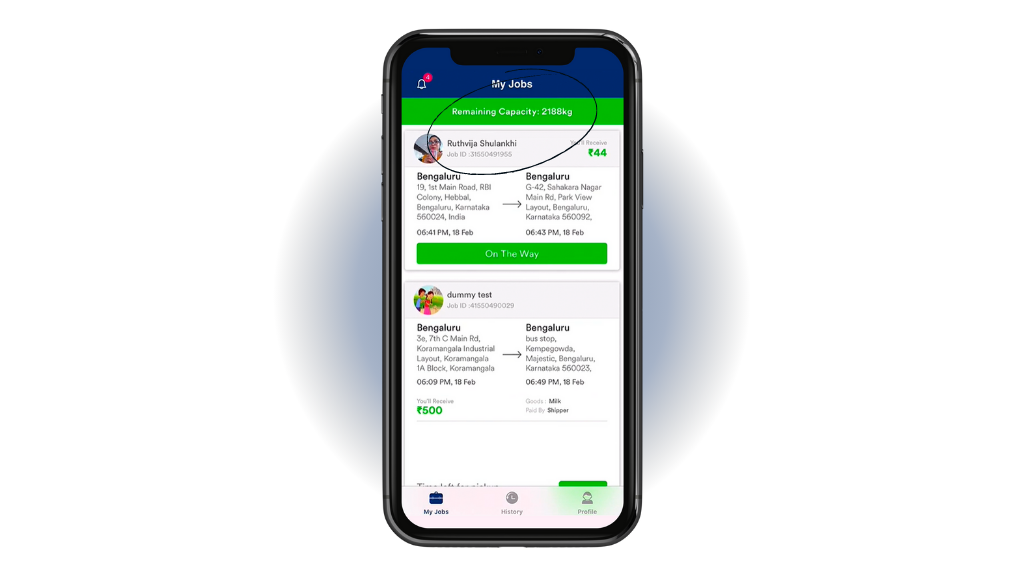 Besides, the driver can accept multiple loads at one time. This feature allows them to book an entire trip rather than a single route at one time, solving the freight industry's primary problem – Empty Miles. 
With Load'EmUp as your right hand, you'll be solving the core problem of the freight industry. 
Empty Miles In Trucking: The Primary Form Of Freight Waste
The dirty secret of the freight industry? Most of the truck trips are made with empty trailers. 
Fuel consumption ∝  Carbon emission
The more the fuel consumption, the more is the carbon emission. Companies generate pollution without generating revenue. Not to mention the hours drivers sit idle. They work without getting any work done. 
The solution is an app that can allow drivers to pick loads from wherever & whenever they want. The solution is 100% customizable software solution, Load'EmUp. 

When customers, i.e, manufacturing units/businesses that want to ship goods upload a load/job on the customer app, the operator agent/fleet manager gets a notification, "New Load In Your Area."
Customers can upload a job at their preferred price. You can view the demo video of the customer app HERE. 
The operator agent can either accept the job at that price or provide a counter offer. After the customer accepts the counteroffer, the operator agent can assign the job to one of the online drivers.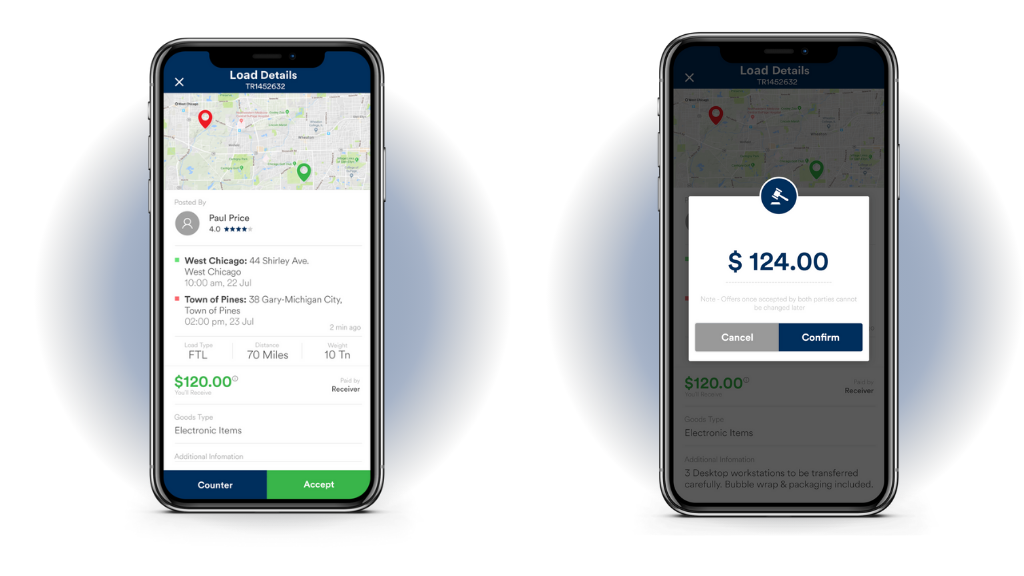 A unique booking ID is generated for every booking. The operator manager can live track the job while the driver is doing it.
In short, this interaction among customers, operator agents, and drivers simplifies the complexity: real-time price discovery, real-time status updates, analytics & reporting, invoice generation, load completion details, and what not!
See how the manager does the negotiation, gets a job for his fleet operating company, and sends the job to the driver.
The drivers aren't used to working with a smart platform as they usually come from not well-educated communities. Load'EmUp did consider this. The UI of the driver app is as simple as it could be. Updating the trip status is as simple as swiping the screen.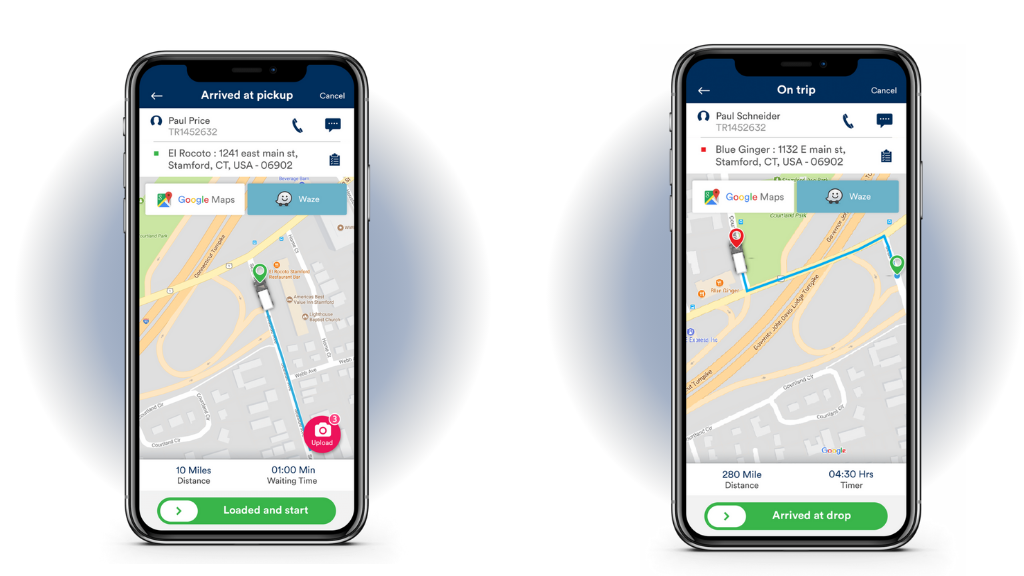 You can view the demo video of the driver app, HERE! 
Introducing You To The Web Dispatcher Portal
Web dispatchers/freight brokers can send out loads on behalf of their customers, monitor truckers, assign/unassign jobs to/from drivers, get status updates, take note of drivers' suspicious activities, and whatnot! 
Main Features Of The Web Dispatcher Portal: Scrutinizing The Obvious
Bird's View: 

Web dispatcher/freight broker can see all the details of the drivers who are 

online

, 

inactive

, and 

logged out

 of the app. 
The additional information about drivers including their mobile's battery percentage help dispatchers know which driver account to flag for potentially suspicious activity. Dispatchers/freight brokers can click on the driver's name to view his live location.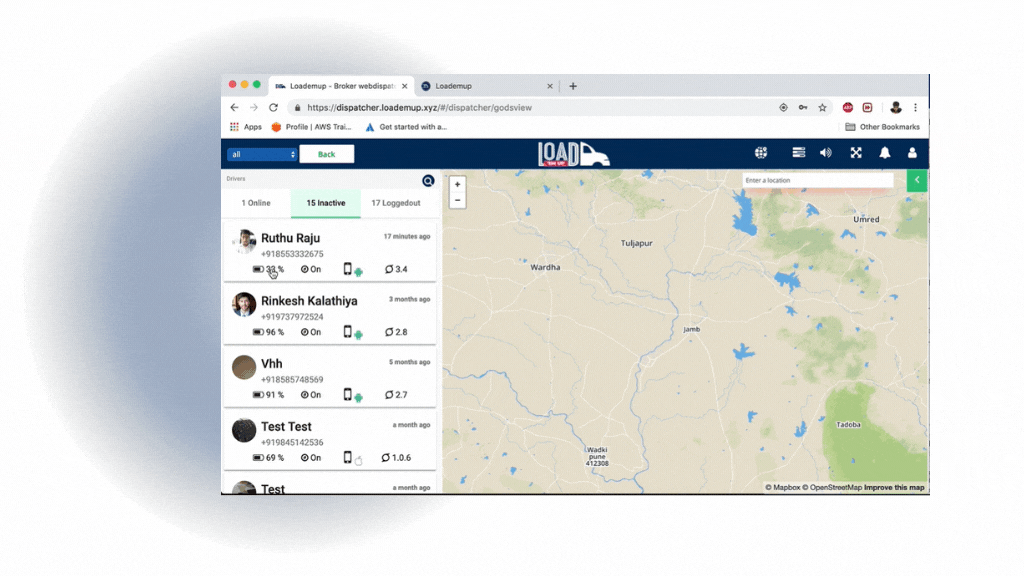 History of tasks: 

The web dispatcher can view all the previous tasks, along with the driver's order ID, pickup time, pickup address, drop address, vehicle type, driver name, payment type, and the current status of the task.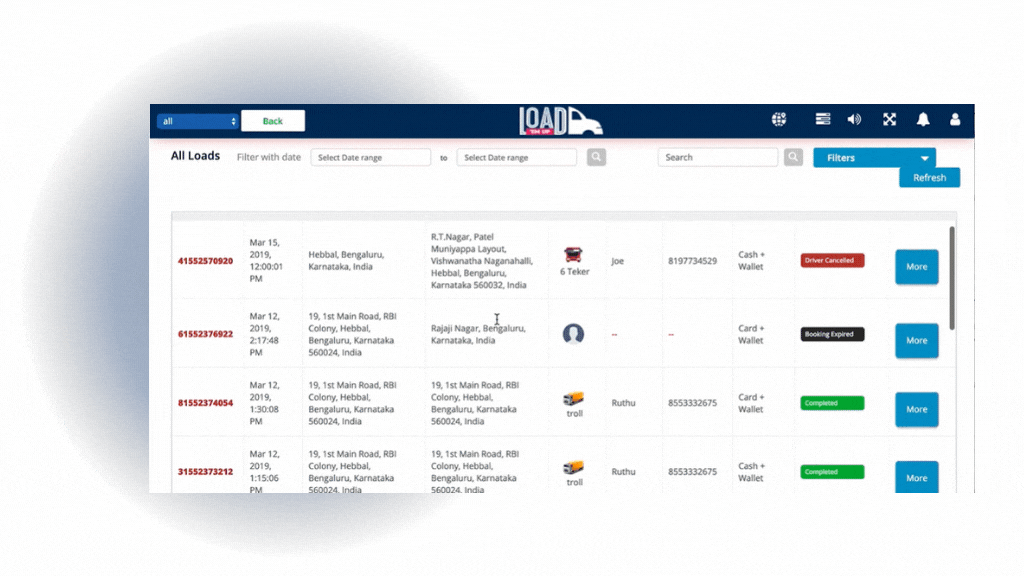 Let's now unveil the power of the dispatcher portal. Let's come to its main functionality. 
Needless to say, the purpose of the dispatcher portal is to assign drivers the job on behalf of the customers. 
When a freight broker assigns drivers the job, the driver can either accept the job or provide a counter offer. 
The freight bidding marketplace model of Load'EmUp solves another problem in the freight industry. It provides the solution to drivers' two most common problems: low pay & less-than-desirable working conditions. 
Drivers can get paid what they desire, and this reason alone is enough to excite drivers to hop onto your digital platform. 
The dispatcher can view the timeline of the driver's activity.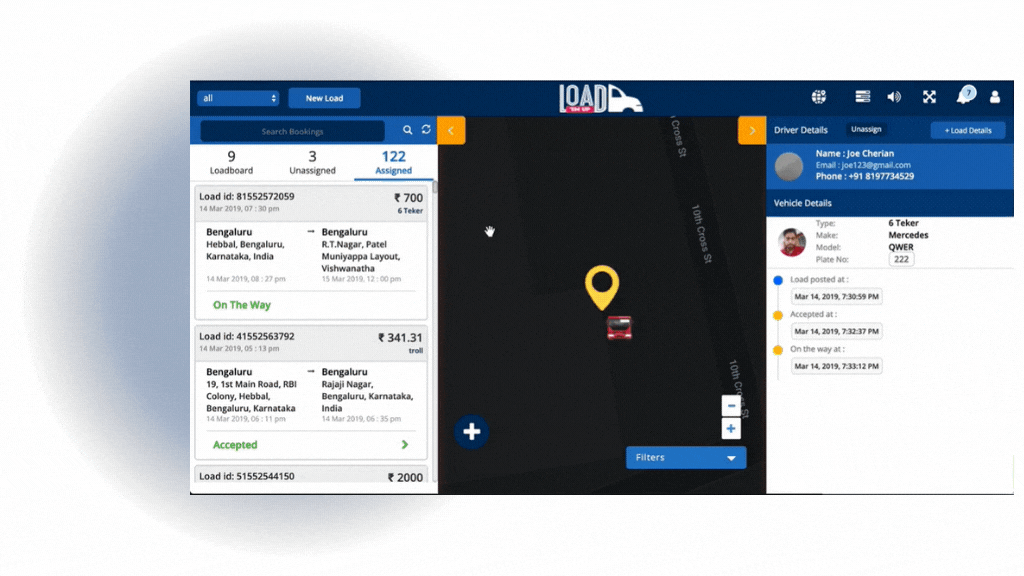 Another Unique Feature Of Load'EmUp? 
Let's assume the driver faced an issue while he was on the way to his destination, and you (the dispatcher/freight broker) need to make sure the job gets done anyway. 
The dispatcher/freight broker can unassign the load/job from the current driver and assign the job to another driver. This feature is really useful in case you have to change your driver/vehicle midtrip. 
Sometimes, one mode of transport cannot be used for the entire trip, especially on the borders. That's why the process of transloading (transferring a shipment from one mode of transportation to another) is employed. 
View the demo video of the web dispatcher portal!
Simply put, you can solve some of the core problems of the freight industry using Load'EmUp including route optimization, price standardization, in-transit tracking, digitization of multiple documents, and timely delivery assurance.
Why Does Starting A Digital Freight Forwarding Firm Make Sense?
The freight forwarding industry is fragmented & it's still not fully technically optimized to find the most efficient routes for drivers to haul across the country. Looking at the freight industry, there are definitely areas for improvement. 

The frowns on the faces of freight brokers say it all. 
Can small businesses easily coordinate multiple routes? Freight brokers know the answer well. That's why the profession of a digital freight broker is in high demand. 
How can we forget the soared consumer demand for digital freight forwarding businesses? 

There's a wide gap in the freight market, desperate to be filled.
Double down on growth. Combine human ingenuity, experience, and technology innovation. Success is only a matter of being willing to change your mindset. So are you ready to sail out of traditionalism to revolutionalize the freight industry?