Recent developments in technology have made it possible for any company to start ecommerce websites in Cyprus and compete on a worldwide scale. The development of Cyprus's e-commerce sector may be related to the unique strategies employed by various companies.
You need to learn the basics of business management and come up with a plan before you can start accepting online payments and serving consumers.   You need a reliable business strategy to learn about your customers. To a large extent, the services and products you offer will be defined by the business structure you choose.
The first step in building a successful online shop is putting up a simple web app. The main goal is to facilitate quicker internet-based business transactions. Amazon, Flipkart, eBay, Etsy, iTunes, and many others are among the most successful online marketplaces. There are a number of different eCommerce business models, including business-to-business, business-to-consumer, direct-to-consumer, and consumer-to-consumer.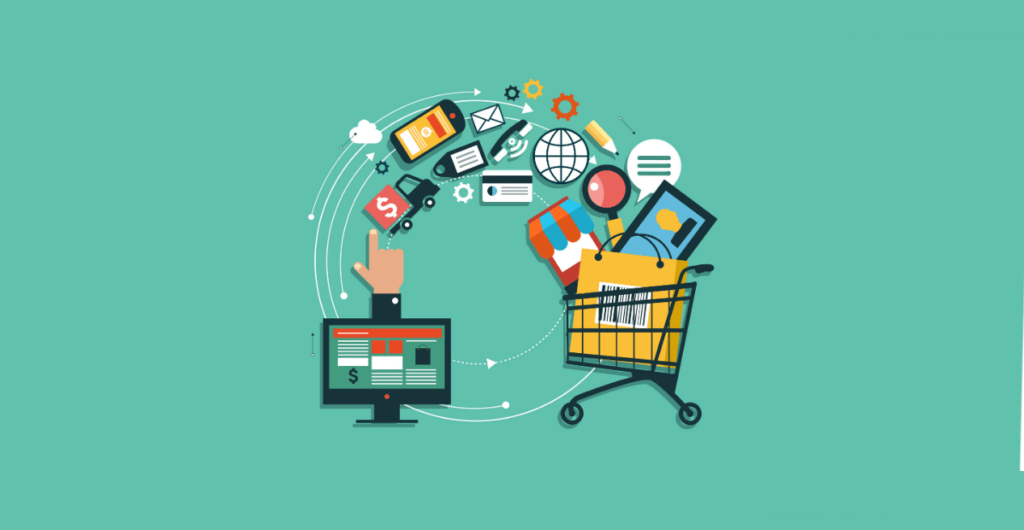 Even while promoting a company's goods and services is the core function of a website, an e-commerce platform takes this to a whole new level. Customers in your target market can interact with you and make purchases from you directly via an online store.
Customers' attention will be piqued by the prospect of time and money savings offered by ecommerce websites in Cyprus. Your company's internet visibility will increase dramatically if you have a well-designed, user-friendly eCommerce website.
We have featured some of the most profitable eCommerce websites in Cyprus to show you how an online sales strategy could benefit your company.
The Best Ecommerce Websites in Cyprus
E-shop
The E-shop is a top-tier online retailer in Cyprus because it prioritizes customer satisfaction above all else and uses innovative shipping strategies to keep prices low for its customers. It has some of the finest prices on the internet, and clients can place orders quickly and conveniently from the convenience of their own homes or offices by using the website or giving a call. Within that time frame, all of their requests have been met.
If you are experiencing any technical issues with your computer or another device when shopping at the online store, skilled personnel are available to assist you. It offers a business tax ID, the lowest prices online, and prompt, polite help with any payment method.

OnCyprus
OnCyprus is only one of several ecommerce websites in Cyprus that provide a comprehensive list of products, broken down into more than 300 different types. It is easy for users to find the service providers they need because of the site's powerful search engine.
OnCyprus.com is an excellent starting point for online shopping in Cyprus, as it provides access to thousands of listed businesses over hundreds of categories. As seen by the average of 17,000 daily site views, the marketplace is well utilized. With more and more individuals looking for trustworthy products, OnCyprus is becoming more and more relevant to people in Cyprus and beyond.
Olive Cyprus
Olive is one of the e-commerce websites in Cyprus that seeks to provide its users with the best possible online buying experience in Cyprus. It was developed with the intention of enhancing the online shopping options available in Cyprus.
A massive selection of goods, all of which can be purchased at any time thanks to 24-hour shopping, relieving customers of the stress of having to look for a parking spot or stand in line at the register. Take advantage of online shopping from stores and vendors located all throughout Cyprus at a time that is convenient for you.
H&M Cyprus
If you want to buy clothes online in Cyprus, one of the finest possibilities is to do so from the H&M Cyprus website because it sells items of high quality for rates that are affordable.
The straightforward, fundamental, and simplistic nature of H&M's business model is based on the company's commitment to offering design and quality at the best possible price. The clothing that H&M creates for men, women, and children is always up to date with the most recent trends in men's, women's, and children's fashion.
EasyMall
The EasyMall website is an example of an online shopping mall that offers products from a wide variety of retailers. The goal of the organization, which is known as Treecom LTD in the Cyprus market, is to bring together online purchasers and vendors in order to facilitate price reductions for everyone. The EasyMall Marketplace is by far the most well-known and widely used multi-vendor ecommerce websites in Cyprus.
Because it carries such a large number of prestigious local and international brands, the EasyMall Marketplace is an extremely time- and money-effective platform for online shopping. Because new products are always being added, customers never have to spend an excessive amount of time searching the website to find what they require.
Business Model of Ecommerce Websites in Cyprus
C2C
It not only acts as a go-between for buyers and sellers to make the buying and selling of products and services easier, but it also produces money through the receipt of transaction and listing fees from those consumers and sellers. This means that it is a win-win situation for everyone involved.
The need for quality control and continuing maintenance might make the C2C paradigm less useful than it otherwise would be. The online auction and classifieds websites eBay and Craigslist are only two examples of what may be found on the internet.
B2C
The vast majority of businesses opt to operate under this business model, making it the most common type. In spite of the fact that these practices have been around for a very long time and have been proven to be ineffective, many businesses continue to employ outmoded sales strategies when dealing directly with customers via the internet.
There are currently a great number of businesses that are conducted entirely through the use of the internet; some well-known cases include Amazon, Wal-Mart, and Netflix. Shoppd is a multi-store e-commerce platform that enables businesses that sell directly to consumers to access the on-demand segment of the e-commerce market.
B2B
Businesses primarily interact with one another through the trading of goods and services as their major mode of communication. Under this model, the collaboration between businesses and the providers of services will be direct. Web hosting services, stores that sell software, and stores that sell office supplies are all considered to be under this category. Apple's corporate partnerships include companies such as Panasonic and Intel, for instance.
D2C
Within this framework, there is no involvement from a third party in the relationship between the company and the customers. The use of this strategy is advantageous for both the purchasers and the sellers. Both the Dollar Shave Club and Chubbies are excellent illustrations of this.
To create successful e-commerce websites in Cyprus, you will need a platform that allows for easy updates to be made to keep up with the ever-changing requirements of the business. E-commerce websites and online marketplaces may be created quickly and effectively for businesses in Cyprus by using Shoppd. A merchant control panel may handle all aspects of a customer's purchasing and payment for items, which enables more effective management of inventories.