The development of technology has brought about a situation in which it is necessary for every company to have an online store in order to have a presence across the globe. eCommerce websites in the UK are flourishing due to the unique selling proposition of their respective business models.
 The most important aspect of your company is figuring out how to run a successful business and coming up with a plan for it before you even open your virtual storefront. Implementing an appropriate business model would help you gain clarity of purpose and better understand the requirements of your customers. This is because the model defines both your company and the services it provides.
eCommerce websites in the UK are the next step up from a regular website. Its primary purpose is to facilitate faster online business transactions for commercial enterprises. Amazon, Flipkart, eBay, Etsy, iTunes, and a number of other websites are examples of popular eCommerce websites. There are many different business models for eCommerce, including B2B, B2C, C2C, CB, D2C, and D2B, among others.
Promoting the goods and services offered by your company is the primary function of a website; however, an online storefront takes this function to an entirely new level. It makes it possible for your clients or audience to conduct business with your company online while also giving them the option to buy products or services directly from you.
Your customers will find your business more appealing and convincing if you have an eCommerce website, which helps cut costs and saves money. Your company would see significant improvements in its performance if it employed an eCommerce website that featured effective optimization and layout.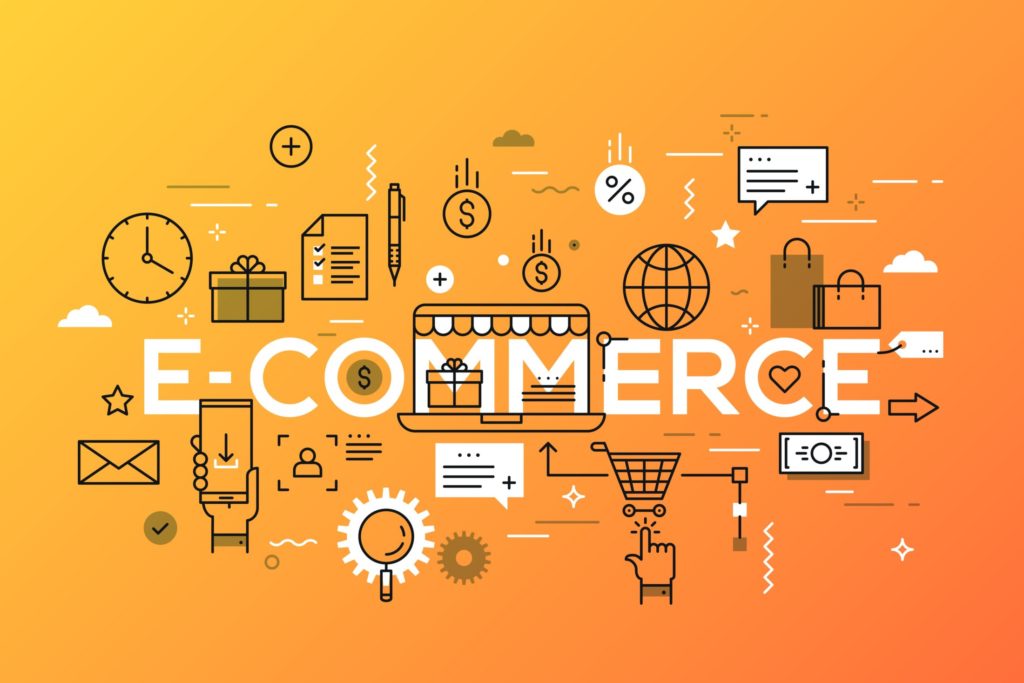 In this article, we have discussed the significance of an efficient eCommerce business model, as well as the top eCommerce websites in the UK to understand the role that a successful business model may play in your company's efforts to establish a robust online presence.
The best eCommerce Websites in the UK
eBay
eBay is a global ecCommerce platform that connects businesses and consumers around the world. It began as an online auction platform, but it has since expanded into many other areas of commerce, such as the purchasing and selling of online items on a local or international scale.
When eBay first started serving customers in the UK, PayPal was the payment processing system that was used. These days, however, payments are handled through the eBay payment processing system. In addition, approximately 24 million people in the UK visit the website on a monthly basis, and there are 175 million active users. Additionally, eBay is responsible for the creation of 1065 new millionaires in the UK.

Amazon UK
Amazon is the world's largest and most influential online eCommerce platform, measured by revenue. This website has evolved into one of the most comprehensive online supermarkets, stocking everything from electronic gadgets to food and beverage products.
Amazon Logistics has grown to become one of the most successful companies providing courier services in the UK (United Kingdom). The only company that comes before it in the rankings is Hermes, followed by DHL and then UPS. Amazon is used by almost all online shoppers in the UK (almost 90 percent), giving it nearly 30 percent of the market share.
In addition, there are close to 15 million people who are subscribed to Amazon, and the company is responsible for the creation of approximately 27,500 jobs in the UK. In addition, Amazon has made approximately £36 billion in revenue in the UK, and this number is expected to reach £77 billion by the year 2025.
Asos
Asos is a British online retailer that sells clothing as well as personal care products. The website provides access to more than 850 different brands, in addition to selling its own labels of apparel and accessories. The sale of clothing and accessories accounts for the vast majority of its revenue, and in addition, the company sells furniture and electrical appliances for the home.
One of its most important business partners for logistics operations is DHL. In addition, Asos has monthly traffic of close to 79 million visits, employs 4,000 people, and expects its revenue to exceed £3.26 billion in 2021.
Tesco
British supermarket chain Tesco operates in more than 100 countries and sells a wide range of goods. Tesco operates a variety of retail establishments, including hypermarkets, convenience stores, Tesco metro, express shops, and gas stations. In addition, Tesco developed its own line of products in a variety of categories, including food and beverages, home goods, clothing, mobile services, and financial services.
The year 2016 saw the launch of Tesco's very own mobile wallet, which aimed to simplify the experience of making contactless payments for customers. As of February 2020, Tesco's annual turnover was $64 billion and the company employs 423,092 people. Tesco also intends to create 9000 new jobs in Britain by the end of the year. In addition, Tesco's supply chain operations in the country are handled by XPO logistics.
Marks and Spencer
Marks and Spencer is among the largest British ecommerce websites in the UK that has a well-established presence on the internet. It sells everything from clothing to housewares to food. It now has 450 foreign stores, 970 of which are in the UK, and employs over 85,000 workers. £9 billion was earned by Marks and Spencer in the UK and abroad.
The company's initial online store began in 1999, and it has since expanded to 40 nations globally. The retailer is also building a 450,000-square-foot distribution centre and relying on third-party logistics firms to fulfil its orders, according to a statement.
Monetization and Business Model of Ecommerce Websites in the UK
Business to Business (B2B)
Products and services are exchanged between businesses in this arrangement. In this setting, service providers will collaborate with other businesses in a close-knit community. Companies that provide a wide range of services, including the sale of software and office supplies, as well as web hosting. For instance, Apple has business-to-business ties with Panasonic and Intel.
Business to Customer (B2C)
If you're looking for the most popular business structure, this is it. It's the old-fashioned retail approach, where businesses sell to customers online. Take, for instance, the online retailers Amazon, Walmart, and Netflix. B2C Brands jump into Ecommerce using Shoppd – a multi-store eCommerce software for entrepreneurs looking to get into the on-demand e-commerce business niche.
Customer to Customer (C2C)
As a result, it's referred to as an "internet marketplace." It facilitates the exchange of products and services between buyers and sellers and generates revenue through transaction fees and listing fees. The C2C model has the potential to move your company forward, but quality control and maintenance are two potential stumbling blocks. Take eBay and Craigslist as two prime examples.
Customer to Business (C2B)
Customers are able to sell their products and services to businesses with this approach. C2B can be applied to affiliate marketing. Online influencers can use the model to promote the brand's goods and services. Referral schemes and compensated testimonials are good examples of how C2B marketing works.
Direct to Customer (D2C)
In this case, there is no intermediary between the firm and its clients. Both the seller and the buyer gain from a clear transaction in this approach. Dollar Shave Club and Chubbies are good examples.
Dropshipping
As a result of this, you can open a shop and collect money directly from clients. You don't have to worry about inventory management, warehousing, or packing with this model. You may have to deal with the scenario if the merchant does not supply high-quality products or has any other problems. It's a well-liked design that's easy to set up and receives a lot of business through Facebook Ads. Store setup is most typically done using Shopify and Oberlo.
The first of many requirements to start eCommerce websites in the UK will be a platform that is tailored to the needs of the marketplace. Shoppd allows entrepreneurs to launch eCommerce websites and marketplaces. Complete with the user-facing purchase and payment features to merchant admin panel for managing inventory.