Among the numerous promising new markets for established businesses, the adoption of online prescription delivery apps in Germany stands out. There's no doubt that the industry's positive outlook on the future of prescription delivery apps has played a role in this meteoric rise to prominence.
There will be a whopping $206 billion market for online prescription delivery and pharmacy delivery by 2028, with a CAGR of about 16.8 percent from 2022 to 2027.
Innovative methods of technology, marketing, and corporate growth can help companies maintain their market share in the fiercely competitive pharmaceutical industry.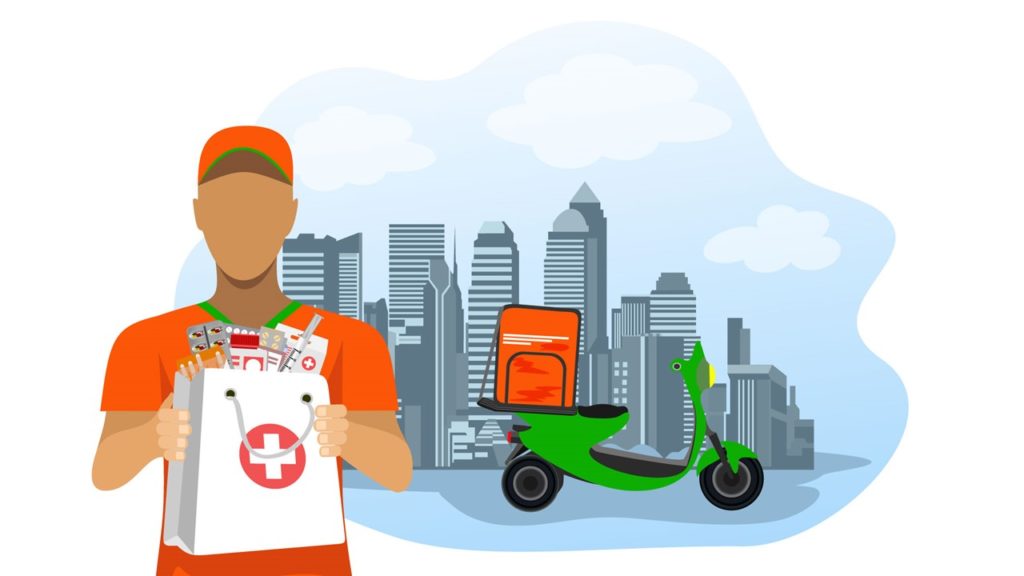 A large number of people make use of prescription delivery apps in Germany, which facilitate the delivery of medicines to their homes. There has been a significant increase in demand for these mobile apps throughout the pandemic, which is expected to continue growing.
Customers and pharmacies alike can benefit greatly from switching to a prescription app. You can save time, get access to a larger selection of prescription medications, rest easy knowing that your personal information will be protected, and so on if you order your medication through a mobile app.
The Best Prescription Delivery Apps in Germany
Mayd
Mayd, based in Germany, is a pharmacy delivery service that has recently raised $15 million from investors including 468 Capital, Earlybird, and Target Global to help it grow into new cities.
Customers can use the Mayd app to order pharmacy supplies, which will be delivered to their doorsteps on electric bicycles. Following the implementation of a regulation change in Germany in January, the process will shift from over-the-counter items to prescription drugs. Pharmacies pay a charge to participate on the network, but customers currently do not pay for delivery.

Arznei Privat
To ensure you receive the most potential benefit from your medications, the staff at Arzneiprivat, a pharmacy in Emmerich and a division of Sonnen-Apotheke, will personally oversee their delivery to you. The pharmacy manager takes the time to respond to each individual patient's unique set of concerns.
Related: How To Build A Successful Online Pharmacy App?
Medicines from well-known brands including DHU, Kattwiga, Spenglersan, Pascoe, Heel, Hevert Wala, and Weleda are available here. Simply upload your prescription to the marketplace, add the required item to your shopping cart, and wait for a response from the specialists.
DocMorris
This is Europe's largest mail-order pharmacy, where you may get your medications online at a low cost and with ease. The DocMorris pharmacy offers free standard shipping on orders above 19 euros. In addition, there is no cost to you or the shipper for redeeming your prescription offers. DocMorris Pharmacy's online store has deals to help you stay healthy and save money all year long.
Med24
Med24 has been around since 2005 and is now active and providing its services to the public. When you make a purchase from the popular online pharmacy Med24, your shipment will be at your door in as little as twenty-four hours.
A team of registered nutritionists, cosmetologists, and materialists is also available to assist customers. They work around the clock to answer customer questions concerning Med24's products.
Aliva Pharmacy
Aliva Internet pharmacy offers a wide variety of prescription and over-the-counter goods, including those for allergy relief and dental hygiene. With just a few clicks, you may browse through our product categories and locate numerous pharmaceuticals like painkillers, ointments, or dietary supplements.
Free shipping is a breeze with the Aliva online pharmacy. If you have at least four items in your shopping basket or order totaling €20 or more, you qualify for free home delivery of your medications.
Monetization and Business Model of Prescription Delivery Apps in Germany
In-House Prescription Delivery Apps
This set up works well for pharmacies that supply a wide variety of medicines. It is possible for these businesses to boost their internet presence by developing their own prescription delivery apps in Germany. Improved name recognition is the primary gain from this marketing approach.
Thanks to solutions like Med.Me, they can sell prescription medicines from numerous pharmaceutical and healthcare companies. The success of this economic plan, however, depends on having ready access to a large supply of drugs.
Pharmacy Marketplace Model
Intermediary services between clients and pharmacies that supply their prescriptions are another method of doing business. Apps like these collect customer prescription orders and then distribute them to local pharmacies to fulfill.
App developers don't need to stock their offices with pharmaceuticals because of how the business works. In the pharmaceutical industry, orders are accepted, processed, and then sent to drivers, who are responsible for making actual deliveries to customers.
Make Money with Prescription Delivery Apps in Germany
Making money off on-demand prescription delivery apps in Germany is a real possibility. Here are some suggestions:
One way to generate income is to charge commissions to vendors for displaying their products on your platform. You can either agree to a flat rate per unit sold or a percentage of gross profits.
It's also worth considering subscriptions as a possible means of revenue. By becoming a member, customers may take advantage of perks like free shipping and reduced prices on prescriptions.
Advertisements within the app itself are a typical way for online pharmacies to generate revenue. A few examples of what you could advertise are pharmaceuticals, alternative drug stores, and medical equipment.
Working with customized frameworks such as Med.Me, a script for online prescription delivery and online pharmacy software, makes adding these functionalities quite simple. Such functions can be found in widely used apps like Netmeds, CVS Pharmacy, NowRX, Capsule Pharmacy, and 1mg.