Last year we all had our lives spiralling down the rabbit hole. All of us have faced some problem or the other due to the large scale pandemic that ran havoc in our lives. However there was a silver lining for delivery businesses. Grocery and Food delivery grew fast as it was fast moving and consumed daily.
---
Bored at home, people soon turned to buying Alcohol online. This was evident from the phenomenal growth of Drizly, Minibar, Swill, Klink and Saucey as their sales percentages grew by more than 300%.
India opening up Online Alcohol Delivery?
The Delhi government in India, recently brought about a number of changes in the rules governing the trade of alcohol in the national capital, including one relating to home delivery. There are some more steps to be completed before Delhiites can get their liquor home delivered. The actual rollout requires some more work on the part of the government. But still it is a start.
Elsewhere  the West Bengal State Beverages Corp., which manages the sale and distribution of alcohol in the state, has authorized Amazon and BigBasket for sale of alcoholic drinks on their online portals. The online stores can now deliver Beer, Wine, Spirits, and other alcoholic drinks in the state of West Bengal.
Success Of Alcohol Delivery From 2020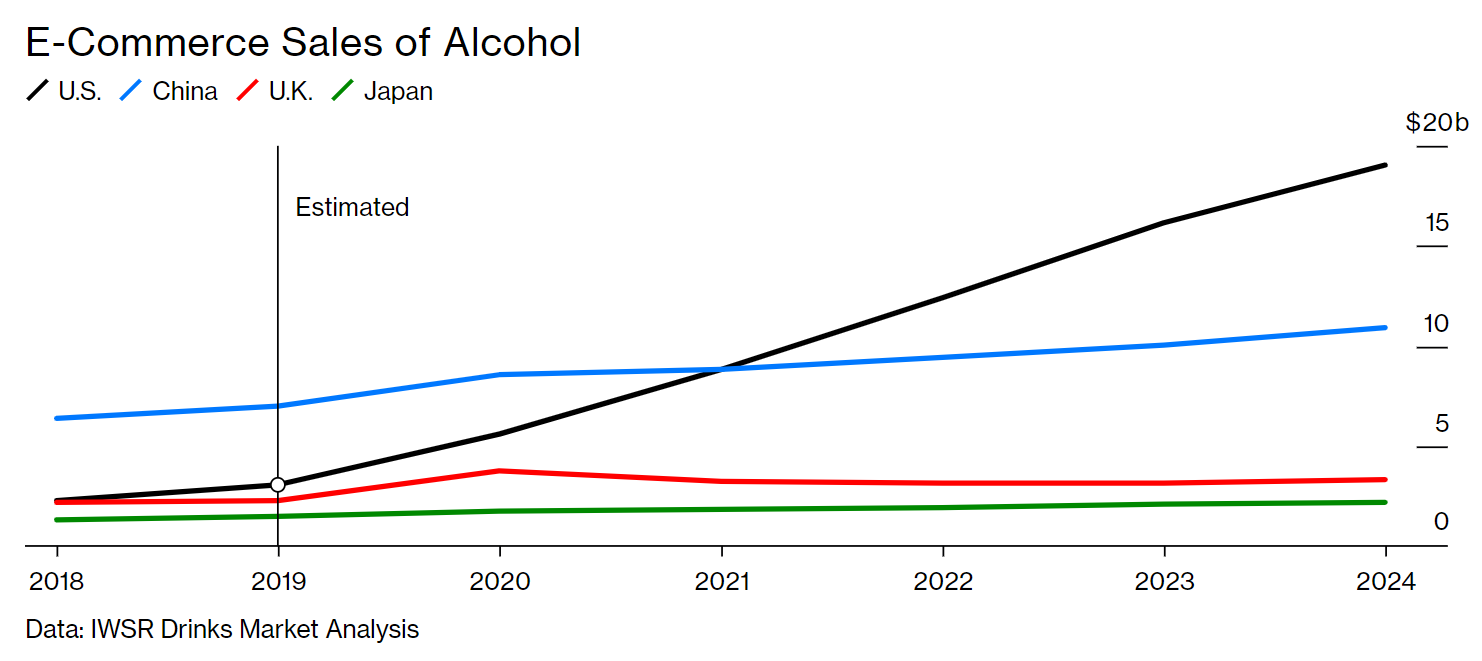 The online liquor delivery business has moved several years into the future because of a few months last year 2020.
Not only is the footprint for home delivery expanding, but the average dollar sales order on Drizly has increased 29% since last year, from $52 up to $67.  Sales on Drizly have grown 350% compared to last yearThe average order went up in price on its own and in April 2020, retailers were increasing their minimum order because the demand was so high that they couldn't keep up and needed to be more cost effective. The number of retailers on Drizly increased from about 2,000 to 4,000 locations.
Alcohol ad spend in 2020 grew steadily throughout the year, outpacing the average of most industries. Facebook, Instagram, Google search, and YouTube are the leading platforms where alcohol brands spend their marketing dollars.
Nearly half of retailers said their online sales accounted for less than 5% of total sales prior to COVID-19, but that grew to 11% or more of total sales as of October 2020.
How to Sell Alcohol Online: 7 Steps
Selling alcohol online is like creating the perfect cocktail. The steps highlighted are the ingredients, and your brand is the cocktail – you need to mix together all the components from the ingredients list in order to achieve delicious success.
Obtain the licences – visit TTB.gov and apply for your alcohol selling licence. Tis is in the US.
Find your niche – conduct competitor research to figure out which type of alcohol you'd like to sell
Source a supplier – find a wholesale alcohol supplier that can keep your inventory from running out
Create your brand – develop brand values and create a logo that inspire trust
Build an online store – Develop your own alcohol delivery app on the lines of Drizly or Minibar – Drizly clone, Minibar clone.
Sort out shipping – register with UPS or FedEx to get your products delivered around the country
Market your products – connect your website to social media and collect customer emails to help your business grow.
What Are The Most Important Things To Launch an Alcohol Delivery App?
Alcohol is a serious business and it should not be misused by young underage people who are not the legal age of drinking. The most important functionality in a liquor delivery app is beign complaint to the local laws of the country, state or region.
Without having important checks in the app, it can be dangerous thing.
What Are The Checks You Should Make?
The customer needs to provide an ID Proof on signup. This ensures that the liquor buyer has to be 18+ to order alcohol. The product catalog is not shown to any user who isn't approved. This step goes a long way in ensuring the app doesn't cater to underage individuals.
ID Validation @ Time Of Placing Order
An ID proof has to be uploaded and approved by the seller or Store Admin and only then the order will be processed. The order can be rejected in case of inadequate proof.
ID Validation @ Time Of Delivery
The driver delivering the order has to validate the ID whether the ID proof is the same as uploaded in the system. The driver additionally takes a photo of the ID as validation.
One Time Password Verification
OTP is generated at the time of delivery to the customer's mobile number to ensure it is being delivered to the right person.
Self Pickup Option For Customer
The customer can order from the app and go physically to the store to pick it up. The ID will be scanned physically at the store and uploaded to the system.
Govt Restricted Order Quantity
Each country or region has its own set of rules for how much liquor can be delivered per order. This can be set by no. of bottles or the volume of alcohol that can be carried by the driver. This is also true for the customer:cannot order beyond the limits set.
---
Congratulations! You're now ready to build your own alcohol eco
mmerce 
empire. That deserves a toast. Anyway, we know that learning how to sell alcohol online can cause headaches if you don't know where to begin. Get your work done and most importantly if you want an app built talk to Appscrip, the experts in developing and deploying liquor delivery apps.