Instacart is a San Francisco-based, on-demand grocery delivery service platform, founded in 2012,  providing doorstep delivery of groceries and other home essentials from over 200 retailers in major cities of USA. 
Here is Instacart revenue model, one of the biggest grocery delivery websites of all time. This will help you to unravel the revenue generation process of on-demand businesses.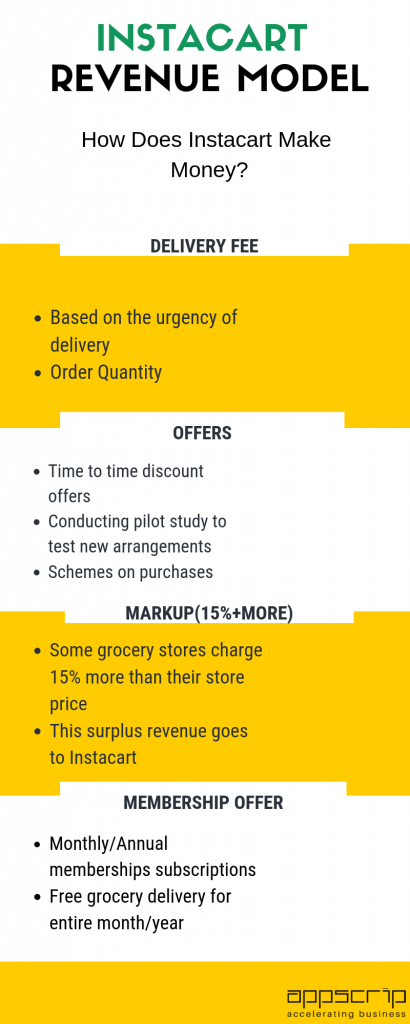 Instacart's most recent funding round raised $350 million, putting its total valuation at $4.4 billion – grocerydive.com
Read the entire Instacart business model here.
Lets briefly understand sources of Instacart's revenue.
DELIVERY FEE
There is a delivery for all orders below $35. At the time of high demand for a delivery time, a busy pricing delivery fee may apply.
Delivery cost is charged based on the quantity ordered and the urgency of its requirement
OFFERS
Instacart provides time to time discounts/schemes on purchase of groceries.
Conduct pilot study of their new arrangements and schemes.
MARKUP
Some stores sell their products on Instacart at prices in accords to their physical stores, but there are other stores who charge 15% more than their store price, then the revenue generated goes to Instacart.
This revenue helps Instacart to pay grocery shoppers(Who buy groceries on behalf of people placing orders).
MEMBERSHIP
Instacart offer monthly/annual subscription plans to there customers which comes with benefits such as free home delivery for entire month or year.
This membership is sold for some amount, it acts as revenue for Instacart.
---
Get your own Instacart-like, 100% customizable online grocery software  Click Here