A European Drug Survey Report reveals that 16% of Poles aged between 16 and 64 have used cannabis at least ones.
But it is 23% when the usage of Cannabis among school children aged between 15 and16 was taken into account. The objective of the study was to measure the popularity of marijuana among Polish citizens and university students.
This brings us to the question, is cannabis illegal in Poland.
Even the criminalization of drug use in Poland has not inhibited its usage among the hoi-polloi. In the recent years there has been a significant surge in the number of drug users in Poland. In 2015, several arrests were made and a 49-year-old man was arrested for growing 60 marijuana plants in his barn. In 2021 in Poland, over 2.3 million people consumed cannabis both legally and illegally.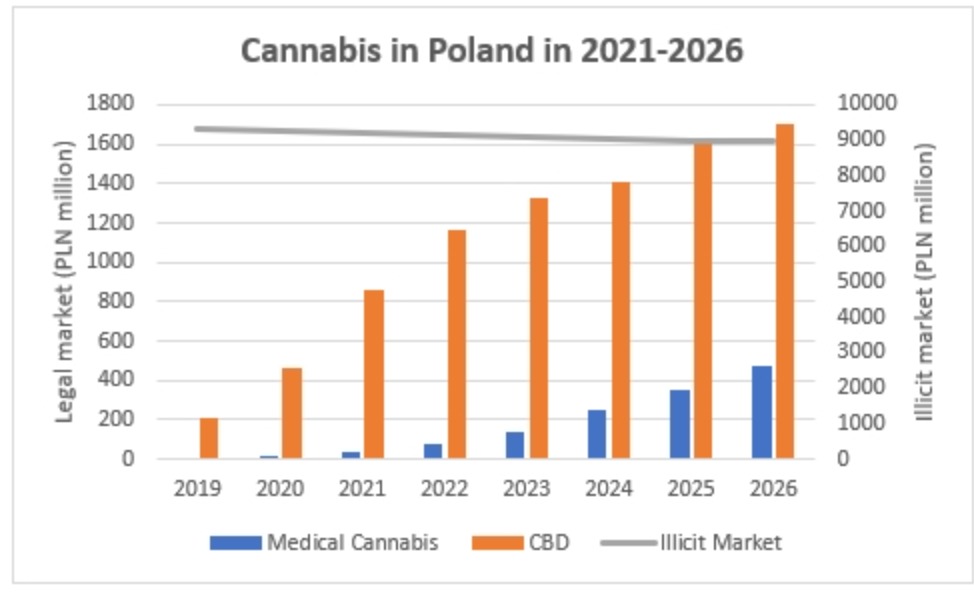 The approximate value of the marijuana market in the European Union comes to more than 9 billion euros. This year as of September, 139 tons of marijuana and 574 tons of cannabis were seized. Young people often reach for preparations of cannabis, with males out-doing women in its consumption.
Cannabis In Small Amounts
In 2011, Poland embraced a "Tolerance Policy", according to the policy, offenders will no longer be penalized for storing cannabis in small amounts that is meant only for consumption. This became possible due to public figures such as former President Lech Walesa and the poet Wislawa Szymborska taking up the cause.
When it comes to growing marijuana in limited amounts for personal consumption, the laws are not clear or explicit. This had far-reaching consequences with reference to a case that was fought in the year 2014 which proposed that decriminalized laws could also be constitutional.
The constitutional court reviewed the appeal of a cannabis grower who had cultivated small quantities of cannabis for personal use.
As per data, prosecutors decided to drop 4,273 cases in 2014, which was about 1,100 more than those registered in 2013. In 2012, prosecutors dropped over 2,100 cases, with a further dip of 160 by the courts.

Does Poland Allow Cannabis Seeds?
The answer is 'Yes'. It enables the sale and purchase of cannabis seeds and they can be sent via post. However, they can't be germinated but can be purchased as a collector's item.
Rules If, Is Cannabis Illegal In Poland?
Possession of most drugs for recreational use, including cannabis, is illegal in Poland. Cannabis was considered a narcotic in 1951. However, it was only in 1997 that possession and use of the drug became a crime.
Is There Legal Use Cases Of Weed In Poland?
Since 2017, medical cannabis has been legal in Poland provided the patients must possess a doctor's valid prescription. They should also seek permission from a Regional Pharmaceutical Inspector to obtain cannabis products.
Laws & Legislation With Regard To Cannabis Being Illegal In Poland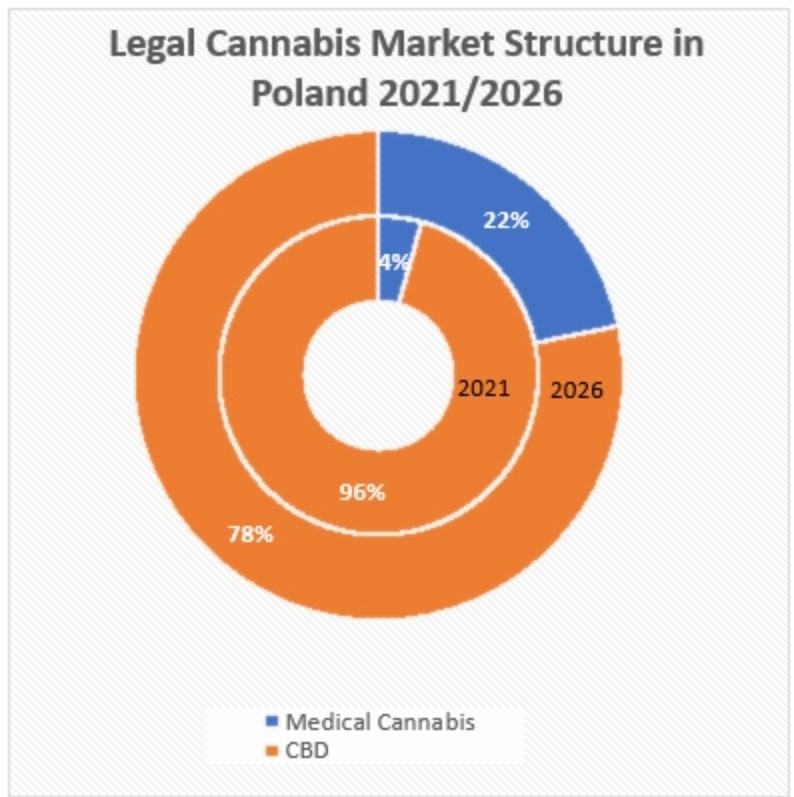 For Medical Use: Is Cannabis Illegal In Poland?
The legislation of Poland does not permit growing of cannabis. It should not be more than 0.3% THC in flowering tops of plants from which the resin has not been separated. (Non-Fibrous Cannabis).
The level of THC has been increased since 7 May 2022, earlier it was set at 0.2%. Research institutes are permitted to grow Non-Fibrous Cannabis to obtain raw material for the preparation of prescription drugs. (provided they obtain permits from CPI (Chief Pharmaceutical Inspector)
Scientific entities may also grow Non-Fibrous Cannabis for scientific reasons after getting a permit from the CPI. Importing and selling such cannabis for medical purposes as a pharmaceutical raw material is feasible too.
Any violations with regard to laws concerning Non-Fibrous Cannabis are considered criminal offenses and are punishable by fines or imprisonment.

Is Industrial Use Of Cannabis Illegal In Poland?
As per applicable laws, there's a list of don'ts that need to be followed for the use of industrial cannabis (Fibrous Hemp). Although there are recent legislative changes that were implemented on 7 May 2022. It stated the list of sectors for which Fibrous Hemp can be grown after getting an appropriate permit.
The list is as follows: –
Chemical, pulp and paper, cosmetics, pharmaceutical, textile, energy industries
Scientific research and Seeds industries
Land rehabilitation, breeding of hemp varieties, and land remediation;
Fodder, beekeeping, fertilizer, food, veterinary, and insulation purposes;
Building materials, production of composite materials, and natural plant protection products.
Each producer and collector of Fibrous Hemp will be required to get an entry in the register. This register is maintained by the National Agriculture Support Center.
The good news is that Poland has no strict regulations on CBD. CBD is becoming quite popular as a food or a cosmetic ingredient. CBD is not a controlled substance provided it is obtained from cannabis that contains less than 0.3% THC.
The only difference between (non-fibrous) cannabis and Fibrous Hemp is based on the content of THC. Also, it is practical to patent a cannabis-based product in Poland.
          New laws With Regard To Cannabis Use
On 29 March 2022, the Polish President signed the Act of 24 March 2022 revising the Act on Counteracting Drug Addiction. This law enables a rise in the level of THC in raw plant material from 0.2 percent to 0.3 percent.
 Good to know information
Countries legalizing the recreational use of cannabis are
Canada
Georgia
Malta
Mexico
South Africa
Thailand
Uruguay
District of Columbia in the U.S.

Conclusion: Is Cannabis Illegal In Poland?
The future regarding the legality of cannabis is still uncertain. Only 18% support decriminalization – that cannabis should remain illegal to sell – but possession of small amounts should not be deemed a criminal offense. 22% believe that consuming CBD products and cannabis is unsafe. 31% cannot predict whether recreational cannabis will ever be legalized.
Also, the present Government is quite conservative. Hence, we cannot expect big miracles in the coming years. However, Poland's medicinal cannabis industry can offer great financial opportunities.
Obtain medicinal cannabis through an easy-to-use, reliable Cannabis Delivery Software. It has been designed to help marijuana dispensary owners with delivery management.  Or then you can also get a PWA which is a type of web app that works on both as a web page and mobile app. Using standard technologies, PWA delivers native-like user experience, with quick conversion and clean browsing even with a poor Internet connection.
Our software solution for Cannabis delivery is BongMe. This has been designed to help marijuana dispensary owners with marijuana delivery management. We have an easy to use online web portal and a Progressive Web App (PWA) for customers, a store app for dispensary owners and a driver app for delivery agents.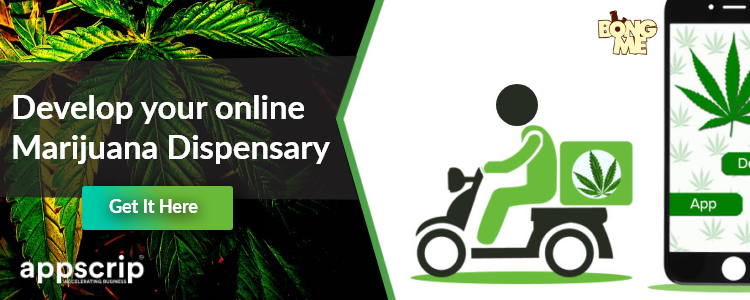 With an Engineering degree and a Diploma in Management under my belt, I worked for 16+ years in the automotive industry with various manufacturers. But my passion for writing was overwhelming, which I turned into a career. I have been writing for more than 10+ years and mostly in the IT domain. I am sure you will find the 300+ published blogs of mine in here informative, exhaustive and interesting.