Ecommerce accounts for only a fraction of the total retail sales in India.
India's retail market garnered $79 billion last year and is estimated to breach $188 billion in four years. Therefore it is obvious the big guns would have their sights trained on this nascent market.
Reliance Retail needs no introduction at this juncture.
Reliance Retail is the largest retailer in India by revenue serving 3.5 million customers weekly via 10,000 physical stores at 6,500 locations.
Two subsidiaries of Reliance Industries – Reliance Retail and Reliance Jio have soft-launched JioMart App, an ecommerce venture that works in tandem with neighborhood / Kirana stores to supply day to day goods to households.
We are proud to mention that Appscrip team built this App onsite to maintain protocol.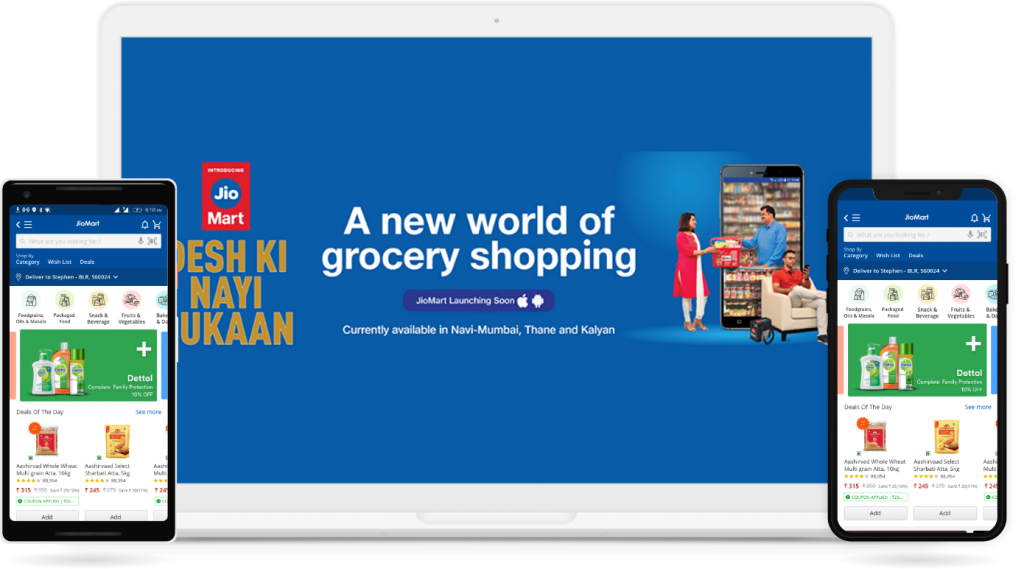 JioMart Ecommerce
JioMart is an ecommerce marketplace connecting retailers with customers. Jio Mart does not maintain warehouses instead local retailers and Kirana merchants will list goods on the portal and sell them.
It is an online to offline business model where customers place orders online and an offline shop will complete the delivery.
Currently, consumers in Thane, Navi-Mumbai and Kalyan can use the service. JioMart is an e-commerce platform that currently offers a catalog of 50,000 grocery items.
JioMart will enable new opportunities for the 60 million small businesses across India. Since its launch, JioMart has expanded its wings into smaller cities and recently crossed 250K daily orders.
The JioMart app is very intuitive and the prices of products is lower in comparison to the prices in other establishments. Literally all sorts of good such as milk products to veggies, groceries and household items, is competitively price.
The app is a go-to app for all families. JioMart is a one-stop destination for groceries, veggies, fruits, kitchen, home appliances, fashion, beauty products and much more!
How The JioMart App Works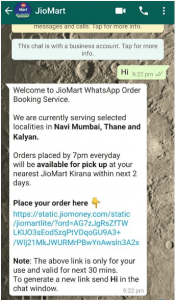 To place an order on JioMart, customers should add JioMart's WhatsApp number to their contacts
—Then customers are to send a message to the JioMart.
—JioMart will reply with a shopping link and a "Welcome to JioMart WhatsApp Order Booking Service". The link would be active for 30 minutes.
—After you open the link, you will be redirected to page to enter personal details like mobile number, area, locality etc.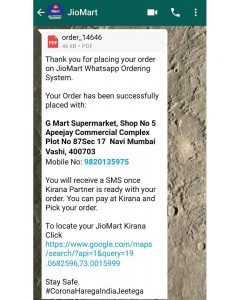 — Then a new page with the grocery items listed vertically will appear. You can then complete you shopping by adding items to your cart.
—And generate the order, JioMart will send an invoice and the grocery store's address and its location on Google Maps.
—The customer will be informed via an SMS from the store after the order is ready. Customer can now go pick the order from the store and pay for it.
How Appscrip Created JioMart
Jio needed to develop and deploy their app quickly but lacked requisite manpower. They noticed Grocer – our grocery delivery software solution and were impressed by it. Having created a grocery app we were well aware of the intricacies involved and could help launch their App quickly.
They found the UI/frontend intuitive and easy to comprehend. The success of a grocery app largely depends on UI/UX experience. Also our expertise in multi-platforms and design worked in our favor.
Hence they decided on partnering with Appscrip. As required by the Jio management the App was completed by our team as planned.
Facebook & Reliance Collaboration
Facebook and Reliance Industries announced that Facebook will invest around $5.7 billion making it the largest deal in India's digital ecosystem and the largest FDI in the technology sector by picking up a 9.99% stake in Jio Platforms (Rs 43,574 crore).
RIL's wholly-owned subsidiary Jio Platforms is the beneficiary that works on digital apps, digital ecosystems, and the popular mobile service. This investment has raised the value of Jio Platforms to $66 billion.
As of now the two entities plan to collaborate around JioMart. Jio has partnered with Facebook as it would enable them to utilize WhatsApp's network to assist Jiomart leapfrog in this competitive domain which has big-wigs present.
The first positive impact of the Facebook-Reliance Jio deal will be felt by JioMart.
Facebook Advantage 
But Facebook investing in Jio is more about WhatsApp as 20% of WhatsApp's 2 billion users are Indian residents.
The new alliance has the capability to strike gold for both entities as WhatsApp could emerge as a superapp and JioMart could go on to beat other ecommerce entities.
WhatsApp foresees an opportunity to become an enviable marketplace in the near future, as it already has a humongous customer base.
WhatsApp could connect millions of Kirana stores with users. Jio can use the location data to discover local businesses and WhatsApp will enable trade between customers and traders.
There is a possibility that some stuff you ordered may not reach you. But not to worry, you are issued a refund, expect some items missing during delivery.  And hence the ordered list and the invoice would be different. Of course the difference in amount would be refunded in your account if it's a prepaid order.
Although such incidents do occur with most delivery services, with D-Mart on a regular basis, and some time with Grofers, but never had such issues with Amazon Pantry and BigBasket.
Amazon has reason to worry
Amazon relies on local stores and the adoption of e-commerce in India's cities for growth. Smaller towns account for 65% of Amazon's orders in India, while bringing in 85% new customers. This was achieved by expanding its Local Shops.
Across 450 cities Amazon enrolled over 50,000 sellers under this program, which was a huge jump from 5,000 stores in April last year. But this still falls short of JioMart's numbers in terms of volume, even Amazon claims to have a presence across more cities.
On the whole Amazon's grocery business gained traction; thanks to its expansion into smaller cities. The non-metro areas accounted for 60% of new grocery customers. The company's grocery category has doubled its growth in a year.
According to Goldman Sachs JioMart could give Amazon a run for its money in the online grocery market space as it is expected to breach $29 billion in revenue by 2025,. JioMart is expected to capture 50% of the market.
As of now Amazon's share of India's e-commerce market is 31%. And this could be good fortune as the market size is expected to touch $200 billion by 2026. For Amazon business from India is anticipated as 20% of its overall growth in the coming five years. But Amazon will have to move a notch up to maintain its momentum and market share in the face of new competitors. 
WhatsApp Eyes Being A Superapp
WhatsApp pay has not yet been cleared by Indian finance regulators. Which would basically allow users to send money from one WhatsApp account to another using an UPI backend. Once this is enabled, users would be able to order groceries on the JioMart App from nearby Kirana stores and pay from within the app itself.
It is WhatsApp's simplicity and extensive reach that makes it ideal in a nation such as India. Mark Zuckerberg founder of Facebook announced that he expects WhatsApp Pay to be live in a couple of months. Till then, it would be JioMoney that would take care of the revenue model in this collaboration.
This synergy would help WhatsApp garner super-app status. One focus of the collaboration with Jio is to create new avenues for people and businesses to operate efficiently in an expanding digital economy. By bringing together JioMart and WhatsApp, people can now connect with businesses, browse and purchase products through a flawless mobile experience.
WhatsApp is awaiting regulatory approval to enable digital payments for all its 400 million-odd users in India.
JioMart's Progress
At Reliance's Annual General Meeting in 2021, Ambani pointed out that JioMart has touched 650,000 peak orders in one day. That is an amazing increase compared to the 250,000 daily orders that JioMart was garnering a year back. And it was getting around 500,000 daily orders toward the end of 2020. It has also been noticed that orders from local kirana stores have jumped three times in one year, while grocery orders have doubled.
JioMart's growth has been driven by their strategy of onboarding local shopkeepers onto its platform and hence now 80% of JioMart's customers have been placing repeat orders on the e-commerce platform.
JioMart has signed on close to 300,000 merchants and local shopkeepers across 150 cities. This is a smart move as local shopkeepers reportedly control 94% of India's profitable food and grocery market. JioMart not only recruits local stores as franchise partners, but then goes on to give them technological tools to fulfill online orders. Therefore now customers just place an order from the JioMart app and it is fulfilled by their recognized neighborhood store from where they have been traditionally purchasing goods.
JioMart is receiving half of its orders from India's tier-two and tier-three cities. Tier-two cities are those having a population between 50,000 to 100,000 people and tier-three cities with a range of 20,000 to 50,000 residents. These cities are responsible for driving a nice chunk of the country's e-commerce growth.
Winner JioMart & The People
Reliance Retail's e-commerce arm JioMart has expanded its active customer base on Whatsapp by 37% on a monthly basis. The number of order to JioMart from Whatsapp has gone up 9x after the launch.
During August 2022, Jiomart and Whatsapp announced their integration. This is to provide a cumulative shopping experience for customers so as to browse, select, and pay for the JioMart within WhatsApp.
Reliance Retail reported a 6.3% increase in profit to Rs.2,400 crore for the last quarter of 2022.
JioMart has been witnessing broad growth across all town classes. The platform recorded more than 50% sale from tier 2 markets.
The winner here will be the small traders who gain an easy opportunity via JioMart to connect with customers and sell online using a platform they comprehend. JioMart in most probability will reach the magical figure of 5 lakh daily orders by September 2020.
Bigbasket that is reputed for its micro delivery platform does about 250-300K orders a day while Grofers and Amazon Pantry cover over 1 lakh orders daily.
Jio could profit as users would stay in their ambit with various products on offer and thus emerge as a destination and not a medium which no service provider in India has been able to become.
JioMart also goes on to empower millions of small businesses across the country to enter the ecommerce space without a website or a payment gateway. They just look forward to the WhatsApp Business app to reach out to customers across the length and breadth of the country.
In the future it is the transaction value that would help with valuation in case Jio prefers to lookout for an IPO.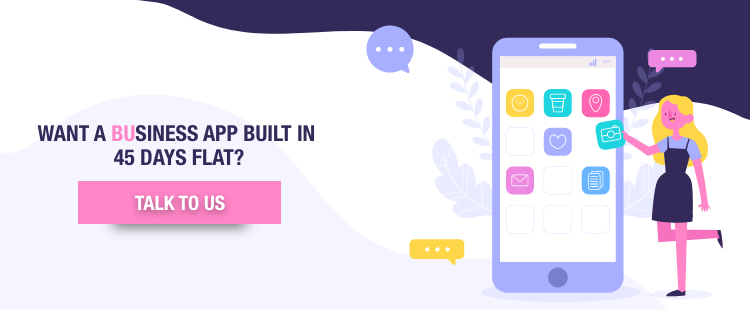 After an Engineering degree and a Diploma in Management I devoted 16+ years working in the automotive industry. My innate skill and extreme passionate in writing, encouraged me to adopt it up as my profession. I have been writing for more than 10+ years in the software industry. The 400+ blogs I published are informative, exhaustive and interesting to a professional and causal reader.