As the economy starts to tank and businesses fall by the way side, there is a streak of silver lining. Online business is picking up like never before. And not to forget the online cam girls live streaming show business.
---
Cam Girls?
If you have seen the movie "CAM" then you will know the concept. This is a platform where girls and even guys interact with their viewers, mostly performing acts that are sexual in nature – a kind of digital peep-show.
Unlike prerecorded pornography, cam shows happen in real-time. At any given time, hundreds of models are online, some being watched by 1,000 or more people, others giving private shows.
Why Is There A Surge in Popularity Of Online Cam Girls
Camming is growing because it's LIVE. The model responds to you directy while you type. There's a real-life interaction happening. This, you won't get from watching a porn.
Some girls learn personal details of  their admirers – his birthday, the names of his children and even his pets.
The guy may pay her to achieve an orgasm, even though she is not a prostitute. He may purchase erotic videos from her, though she is not a porn star.
Porn doesn't offer that live interaction of conversing with a model. Guys can feel a personalized connection with their favorite performer.
Business Boom in  Hard Times
Because of the entire distancing thing, sexy solo performers are raking in the bucks as millions of holed-up lusty guys look to relieve their outbreak anxiety.
OnlyFans, a website where people subscribe to see the kind of pictures and videos that can't be displayed on Instagram, reported a 75% increase in overall new sign-ups — 3.7 million new sign-ups this past month, with 60,000 of them being new creators.
How Does The Online Cam Girls Industry Work?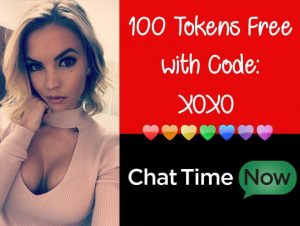 Models broadcast live sex shows for online audiences. Fans pay them in virtual tokens. The online currency is used as a way to get around financial institution regulations regarding the purchase of adult content.
The acts entail stripping and chat in real-time, with the option for a private show away from other viewers at a higher price.
On most cam sites models stream from home. Performers can choose to accept or turn down audience requests, They can set their own rates for private shows or fetish requests such as foot worship, role-play etc.
They also have the option to block viewers who are rude or overly demanding from their chat rooms.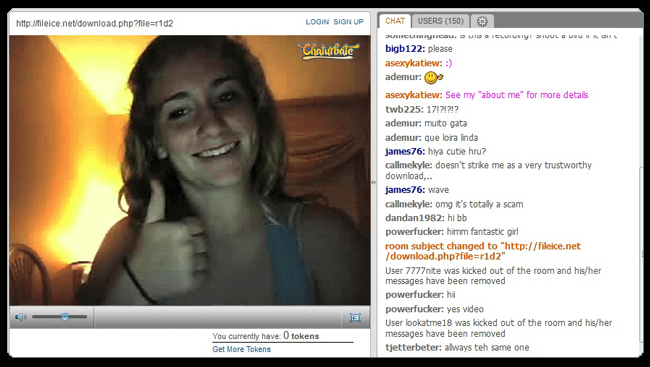 Since major credit card companies don't process payments from adult entertainment sites, cam sites rely on third-party platforms that often charge 5-10% of the model's revenue.
Cam sites that allow viewers to tip performers typically require a 65-75% cut of the model's earnings, sometimes on top of other processing fees.

Spenders' virtual tokens are converted into dollars.
LiveGirls Cam Business Model
There are three key stakeholders in the online cam girls business.
Models
Audiences
Site owners
Many popular webcam sites such as Chaturbate have site administrators as well. Quite a few live camming sites have ties with content production studios.
Chaturbate uses a tipping system. Audiences are encouraged to buy tokens to view certain sexual acts.
Chatrooms have leaderboards. Top tipper names are mentioned. The top tipper or the biggest spender gets a special gift such as a pair of used panties from the cam model.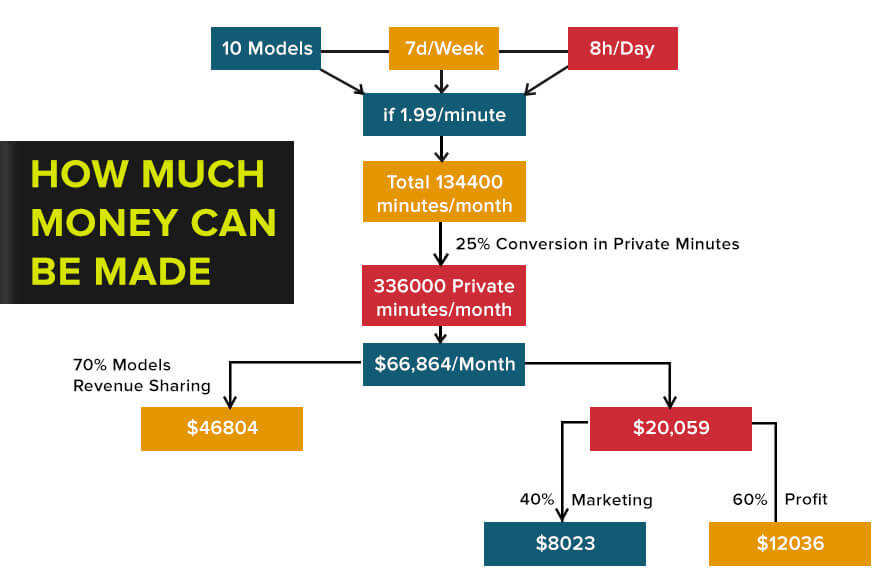 Setting Up Camming Website Or App
# Whitelabel Cam
A White Label site is a rebranded version of a live webcam product, labelled as your own, tailored to monetize your traffic sources. Whitelabel solutions are offered by the camming networks.
Right from site development and maintenance to recruiting models and processing payments, the camming networks handle every aspect.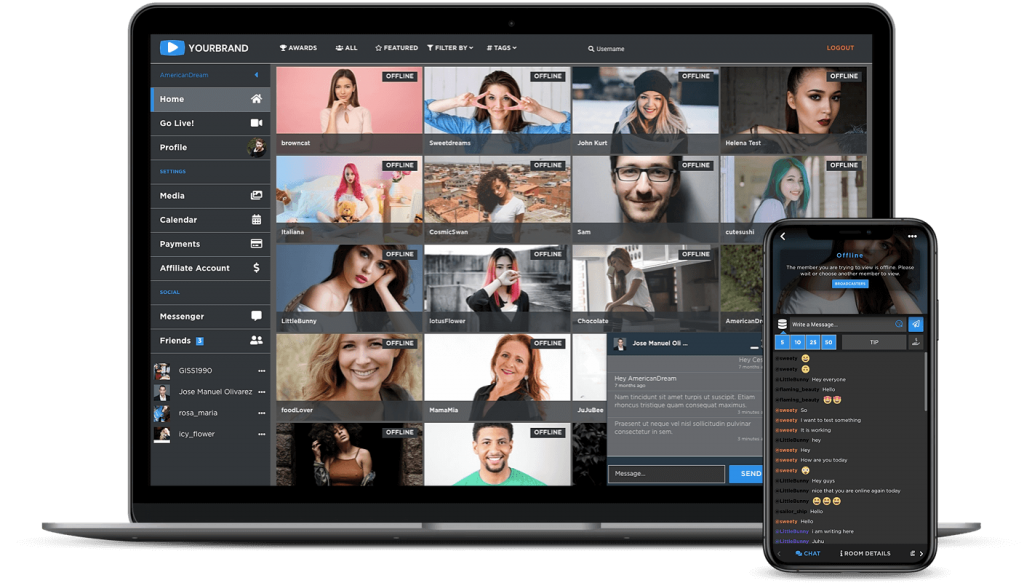 Advantages
There are many advantages. Apart from SEO, there's nothing much to do.
Camming whitelabels are easy to operate. They are affordable as well. You can operate a camming whitelabel with as low as $30 per year. There aren't any hosting expenses either. You can be creative and design your camming site to the camming network servers.
Disadvantages
The extent of control varies from one camming network to another. You have little control over your website elements. Some do not allow you to change the color schemes and set-up your own website logo. Your website space may be filled up with irrelevant ads.
More importantly, camming networks may take more than 50% of your earnings as commission.
Build An Adult Cam Website/App
Ideally, the girls cam online software should have the following features:
Scalability: Camming site should handle several thousands of users simultaneously by balancing video stream, database and static content.
Feature
Description
4 types of dashboards
1.     User dashboard

2.    Cam model dashboard

3.    Studio dashboard

4.    Super admin dashboard

Payment gateway
CCBill or another payment gateway that's conducive to high risk merchants
Live chat options
Free chat, private 1-on-1, group chat and peek shows
Geo-blocking users
Models may like to block audience from certain geographies
Ban users
Models may like to ban annoying users. If users fail to maintain standards of decorum, the site administrator may ban them
Pricing
Two types of pricing: Site owner and performer pricing
Responsive Design
Camming site adapts to different screens of different resolutions. Mobile compatibility is mandatory
Rebrand-able / Customization
Add your own logo, color scheme and theme layout
The best thing about this approach is that you have complete control over your camming site. You need not share your earnings.
Popular Model App
Models from India like Sherlyn Chopra and Poonam Pandey have successfully launched their own personal apps and are making a killing in the online cam girls industry.
As per the Playstore description the app has the following features:
– Photos and Videos: Check out exclusive Videos & Photos
– The F You Show – Watch spicy episodes of Sherlyn's new show on relationship problems
– Go LIVE personally with Sherlyn Chopra
– LIVE Gifting, send her a rose, hearts or a gift of your choice from the gift store while chatting with her.
---
The COVID-19 pandemic has thrown up a lot of businesses in the spotlight. As social distancing becomes the new normal, businesses catering to at-home needs are going a serious transformation.
If you are an entrpreneur looking for ideas for a new business or if you are an aspiring model wanting to earn extra money as a side business now is the time to launch your app.
---