Consumers are increasingly turning to the convenience of online grocery shopping. Orian Research tells the market for online grocery delivery startups in Ireland and the world will expand at a compound annual growth rate of 23.7% between the years 2020 and 2025. According to the findings of yet another study, it is anticipated that the online grocery store business will be worth $250 Billion within the next five years.
These projections will, without a doubt, capture the interest of many business owners in the growing market for online grocery delivery startups in Ireland.
The Best Online Grocery Delivery Startups in Ireland
Buymie
To make grocery shopping easier, Buymie is a mobile-first online grocery delivery startup in Ireland that enables users to order from a list of participating stores and have their items delivered to their house within an hour. The startup founded by Devan Hughes asserts that convenience and e-commerce are at the heart of the company's aim.
The platform's goal was to give shops of all sizes the option of offering online and on-demand delivery services. A retailer can expand their consumer base, generate more money, and build new relationships with their customers by working with Buymie.
JustGrocerys
JustGrocerys is a multi-grocery platform based in Ireland that serves all 32 counties in the country and provides a convenient means of doing your grocery shopping.
You can input your typical shopping location and the software will provide a list of nearby grocery stores and products. From Spices to Packaged items, you can focus your search on a certain type of product, or you can use the Vendors page to find products for major cuisines in Asia, Africa, Europe, and the Middle East.
More than 10,000 products are available on a single platform for vendors to promote their goods and services.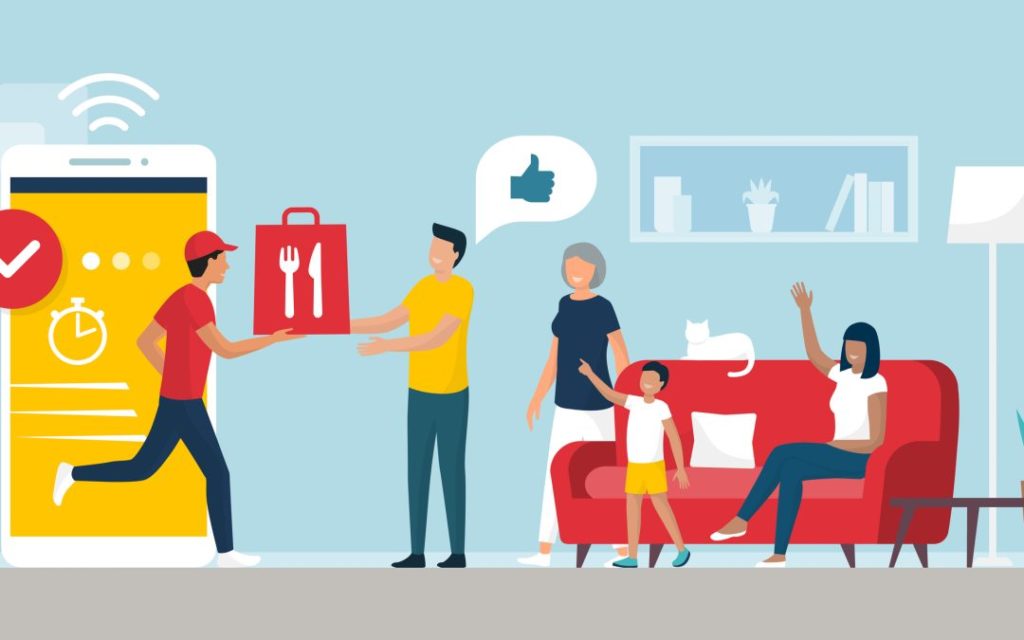 Shuppa
Shuppa is Ireland's first quick grocery delivery service, aiming to deliver clients' groceries, which would include alcohol and cigarettes, within 15 minutes of placing an online order. From the company's Dublin 1 headquarters, a crew of riders on e-bikes is currently delivering goods to customers in a delivery zone in 11 minutes.
Launched nine weeks ago with €260,000 in start-up financing from family, friends and angel investors, Sean Meagher's Shuppa is already looking to expand its reach. In the foreseeable future, he believes there is room for 12-15 sites for online grocery delivery startups in Ireland. Aiming to expand to 100 employees by the end of the year, the company now employs 20 individuals.
Deliveroo
Will Shu established Deliveroo in 2013 as an online grocery delivery startup in Ireland and in London, the company now has operations in over 500 towns and cities throughout 12 markets. It began operations in the local market in 2015, and it presently collaborates with more than one thousand riders and more than one thousand eight hundred eateries in Dublin, Cork, Limerick, and Galway.
Deliveroo, in addition to providing takeout, has branched out into the grocery delivery business by forming a collaboration with Aldi. This cooperation was expanded to cover an estimated 1.5 million customers in the Republic.
Deliveroo has twenty people working for them in Dublin, however, its riders are considered to be independent contractors rather than employees, so they do not receive benefits like a paid vacation or sick leave.
Features that are essential for Online Grocery Delivery Startups in Ireland
Order processing
The order management option enables vendors to efficiently manage a variety of order requests all at once. They have access to a variety of information, including the number of orders that are still being processed, the total number of orders that have been delivered, the order history, cancelled orders, and withdrawal requests.
Keeping track of inventories
It might be difficult to manage inventory operations if you don't have a systematic inventory management system. An online grocery marketplace that includes an inventory management module is helpful to vendors in that it allows them to monitor the stock of their products and regularly monitor the status of their inventory.
Ability to create reports
With the help of this function, monitoring and analysing daily sales reports no longer denotes a difficult task. The overall performance of the business can be viewed by the vendors by allowing them to check the net revenue of their store and receive daily sales updates.
Logistics support and delivery application software
It is easier for vendors to effectively manage their logistics operations when they have access to an online grocery marketplace that brings with them logistics support and delivery apps. Grocery items can be delivered to customers quickly and without any complications by merchants who sell them.
Multiple payment options
A feature that allows for multiple payment methods gives customers more flexibility when choosing how to make their purchases. They should be able to complete payments using a variety of methods, including credit and debit cards, internet banking, digital wallets, cash on delivery, and any other methods that are offered on the market.
Delivery planner
Customers are given the ability to choose when they would like their orders delivered thanks to this feature. During the checkout process, they will be given the option to select the day and time of the product delivery that best suits them. Door-to-door delivery was an important factor for online grocery delivery startups in Ireland during the Covid-19 pandemic. The buyer has the ability to ensure the door-step delivery of the item that they have ordered by using the delivery scheduler option. This can be done according to the buyer's availability.
Use a Mobile or PWA app
A buyer's experience of shopping for groceries online can be made more pleasant if the online grocery marketplace they use comes packaged with a buyer app. Customers can avoid the hassle of looking for the online grocery marketplace on the web by placing an order through a mobile app, which allows them to do so at any time, from any location, and with only a few clicks.
We can help your grocery delivery business grow with our app development services. Our Grocer App is a multi-store grocery delivery application that enables your customers to have a seamless experience from shopping for groceries to processing payments online and providing real-time tracking.
The solution also provides merchants with order fulfilment services, inventory management, and fleet management features like assigning drivers to a particular customer order.