How does an e-commerce platform

that allows people to swim in a pool of competition for as low as $29

make money? The word 'Shopify' slipped from your tongue before this question entered your mind. Didn't it? The eCommerce world is changing rapidly, with Shopify at the forefront of this change.
Tobias Lutke and Scott Lake sat down to build an online snowboard store in 2009 and ended up introducing the world to its biggest e-commerce platform, we know today as Shopify. Lutke and Lake weaved these words to express their experience building the Shopify business model:
"We set up our online store based on a variety of different systems such as Miva, OsCommerce, and Yahoo stores. Truth be told, all those systems made my skin crawl because of how bad they were. The final straw was when I got a custom design made for my snowboard store, and I couldn't get it to work in Yahoo stores. We had this great CSS-based layout done with all these new fanged 'web standards' and the customizability of Yahoo Stores barely allowed me to change the background color of the top frame."
Sitting over an almighty e-commerce code, Shopify has shushed its strong contenders. The power this platform provides is worth a lot more than its basic monthly subscription plan. The platform is perfectly laced with 325,000 shops. Even the internet giants, including Google and Tesla, love to arm themselves with the biggest e-commerce weapon. Shopify gets to sit over more than $20 million every month. But, is Shopify satisfied?
Shopify is like a tiger in tall grass, who waited for its opportunity to dart the market with the financial services stream (fintech). Now that Shopify Business Model already has it, it is expanding and evolving from a tool to an ecosystem? Snowboarding enthusiasts didn't come this far to only come this far.
Today, selling wares just about anywhere in this world is as easy as sailing through the Shopify platform with a subscription plan in hand, thanks to 70 integrated payment methods and 50 languages. This feature-rich eCommerce stands out among the pool of eCommerce store builders (BigCommerce, Magento, Volusion, and Squarespace). In conjunction with intuitive content management tools, its cheap subscription plan serves satisfaction on the plate of life of its subscribers. A robust store builder makes sellers millionaires and millionaires, in turn, make Shopify a billionaire-dollar business.
"Our mission is to make commerce better for everyone, and we believe we can help merchants of nearly all sizes, from aspirational entrepreneurs to large enterprises, and all retail verticals realize their potential at all stages of their business life cycle." – Shopify
Shopify Business Model Canvas
Business model is the rationale of how an organization creates, delivers and captures value.
Shopify Business Model Canvas was invented by Alex Osterwalder et al to help organizations analyze, design, and develop models.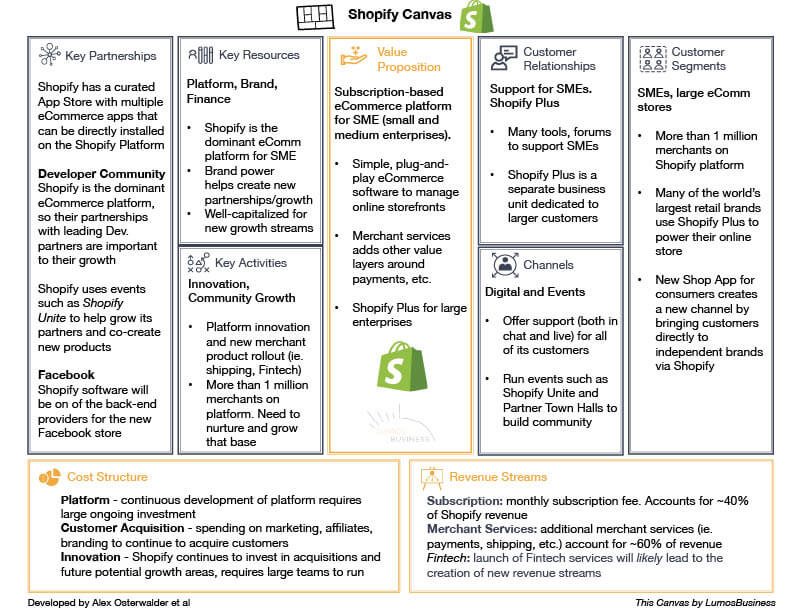 Shopify Business Model as Per Stratchery.com
This Shopify Business Model as per Stratchery.com reveals that consumers aren't aware of Shopify's existence. The reason being, Shopify is shy. It doesn't interact with customers directly as Amazon does. Shopify allows third-party merchants to sit on it and steal the show. 
This Shopify business model's diversity reveals how powerful it is. Shopify platform is topped off with referral partners, developers, theme designers, and 3PLs who are given opportunities to compete against each other narrowly so that Shopify can succeed broadly.
Shopify created a simple-to-use, functional, and visually appealing platform that sellers and buyers would love to splurge on. Its announcement in June 2019 on lacing the USA up with warehouses made clear that it is all set to play tug of war with Amazon. So, let's spice up the scene a bit by giving you a dose of information on Shopify's sources of revenue.
Shopify doesn't even stand anywhere near greedy corporations. It offers a lot of services (including hosting your website, payment processing system, and a blog) for a fraction of the cost. So how does it make money?
Shopify's Revenue Sources: How Shopify Makes Money
Subscriptions
Shopify lets users enter its ecosystem via two entry-level packages: basic plan and standard plan. However, Shopify's monthly package's shape and size change as per the given needs of customers. As subscribers' needs grow, they love to jump on Advanced Shopify and Shopify Plus (starts at $2000) plans. Shopify Plus comes with more scalability, support, functionality, and of course, much higher cost.

Shopify Plus was a step built in 2014 on the company's success stair. The purpose was to move upmarket. Offline brands Heinz and Nestle migrated online. Digital-first brands Allbirds and Gymshark subscribed to Shopify Plus. At that time, over 7000 such giants paid $2000 per month, sat on Shopify, and took the front seat to drive merchant service and subscription revenues.
Today Kylie Cosmetics, Unilever, MVMT, Budweiser, Tesla, The Economist, and many other giants sit on Shopify, and 218 million people who buy from these giants aren't even aware of Shopify's presence, noted Ben Thompson from Stratechery.
Advanced Shopify and Shopify Plus

 
A high-profit percentage is perfectly nestled within Advanced Shopify and Shopify Plus plans. What does this mean? This means that majority of the dollar amount comes from Advanced Shopify and Shopify Plus subscribers. Shopify also says that the willingness of the user to stick to the service is highest in the Plus plan. Subscribers fear leaving Shopify. After all, what do you get with $29?
Shopify business model bundled cloud web hosting, payment processing, round-the-clock customers support, unlimited uploading of products, abandoned cart functionality, and different social media sales channels into a $29 plan. Don't you think this choice is a no-brainer? 
Another subscription plan that stole the hearts of Shopify fans once again is Shopify Lite. It is the answer to "How would you sell without using an online store?" The plan costs as low as $9 per month. Web owners can introduce their existing web properties to the Shopify store through Shopify Lite. It allows you to embed a buy button on your sites and sell through social media without letting you build an online store.
Merchant Solutions
Merchant Solutions is an umbrella term that houses all the key offerings that come in conjunction with the online store. What do these offerings include?
Shopify Payments

Shopify POS

Shopify Shipping and fulfillment

Shopify Capital
Note: Services mentioned above love to become an integral part of merchants' processes.
The days are long gone when Shopify store owners used third-party payment gateways (Paypal, Stripe, and Square) to collect customer payments. Shopify Payments is the company's attempt to inject convenience into the platform.
The Shopify Payments system serves satisfaction to its users. Here's how:
By allowing them to track revenue within the dashboard itself.

Erasing the hassle to jump on another platform to collect the income.
Shopify takes a cut from every product processed through the platform. How much? Well, it varies with the subscription plan, but one thing is for sure: Shopify Payments is the company's principal source of income. Shopify takes 2.4% per transaction from Lite plan subscribers, while Advanced Shopify plan subscribers only pay 0.5% per transaction.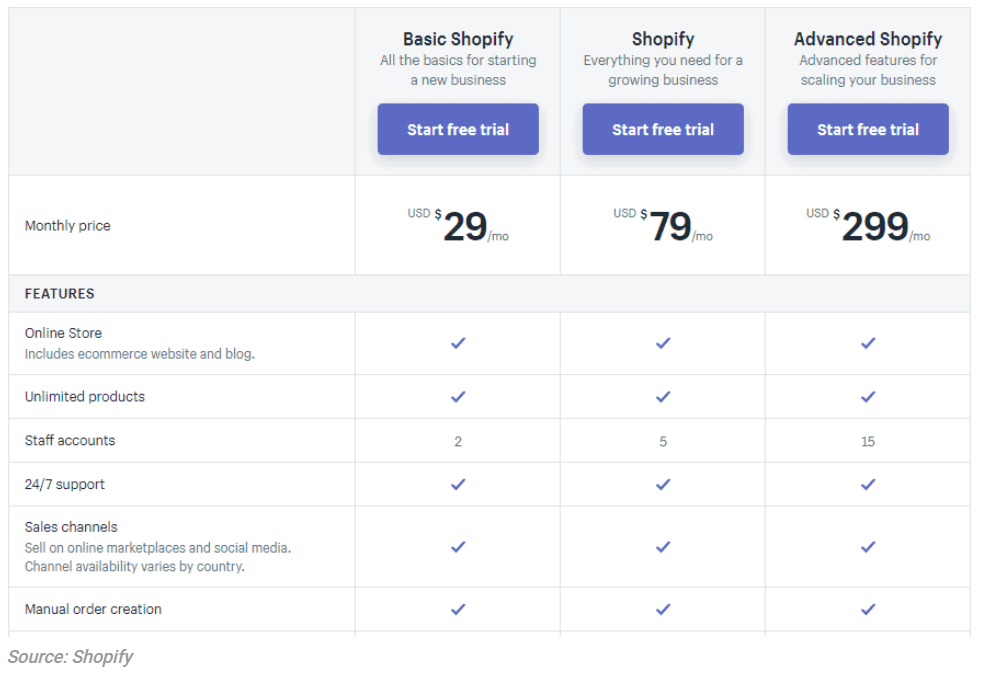 The transaction fees for online credit card sales:
For the Basic plan, 2.9% + 30c ($0.030) 

For the 

Shopify plan, 2.6% + 30c ($0.030) 
For the Advanced plan, 2.4% + 30c ($0.030) 
The transaction fees for in-person credit card sales:
For the Basic plan, 2.7% 

For the 

Shopify plan, 2.5% 
For the Advanced plan, 2.4%  
Note that Shopify Payments isn't a rope that binds you with the platform. It's a parachute you can use anytime you want. That said, merchants can still use a different payment gateway, but remember, the Shopify business model is still designed to take a cut.
For the Lite plan, 2.4%
For the Basic plan, 2.0% 

For the 

Shopify plan, 1.0% 
For the Advanced plan, 0.5% 
These fees don't apply to the Point Of Sale (POS) transactions and manual payment methods (COD, checks, bank deposits, test orders, and draft orders). 
Shopify Point-Of-Sale (POS)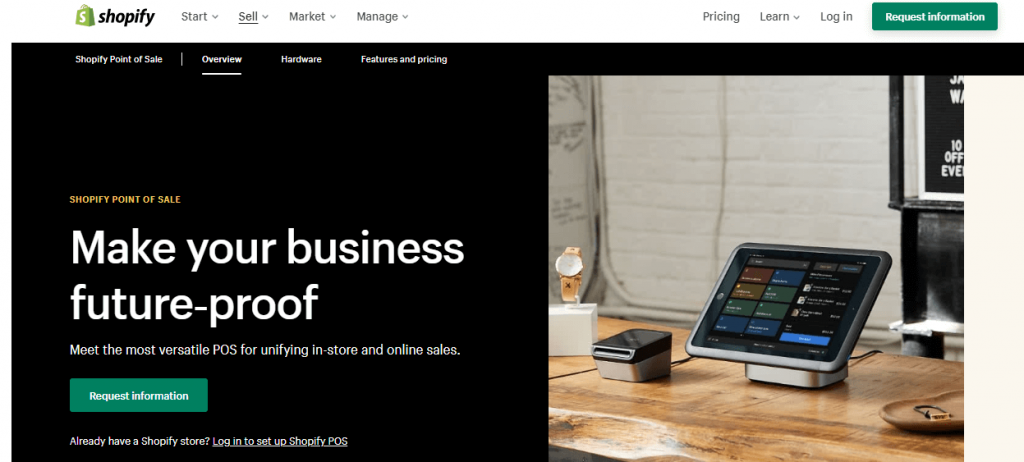 Isn't the term "POS" often associated with retail stores? So, is Shopify an offline store builder too? To your surprise, yes. It is! 
POS is a sale hardware solution launched by Shopify in 2013. Online-first Shopify stores, when started expanding offline, a challenge was waiting for them: integration of both channels (online and offline). Overselling and underselling problems were rising as a result of a 5-minute lag in synchronizing inventory between POS locations and the online store. What was the solution? A single database (with online and offline channels connected)! 
POS empowered merchants to walk from multichannel retail to omnichannel retail, i.e., from siloed marketing to unified marketing. Shopify enjoys a 30% increase in revenue year over year by over 1 million businesses that use Shopify to unify their sales. 
What does Shopify's POS hardware equipment include? Credit card readers, iPad stands, Cash drawers, scales, shipping label printers, Shopify retail kits, barcode scanners, barcode labels, and printers, to name a few. 
Shopify POS Pro also exists at $89 per month that comes attached with features like in-store analytic, unlimited registers, smart inventory management, and the list goes on and on. 
Shopify Shipping and Shopify Fulfillment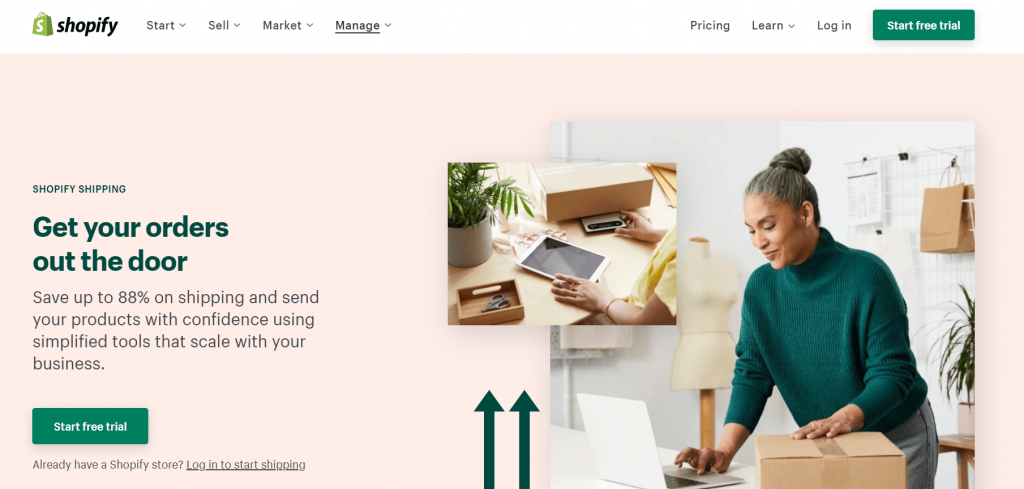 What if we say the Shopify Shipping program gives merchants discount (20%-50%) on shipping rates from UPS, DHL Express, Canada Post, and USPS, and that too, without charging extra from its subscribers? Doesn't this program contribute to Shopify's bottom line? Suddenly this explanatory term "Shopify Shipping" doesn't seem so self-explanatory. So how is the Shopify business model designed to make money?
Shopify sells shipping labels, and the cost of these labels is in the hands of the four giants mentioned above. After purchase, you can see the total amount sitting in your Shopify account, along with additional fees and taxes.

What is Shopify Fulfillment? 
Shopify Fulfillment is a relatively broader concept than Shopify shipping. It is an umbrella term that covers storing, packaging, and shipping of e-commerce products. 
Suppose your business is of the size that buying a warehouse to store products is no longer feasible. What would you do? You would outsource your business to a fulfillment provider (the one who houses your products, packages them, and ships them to consumers). Now, if someone else can do it for you, what would you do with Shopify? As explained earlier, it negotiates discounted terms with fulfillment and shipping providers. 
Shopify houses merchants' products in its fulfillment centers. Most important, it technologizes fulfillment. It uses machine learning to find intelligent order routing and smart inventory allocation across warehouses. Shopify's ability to optimize fulfillment operations is the fuel merchants use to run their businesses.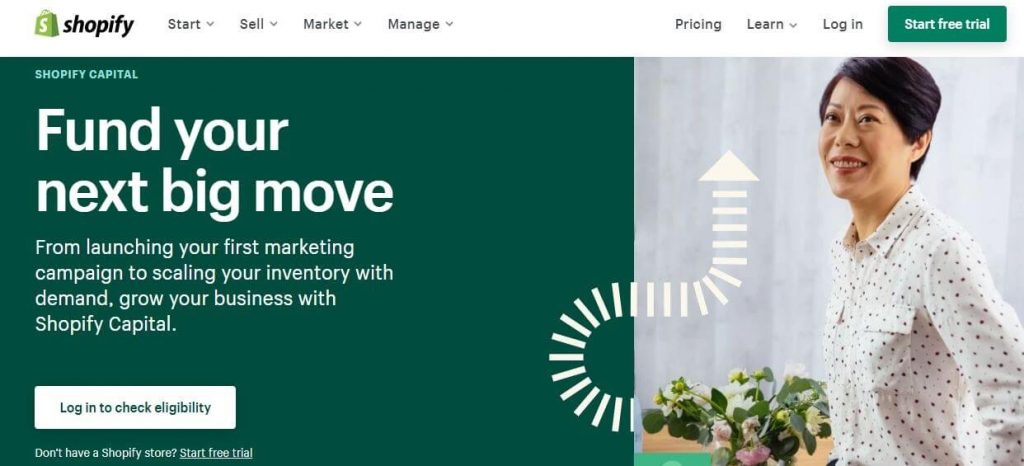 The success of Shopify is directly proportional to the success of merchants. That said, when merchants grow, Shopify grows. To accelerate merchants' growth, the Shopify business model built a new growth hack, Shopify Capital. 
The idea behind Shopify Capital was to fix the shortcoming of securing capital traditionally. It is Shopify's answer to Square Capital. Launched in April 2016, Shopify Capital allows merchants to take out loans and access cash advances to give wings to their businesses. Merchants can borrow as much as $1 million and can repay within 12 months. 
Note that not every merchant can benefit from Shopify Capital. It is a weapon to use only by those who have enough grease to play smoothly on the platform. That said, Shopify favors only low-risk profiles that have the right amount of gross merchandise volume. What else it considers? It also checks if you are located in the US and if your Shopify Payment is enabled.  
Merchants have to pay fixed borrowing costs to obtain a loan, and when it comes to repaying, Shopify keeps its eyes on merchants' sales to subtract the money. What if sales fail to cover the loan? The outstanding sum finds its way to the merchant's account. 
Note: The loan's repayment date fluctuates. When it comes to collecting money, Shopify doesn't care about monthly payments. It takes a cut from your daily revenue. 
Shopify Exchange: Gift A Business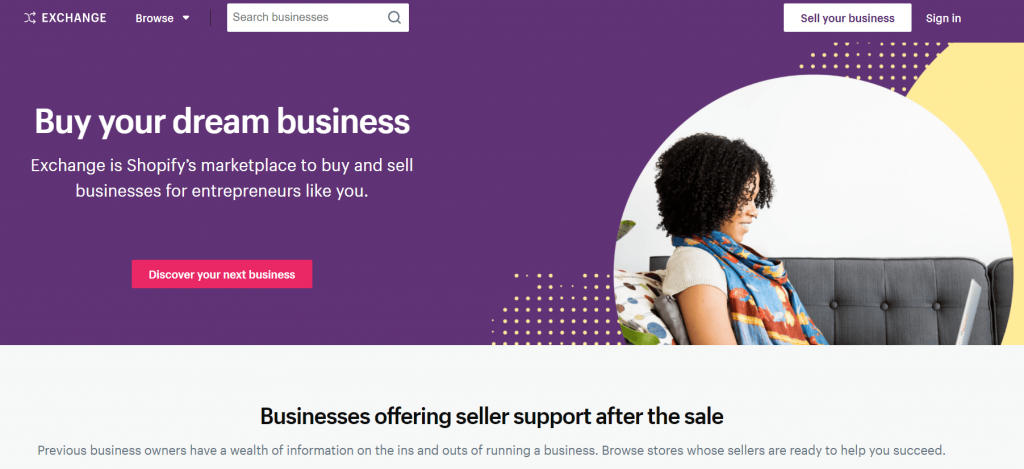 Shopify Exchange, a marketplace that lets merchants buy and sell Shopify stores, was launched in 2017. Merchants can lace their profile with the revenue they generate each month, the profit they make, and the orders they process before listing it on Shopify Exchange. A listing fee of $10 is charged by Shopify. It also takes a cut from the sales price. 
Partner Referral Fees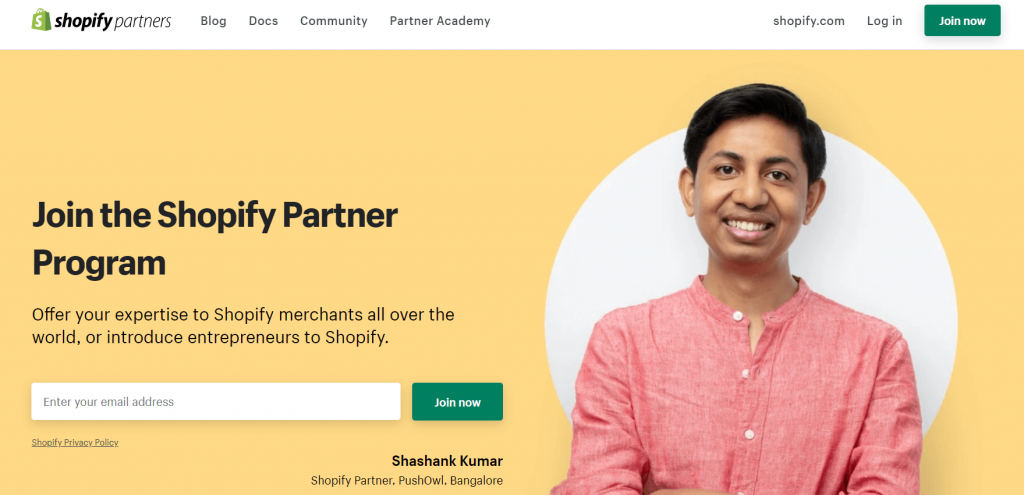 Shopify partners up with companies to upgrade the businesses of its merchants. Affirm, a payment gateway, paid so-called referral fees to Shopify in 2020 to bring in business through the platform. Shopify gets to monetize opportunities. The fees Shopify charges from its partners depend on the type of agreement made between the two. 
Shopify App Marketplace
In 2009, Shopify built an online app marketplace where third-party developers can list their applications to improve the lives of Shopify merchants. Shopify's online marketplace is filled to the brim with free and paid apps for just about anything. Dive into Shopify's app marketplace pool, you'll find countdown timers, scroller enchantments, product sourcing apps, payroll and HR service apps, image manipulation tools, apps to grow sales with referrals, and what not! 
How does Shopify transform apps into money? 
Shopify cuts a 20% commission for all the app sales that flow through the platform. Shopify also allows developers to promote their apps using a specific keyword. Developers pay Shopify for every click. Shopify considers the competitiveness of the keyword to charge an amount. 
Shopify Theme Store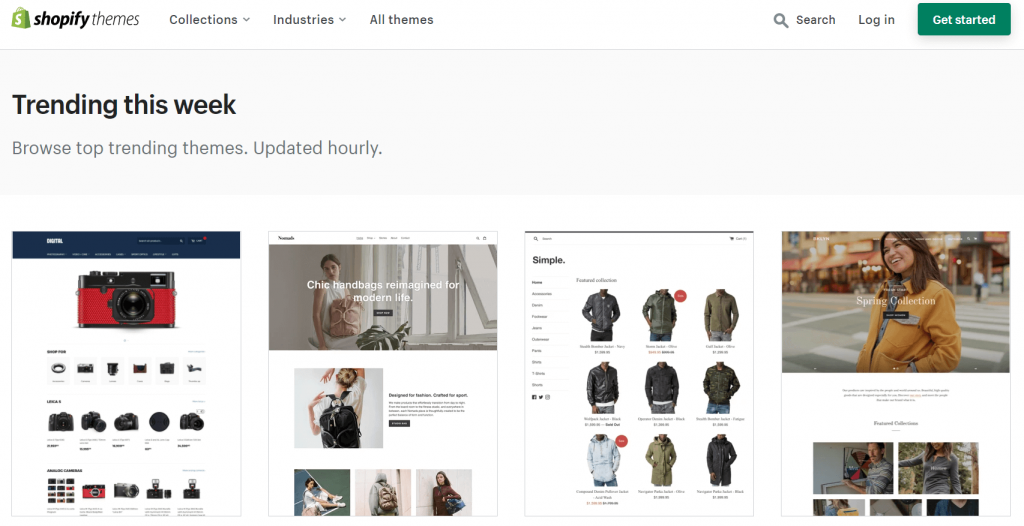 App marketplace's half-brother theme Store also sits on the Shopify platform. It carries in its lap both free and premium themes. These themes come with customizable options, allowing you to fiddle around with your store as many times as you can. Shopify pockets 30% of the sale price, and 70% goes to the theme creators. 
Email Campaigns
Shopify doesn't slap its subscribers with promises but a way of promoting their businesses via email campaigns. Its email product works on a freemium basis. Subscribers can send as many as 2500 emails per month for free. For every additional email, Shopify charges $0.0001. That said: $1 for every 1000 emails. 
Domain Sales
Domains are also on sale on the Shopify store. Users can buy one at just $11. Shopify pays somewhere between $2 to $5 as a registration fee and takes the rest of the money home. 
Shopify's Additional Features
Shopify's wealth of features makes Shopify wealthy day by day and second by second. Read on to set your eyes on some: 
Cloud-based Network
Do you know your Shopify stores live in a cloud network and not in a server? Servers are synonymous with severe downtimes. They are prone to crashing. On the other hand, the odds of your site going down are lowered significantly by a cloud-based server. This service is bundled into Shopify's subscription plans. 
Back-Office Tools
Reports and analytical tools work on your behalf, highlighting your store's performance. Easy to access and navigate, these reports allow you to look at all the orders at a glance. You can view at what stage of the selling funnel your visitors are. Isn't the comprehensivity of this tool commendable?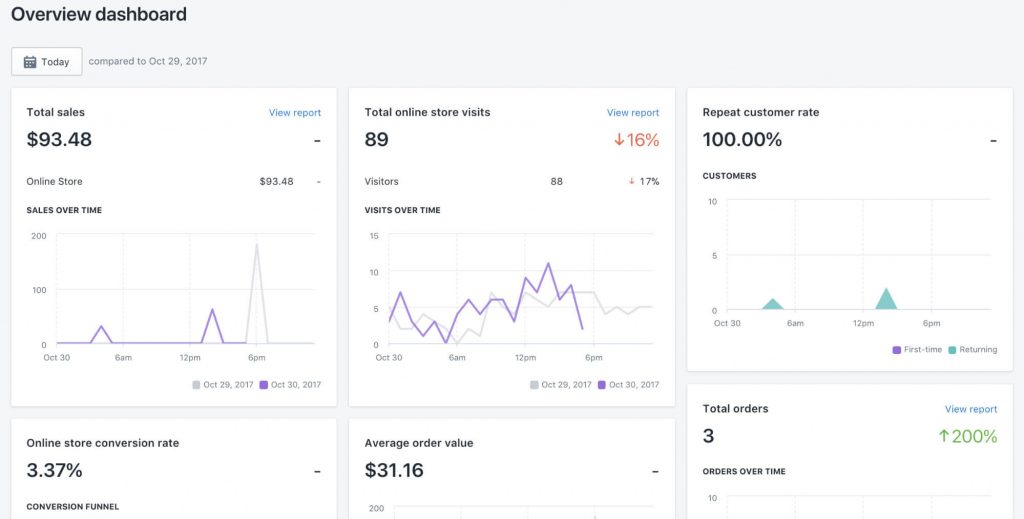 Help and Support
The company molded the Shopify business model to support newcomers. The newcomers are welcomed by Shopify Academy, an online repository of eCommerce courses. Customer support agents are always on their toes to help newcomers out by answering any of their questions. It reveals Shopify's support for its subscribers.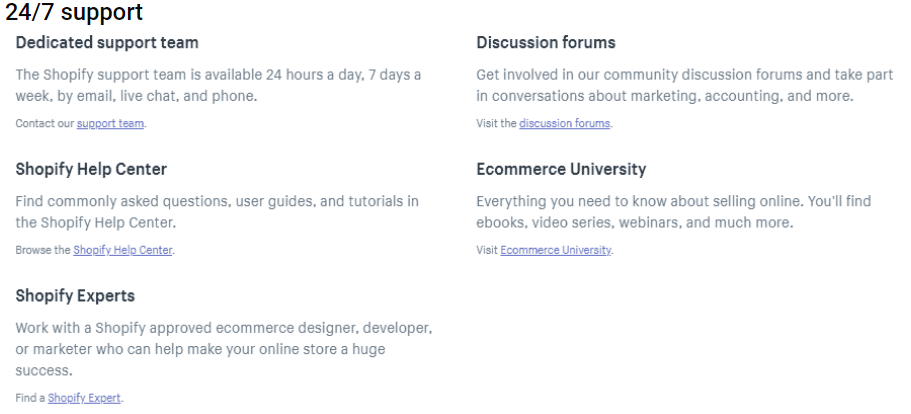 Key Performance Indicators (KPIs)
KPIs are the metrics that matter to a business model. For a business that is based on subscriptions, KPIs include MRR: Monthly Recurring Revenue figure. For a business that is a hosting platform, an essential KPI is GMV: Gross Merchandise volume. GMV reveals the dollar value of all the sold products. 
 So, the Shopify business model is a hybrid of these two: MRR and GMV. These two metrics are growing from one year to another. That indicates the profitability and stability of Shopify. 
Shopify Funding, Valuation, And Revenue 
Crunchbase says that Shopify has raised a total funding amount of $122.3 million. Felicis Ventures, Insight Partners, Bessemer Venture Partners, and OMERS Ventures are the pillars this company stands on. It was valued at $1.3 billion when it went public on 21st May 2015. Its value is skyrocketing ever since and has touched the $140 billion mark. Furthermore, in 2020, the company generated $2.9 billion in revenue, 86% more than in 2019. 

With retail sales jumping down the success stairs, Shopify is in a strong position to expand its offerings across the globe. It wants to build a Shopify business model that can clutch every key that controls the retail process from start to finish. Currently, it is putting $1 billion to customize its Shopify Fulfillment Network for the better. Its revenue streams will continue to bolster its billion-dollar business.