​One unprecedented aftermath of Covid-19 is pet abandonment. After a tiger in a zoo was diagnosed as being infected with the corona virus, lot many pet owners abandoned their pets. Even though there is no truth in transference of the virus from animal to man. Pet owners, here is a quick solution via veterinary telemedicine. Read On.
Encouraged by the advancements in digital communication technologies, opportunities and constraints are being conferred upon healthcare providers including veterinarians.
Relevant application of telemedicine can revamp and enhance virtual vet care by enabling effective communication, proper diagnosis, quick treatments, scheduling, client tutoring and other possibilities.
Future of Veterinary Telemedicine
The future promises to be a safer, healthier and secure for animals via telemedicine / virtual pet care as it expands access to veterinary healthcare, provides payment for consultations, allows inexpensive triage service, and is effective in situations where a follow-up is necessitated after a home care or hospital visit or for a post-surgery consultation.
Veterinary telemedicine is following the same route as human telemedicine but there have been challenges associated with the inability of patients to communicate their ailment or symptoms.
Regulations are in support of further developments in telemedicine for animals. The bottom line is now there are several opportunities for clients to access virtual pet care and online vet visits for their pets in both Canada and the US.
Veterinary Telemedicine Apps

Healthy Pets has a video platform comprising of a network of veterinarians who assess clinical signs and offer advice but do not diagnose or prescribe medication. Pet owners have the option for 15-minute sessions of online vet visits or pay for a monthly subscription.
Veterinarians registered on the network pay $50/month and earn $20 for every consultation. The service offers clients reasonable levels of information and intervention in a convenient and inexpensive fashion.
Healthy Pets is similar to Whisker Docs that operate in the US offering 24/7 pet helpline accessibility through phone, email, or live chat. They charge $39.99 for a live chat and $4.99 for the email route. Annual subscription is $129.99 and monthly subscription $16.99.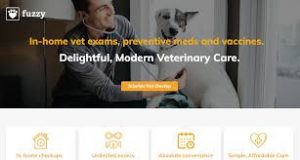 This telemedicine vet care offers in-home Vet visits to subscribers. A new subscription service at $10 a month permits virtual pet care with a professional on mobiles. Fuzzy Pet Health has raised $4.5 million in funding as on date.
The new telemedicine service called Fuzzy Pet Health Connect, works alongside Fuzzy Pet Health mobile app, allowing customers to send text, pictures and videos to a Vet anytime and then to receive real-time medical advice.
This initial interaction could in fact save pet owners a drive to the vet. Certain regions allow diagnosis and medications to be subscribed over telehealth services. Canada, also allows vets on demand and vets on demand prescription digitally.
Presently Vet-Chat is a feasible option at $10 per month which is a steal to gain access to auxiliary care.
Fuzzy Pet Health plans to scale to house call subscription service and they are in talks with vets in larger cities like L.A., New York and Chicago to include such services.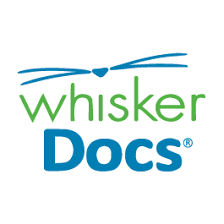 WhiskerDocs is showing the way in veterinary telemedicine employing veterinarians and vet technicians in the U.S to serve 3 million pets worldwide. A team of vet experts are on all to help with whatever concerns you may have about your pet. They assist you to take the best decision on the next course of action for your pet.
Professionals can help with behavioral advice, training tools, new pet questions or other concerns that normally would ensue in a visit to the Vet to diagnose something as a cat that just threw up or a dog with bad stool condition.
WhiskerDocs established best practices in veterinary telemedicine. Their technology platform driven by expertise in over 100,000 cases enables them to deliver optimal service.
WhiskerDocs provide 24/7 veterinary help services in US and Canada for more than 3 million pet parents with a satisfaction rate of 97%.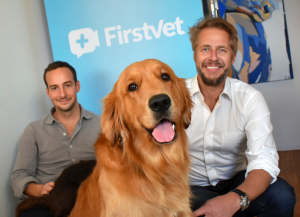 Founded in 2016 in Stockholm, FirstVet recently closed a €18.5 million in Series B funding which brings total funding to date to €24.5 million, this startup provides pet owners with on-demand video consultations with local veterinarians.
The funding will help them to expand globally namely the U.S., Germany and France. While they still continue to develop products and new features to improve the experience of pet owners and vets. That will include automation tools and integration with existing system in clinics.
FirstVet plans to expand access to pet care via on-demand video consultations with registered veterinarians and are looking at five regions — the U.K., Norway, Denmark, Finland and home nation. They have more than 200,000 registered users and 150 veterinarians with their number growing continually.
They plan to supplement physical clinics and not substitute them. Most common ailments in pets are gastrointestinal queries, skin wounds, fur, and ear issues.
FirstVet has partnered with more than 20 major insurance companies thereby offering services being part of a pet owner's insurance premium. FirstVet aims to be a global leader in on-demand video veterinary appointments.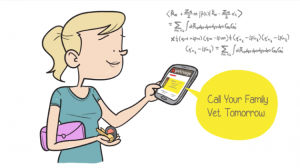 Petriage promises to empower you with the right information at the right time to give your pet the best possible care through a qualified vet. Their free vet-validated Analysis tool available 24/7 delivers great insight thereby ensuring you make informed decisions about veterinary care and its need.
Subscribe to Pertiage Premium membership and consult directly with a vet and ensure absolute care for your furry mates. There is a Free Petriage Account for those who want to test waters and then sign up for a free Petriage Essential account, and build your pet's health profile.
The mobile interface gives you real-time results and recommendations. The information is built on a statistical model is continually perfected by various inputs and validated by a team of veterinarians.
With Petriage Premium membership get connected directly to a vet thereby having better results at lowered overall costs. Chat live in-app, share pictures and video with your vet for absolute info on your pet's health.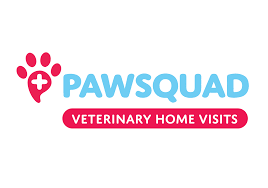 PawSquad believes most worries about pets can be resolved over a video consultation or virtual vet care. They provide pet owners the convenience of instant access to qualified veterinary advice without having to search the Net or look out for a vet.
During an emergency speak to a PawSquad vet over video, or by live chat. Take some good quality images / video and post it for a session of virtual pet care.
Vets are available 24/7 and no appointment is needed, just click and you will be chatting to a vet straight away. Their response time is less than a minute.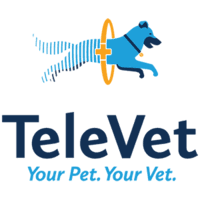 Founded in 2015, TeleVet builds relationship between veterinarians and their clients by embracing Veterinary Client Patient Relationship. TeleVet announced a seed funding round of $2M so as to further invest in hiring and product advancements.
TeleVet plans to elevate relationship between 33,000 veterinary clinics and 160 million pet owners in the U.S. through seamless communication utilizing texts, emails and video calls.
Veterinarians can integrate TeleVet to schedule virtual vet care and online consultations, provide digital prescriptions and more. Alliance with Embrace pet insurance Vetsource provides home prescription delivery. TeleVet gives vets valuable tools to comprehensively run their clinic.
Conclusion Veterinary Telemedicine
The average pet parent visits a Vet 1.6 times annually, but on the introduction of virtual pet care that has risen to a contact every month. In the last two years pet owners spent $18 billion annually on veterinary care, making this one of the fastest-growing domains. 30,000 vets practice in the U.S – that's a huge opportunity for Veterinary Telemedicine.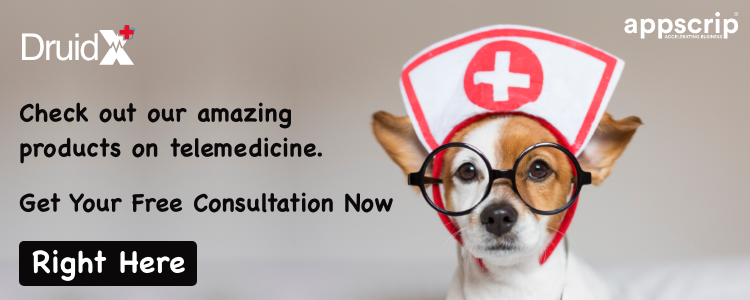 With an Engineering degree and a Diploma in Management under my belt, I worked for 16+ years in the automotive industry with various manufacturers. But my passion for writing was overwhelming, which I turned into a career. I have been writing for more than 10+ years and mostly in the IT domain. I am sure you will find the 300+ published blogs of mine in here informative, exhaustive and interesting.