Starting a career in floral design is a true love affair with flowers.
You are a creative and passionate florist, but have you ever considered specializing? In the wedding floral business?
More and more florists are focusing their love of flower arrangements into catering for weddings. Specializing as an event florist can be very advantageous as it allows you to fully build your brand and perfect your craft.
If you are currently a florist then perhaps you may want to consider going exclusively into weddings.
In the US alone there is an average of 2.3 million weddings, and approximately $72 billion is spent on weddings each year.
How Does a Local Florist Achieve Business Growth & Success in the Wedding Floral Business Market?
# A Solid Business Plan
A business plan is an indispensable tool in ensuring that your business won't flounder as it gives you a realistic and comprehensive view of the wedding flowers industry.
It gives your business its mission and vision, and assures that you're always going in the right direction. Plus you can track milestones using the plan.
# Market Research
Who will be your most likely customers be?
Flower-buying habits can be different depending on the demographic.
"I want beautiful roses for my marriage."  ~ Secure a reliable wholesale flowers supplier that would not run out of roses.
What does your potential client base prefer?
Do they prefer shops with a storefront or want it delivered?
Trends always shift, and what you want to do is to target a reliable customer base.
Weddings make up the vast majority of sales in the floral industry. A crucial data you need to have is an updated price-list of wedding flowers and floral decor sold both online and actual stores.
# Storage and Transportation
Think about how you will store the flowers. If the temperature is too high, your flowers may wilt and be unsalable.
Most flowers are stored at the optimal temperature of 1.1 to 2.2 degrees Celsius and keep best at a high humidity, usually between 90-95%. For tropical flowers, they should be stored at temperatures between 13 to 15 degrees Celsius.
If you offer wedding car decor you need to keep flowers that have very high heat tolerance.
Check Out | Waltz your way to love through the best dating app 2020
# Online Marketing
Without the market presence, you cannot achieve the success you planned for in this business.
Flower Delivery App
A flower selling business can be more convenient for your customers via a flower delivery app. It will help your customers to explore the wide varieties of flowers right from their smartphones. Make your flower business the best in the world.
Once you start receiving orders, you must deliver promptly, and deliver high quality. With time, your business will grow.
Posting your portfolio online is a great way to allow potential clients to see what you specialize in.
Display the many ways of arranging and styling wedding flowers, be it wedding car decor, floral arches, wedding centerpieces or boutonnieres.
Social media influencers and bloggers are good friends to have in this case. In this day, they are your greatest advertisers.
If you don't want to open a storefront – Having a good online presence and marketing drive is also a great way to save on expenses
You can set up your arrangements at the comfort of your home and just share pictures of your products via social media.
Promoting Your Wedding Floral Business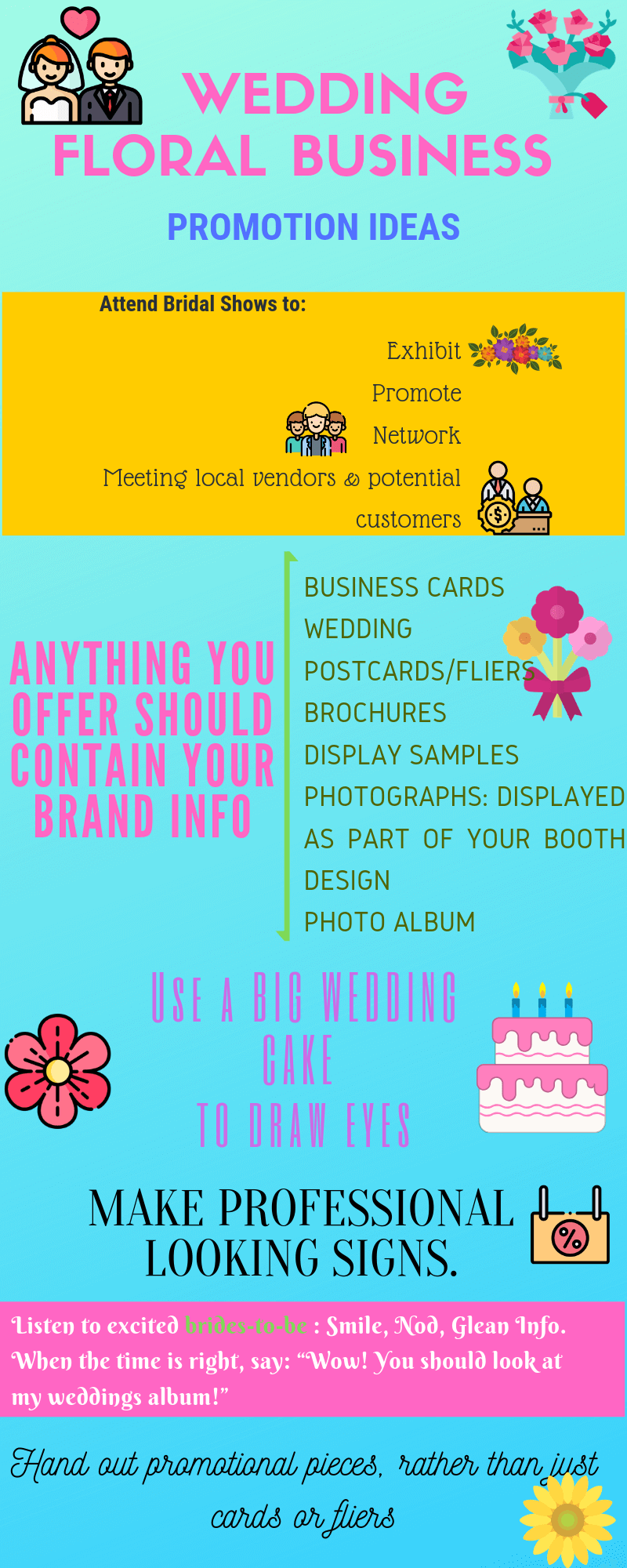 Pricing | Wedding Floral Business
It is very important to charge the going rate when starting your wedding floral business. Its important to know your worth and charge according to industry standards.
Starting at a low price point is actually harder in the long run for your business. You want to attract wedding clients that understand the value and hard work behind what you do.
Standard florist pricing module –
Flowers 300% markup on each stem used.
Supply 200% market up.
Labor 20-25% added to the overall total.
Delivery charge.
Charge for takedown services.
Charge for setup services if required.
Example for a large hand tied bouquet:
Indulge in Your Passion | Wedding Floral Business
It is important to remember to not get caught up in only the floral design aspect of being a florist.  You are also running a wedding florist business which requires business skills and capital in addition to floral design technique.
I encourage you if this is your passion go for it and I wish you an abundance of success in running your wedding floral business.
---