The adult entertaintment apps are your oyster, if only you pick the right app. Hint: It probably won't be Tinder.
Sex is a universal thing in that not only is it a physical need but also a form of entertaintment like food and drink. Sex in the 21st century is still a taboo and will remain so for quite sometime to come. No one comments on your gastronomical impulses or your drink loving habits as much as your sexual desires.
Your are either labelled as promiscous, of loose morals or slut shamed.
Why Are Adult Oriented Apps Not Bad!
The pandemic has isolated most of us and we have shrunk back into our own silos. We are slowly losing our ability to interact, connect and have conversations. This is the time we need to give ourselves a break from time to time. Adult oriented apps are one way of letting off the steams and finding a release from our dull and mundane existence.
People are currently deprived of opportunities to meet new people, to date, and the opportunity of physical touch and physical gratification.
People are also deprived of tensional outlets for monogamy like having a happy ending massage, seeing an escort, and other things that may be quasi-acceptable ways to attain variety, novelty, and adventure.
What Is The Need For Adult Oriented Apps?
As we become busy with our lives, amidst the hustle and bustle of the city, we need some me-time. We all need to let our hair down without the complications of a relationship. Relationships are the ultimate in human needs as they give a sense of security and grounding in life. But not all are lucky in that regard. So they have to do with what is available.
There is a plethora of apps that will server your basic insticnts and you will be spoilt for choice choosing between them.
Porn Sites
Casual NSA sex and dating apps
Adult games
Pay On Demand – Live Shows. You can ask the performer to enact your favorite fantasy or order a video if the same.
Adult Oriented Apps That Help You Unwind
# Pay On Demand Live Video Content – Get Content Enacted As Per Your Desire
OnlyFans, IsMyGirl – Classy & Not So Classy Content
OnlyFans, a social media platform best known for explicit content, has boomed during the pandemic. Every day, hundreds of men pay women of their desire to enact their sexual fantasies and boost their self-esteem.
OnlyFans creators can post themselves doing any number of things that wouldn't fly on other social media sites. Creators can post uncensored, X-rated pictures and videos as well as host live streams where followers can engage with creators in real-time.
The best part : You can find many celebrities on the app! E.g.
Bhad Bhabie
Cardi B
Dj Khaled and Fat Joe
Jordyn Woods
Bella Thorne
Tyga
Amber Rose
Chris Brown.
Content is protected by a paywall. To gain access to the content, an individual must pay a monthly subscription fee that ranges anywhere between $4.99 and $49.99.
Other adult oriented apps similar to OnlyFans are : IsMyGirl, Manyvids, Membershyp and IWantFanClub.
# Adult Games
iPassion
Want to know more about your partner? If yes, then passion is the best way to do this. With this game, users can know their partner even better. As it is a quiz game and couple game app, both the couple can use it and get closer to each other by discovering such things for better understanding of each other.
You can use this great app to improve communication and increase the intimacy between you and your partner. As the levels up you will have to face more intimate questions which are quite interesting. Moreover, everything will be completely hidden from others, so you don't need to worry about your privacy.
Evil Minds
Make your parties never forgettable with this amazing adult party game. This app is basically for the groups of friends who are chilling at the weekend.
The evil minds are the game where the players have to solve the clues to guess the secret "Evil Word".
There are two modes to choose, it gives you 2000 plus evil words. And the best part is you can add your own words to challenge the opponent team. You don't need to carry so much stuff in your bag to play this game just open the app and here you go!
#Porn
Porn Time (Free HD Video Porn Downloads)
PornTime uses P2P technology to connect you to a world of free full-length porn movies – whether or not it's legal where you live may be a different question.
The porn time app is different from the rest of the porn apps in that it uses P2P technology to deliver streaming or downloaded porn. As such, it warns you when downloading that using the app might be illegal, depending on where you live.
What you'll probably like best about Porn Time is the full scenes, rather than the short collection of clips you get on tube sites. If that's your thing, Porn Time is the best free option.
There are simple filters accessible through the menu on the left, and gay content is all accessible within the same app, which will be handy for a lot of people. You also get convenient access to all your downloads and favorites through the same left-side menu too.
As they're full movies, you'll need to either know the name of the performer or movie you want to watch for best results. If you want to just randomly browse through the different titles by genre, popularity, upload date or year of production, you can do that too.
It'll be a good option for lots of people, but again, a reminder that watching copyrighted material may well be against the law where you live. If that's not applicable to you, it's one of the best porn apps for full movies.
# Casual NSA Sex & Dating Apps
There are tons of dating apps exclusively for hookups. Whether you're looking for a quick roll in the sack or just want to jump back into the dating scene, these apps prioritize short and casual connections—and likely won't ask you if you want to have kids one day.
Hookup behavior is often shrouded in stigma. Both young men and women may be judged or disrespected for their hookup behavior,
Sex Among The Millenials – Facts.
According to this article on Psychology Today:
Many college students hope that hooking up will lead to a relationship or at least future contact, research shows.
The best predictors of future contact or a relationship are familiarity with a partner and experiencing positive feelings after a hookup.
Despite stereotypes, many young people seek healthy relationships that develop out of conversations rather than casual intimacy.
The research reveals that even though we are having a deluge of dating and hookup apps, many young people view casual encounters as a pathway to permanence.
Lover – Casual NSA Hookup App
How Does Lover Work?
Fun fact: 87% of people said they felt 'greater sex life satisfaction' having used Lover for just a week. Not bad. Lover promises to offer a science-based approach to sexual hiccups and issues and essentially acts as a personal sex therapist. Think research-based content and guides covering exactly what you're keen explore sexually.

Why Is It One Of The Best Sex Apps?
As said above, it comes complete with guides, videos and educational games, so you can watch, listen, play and learn. Not only will it spice things up in the bedroom, but it'll help you educate yourself on how to improve your sexual wellbeing, too. Think feeling more relaxed during sex, getting connected with your partner, and expressing your sexual desires. Because having a healthy sex life = better health generally. Hear, hear.
It's free to download, but to unlock all content, you have to pay a £9.99 weekly subscription fee.
Blendr – Best App For Sex
How Does Blendr Work?
Free for iPhone users, it asks to link to your Facebook to access your location, photos, interests, plus 'friends' who are signed up too. It links you up to singles who are up for sex in your postcode, but remember – the more info you put on about yourself, the more you can see about others.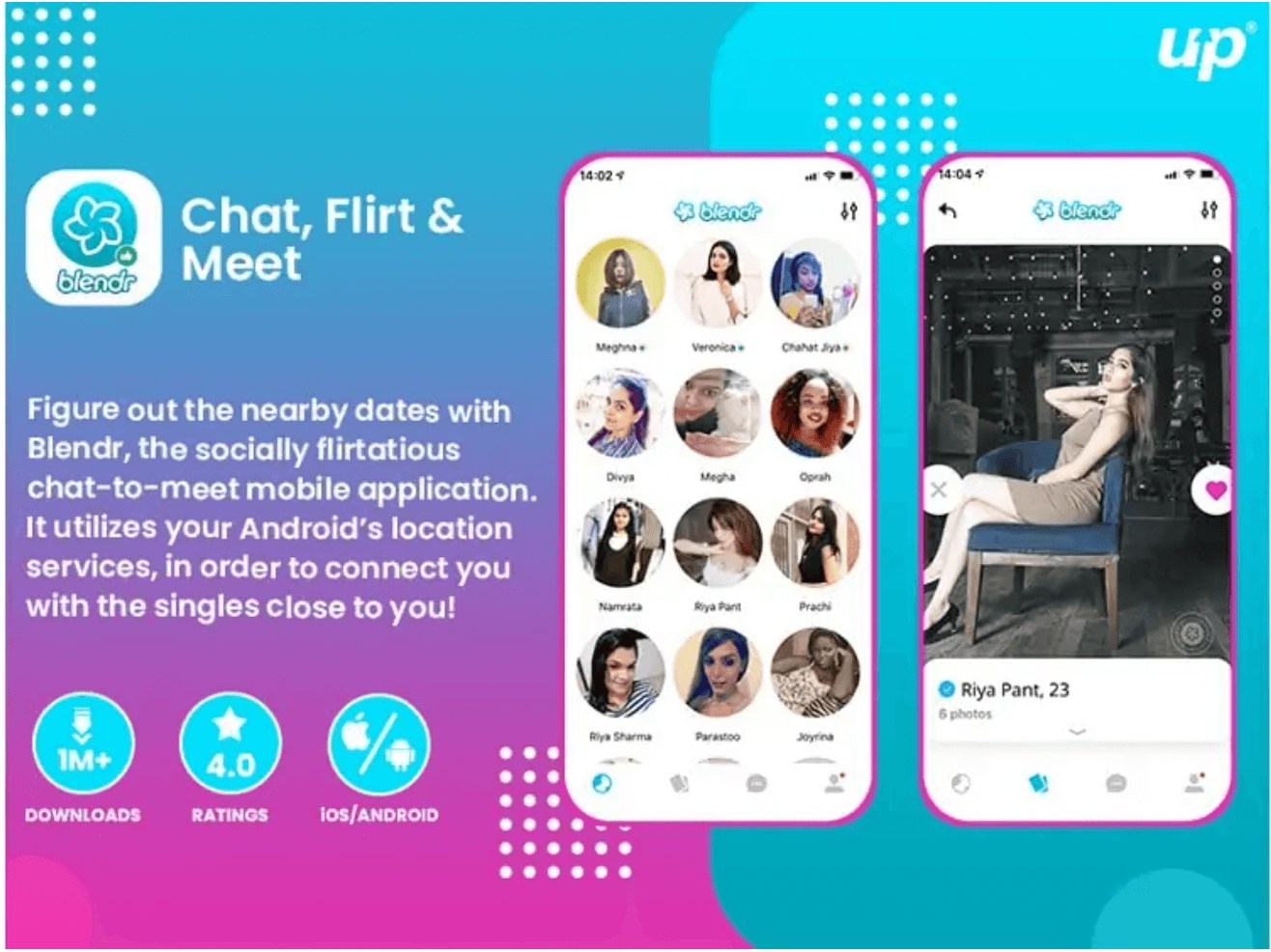 Why is Blendr One Of The Best Sex Apps?
Popular with young professionals (we came across a mix of 20-something chefs, builders, students, musicians and lawyers) who aren't shy when it comes to no-strings sex.
Humans will always be fascinated with the fruits of pleasure – of sex. Be it watching or indulging in the act, it will never cease to be a human need.
Conclusion – Happy Ending
Entrpreneurs and startups can take a look at adult oriented apps closely. There is a lot of potential in launchign an app for adults. But the plan and execution must be perfect otherwise it will become just one of the million sex apps on stores. At Appscrip, we have developed a number of adult oriented apps and we know the game. If you are interested give us a call and open doors to a successful career in SexTech.
---