Consumers spent 2+ trillion dollars on online marketplaces in 2020.
By 2040 it is expected that 95% of purchases will be made via e-commerce. C2C marketplace platform sanctions users to be sellers and buyers as well. This is similar to an online version of flea markets and artisan markets.
A C2C marketplace comprises of thousands of users and facilitates transactions between them. It is also known as a designer marketplace wherein a stakeholder offers services and another buys it at a competitive price.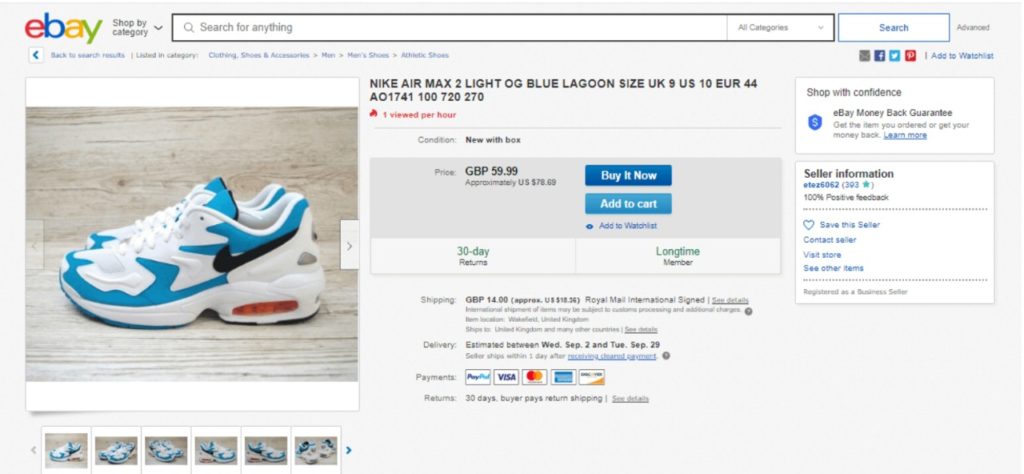 One difference between the consumer-to-consumer marketplace model and B2B/B2C is that the seller is not necessarily a business entity. Sellers provide amenities to consumers, using the services of a third-party platform.
Online Buy And Sell Marketplace In Ireland
Ireland is the 44th largest market for eCommerce that earned $4 billion in 2021, placing it ahead of Portugal. There was a 29% increase in the retail eCommerce market worldwide and Ireland experienced 18% increase.
5 Popular Marketplaces In Ireland
Shpock is a portmanteau derived from 'Shop in your pocket.' Shpock is developed and operated by the Austrian start-up 'Finderly GmbH' that is in turn owned by Russmedia Equity Partners.
Shpock is a marketplace platform that brings together millions of private buyers and sellers all across the United Kingdom for a second-hand shopping experience. Shpock is an extremely popular online buy and sell marketplace in Ireland.
You can buy and sell almost anything from new, pretty new and used stuff. There are various categories such as electronics and tech, fashion and clothes, items for children and infants, furniture for home and garden, cars and property and many more.
Shpock is an online platform for buying and selling of stuff in the vicinity using a smartphone / PC. Shpock is free to download and accounts for ten million downloads (both iOS and Android).
Initially Shopock was bootstrapped and then Business Angels began investing. In 2013, the Norwegian media group 'Schibsted' announced a seven figures investment into Finderly GmbH. In 2015, it increased its stake by 9% to claim 91% share.
Then finally in 2019, it purchased the remaining 9% making it the sole owner of the company. In June 2021, Russmedia Equity Partners announced the acquisition of Shpock from Adevinta for an undisclosed sum.
Shpock brings serendipity into the world of second-hand selling and buying. Earn green bucks for stuff you don't need.
In 2022, eBay amassed $2.67 billion revenue, a 14% increase YoY.
eBay is an American multinational e-commerce company based in San Jose, California founded by Pierre Omidyar in 1995. It became a notable success story of the dot-com bubble and operates in more than 100 countries to date.
eBay was conceived as an online auction website where sellers listed their products and the highest bidder procured them. eBay has now evolved into an online e-commerce marketplace platform facilitating both C2C and B2C transactions, but doesn't own any inventory.
It enables buying and selling of goods, and is merely a mediator between buyers and sellers.
Buyers can use the website for free, while sellers can avail free listing until a certain number after which they are charged. Sellers also pay an additional fee when their listed items get sold.
Initially, eBay was a part of Omidyar and was known as "AuctionWeb". One of the first items sold was a broken laser pointer for $14.83. Astonished, Omidyar contacted the winning bidder to fathom if he knew that the laser pointer was broken.
It was then that the buyer revealed that he was into collectibles. This made them the first online auction site allowing person-to-person transactions.
In 1997 Benchmark Capital (a VC firm) invested $6.7 million in eBay. On September 21, 1998, eBay went public and stood at $53.50 on the first day of trading. Last month, eBay announced the launch of its first collection of NFTs, in partnership with the NFT platform OneOf.
On February 4, 2004 the social-network site Facebook was launched, by Mark Zuckerberg. Initially Mark Zuckerberg and Eduardo Saverin who were equity holders met the expenses of the firm. During 2004, FB received its first angel investment of $500,001 from by venture capitalist Peter Thiel.
In 2020 Fortune 500 list it rank at #34. It is the largest US corporations by revenue, with almost $86 billion.
In 2007, Facebook introduced the Facebook Marketplace, allowing all users to post classified ads within the sale, housing, and jobs categories. The feature initially never gained traction and was shut down in 2014.
And then in October 2016, Facebook announced a new Marketplace, leading to the growth of organized "buy and sell" Facebook Groups. It gave the new version higher prominence in the main Facebook app. It took over the navigation position held by Facebook Messenger.
It was a C2C marketplace, but now there is a major B2C section as well.
As of 2016, 450 million people visited the "buy and sell" groups on Facebook. After which the company launched a whole tab for peer-to-peer shopping.
Facebook Marketplace lets you discover, buy and sell items in your community. Look for the Marketplace icon at the bottom of the Facebook app on iPhone, and at the top of the app on Android.
For now, Facebook Marketplace is only available in the Facebook app. There's a shop icon at the bottom of the app, which opens photos of items that people near the user have listed for sale. Users can search for certain items and filter results by location, category or price.
It has started rolling out its online marketplace services to 17 countries in Europe.
DoneDeal is an online buy and sell marketplace in Ireland that focuses on helping both buyers and sellers of cars in Ireland. In May 2005, it was found by Fred Karlsson, a native of Sweden, and his Irish wife Geraldine.
Initially, they used to post their own belongings as ads before other users started placing ads. By 2008, DoneDeal was experiencing rise in visitor from 175,000 to beyond 550,000 every month. In 2011, €1bn worth of goods were sold through the site. Its popularity kept rising day by day. In 2016, almost 1 million ads placed in the motor section of DoneDeal.
The site was originally free to use. A €3 charge was introduced after a year. Free ads were reintroduced in 2015 for several sections such as Clothes & Lifestyle, Baby & Kids, Music & Education, Sports & Hobbies and House & DIY sections. The remaining categories attract €1 to €5 fee.
Since 2010, DoneDeal has raised around €1.3 m for charity. In 2012 DoneDeal ventured into advertising on TV with an amusing ad and is now a member of the Interactive Advertising Bureau in Ireland. The site currently has over 300,000 live ads whose numbers keep rising with each passing day.
Gumtree was founded in March 2000 by Michael Pennington and Simon Crookall as a local London classified ads and community site. Ads posted were either free or paid depending on the category and the geographical market. In 2010, it was named as the UK's largest website for local community classifieds and among the top 30 websites.
Gumtree being the largest, along with LoQUo and opus forum was acquired by eBay's classifieds group for $81.6 million in 2005.
Predominantly, it is a free listing website, but also provides users with paid promotional options for increased ad-visibility. Products-for-sale is the largest category of advertisements on Gumtree. Gumtree also has an extensive social media presence.
Until 2004, Gumtree was available in several cities in Europe including Ireland. Post that it expanded beyond the UK into different countries.
Benefits of launching a C2C marketplace
Rising popularity
Online marketplaces are most preferred methods for e-shopping. As the pandemic abates and shopping habits swing, foot traffic to physical stores are still to reach earlier numbers as the populace now prefer convenience in shopping. Consumers are consequently choosing to purchase online.
Simple Management & Social Multichannel
Being the owner of a C2C marketplace means you don't require inventory nor have to cover the costs of packaging and shipping items. Consequently, this model requires minimal investment than an e-commerce store.
No large workforce is required, as sales grow, you can scale up the operations. Apart from user-written feedback, you can benefit from built-in user wish lists to gain more traffic. Advertising websites like eBay find it easy to effectively utilize social platforms.
Ductile business model
When Speaking about a marketplace, what comes to your mind? Several buyers crowding around their beloved stands? To rise in your business, take consistent small steps. As you build your online marketplace, embrace appropriate tools for greater boost.
Top sellers attract more buyers, while a growing number of buyers attract more sellers. It is important that vendors recommend your C2C site in their networks. It entails higher profits for both buyers and sellers.
Swift transactions lead to easy revenue
Having several products offers option to compare and negotiate prices. C2C sites offer comparatively cheaper products. It has a wide range of visitors regardless of increasing conversions.
Conclusion: Online Buy And Sell Marketplace In Ireland
Solving problems of the target audience is key to building a successful buy and sell marketplace app. Go ahead and create an eye-catching brand identity, along with lean app performance and necessary features. These will ensure high demand for your online marketplace platform.
The top marketplaces in the US are Amazon, eBay, Walmart, Offerup, and Wish. If you are considering an online marketplace development for buying and selling products, look for able agencies with necessary skills. You can leverage our Buy & Sell Script LeOffer.
LeOffer, is one of the best online classifieds app with total Customer To Customer (C2C) ecommerce capabilities inspired by apps like OfferUp, OLX, Wish Local, Shpock, Carousell.
Our software has Progressive Web App (PWA), an Android app built in Kotlin, and an iOS app built in SWIFT5. Furthermore, we have added an extra element in our product, by including a social element.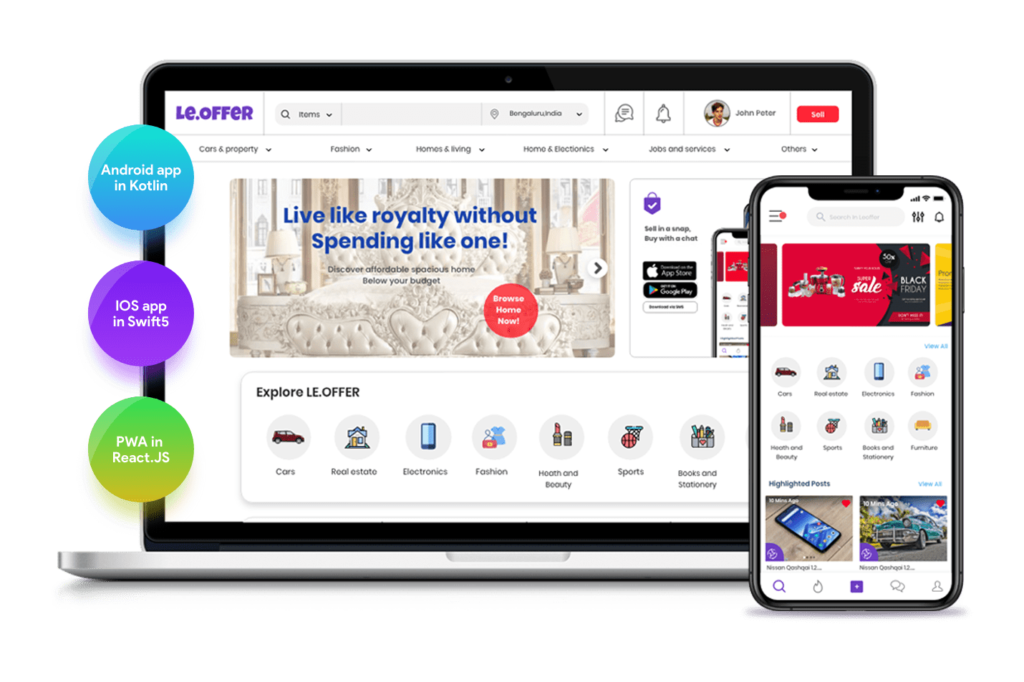 So, now you can follow your favorite sellers and know whenever they post a new product. Our marketplace software consists of a website, an app, and an admin panel for overall monitoring.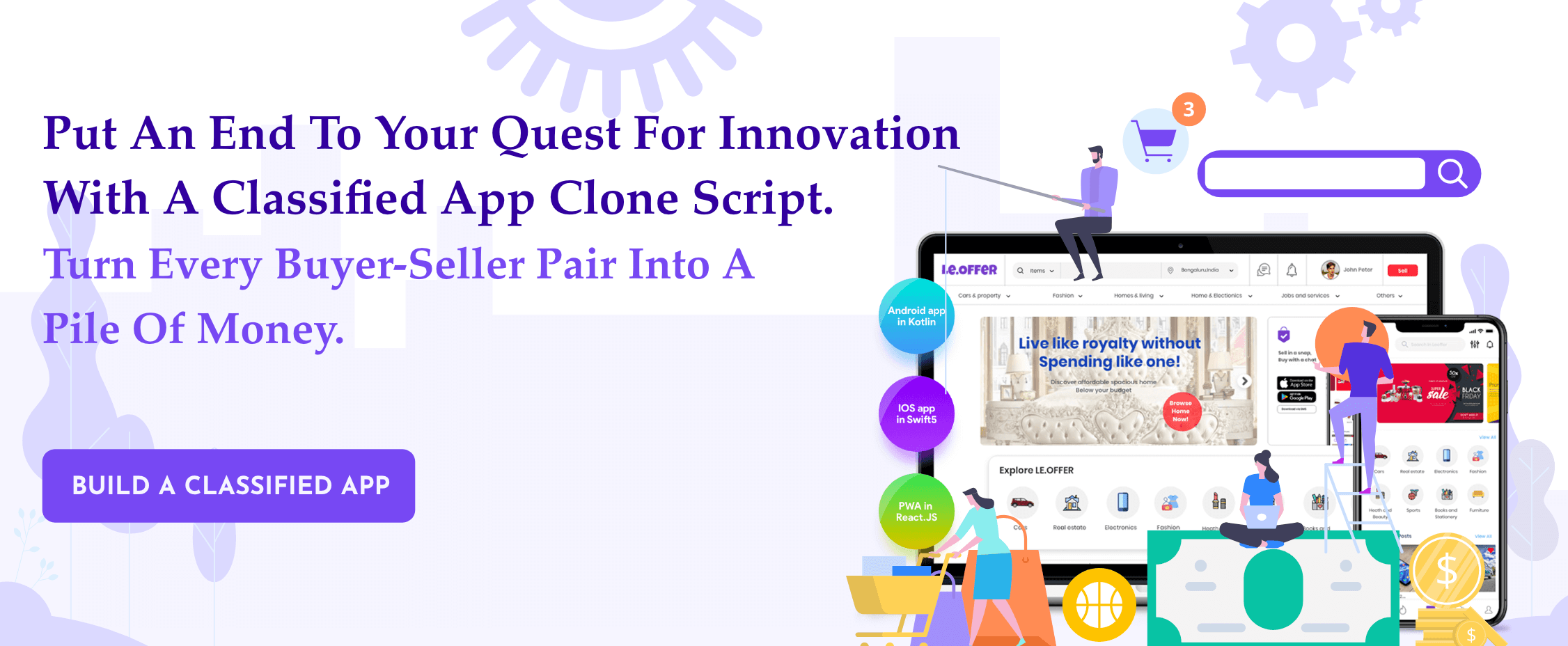 After an Engineering degree and a Diploma in Management I devoted 16+ years working in the automotive industry. My innate skill and extreme passionate in writing, encouraged me to adopt it up as my profession. I have been writing for more than 10+ years in the software industry. The 400+ blogs I published are informative, exhaustive and interesting to a professional and causal reader.