Online grocery business is deemed attractive, profitable, and a lucrative venture in any corner of the world.
Therefore successful conglomerates having business interests in multiple sectors choose to launch grocery delivery solutions and foray into the ecommerce landscape.
The Indian grocery market is worth $850 billion (January 2021), with groceries grabbing 65% of the overall retail share. The unorganized corner shops or also called "Kirana Shops" control 90% of the Indian grocery market as they provide affordable, personalized and localized service to clients.
The Tata Group's enthusiasm, fueled by the success of online businesses, has given rise to the development of a super-app to support their wide-ranging portfolio across other domains. They have major plans for the ecommerce sector that is currently dominated by Amazon and Flipkart (Walmart), while JioMart (Reliance Industries) continue to broaden their horizon.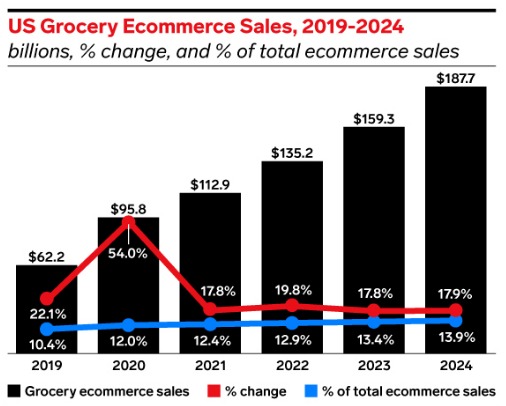 Top Online Grocery Businesses
Grofers, Amazon, JioMart, Swiggy's Instamart, and Flipkart are among the top contenders in the grocery delivery realm that BigBasket is a part of. By 2025, the online grocery industry is projected to touch 3% of the overall grocery market that prides itself with a market value of $24 billion.
The competition regulator has nodded affirmatively in support of the Tata group's stake in BigBasket (one of the leading online food portals) worth $1.2 billion. This gives BigBasket a $1.8 billion post-money valuation. Tata digital is also culminating a deal to purchase a lion's share in the online pharmacy player 1mg.
Covid-19 pandemic has brought about the success of e-grocery, which can be classified as a critical goods supply ecommerce segment. The pandemic created a paradigm shift in people's habits as now scores of them prefer to shop online from the convenience of their homes.

Online Grocery Business Dilemmas & Solutions
Complex Product Catalog
Shoppers don't enjoy a hard to perceive and complicated product catalog when it comes to online shopping. Time shortage, over-load of unwanted information, data restrictions, stress, and poor communication can sometimes infuriate and cause a user to exit a confusing site.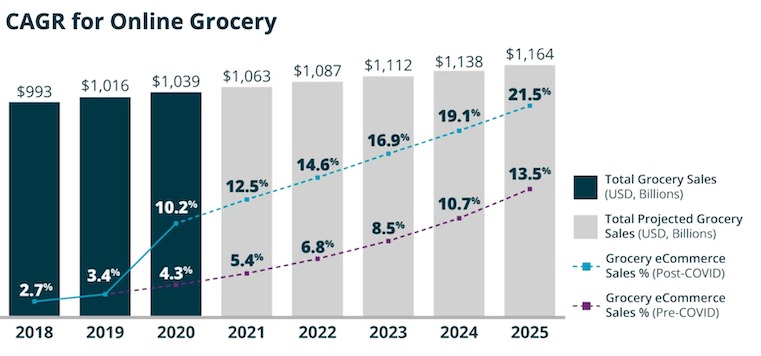 It is imperative to utilize a logical and clear structure while developing an online grocery store. The design needs to be simple and the user should be able to easily choose between categories, product-lines and sub-categories. Clients prefer websites that has better search functionality, is organized, lucid, and user-friendly website.
To overcome this predicament: Study competitor websites, research customer habits, check out products with highest sale, trending product categories, visualize site hierarchy, and conduct a keyword study to set up advanced search options.
Data Utilization
Data is the new oil for businesses. Grocery sellers can gather a lot of data. Not only should they ensure all the information is kept out of the hands of competitors but use it to develop their business and increase profits. Retailers using third-party marketplaces do not have control over this data. They cannot access it nor do they own it. This could hurt them on the long run.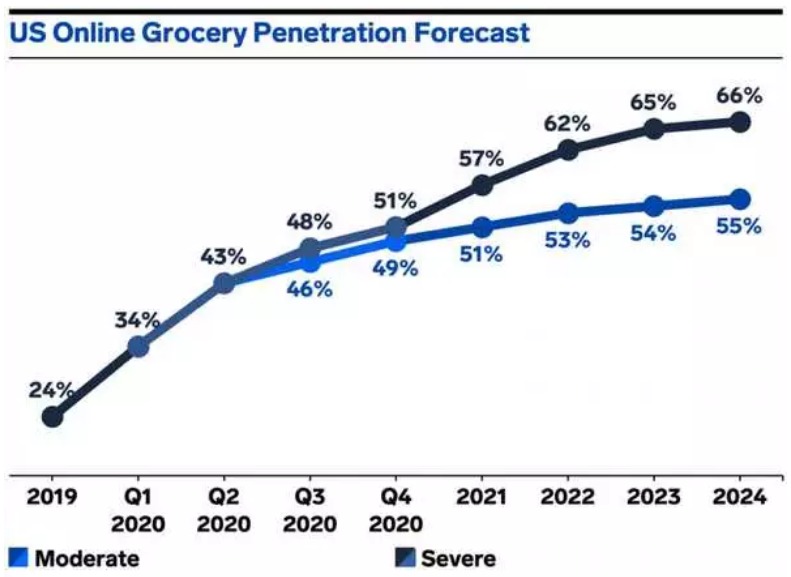 Not all online grocery sellers have the resources, time, or technology to benefit from the data collated or to fathom client behavior. But if not inculcated, then consumers would have to put up with an archaic system that could lead to them leave such establishments and search of better shopping experience.
Solution
A data-driven and customized approach enables retailers to utilize consumers' data and buying habits information to provide personalized shopping experience.
Online grocery stores can recommend goods based on previous shopping patterns and provide detailed/in depth information on goods that are being sold. Businesses could also provide necessary inputs to enhance new purchasing habits as per latest marketing trends.
Buyer Habits
There are some people who still prefer to shop for groceries from a brick and mortar shop even though there maybe innumerable online grocery stores offering ease of shopping and the convenience of online purchase. The choice of physically picking your own stuff – especially when you have time on your hands is cathartic, this is human mentality.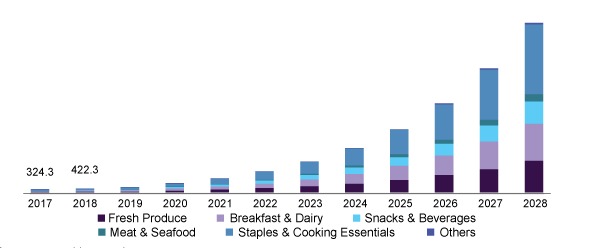 Solution
Businesses can try and merge offline and online buying experience to a certain extent, as in:
Consumer initially visits an offline store, but later order goods via online facility. The goods are then delivered to their location.
Consumers check product details and availability online before visiting a physical store. There they confirm the quality and purchase goods.
Clients place orders via online portals and goes personally to pick them up from a physical shop.
Self-checkout stores using reliable technology helps consumers avoid long queues and finish buying quickly.
Consumer Loyalty
When it comes to talking about the challenges in the online grocery business realm, consumer loyalty is an important factor. Poor customer loyalty is an imperative factor in grocery business.
Consumers mostly prefer to purchase from regular spots and are emotional regarding such decisions. They will not change loyalties due to minor demeanors. But if there could be a probable cause for customers who walk away, then they will not return easily.
Solution
Create a reliable relationship with your consumers. Remember communication is the key. Have reliable methods of consumer redressal and ensure to take all complaints seriously and resolve them. Implement consumer loyalty programs to create connections with clients and get more clients onboard.
Concentrate on choosing and identifying the right target audience and making proper connection with them. Allure them and retain them with the right strategy.
There are several loyalty programs wherein the points garnered can be redeemed for goods and services from third parties in the form of discounts, cash back rewards, other wonderful offers, and encouraging membership.
Poor Margins
Consumers are not very keen on paying anything other than the bare minimum during grocery shopping. Any convenience fee or other charges to avail express / quick delivery could cause the downfall of an app. Taking care of this particular aspect can solve a lot of pain points for businesses and for consumers as well.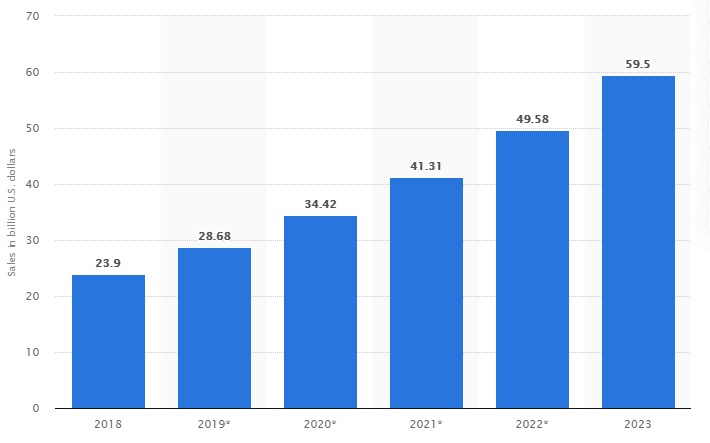 Solution
One of the best possible solution's to this pressing problem is to out-source this function. But many business owners consider the option of having an in-house work force to execute this functionality. But we have seen time and again that on the long run there are lots of unforeseeable issues that will crop up and could cause the downfall for your reputation / business.
It is really not worth investing in manpower and equipment to complete deliveries. It is better to leave this to a firm that has expertise in this line of business.
Unprofessional Delivery
Hassle-free delivery, well behaved delivery agents, wide ranging payment options and quality of goods are crucial factors that supplement a competent delivery system. Having a single delivery system does not do justice to hyperlocal multivendor services. These are times when the competition is trying to out-do each other.
Solution
The admin of online grocery stores should ensure that there is no delay in deliveries and the success rate of online grocery deliveries is maintained. Businesses should think of new avenues to enhance their presence using innovative strategies. Take a cue from Rappi the super app that has come with a new service at no added cost named as "Turbo" the 10 minute delivery service. This is their latest push to grab a large market share by setting up ghost stores all over the city to enhance delivery.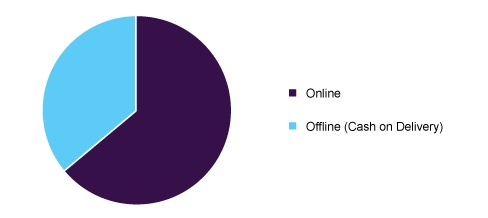 Inventory Management
Inventory management is not an easy job. Sometimes automated systems can fail. An online grocery store app that often fails to provide correct results could cause the downfall of businesses. The issues that you could encounter could be goods not available when needed, expired goods, lack of products' quantities, old rates, not enough information on products, alternatives, etc.
Solution
This issue can be resolved by imbibing the correct strategy. Solve this issue by having a recurring inventory handling schedule or go ahead and integrate an automated inventory handling system within the app to ensure success.
Ensure to have an able inventory management system. Having a great grocery shopping app entails you handle the inventory in the background for the products being offered.
Storage and Delivery Expenses
Storing and delivering perishable goods to consumers is also responsible for some critical online grocery business challenges. Perishable goods need higher investments in infrastructure for storage and delivery. Special delivery containers, augmented warehouses, and special delivery vehicles can ensure delivery of fresh perishable goods. This could increase capital costs and investment.
Solution
Just-in-time supply system in combination with top notch grocery inventory management API can optimize inventory expenditure. Partnering with proficient and experienced delivery service providers with the right kind of equipment can satisfy clients. It is imperative to use the right equipment and vehicles for such operations.
Takeaway Thoughts – Online Grocery Business
Grocery has lower online penetration compared to clothing and electronic gadgets. The COVID-19 pandemic has changed the equation by enhancing the segment significantly. The gross merchandise value (GMV) in 2019 was $1.9 billion while in 2020 that has increased to $3.3 billion. Businesses constantly endeavor to onboard more customers online and expand the segment.
Grocery-related online searches saw a growth of 184% till Feb 2021, which proves that the online grocery business is developing gradually. With the development of this sector, many challenges have also have come up. The booming online grocery segment has several challenges and concerns due to new technology, costs, and demanding users.
The online grocery sector experienced a massive increase in earnings from $1.6 billion in August 2020 to $8.2 billion in January 2021.
Grocery is a vital requirement for us all. Due to time constraints, people prefer online shopping and the pandemic is equally responsible for this shift. Therefore online grocery business provides the right dynamics for the current scenario.
Find pragmatic, people-friendly and technologically strong solutions to fix the issues of your grocery app after every stage. Check the challenges and overcome them if you want to grow your online grocery business.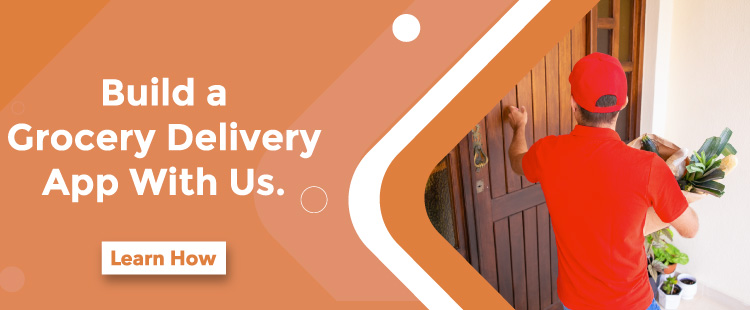 With an Engineering degree and a Diploma in Management under my belt, I worked for 16+ years in the automotive industry with various manufacturers. But my passion for writing was overwhelming, which I turned into a career. I have been writing for more than 10+ years and mostly in the IT domain. I am sure you will find the 300+ published blogs of mine in here informative, exhaustive and interesting.